The South African
Military History Society


---

Die Suid-Afrikaanse Krygshistoriese Vereniging
---
Military History Journal
Vol 5 No 4 - December 1981
The Dust of Conflict
by Julian Orford
The story of the circumstances which led to the death of two very gallant young Royal Artillery officers at Tweebosch, on 7 March 1902, has been told in part, but even the excellent Times History of the War in South Africa made one slight mistake in killing one of them somewhat before his time.(1)
In early 1902, General Koos de la Rey's men were short of ammunition and could not engage the enemy on any large scale, and General de Wet, in the Orange Free State, under heavy pressure, asked De la Rey to relieve his burden. Lord Methuen's column left Klerksdorp in the evening of 7 February 1902, under command of Colonel S. P. von Donop, RA, who occupied Wolmaranstad on the following day. On 12 February Lord and Lady Methuen gave a ball at the Palace Hotel, Klerksdorp, and on the following morning Lord Methuen escorted his wife to Johannesburg, whence she left for their English country seat, Corsham Court, in Wiltshire. She was still on board ship when she heard that Methuen had been wounded, and she took the next ship back to South Africa.
Von Donop sent a convoy from Wolmaranstad, with 36 Boer prisoners-of-war, to Klerksdorp on 13 February, which returned a few days later with stores. Unobserved Boer scouts watched his progress along the route, and reported back to De la Rey, who had given instructions that no action was to be taken against it. On Monday, 24 February, a second convoy from Wolmaranstad camped on the banks of the Ysterspruit about 32 km from Klerksdorp. It was overwhelmed by De la Rey's commandos after a brisk action on the following day, and the Boers made a massive haul of rifles and ammunition which enabled De la Rey to resume operations.
Methuen, at Vryburg, took personal command of Major A. Paris's column on Sunday, 1 March, and having made a rendezvous at Rooijantiesfontein with Colonel H. M. Grenfell's column from Klerksdorp, marched out on the following day. The object of the exercise was to pin De la Rey down between the two columns, but the astute old 'Lion of the West' had other ideas. The Column camped at Barberspan on 5 March, and due to the waterless state of the country ahead, Methuen turned South-east, and on 6 March crossed the Great Harts river at its junction with the Little Harts. He had sometime previously informed Grenfell that he was unable to keep to schedule. Boers under command of General van Zyl, who had skirmished against the rear of the column for a day or two previously, became increasingly aggressive on this day, and had to be driven off by shellfire. It was then that Methuen realized, if he had not done so before, that he had a problem on his hands, in that the troops lacked training, especially on fire-control, and that he had been forced to restore order personally.
The composition of Methuen's column from Vryburg was as follows :

Mounted Troops:
43rd and 86th Yeomanry Coys,
Squadron of Cape Police,
24 men of BSA Police,
64 men of Cullinan's Horse,
92 men of Diamond Fields Horse,
58 men of Dennison's Scouts,
126 men of Ashburner's Light Horse,
A few National Scouts,
Squadron of Cape Special Police (Coloureds).
Infantry:
200 men of the 1st Battalion, Northumberland Fusiliers,
100 men of the Loyal North, Lancashire Regiment.
Artillery :
Two guns, 4th Battery, RFA, commanded by Lieutenant C. R. Venning, DSO,
Two guns, 38th Battery, RFA, commanded by Lieutenant T. P. W. Nesham,
Two pom-poms.

On the night of 6 March Methuen was informed by his Intelligence Officer that a large concentration of Boers, under De la Rey, was nearby. Grenfell was then 36 miles away to the east of Tweebosch and De la Rey moved in between the two columns. His battle plan was much the same as that employed at Ysterspruit, which was to cut the columns into three, and to overcome resistance with a charge, the men firing from the saddle. That night the General asked 'Siener' (Prophet) N. P. J. Jansen van Rensburg what the outcome of the fight would be. The Prophet, who made a great name for himself during and after the war, had made several remarkably accurate forecasts of events to come, and De la Rey believed him to some extent, but never based his plans on what Van Rensburg said. De la Rey was strictly a tactician, to whom the principles of war, of which he had never heard, came naturally. The 'Siener' spoke of his latest vision in which he saw a red bull approaching from the direction of Vryburg. He was eager and strong, his head and horns stood erect, and he was spoiling for a fight. However, near Barberspan the bull became weary, his head hung, and De la Rey should seize the opportunity and dehorn him. General Jan Kemp also asked the 'Siener' what would happen. Van Rensburg said he had seen a red bull which was running down a slope suddenly turn about and stumble up again, with one crippled front leg - 'Een kreupel voorbeen.'
The column moved off in two divisions from Tweebosch on 7 March 1902, the ox-convoy starting at 03h00, escorted by Cape Police, the Yeomanry, all the Infantry and Lt Venning's guns. The main column moved out at 04h00, escorted by the Cape Special Police, Ashburner's Light Horse, with one pom-pom forming the advance guard, and Dennison's Scouts and the Diamond Fields Horse the rear guard. Lt Nesham's guns were with this column.
By about 05h00 the head of the column had reached de Klipdrift on the Great Harts River, when the Boer attack opened on the rear-guard. The fire put down by Nesham's guns and the second pom-pom was effective for a while, but not for long. At 05h30 the ox-column was ordered to halt, and at 06h00 the attack assumed serious proportions when, in addition to attacking the rear of the column, a movement was made against the column's right flank. Methuen, in accordance with a previous arrangement, took post with the Infantry. Major Paris, commanding the mounted troops, reinforced the rear while Metheun extended the Infantry and brought Venning's guns into action. Lines of charging Boers, firing from the saddle, in extended order, disregarding the heavy fire directed at them, pushed forward. After a small measure of resistance nearly all the Colonial troops broke and fled. The regulars, or the handful that were left, and Nesham's gunners, stood fast. One by one the men of the 38th Battery were shot down, but the guns remained in action. Burgher Willem Richards took up a position behind the guns and shot six gunners. One gun only, served by Lt T. P. W. Nesham, entirely on his own, remained in action. The Boers, admiring the young officer's coolness and courage called on him to surrender. He refused to comply, shouting out: 'I prefer death to surrender.' He, too, was shot down.
Venning's battery suffered the same fate, but continued in action until he fell mortally wounded while serving a gun. At about 09h30 Methuen was hit in the thigh. He dismounted and lay down next to his horse. It was hit, wounded a second time, and fell on him, breaking his leg. Colonel E. Townsend, the column's Principal Medical Officer, splinted Methuen's leg with two rifles, and was hit three times in rapid succession.
The fight was over and surrender was inevitable.
General De la Rey arranged for Methuen to be attended by Civil Surgeon John Prentice, and his own ambulance commander, Dr. Karl von Rennekampf. It was agreed that Methuen and Townsend should be sent to Klerksdorp for medical attention. After some trials and tribulations they reached Klerksdorp at noon on 13 March, in an ambulance (which still exists) driven by De la Rey's nephew, Thomas Leask, junior.
All the wounded (including Lt Venning) and prisoners were gathered together near Coetzee's house on the farm de Klipdrift 235. The Boers provided a burial party and bodies were located and buried in batches, while prison ers were fed and later released on the other side of Lichtenburg. One of the houses on the farm was turned into a hospital, and the ambulance men and Mrs. Hessie Coetzee did what they could for the wounded. At this point the Boers mixed up Colonel Wilson and Lt Venning, referring to them as Colonel Venning and Lieutenant Wilson. Both men died of their wounds in the hospital and Wilson, before he died, turned to Mrs. Coetzee and said 'God bless you.'
Lord Methuen's offical despatch is dated 13 March 1902, and was dictated from his bed at Klerksdorp. He gave a general account of the action and wrote : 'I remained with the guns, 4th Battery, and Infantry, until my horse was killed and my thigh fractured by a bullet. They held out in a most splendid manner until about 09h30 when all the men around the guns had been shot down, and Lieutenant Venning, commanding the section had been killed. I would also call attention to the gallant manner in which Lieutenants Nesham and Venning, Royal Field Artillery, stuck to their guns.'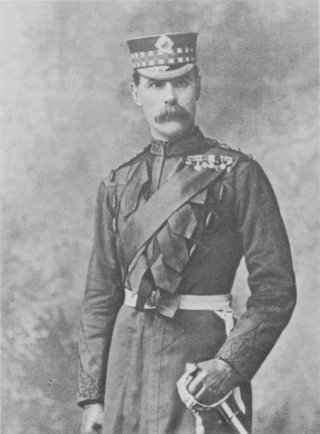 Gen Lord Paul Sanford Methuen.

Lord Kitchener mentioned the officers in his despatch(2) and there officially the matter ended.

Methuen was sent to No. 13 General Hospital at Nourse Deep Mines on 23 March, and landed in England on 9 July. He was operated on later and parts of a bullet and bone splinters were removed. A second operation followed in 1903, after which his health improved. He returned to South Africa on 22 April 1908, as Commander-in-Chief Imperial Forces in South Africa; but this time he walked with a stick, to overcome a limp caused by the shortening of his right leg, a legacy from Tweebosch. He referred to it in his diary as 'a gait of my own' but nevertheless played golf into advanced old age. 'Siener' van Rensburg's prophecy concerning the red bull with a crippled front leg could hardly have been more accurate.

The remains of the men who were killed in action at Brakspruit, Tweebosch, Korranafontein, and Boschbult were exhumed some years ago, and reburied in the Memorial Garden at Ottosdal. A cross erected over Lieutenant Nesham's grave by his mother now stands on the east side of the memorial garden. Part of the inscription is below ground level and the whole reads as follows :

THOMAS PEERE WILLIAM NESHAM
Lieutenant Royal Field Artillery
Only son of the late Rear Admiral Nesham and
Constance, his wife.
Born 2nd May, 1880.
Killed while gallantly serving his guns.
Tweebosch, 7th March, 1902.
He preferred Death to Surrender.
This cross is placed by his mother in loving memory.
Pro Christo, Rege et Patria.

The names of both men appear on the Memorial opposite Lieutenant Nesham's cross. There is a memorial plaque to Lieutenant C. R. Venning, DSO, above eye level in the south aisle at Bath Abbey.(3)

All this happened a long time ago, but outstanding bravery of this sort should not remain unrecorded.

[Notes:]
(1) Editor's Note. The Times History of the War in South Africa, Vol 5, p 507, records that Lt Venning was killed at the battle of Tweebosch; whereas, as the account makes plain, he was mortally wounded in the battle and died later in a Republican hospital.
(2) Editor's Note. This is possibly the source of the mistake in The Times History. Methuen's despatch places Venning's death at the scene of battle.
(3) By courtesy of Mr John Crouch, the Victorian Military Society.

Return to Journal Index OR Society's Home page

South African Military History Society / scribe@samilitaryhistory.org