The South African
Military History Society


---

Die Suid-Afrikaanse Krygshistoriese Vereniging
---
Military History Journal
Vol 5 No 3 - June 1981
The Third Man: Willy Trück and the German Air Effort in South West Africa in World War I
by S. Monick

Published sources refer to two aircraft and their pilots as constituting the German air strength in World War I in South West Africa. Capt Arthur Blake, in his work Vlieghelde van Suid-Afrika (1) refers to two aircraft operating against South African forces in this sphere of operations. He refers to an Aviatik, the career of which ended on 29 May, 1915, when it crashed into a thorn tree; and to an LFG Roland (Luft Fahrzeug Gesellschaft), which crashed in April 1915. The Aviatik and LFG were flown by pilots named Fiedler and Von Scheeler, respectively. There was, however, a third pilot operating in German South West Africa in 1914-15, not mentioned in published sources; one Willy Trück.

Trück was sent to Karibib by the Automobile En Aviatik aircraft factory in Germany, with the object of testing local flying conditions. His mission coincided with the outbreak of World War I, and Trück and his aircraft (an un-named military prototype bi-plane) were accordingly impressed into the German war effort. Trueck was told to report for special instructions in Windhoek. The reliability of his aircraft may be gauged by the fact that, whilst flying over Okahandja en route to Windhoek, the engine cut out and the pilot was compelled to make a forced landing in a dry river bed. (The engine failure was due on this occasion to a short circuit.)

Windhoek was contacted but the sum of his instructions was to be told to return to Karibib and await the arrival of some military commanders. Trück's problems were seriously compounded by the fact that, two weeks after receiving instructions from Windhoek, he was informed that he would not be receiving any petrol. The remainder of the twenty barrels that he had brought with him from Germany would have to suffice. This prohibition was not really surprising when one considers that there were absolutely no petrol depots in South West Africa. Indeed, there were only approximately six motor cars in the entire territory and these - not surprisingly - had also been requisitioned by the German forces.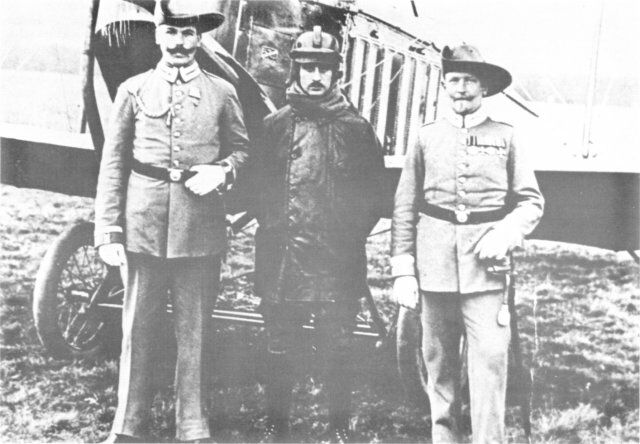 Willy Trück (center) between two bodyguards
Airman Trück was instructed to load his aircraft and the remaining petrol on to a train and to report to the military base at Kalkfontein Zuid. In the final weeks of the war in South West Africa Trück's base was Aus, 225km from Luderitz Bay. Journey's end for the aeroplane was Tsumeb, where it was burnt to prevent its falling into South African hands at the close of the campaign. This probably occurred before the evacuation of Aus by German forces in late March 1915.
There are three interesting diary entries relating to German aircraft activity in South West Africa in November and December 1914. The diary was compiled by Cpl Douglas Scott King (2), of the Kaffrarian Rifles. The first entry, dated Thursday, 12 November 1914, reads:
'German aeroplane passed over our heads before breakfast. My piquet never saw it - althou' we heard it. Fired on by camp.'
A fuller entry, for Sunday 29 November 1914, reads:
'This morning the aeroplane paid us a second visit. Jove! but it was a lovely sight seen miles off high in the air about 4 000 ft. and getting more distinct as it neared us. On the approach to our camp - which by the way is called Haalen Burg - wejust walked a few yards away from our lines. It flew right over our camp and was greeted with a regular hail of rifle shoots [sic] but all to no purpose. It flew on and on till It appeared a mere speck over Kolman's Kop. Now the fun commenced - as it flew over us it very calmly dropped two bombs and shells on us. One exploded and the other failed - no damage was done. But laugh! Pheeeeeuw!. I've never laughed so much in all my life. The shell that exploded took 12 seconds to fall to the ground - and world's records were broken by dozens whole-sale. Fat omcers legging it for "dear life".'
One cannot help feeling that Cpl Scott King and his comrades were far less amused at the third attack, recorded in the diary entry dated Thursday, 17 December 1914, which reads:
'A very misty morning - but I'm darned if that confounded aeroplane didn't come again. It dropped two shells near our big guns - both exploded. 4 men hurt - and one killed - no guns damaged.'
There is good reason to believe that Cpl Scott King's airborne adversary was Airman Trück (if not on all three occasions, then on certain of them). This may be deduced from the fact that Cpl Scott King's diary entry for 15 December 1914 commences 'Arrived at Tschaumaib. . .' The place name bears a close resemblance to Tsumeb which, it will be recalled, was the scene of the incineration of Trück's aircraft. This would strongly suggest that the Kaffrarian Rifles came within the orbit of Trück's operational activity. (However, a note of caution should enter at this point. In his biography of Dr John Weston (3), C.G. van Niekerk comments that the two other German aircraft in the South West Africa theatre commenced bombing operations in early November.)
If, indeed, the aeroplane in question was Trück's (especially in the attack of 17 December), then the bombs which descended upon Cpl Scott King and his comrades were incredibly effective, in view of their improvised nature. For they consisted of a piece of stove pipe, a spring, and several pieces of wire. To these were attached an artillery shell. The device was released on to its target by tugging at the wire; whereupon the shell zig-zagged a course to the ground and actually exploded.
Trück and his fellow pilots had to contend with potential (if not actual) fire power more intense than small arms. South Africa's first anti-aircraft gun was employed in South West Africa. This was affectionately nicknamed 'Skinny Liz' and consisted of a converted 15 pr BLC (breech loading cannon). It is referred to on p44 of the Official History of the Great War, 1914-1918, within the context of Trekkopies. The only official record of this weapon being fired in anger is contained in a report of 2 Battery, South African Mounted Rifles, which describes an unsuccessful engagement with a troublesome German aircraft. The aircraft in question is described as being a Taube monoplane. However, as no Taubes are known to have operated in this theatre of operations, it may well have been the LFG Roland; as this aircraft contained important features of the Taube (although it was a bi-plane).
Mr. Trück, a retired farmer, is 91 years of age this year, and lives with his wife in Sea Point, Cape Town. Cpl Scott King did not survive the Great War, and died on 22 March 1915, in German East Africa, as a result of wounds sustained whilst serving with the 4th South African Horse.
Bibliography
(i) Works referred to in the text:
Blake, Arthur. Vlieghelde van Suid-Afrika. Cape Town, Nasionale Boekhandel, 1966, p 38.
Scott King, D. Diary: 4 October 1914 - 17 December 1915. Unpublished ms.
van Niekerk, C.G. Prophet in his own Country: Dr John Weston, South Africa's first Aeronautical Engineer. Pretoria, Council for Scientific and Industrial Research, 1979, pp 33-34.
(ii) Other works referred to:
Rand Daily Mail. Report entitled 'One-man air force'. Reprinted in Springbok, August 1980, p 11.
Markman, I. Old Airman. Unpublished typescript accompanying photograph in Museum records.
Bisset, W.M. South Africa's First Anti-Aircraft guns. Militaria Vol 8, No 1, 1978, pp 22-23.
Collyer, J.J. The campaign in German South West Africa, 1914-1915. Pretoria, Govt Printer, 1937
Return to Journal Index OR Society's Home page

South African Military History Society / scribe@samilitaryhistory.org