The South African
Military History Society


---

Die Suid-Afrikaanse Krygshistoriese Vereniging
---
Military History Journal
Vol 5 No 3 - June 1981
Stratford Edward St. Leger: An artist
of the South African War of 1899-1902
by R.R. Langham-Carter

Colonel St. Leger spent most of his life overseas, but he is of interest to South Africa because he was born here, had his main education here and served in the South African War of 1899-1902.

He was born in the Cape in 1867 and was the son of F.Y. St. Leger, then the Anglican rector of Queenstown and later the founder of the Cape Times. He was educated at Tonbridge School in England and then completed his education at Diocesan College in Rondebosch. The family were of French Irish origin and he was commissioned into the Royal Irish Regiment (the 18th Foot) in 1890. He had captained Bishops at cricket and rugby football and during his first nine years of peacetime soldiering he played much cricket for the Army team.

When the Second South African War broke out in 1899 it was realised that the Republicans on their hardy country horses would have a great advantage in mobility over the British infantry. Lt Col E.A.H. Alderson was therefore instructed to raise the 1st Mounted Infantry Regiment. St. Leger was drafted into it and was made captain of one of the companies. The unit arrived in Table Bay on 11 November and was moved up the line to De Aar. Although it was made up of details from some eighteen different regiments an esprit de corps soon developed and the 1st Mounted had an excellent war record.

St. Leger and his unit took part in the cavalry charge at Klip Drift, in the relief of Kimberley, the occupation of Bloemfontein, the battles of Sand River and Doornkop and the march on Pretoria in June 1900. He particularly distinquished himself in the British defeat at Sannah's Post on 31 March 1900, when he rescued a wounded corporal of the Life Guards under heavy enemy fire during the withdrawal. He certainly deserved an award for valour but the author of the Regimental History of the Royal Irish says that the report on the incident reached the War Office too late for an award to be made.

The Mounted Infantry had a good many casualties, incurred either in battle or from typhoid fever and other sickness, and by June out of one hundred and thirty-eight officers and men in his company only fifty-five were fully effective and only sixty-three horses out of the original one hundred and fifty-one. Captain St. Leger himself fell sick in Pretoria and was evacuated to a base hospital. As one of his sketches shows ambulances at Wynberg station, it seems probable that he was at the base hospital for officers in Wynberg Camp outside Cape Town. He was invalided to England and did not serve in South Africa again.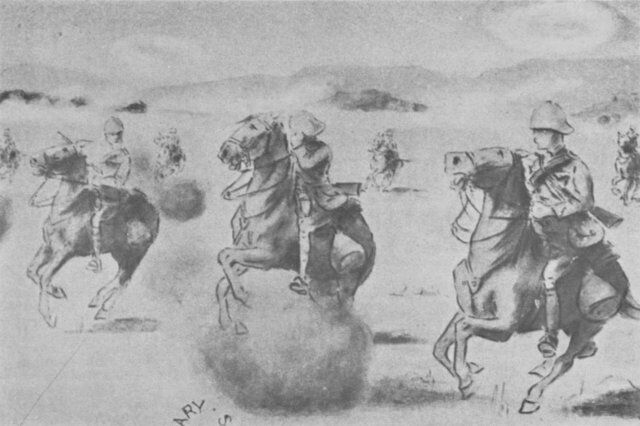 1st Mounted Regt at Kliprivier, by Stratford Edward St. Leger.

St. Leger had learnt drawing and painting at Tonbridge and Bishops. He evidently provided himself adequately with sketching materials throughout the campaign and he was in the habit of carrying sketch-books and notebooks in his haversack at all times. He made rough pencil sketches when opportunity offered and later would work them up into pen or pencil drawings or into water colours.

His work had begun appearing in the London magazine Black and White by July 1900, if not earlier, and his one and only book came out in London under the title of War Sketches in Colour in November 1903. Besides a long detailed account of the experiences of the 1st Mounted it contained full-page reproductions of sixty-six of his sketches in water colour and pen and ink, plus ninety-seven line drawings and five section maps.

The favourable reviews the book received in several British periodicals encouraged St. Leger to mount an exhibition of his work. This took place at the Bruton Galleries in Mayfair in May and June 1904 and consisted of fifty water colours with fifteen large and a great many smaller pen and ink drawings.

At the outbreak of the First World War in 1914 St. Leger was in hospital with a leg injury sustained in a cricket match. He at once left hospital and, rejoining the Royal Irish, crossed the Channel with them in the British Expeditionary Force. They proceeded to the front but their positions between Mons and Ypres were overrun in a German attack in October. Many of the Regiment were killed or captured and most of the remainder had to withdraw. St. Leger (who had received a flesh wound) found himself cut off from his unit. He made contact with eight other ranks of several different regiments in similar plight and they decided to try and make their way through the German lines. He had no maps and had to rely for direction on his compass and the stars. The party marched only at night, lying up all day in barns provided by friendly Belgian farmers. The Germans learnt that this group was at large and searched for them energetically. But at length after several hair-breadth escapes they reached safety in the Belgian lines at Oudenarde and returned to England. Including their many detours they had had to cover about a hundred miles and they were the one and only party to come through the German lines in the retreat from Mons with their full arms and equipment.

St. Leger was awarded the DSO and at the end of the war the CMG, and was posted as Assistant Adjutant General at the War Office. He retired in 1922 and was gazetted full colonel two years later. St. Leger died at Hove in Sussex on 12 October 1935.

His only child, Mrs Moira Murdoch of Milnerton, Cape, possesses two of his sketches. Six others were sold in Johannesburg in 1947, and there are two in the Houses of Parliament in Cape Town. It is to be hoped that more can be traced and that they can be acquired for some military museum.

Return to Journal Index OR Society's Home page

South African Military History Society / scribe@samilitaryhistory.org