The South African
Military History Society


---

Die Suid-Afrikaanse Krygshistoriese Vereniging
---
Military History Journal
Vol 4 No 3 - June 1978
MUSEUM NEWS
Korean War Display
A recent display at the Museum depicts South Africa's participation in this war in diorama form.
One scene is of an air base with a Mustang P-51 being refuelled and re-armed. A second scene depicts Sabres strafing a North Korean convoy. Included in this display is the bullet-shattered window of Lt E. F. Potgieter's Mustang. His goggles were shot from his face in the attack but he emerged unscathed.


Korean War Diorama.

27th July, 1978 marks the 25th anniversary of the signing of the armistice in Korea after the Korean War of 1950 to 1953. When Communist North Korea invaded pro-West South Korea, the United Nations called upon member states to assist in combating the onslaught. South Africa answered the call and sent the 'Flying Cheetahs' to Korea. A history of this squadron in Korea appears on page 82 of this journal.

South Africa's Contemporary Military Art Exhibition

Recent events in Angola and on the borders of the Republic have led to the revival of the concept of military art. To portray the conditions under which our servicemen live, train and fight the Department of Defence has appointed three official military artists — Major Victor G. Metcalf (Army), Captain Ronald R. Belling (Air Force) and Lieutenant Leonard N. Lindeque (Navy). Their works to date total 57 paintings and drawings.

The first public exhibition of South Africa's Contemporary Military Art was opened at the Museum on 29 March 1978. At the opening Major-General J.C. Lemmer, MC, Chairman of the Council of Trustees of the Museum, welcomed some 300 guests on behalf of the Museum and introduced Lieutenant-General J.C. Dutton, SM, Chief of Staff Operations of the South African Defence Force, who formally opened the exhibition.

Lieutenant-General Dutton, in addressing the guests, suggested that the expression 'Military Art' was more appropriate than the usual 'War Art' — the merit of which was readily acknowledged.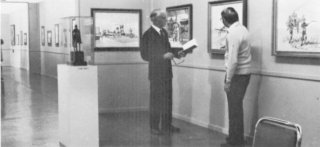 Section of South Africa's Contemporary Military Art Exhibition.

The Museum is honoured in that the Chief of the South African Defence Force has entrusted it with both the presentation of the first public exhibition of the paintings and drawings and the arrangements for the Collection later to be sent on tour to Art Galleries and Museums in the major centres of South Africa after the exhibition closes at this Museum.

Return to Journal Index OR Society's Home page

South African Military History Society / scribe@samilitaryhistory.org