The South African
Military History Society


---

Die Suid-Afrikaanse Krygshistoriese Vereniging
---
Military History Journal
Vol 4 No 2 - December 1977
A Narrative of the Right Section, 5th Mountain Battery, South African Mounted Riflemen,
Central African Imperial Service Contingent, Nyasaland, 1915 - 1918.
by Battery Quartermaster Sergeant J.G. Maker
Part II
Editor's note: Part I of this diary was published in Volume 4 No 1 of the Journal.
Our next advance was in the direction of New Langenberg. Getting the oxen across the Songwe River was quite a job. We crossed the river about a mile from its mouth on the lake and it was teeming with crocodiles. We cordoned off a passageway with two lines of dug-out canoes and kicked up a devil of a shindy, firing into the water, hammering paraffin tins, with everybody yelling. It was bedlam! Then we put the oxen into the water and got them across but not without the loss of two.
We arrived at New Langenberg on the 11th June, 1916, and found a heavily entrenched position commanding the surrounding country. If it had been properly manned it could not have been taken by our (Col Hawthorne's) column. This position was our first experience of the type of defences used in the country. In front of the perimeter large hollows had been excavated and these then filled in with sharpened sticks hardened by fire, some about waist high, with shorter ones in front, and graded down to those of an inch or so high, to catch the barefooted Askari. There were thousands of these sticks closely planted, like a garden.
Some years later I heard that New Langenberg had been stricken by an earthquake and the Boma, together with the adjoining hospital, totally destroyed. These defences were typical of all Bomas where the Germans had been in occupation for any time. The surrounding bush was cleared and various points had range discs erected.
After leaving New Langenberg on the 14th June, we made our way past the north end of the lake and arrived at the Markwa River. This ran into the lake near the base of the Livingstone Mountains. Mr Murray, later the Reverend Murray of the Dutch Reformed Church, who was a conductor of convoys, decided that be could make it easier for the carriers to cross by building the stones up to a 'stepping stone' bridge. His plan was agreed to and he and all of our carriers toiled throughout the night on thejob but the net result of his labours was that he had diverted nearly all the river and the current onto the far bank which nobody could cross so had to find a ford lower down.
From here we tackled the Livingstone Mountains and extra carriers had to be obtained locally to assist us to get our guns up the mountain; the guns were dismantled and carried in parts up the track. The local Natives were fat and flabby and could not stand up to the work; they deserted in large numbers and by the time we had got to the top only a few remained. This was a heavy climb of some thousands of feet so it can easily be imagined what difficulties we had getting guns up. The ammunition wagons and gun limbers had narrow wheel bases and were continually toppling over. During all this time enemy snipers kept up a running fire on our advance guards but with little effect. Our ammunition wagons and limbers were left behind.
The column left us behind and pushed on to Tandala. We followed slowly and arrived at the Rungwe Mission Station. It was extremely cold here after the heat of the plains so it did not take us long to get fires started inside the workshops where there was an abundance of timber.
We had been issued with goats for rations but as we had also been well supplied with other foodstuffs they were not slaughtered and eventually became great pets with the gunners who used to groom them, give them biscuits, and generally make a fuss of them. These animals got to know our various signals and orders, and were always at the head of the battery and led us into the various camps where they were well known by the other units.
On arrival at Tandala, we had halted for camping instructions when I heard one of the goats crying out in pain, and on investigating found that 2/Lieut Davis, of the Scouts, thinking it was from the Mission, had cut its throat. I am afraid I forgot military discipline and gave him an 'earful'. Col Hawthorne was furious and sent him off to collect another black goat but it was just not the same as our old friend 'Lucy.'
I must here relate an amazing thing that happened at Tandala Mission. As is the Army custom, trenches are always dug as temporary latrines and, as the Sergeant-Major of the section, it was my duty to detail a party for this job. We were very tired from the climb of the previous day and the march to Tandala, so I found an easy site for these latrines which was in an old quarry, now used as a rubbish dump. The L/Bombardier and three gunners were not at all happy at being detailed off for the job. That was, as far as I knew the position at that time, but later got the story. It appears that soon after digging operations commenced the party unearthed a box containing some 1500 Rupees! These were divided up among the four, one of whom suggested that I should be given a share, as it was I who selected the site - but you know what they think of the Sergeant-Major in the Army!
On the 27th June, 1916 Gunner Pinnock arrived with our 10 Native drivers, 39 oxen and our ammunition wagons and gun limbers which we had left behind on the Livingstone Mountains.
The column moved on to Njombe which was an important Boma commanding the junction of roads leading to Malangali and Lupembe. Things were now getting more lively with patrol encounters with both sides sneaking up to a camp, letting off a few rounds rapidly and then making a quick getaway. We endeavoured to capture German carriers, or anyone else, so as to obtain information from them, but the German Askaris were quite ruthless when they encountered any of ours: they just shot them down, no doubt with the intention of frightening others into desertion.
About this time Lieut Swifte and I indulged in a little bit of slave traffic. At a certain Boma, the officer commanding supplies was short of staff and approached us for a butcher. We hadn't got one but had a redundant saddler-sergeant named Hennesey, late of the Pretoria Prisons Staff, who I recommended should be sent to Supplies (with a view to favours at a later date). Lieut Swifte agreed but insisted we could not let him go for nothing and must sell him, so we demanded one roll of German print (limbo) for him which was paid. So Hennesey was sold for about five bob! 'Limbo' was valuable to us to barter with the Natives for food etc. I once bought five head of cattle for five yards of limbo which worked out at about 1 ½d a head.
The last I saw of Hennesey was at Roberts Heights during the 1919 'flu epidemic while he was in charge of the mortuary - he was allowed as much brandy as he could drink and I think he earned every tot!
We left Njombe on the 5th July, 1916, and arrived at a place called Halali but we left again on the 7th and camped on a small stream named Naluwono. Patrol work and counter-marching was now getting hot. As a matter of interest a Provost Marshal was now appointed with a small staff as follows:- Captain Livingstone A. Bruce, Provost Marshal, Sergeant Ives, Riflemen Hill, Rowe, Goulden and Bothwick, all being of the 2nd South African Rifles with the exception of Capt Bruce who was on the Headquarters Staff. All captured enemy equipment had to be handed in to the Provost Marshal.
A patrol of ours on the 6th July captured a German Petty Officer with a party collecting foodstuffs and with him a quantity of 20 Heller brass coins minted by the Germans to make up for their ordinary coins of which they were now short. These were issued to the troops as mementos at the rate of two per man if they wished to have them. I still have some of these coins. They were cut from sheets of brass with a circular stamp and then embossed with a crown under which was the date '1916 D.O.A.' On the reverse was a laurel wreath surrounding '20 Heller'. Some of the coins were not completely round, and had pieces missing where the cutting stamp came to the edge of the sheet of brass. The Germans also minted 20 and 10 Mark coins, their gold content being high. I am sorry to say I lost my specimens or, more likely, bartered them for something or other.
I may add here that an army order issued on the 18th July, 1916, stated that the Colonial Office had decided that the German Rupee was to be considered as one shilling and fourpence, and that the Rupee could be accepted at that rate. On no account could Natives be given less than that in exchange for a Rupee. The following patrol and intelligence reports are given at some length to indicate how we had to obtain our information regarding the enemy strength and movements which, taking all in all, proved pretty accurate.
Our information now was that the enemy had retired from Emmaburg towards Malangali. This force of 50 Europeans and 100 Askaris with one machine gun had joined up with another force of 3 Europeans and 300 Askaris with one Maxim. Native information stated that Col Rodgers' column had engaged the enemy some eight miles from Buhoro on about the 4th July and had arrived at Isunala on the 6th on the road to Malangali. Enemy was stated to be in considerable strength at Madibira, with one company of Askaris at Mwasa, the junction of the roads from Madibira and Malangali to Iringa. The enemy was also reported to have a post of three Europeans and twenty Askaris at Indunda. Natives reported that they also had three light field guns with them. (This was interesting as this was the first time the enemy had been reported to have artillery, but sometimes Natives mistook machine guns for light field guns.)
On the morning of the 12th July Captain Griffith, 1st KAR, surprised an enemy patrol near Indunda village capturing two Europeans of the cruiser 'Königsberg' and three Askaris of Coy 'L.' One European and two Askaris of these prisoners were wounded while one Askari of 'L' Coy was killed. Lieut Gregory, of the 1st King's African Rifles, also surprised an enemy party near Mtalamile, killing two Askaris, wounding three and capturing three.
On the 11th 2/Lieut Petherbridge captured the Chief of Police of the cruiser 'Königsberg' and one Askari, while one Askari was killed. These patrol encounters were now a daily occurrence. From these prisoners it was learned that the German forces had received further reinforcements of a total of 170 Europeans and 800 Askaris, six machine guns and one gun. One prisoner stated he had heard that four 10.5 cm guns were being brought to Iringa. These guns were landed by a blockade-running ship some time back but that the ammunition had only just arrived. This report proved to be correct as one of these guns was used against us at Malangali.
A patrol under Capt Galbraith, 1st KAR, reconnoitred the hill west of Malangali that was reported to be occupied. This position is on a long ridge to the right of the road, and covered in dense bush and boulders, affording excellent cover to the enemy, who were extended along the crest. It was estimated that the enemy had on this position about seventy Europeans and sixty Askaris with one, probably three, one-pounder guns.
A native report stated that there were 102 Europeans at Malangali with several machine guns. It was also reported that a party of 50 Europeans of the 'Königsberg' had returned to Malangali, while a local headman stated that there were about 200 Europeans there with further reinforcements coming from Madibera.
It was at Ndunda that we had our second encounter with bees. Our guns were parked near a huge baobab tree in which a swarm of bees had made their hive. This was too much for some of our gunners who decided that some honey would go a long way to make up for the non-issue of sugar, so one of them climbed the tree helped on his way by others. He started to chop a hole in the hive, which the bees soon resented and tackled everybody in the vicinity. I spent a couple of hours under a mosquito net. I am glad to say the gunners responsible for this were severely punished by the bees.
Our position at Indunda Hill had no special features, the slope of the hill to the Indunda River was a long gentle one, fairly well covered with bush, about three miles long. The crest of the hill rose sharply, and was covered with boulders and bush, difficult of approach without being seen. This ridge was occupied by the enemy and appeared to be an outpost to the Malangali position. The latter position was, at this time, being reconnoitred by Col Rodgers' patrols.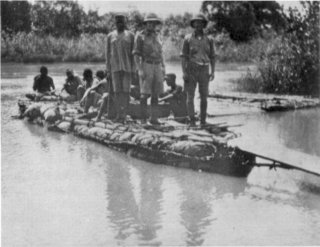 Crossing the Luambala River. These rafts were made up of reeds,
waterproof rice bags and 'tree cotton' collected nearby.

On the 18th July, Lieut Swifte, Sgts J.G. Maker and J. Wray accompanied a reconnaissance in force towards Malangali, the patrol was also accompanied by Col Hawthorne and his Staff. On nearing the position we were met with a fairly hot fire which indicated that the enemy was still in position in strength. We lost one Askari killed but the attack was not pressed home.

It was obvious to us lower ranks that the time was quickly approaching for an attack on the enemy position, so it was no surprise when, on the 22nd July, orders were issued that all trek gear and spare equipment was to be bagged and secured to the ammunition wagons; that oxen and drivers under Gnr Minnie would be left behind at Indunda, and that the column would move at 12 noon on the 23rd July, 1916.

We were issued with 177 carriers to transport our guns, which had been taken to pieces and swung on poles for easier transport. Lieut Fisher of the 1st KAR was left in charge of the Indunda position with instructions that personnel should move about freely, to give the enemy scouts the impression that the position was still strongly held.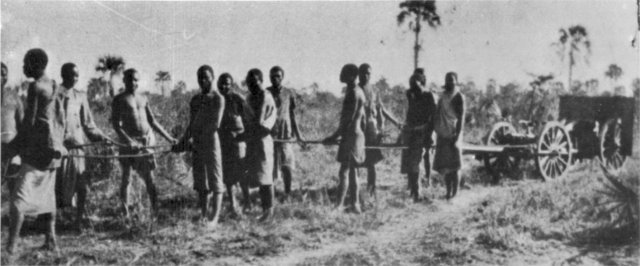 Guns being drawn by native carriers.

As ordered the column moved off at noon on the 23rd. The going was slow and, of course, to us not in the know, unintelligible. The afternoon passed on and still the slow pace, and the column thinned out until we were practically in single file. Each man carried two days rations so you just helped yourself. Night came on and still we went on, only more slowly. This pace went on throughout the night and until daybreak, which was more tiring than a strenuous march.

We had traversed extremely rough country which was well wooded, and, as the night was pitch-black, we couldn't see much in front of us. In fact, at times, we held on to the man in front so as not to lose contact.

Quite early we heard firing in the distance, which indicated that Col Rodgers, with our other four guns, was engaging the enemy. On we trekked, still strung out, and at about 10 a.m., we were behind the German position at Malangali which, at this stage, overlooked us. We could see the tail-end of the column bunched up, negotiating a bad patch of ground, when suddenly the enemy 4.1 gun opened fire on them, killing fifteen carriers and wounding ten Europeans.

Our carriers either bolted into the forest, or took cover behind boxes of grenades, shells etc. which, fortunately, did not explode. At 10.30 a.m. our infantry and machine gunners went into action, and came under heavy fire. At this stage I had four gunners, two wheels and an axle of a gun with me, the remaining parts of the guns had been dropped or carried into the forest when the carriers dashed for cover when the action started.

It took us some hours to gather the various parts and assemble the guns but at about 3 p.m. we were ready for action. I accompanied Lieut Swifte to various points looking for suitable targets. These were not easily spotted as the enemy machine guns were well concealed, and the whereabouts of the German guns were not known.

At one time Lieut Swifte and I were pinned down by three machine guns. How we escaped from being hit I don't know, as we could see the bullets hitting the ground a couple of feet from us, or going close over our heads. Owing to the din we could not get orders down to the guns so we decided to crawl along on our stomachs and get out as best we could, but as the bullets again began to approach us we upped and made a dash for cover.

The Germans were now strongly attacking our right flank and getting around to our rear and, in doing so, disclosed their machine guns. Our guns were swung round and opened fire on them. I had in the meantime been sent to another sector of our position to see what targets were offering, and was just returning, our infantry line having been driven back, when the German gun opened fire on us. The first shell seemed nearly to take my head off and exploded a few yards away. I instinctively dropped flat to avoid the flying splinters. I was up and across the road mighty quickly! With the next shell the enemy got the range to our guns, which had by now been swung round to engage it, but before they could get going nearly all our crews were casualties as the Germans made no mistake about putting them out of action.

Cpl Henry won the DCM, an immediate award, getting the wounded out under heavy fire. When I arrived at the guns I found Sgt J. Wray had been killed, Bdr Lammas and Gunner Pinnock dangerously wounded, both later dying from their wounds. Cpls O. Turner and M.C. Henry, Gunners J.R. Heath, W. Fisher, O.F. Nash, F.W.E. Tothill, and J.A. Swanepoel were wounded. (Bdr Lammas died from his wounds on the 12th August and Gunner Pinnock on the 28th August, 1916).

The enemy gun was captured next day minus the breech block. The distance from it to our guns was approximately 300 yards which was point-blank range. The fighting went on until dark. The 'Königsberg' sailors were determined fighters and, apparently, without any idea of cover, as one machine gun came close to our lines in the open. Before they could get into action our Askaris, lead by Lieut Bothwick, charged and bayonetted them and captured the gun.

We endeavoured to dig ourselves in but did not make much impression on the stony ground. We were dead tired as it should be remembered that we had been on the move for two days without a break, finishing off with a severe battle. We also suffered severely from thirst.

During the night the Germans withdrew, and we made contact with Col Rodgers' column. For some time we searched the countryside for casualties which were spread all over the place. In some sectors the grass had been set alight which, in turn, set alight the clothing and equipment of the dead and wounded, exploding the ammunition in the pouches.

All dead were collected in a donga and I was detailed off to collect the identity discs; not a very pleasant task, specially from the charred remains of some.

Graves were dug for both forces, the burial service being read by Col Hawthorne and full military honours were given to all. There must have been a number of casualties not collected, as six weeks afterwards we returned through this area and the stench was terrific. No doubt birds and wild animals dragged the remains around.

The 24th of July became the date on which the Battery held a re-union dinner for many years until there were insufficient members left to carry on.

The column casualties were high, and we were still 'licking our wounds' when we received the famous order to 'pursue and annihilate', an order easily given when a couple of hundred miles away. Fortunately we had an experienced column Commander, in Col Hawthorne, on the spot, who knew what he was about.

It was stated that owing to our late arrival Col Rodgers had started to withdraw in the face of fierce German attacks, and that our eventual arrival saved them from a dangerous position. During the battle Col Murray, with the Rhodesians, had taken up positions blocking roads leading to Malangali to prevent reinforcements coming up.

Our Battery now came together for the first time since leaving Vua on Lake Nyasa. Our animals were brought up from Indunda and the two columns proceeded in the direction of Iringa on the 30th of July. As we advanced small parties of the enemy surrendered to our troops.

The country hereabouts was well wooded, and open spaces were few and far between, so sniping at our camps or columns was made easy by the cover afforded. One afternoon we had camped on one of these rare open spaces, and had just returned from a bathing parade at which we had also washed our clothing. We were lying about stark-naked, drying ourselves, when suddenly we were fired on. We dashed to man the guns and, in the excitement it did not dawn on us that we were naked but, as we settled down, it was quite amusing to see a Battery manned by naked men almost from the Sergeant-Major down! As can be imagined there was a good deal of chaffing afterwards! On the 8th August, 1916, near Wassa, Col. Hawthorne's column, with our Section (Right) under Lieut Swifte, were detached from the other column and returned to Njombe where we arrived on the 12th. We replenished our ammunition with 34 shells which had been expended and generally put our equipment in order.

On the 15th the column left Njombe along the Lupembe road with this place as our objective. We occupied Lupembe on the 19th without resistance, the enemy rear guards and patrols retiring as we pushed on. Lupembe is a large mission station with a substantially built church complete with a fair size steeple. The place is at a healthy altitude with a high rainfall, reported to be 120 inches a year. Our experiences here would seem to bear this out! On entering the grounds we had a jolly good feed of peaches!

Our old friends, the bees, again came into the picture here in the form of wax. A large warehouse was stacked with blocks of wax each weighing approximately 60 lbs. We melted this down into 'candles' of all sizes and shapes, our moulds being bully-beef tins to huge bamboos. Our big trouble was providing material for the wicks, and in the course of time, many a shirt lost its tail.

Our stay here was not of long duration. As we were about to go down into tsetse fly country our oxen, and the Section mascots, the goats, were left behind. Our gun limbers and ammunition wagons were handed over to Lieut Scarth, 1st KAR, who had two 2.5 muzzle loading screw guns similar to those we had in the Cape Mounted Rifles. (I may note here that these guns trekked all over the country without firing a shot owing to the fact that they used black powder which would give any position away).

Our guns were dismantled and the various parts suitably arranged. Some parts were slung on poles to make them more easily carried. From our experiences at Malangali we also arranged some sort of order of march of the various pieces which were also under the charge of a gunner. This system worked quite well for some months as we had the same gangs of carriers. It took nearly 300 carriers to move us, plus their rations for a week, so the artillery in itself was quite an imposing column. This was a big drain on the supply of carriers but they were also used on ration convoys when we were halted for any length of time. Their rations were 1¼ lbs rice and a pinch of salt daily and meat when available. Loads, other than our gun loads, averaged 50-60 lb per carrier; other loads were handled by two or more according to the nature of the loads. Some of our gun loads, with reliefs, took sixteen carriers.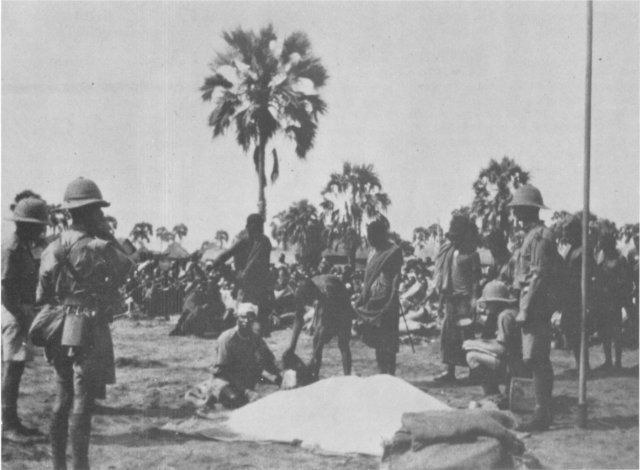 Feeding 'Tenga-Tenga' (carriers).

On the 9th September we left Lupembe at 9 a.m. and arrived at Mfrika. The place was a prominent hill overlooking the surrounding country, which the Germans later turned into a formidable position. The 'road' we were on was known as the 'Sylvester Falls' route, it being named after the German explorer of that name. (As we had been over part of Stanley's route when he was searching for Dr Livingstone, the Section travelled over some historic ground).

From Mfrika the road descended into a narrow valley with precipitous sides covered with bracken and bush; a river followed its course. These conditions were ideal for ambushing our scouts and advance patrols, and several casualties were sustained by them. As we descended into the lowlands we encountered elephant grass up to twelve feet high through which we had to force our way. Climbing over all this grass was a runner called 'Buffalo Bean'. The fruit of this was a velvet coloured bean some 3-4 inches long, covered with fine fluff which, when disturbed, filled the air and, when it settled on you, set up a fearful stinging which could only be relieved by the application of water of which we had little, and, being in shirt sleeves and shorts, we suffered severely. When we did get to water we went in 'boots and all' but, as we dried off, we again became infected. We encountered these conditions for some days. On this march the country became swampy being only some 500 to 800 ft above sea level. Elephants had made a track through the swamp which we followed. As the elephants sank a foot into the mud at every step it was not long before we found ourselves floundering in these holes, the ground being made more slippery by the Natives' bare feet.

We came to a rubber plantation at Tanganiha, a relic of the early 1900s rubber boom. The plantation had been well set out but abandoned to a caretaker, (I could not determine whether he was White or Coloured), whose only form of amusement appeared to be the production of children through his numerous Native wives.

We pushed on to Kasinga and Mudimula where we halted for some days to reconnoitre the enemy position on the Ruhudge River. Early one morning on this trek I heard laughter coming from the Askari acting as our flank guard so went over to investigate. There I saw an old greybeard leading hundreds of Native women aged from the sixties to six, all sizes and shapes, looking for all the world like a troop of apes. The only apparel they had on was a strip of bark around their waists.

One night the enemy got behind our advance post and fired into the camp. I was under orders for a patrol to leave at 3 a.m. It was a pitch black night and, as there was no way to let our outposts know that we were approaching, we had to sneak around them and get away on the patrol. As all sentries were pretty jumpy we did not take any risks.

As we approached the Ruhudge River, just about dawn, something caused me to stop dead still, which also brought the patrol to a halt. There was no talking allowed so everything was done by signs. Nothing happened: The signal was given to advance and, at that moment the whole countryside appeared to move! As far as one could see there were eland: males, females and calves. They slowly moved off up the river and, on our return to camp, we reported this herd. A small patrol was sent out after them to obtain meat, but they never caught up with them. I often wonder, with the advance of civilisation, if a sight like this will ever be seen again.

The Germans had a position at the crossing of the Ruhudge River but retired at our approach, so we followed them across. This river is a large one, some hundred or more yards wide, and to cross it we had to follow sand-bars that were under water but marked with poles, so actually the crossing was made more difficult.

It was general knowledge that our movements now were to threaten the German left flank to assist General van Deventer, of Gen Smuts' forces, to cross the river lower down on the Rufiji, the Ruhudge being the river's higher reaches but, unknown to us, Gen van Deventer had retired to Iringa.

On the 28th September a strong patrol, which had gone out to reconnoitre the enemy position, encountered a German force advancing to attack us. A runner was sent back warning us of the position. We hardly believed the report and proceeded half-heartedly to dig in, but sure enough back came our patrol closely followed by the enemy. The attack on our position commenced at about 2.30 p.m. Our position was about a mile from the river and slightly below the crest of the first ridge from it. The enemy attacked with machine and rifle fire which was pretty hot. The Germans themselves were just below the crest of the same ridge but on the other side, so we had the extraordinary case of the fire of both sides going over the front line troops and those in the rear getting the benefit.

Shortly after the attack started the enemy opened up with a light field gun shelling the river crossing. The heavy firing continued for some time during which my telephone line to the guns was cut, so I had to crawl along and repair it. I was not at all comfortable!

The enemy suddenly ceased fire and, thinking that was a sign of the end, loud cheers went up from our lines and our fire also ceased. This was a false idea however, as we found out afterwards. Our heavy machine gun fire had set up a barrage completely isolating the enemy guns from their ammunition supply. If we had only known! Taking advantage of the pause thc enemy was able to replenish this ammunition supply and the fight was on again!

Our guns now got busy on the German gun and we were later informed that one of our shells had burst right over the enemy gun which then ceased fire. Our firing was quite blind as nothing could be seen in the dense forest. Our shells, having a double explosive charge, one in the shell and one in the fuse, made terrific double reports in the drumlike air of the forest and no doubt had a great effect on the morale.

Firing gradually died down and ceased as it got dark but sniping continued throughout the night. We had to change the position of our guns, which was difficult, because as soon as we got our carriers together a shot would ring out and away they would go to cover!

Considering the volume of fire our casualties were extremely light. We had none on the guns although, at times, they were under heavy fire. Next day sniping was continued by both sides and everybody was getting jumpy so we were not sorry to get orders to evacuate the position. During the afternoon Lieut Swifte reconnoitred our line of retreat to the river, which was through high elephant grass.

We had great difficulty in getting our carriers together as they had got down to it in every possible trench they could find, including our lavatories! Over and over again they would dash for cover as soon as a shot was fired. However, after threatening to shoot the one who ran away after the next shot, we got away.

It was now quite dark so it was not long before we were lost in the maze of tracks through the grass. Lieut Swifte, ordering me to remain 'put' and keep everyone quiet, went off to find the road to the river. It was not long before I heard a frightful curse, followed by others, and soon we were all dancing around and kicking up a shindy! We had been attacked by red ants - those chaps with big bull-dog like heads that refuse to let go once they get a grip. In the midst of all this Lieut Swifte returned and demanded the reason for all the noise, but it was not long before he too was on the move!

Our guns were dismantled and piled into two dug-out boats with me in charge with a few Natives, while the column went through the river passage. I was half-way across when a shot rang out and the whole string of carriers disappeared under water. For a second or two I never felt so exposed and lonely in my life standing up in that dug-out! We only managed to get one of our mules up the now slippery bank of the river, so the other had to spend the night standing in the water and not a croc took any notice of it!

The position we took up was called Mkipira, being joined there by Col Murray with the Rhodesians. The position was an exposed one on a fair slope, down to swampy ground, surrounded by forest on three sides, while the Ruhudge River made up the other. A hill overlooking the camp was named Picquet Hill, on which we had a picquet - hence the name. Our gun-pits, communication trenches, kitchen, lavatory etc. were well constructed which was good as we later had urgent need for them.

The Rhodesians occupied the higher or northern portion of the position and Col Hawthorne the balance, with our guns in about the centre. The communication trenches between the Rhodesians and ourselves had not been completed by the time we were surrounded.

Life went on normally. A hunting camp was established some miles out from which parties of Europeans and Askaris hunted elephant for their meat. We, the Section, sent out 100 carriers once a week to bring in the partially sun-dried meat which was stretched on lines of sticks near our gun site, from which Natives were issued a daily ration.

I believe this hunting camp accumulated a large number of tusks of all sizes, which the Germans destroyed when they attacked and forced the party to retire.

On the 20th October, we received information that the enemy was advancing to the attack, so last minute tasks were carried out. All troops were confined to their immediate positions ready to go into action at a moment's notice. On the evening of the 21st a ration and a meat convoy came in accompanied by two gunners from the Union.

On the 22nd at 6.30 a.m. the first hostile rifle fire was heard when Lient Barrat's post on Picquet Hill was driven in. I, and my telephone party dashed up to our OP with the Rhodesians, and within a few minutes we found the enemy all around us. It was later ascertained that the German Forces, under Major Kraut, consisted of eight companies as follows:
5th Field Coy with two maxims.
5th Schutzen Coy with two maxims (one captured).
8th Field Coy with one maxim (mounted men as scouts)
10th Field Coy with three maxims (two captured).
16th Field Coy with two maxims.
19th Field Coy with two maxims.
25th Field Coy with two maxims.
'L' Coy with three maxims.
F.B. Arty. 1.6 cm Field Gun (captured).

These companies occupied positions: two to east of river, two on Picquet Hill, three on hill south and south-west of our position in addition to the company at Mudikula. Enemy also had detachments at Mpepo, Pitu, and Mpangali watching the Ruhudge River crossings, as well as at Mlambalamba and Kiwanga on the Mnyera River.

The German gun commenced to shell the camp about 8 a.m. while machine-gun and rifle fire came from all directions. Our force did not respond until late in the afternoon when the enemy advanced on the Rhodesian trenches where they were met with small arms fire and rifle grenades, the latter being described by the Germans as 'small gun fire.'

The enemy retired and sniping continued for the rest of the day and night. For the next three days the German gun shelled us regularly, and sniping went on by both sides as targets offered.

The enemy shot down the wireless poles each day with machine guns. All this time we were endeavouring to locate the enemy gun.

On one occasion I went along to the far side of the Rhodesian camp to investigate a report and on my return, passing through Col Murray's hide-out, he asked if I had had my breakfast. As I had not, he ordered his servant to cook me some and, while this was being done, we chatted about places in the Transkei. (Col Murray left the CMR as a corporal and migrated to Rhodesia and knew my father very well). My breakfast came along and my eyes nearly popped out of my head as I was handed a plate full of eggs and bacon AND TOAST!

The time was 8 a.m. and, according to practice, the German gun opened up. The first shell fell somewhere in the camp and no notice was taken of it, but the second one dropped bang on top of the roof of the recess I was in, and down came an avalanche of rubble right on top of my bacon and eggs. The German lieut in charge of that gun was wounded next day but got no sympathy from me.

The flash of the gun was eventually located and pinpointed so it was decided to engage it next day, around about the time the Germans would be getting ready to give us their daily dose of hate.

Under cover of darkness Lieut Swifte came up to my OP to conduct the shoot. On the 26th, at about 10 a.m., we opened up. The shooting was excellent; the enemy gun replied with a couple of rounds, but we soon put it out of action, as well as most of the crew, which included the aforementioned Naval Officer.

This gun was eventually captured and it was seen that one of our shells had struck the top left hand corner of its shield. The action gave us a lot of satisfaction after days of inaction. It was a good shoot and well conducted. Everything was then quiet for the rest of the day.

Later Lieut Swifte decided to return to Col Hawthorne's lines. I have already mentioned that the trenches between the two camps had not been completed so there was an undug gap of about fifty yards. Lieut Swifte, therefore, had to crawl along to the end of the trench and make a dash for the end of the lower trench. We in OP watched him running over the unfinished section with anxiety, as the German machine gunners were pretty smart with their guns but, fortunately, they did not open up, so we were thankful to see him disappear into the lower trench. On the 27th all was quiet but, that night, a 'creeping' patrol of Rhodesians surprised and captured two enemy Askaris right under the Germans' noses. These two Askaris were very valuable to us as we were able to obtain a good deal of information from them.

The 28th was a quiet day, only sniping going on, but all was not quiet among us at the OP. The night before we were surrounded. Gunners Halse and Petersen, remnants of a draft from the Union, joined up with us, and they were sent up to me to assist with the telephones and take messages, as they were untrained on our type of gun.

These gunners were lousy and, as four of us were jammed together in a 6 x 6 x 6' hole, we were soon big game hunting. This was too much for me so I bundled them down to the guns in the hope that they would soon be exterminated by their fellow gunners, but soon they had everyone busy at the guns.

On the 29th the enemy gun came to light again shelling various points of the camp. Their infantry was also more lively, but they did not know what was brewing.

During all this time a lot of men went down with dysentery owing to bad sanitary arrangements mixing up with the drinking water; in most cases though, through circumstances beyond control. The guns had excellent arrangements, using biscuit tins in the lavatories which were cleared under cover of darkness each night. Col Hawthorne complimented us on our arrangements.

Food also was getting scarce and all rations in possession of units or individuals were called in and re-issued at the rate of four to a tin of bully, a couple of biscuits with some of the half-dried elephant meat. We did not turn up our noses at this - game has to be high to be enjoyed anyway.

Just before dawn on the 30th we counter-attacked, Col Hawthorne's force to the south and Col Murray's to the north, while a force from the west, under Capt Galbraith, KAR, attacked from the direction of Kasinga. Our guns were brought out into the open and shelled the ridges to the south-west. I was sent up with the Rhodesians, running out a telephone wire connected with the guns.

The Germans retired quickly. The element of surprise, no doubt, having a lot to do with it, but our troops did a wonderful job of work. The amazing part of the operation was how few casualties we had, as our fellows had to charge across ground that had been completely cleared of all cover, and the whole line of advance covered by machine guns. Our attack was so sudden and unexpected that some of the enemy only got away half-dressed.

The whole fight was over in a few hours and, when the tally of casualties etc was taken the official list was:

Enemy Killed Captured
Europeans 5 6) These included wounded
Askaris 41 75)
(all buried by us.)

British Killed Wounded
Europeans 5 (mostly Rhodesians) 8
Askaris 2 10

The German doctor, and other prisoners, admitted other casualties including the Commandant of the 5th Schutzen Coy, Schoeder, and the Naval Lieut i/c the gun, and several others wounded who escaped.

The material captured was:
1.6 cm Field Gun and limber with 45 shells.
3 Maxims (two in working order, one damaged by riflefire)
15 000 rounds small arms ammunition, quantity of rifles, Maxim spare parts, three telephones and cable, and a mass of the usual material carried by an army.
A very interesting number of documents were also captured detailing the whereabouts of various German forces and 'Position of Affairs' up to the 26th inst as at midday.

It was great to be above ground again and, that evening, we sat around swapping experiences. Next day was spent clearing up and collecting casualties, graves were dug, and all those killed were buried with full military honours.

That evening, immediately after the burial service, we left in the direction of Lupembe which place, we heard, was being heavily attacked. Sergeant H. Fish was placed in charge of the prisoners, the Askaris being tied together to prevent their escaping.

On our way back to Lupembe we started catching up with ration dumps and stores. The rations were thrown open to all who wanted them, our carriers having a glorious time. All stores that could not be removed were destroyed. We, the artillery, were saddled with the captured German gun which was a cumbersome thing, and we were glad to get shot of it at Old Langenberg. The last I saw of it was in front of the Boma at Zomba.

We covered the distance to Lupembe in good time, having put in some forced night marches. On the 15th of November, we were at Mfrika in sight of Lupembe. The fighting that had been going on for six days was still in progress so we had to 'feel' our way in, eventually getting in via the church end of the position. Machine gun attacks were still being made against the lower camp. (I may explain here that, during our absence, a training depot had been established for Askaris and some 300 Wemba tribesmen, under Lieut Wyatt, KAR, were undergoing training. The instructors were mostly captured Askaris, but who originally had been re-trenched by the British Army under Lord Haldane's scheme in 1913/14. Their camp was west of, and outside, the mission grounds, but on the same ridge, and was referred to by us as the lower camp, as we occupied the higher mission grounds).

Lieut Swifte and I climbed up inside the church steeple to spot any targets to engage and, while up there, a motor cyclist came from the lower camp with information of the whereabouts of the enemy machine guns. I was ordered down to take the report. It was much harder to go down those ladders than to climb up. The machine gun positions were pointed out to me and I shouted the information up to Lient Swifte. He could engage them until he came down to take over.

I had a good shoot and much satisfaction in putting those machine guns out of action, as machine gunners had, for a long time, treated me without respect.

The Germans had been attacking the Lupembe camp for six days and had delivered several bayonet charges, but the garrison held out, inflicting heavy losses, the enemy losing 320 men. Our arrival brought these attacks to a halt. Our goats, which had been left here, suffered no harm, although I was told, they were running all over the camp during the battle. Our gun limbers and ammunition wagons were well marked by bullets. Our casualties were again light compared to those of the enemy.

We proceeded to dig in and, I should say, this was the easiest place we ever dug in. The soil was over ten feet deep, before ever coming to anything like sub-soil. There was luxurious growth and our gun pits, with overhead cover, were soon covered with grass. In fact, all communication trenches were soon covered and indistinguishable from the surrounding ground so one had to be careful not to fall through into the trench below.

On the 16th I was up at Col Hawthorne's Headquarters when we noticed a column of Askaris marching towards us from the lower camp. They were stopped by Col Hawthorne who enquired where they were going to. They replied that they had won the fight, the Germans had retired, so they were going home. (They were the Wemba recruits who had fought so well). Sad to relate that, before leaving their camp, they had slaughtered our goats and cut them up for road rations!

On the 17th a large force was observed approaching from the Njombe direction. They turned out to be an enemy column under Major-General Wahle, said to be 86 years old. This force by-passed us but shelled an old camp site with some 60 shells; this gun was one captured from Capt Clark's forces at Ngomeni when he was over-run and killed. They also used some of our shells, captured at the same time, in this gun, but without success. Eventually they ran the gun down into a stream, but it was later recovered.

Before finally retiring, this force sent all their wounded in to us. This was done under the white flag. While the negotiations were going on German columns were observed heading in the direction of Mfrika, but out of range of our guns.

Life at Lupembe went on quietly with the usual drills and patrols etc. The enemy occupied Mfrika and fortified it. The rainy season was now well set so little troop movement was possible. Lupembe lived up to its reputation as a wet spot but the climate was very good.

As Christmas was approaching a half platoon of KAR was sent down to Zomba to bring Xmas cheer. The conditions along the lines of communications had become so bad that it was a miracle if anything got through in the ordinary way. Col Hawthorne was determined that we would have something for Christmas so our packages were placed under an armed guard, with fixed bayonets, from Zomba to Lupembe and, as Askaris carried out their orders to the letter, no-one took chances with them.

During this 'waiting period' the Battery Commander visited us and later the Centre Section joined us. It was pleasant to see them again. From them we heard that Sergt Buccholtz had been killed and three gunners wounded in a fight at Kukuyto Pass on October the 26th 1916.

On Christmas Eve we were under orders to attack Mfrika. The rain was coming down in torrents; it was pitch dark and we spent a few hours standing around in a leaky hut singing Christmas carols such as '......peace on earth and good Will to all men.' The move was eventually cancelled but the infantry were out: the enemy had retired.

At about this time we were being visited overhead by one of our planes which carried out bombing attacks at various points. An advance against the enemy was later made in which the Centre Section took part, the enemy retiring right down to the Ruhudge River, but the Section returned in a few days without having been in action.

The enemy appeared to be now moving down towards Songea and Portuguese East so troops were transported by motor vehicles, via Njombe, to a point somewhere between that place and Tandala, from where they marched over the Livingstone Mountains, down to Old Langenberg from where they were shipped to Weidhaven. The Left Section was already there and the Centre Section followed with the Right Section last.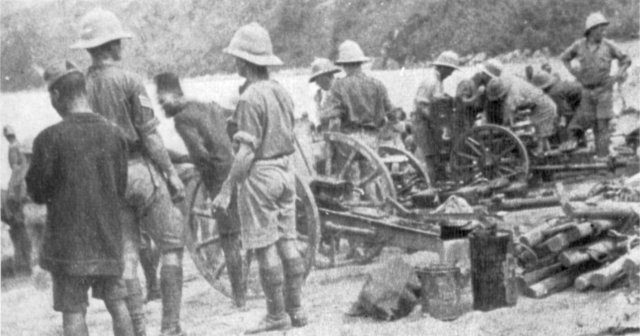 Preparing to embark at Old Langenberg, Lake Nyasa.

I was the last to leave and had orders to push on as fast as possible as enemy patrols were reported in the vicinity. I by-passed Tandala which was subsequently attacked. Near the top of the Livingstone Mountains I came upon a huge dump of potatoes. The potatoes were being brought up by a party from our Supply Corps, under a corporal. I packed all available carriers with loads of them. I informed the NCO i/c of the enemy position and suggested his party should join me but he refused so I went on my way. Next day the enemy collected them and set fire to the potato dump.

Sad news greeted me on arrival at Old Langenberg where I was informed that the grass store-room housing the comforts etc. had been burned down the previous night. These fires happened quite frequently and covered a multitude of deficiencies. This fire was no exception and included the Original Conduct Sheets and Medical History Sheets of the Battery much to the joy of some!

As BSM Marshall had been commissioned to the KAR, BQMS W. Lawford was appointed Battery Sergt-Major and I was to be BQMS: my troubles now started. We were transported by HMS 'Gwendolen' to Weidhaven where a camp site had previously been selected by an advance party. We were, however, sited up at the Boma, about a mile inland. We later returned to the lake shore which was ideal, being clean, sandy and with water at our doorstep. There was a scare one night, but after digging in, dropping tents etc., nothing happened. However, we were ordered back to the Boma.

This 'Duke of York' stuff was not a good start to my job as BQMS.

It was about now that we had two 'Stokes Trench Howitzers' dumped on us and we were told to get on with them. These were carried about for a while, but eventually we had to do something about them. Being Quartermaster, I had to check the contents of the cases. As the instructions for the handling and care of the mortars were enclosed, we started to experiment with them, and soon got the hang of things.

The explosive charge of the shells could be removed and the shell fired in the ordinary way, so we could practice shooting them off at practice targets, without harm, and then retrieve them.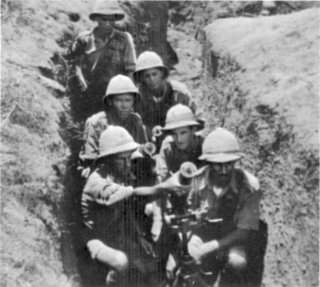 Stokes Trench Howitzer.

I remember one morning I was out with Capt Ames. We were attacking our camp on our return from practice. At all of our camps Major Morse insisted on having a grass shack built for himself and this morning Capt Ames, being in a playful mood, decided to try and drop a shell on Major Morse's shack. He was most successful and dropped one right on the roof through which it fell. Major Morse was shaving at that particular moment and, seeing a shell fall through into the shack, made a magnificent bound out of it cutting his chin in the process. Captain Ames almost exploded with laughter but I will not record what the BC said. It was, however, the end of practice attacks on our camp.

About the 28th of February, 1917, the Left Section left for Songea followed by the Centre Section and then the Right on March the 2nd. I was with this Section when a wireless message was transmitted, through my Battery Commander, informing me of the serious illness of my father, and requesting that I be given leave to return to the Union to see him before he died. My Battery Commander refused to give me leave but Lieut Swifte and Col Hawthorne had other ideas, and I was given a month's leave after reaching the Union. I left immediately and was fortunate in catching a steamer that was leaving for Fort Johnston immediately.

In May 1917 BQMS Maker rejoined the Battery at Fort Johnston and remained there in charge of stores. The following record of the movements of the Right Section between March 1917 and January 1918 was extracted by BQMS Maker from the diary of Sgt H. Fish.

Soon after we got the order to shift and go to Songea, a distance of 87 miles. This also was a series of long waterless marches, sometimes as much as 17 miles a day. Several men fell out on this trip and were either sent back, or left at hospitals on the road. We eventually marched into the garrison town of Songea on March 7th, where the whole Battery joined up, and we were regaled with the usual routine of drills, gun-laying, and Orderly Sergts etc. But this only kept up for a short time as, one by one, the other Sections left; the Centre Section for Kitunda on March 20th, the Left Section for Nomaboya about 16 miles away on March 27th and, once again I was left behind like Cinderella. From now on we were known as the Garrison Section and apparently utilised to supply the others with men, telephones, etc.

At last the Right Section was broken up altogether and I was left with a few sick men to look after the two guns. From this time on it was merely a passage of men to and from hospital; sometimes when the number was large enough, a draft would be sent to re-inforce the other two Sections. This was a dreary time and we were all glad to learn that the Left Section was coming and we were off to Fort Johnston, for which place we left on May 19th.

The stay at Fort Johnston however, did not last too long, for we were on our way up the lake again on July 29th. We landed at Weidhaven (or Ilula, for the port had been renamed since we left), and left in the same old style again for Songea. This time, however, there were vast improvements in the roads and bridges etc., and about half way, we were shoved on motors again (our second trip) and whizzed to Songea in 4.5 hours. This had previously taken us many days to walk.

Everybody seemed surprised to see us, - in fact, knew nothing about us, so were dumped down and told we were in reserve. Here again our strength fluctuated and when we got the order to shift out again we found we could only man one gun, so left with one gun for Mpepe and Col Gair's column, the distance between being about 120 miles.

We reached Kitunda on 1st September after some rotten trekking with new 'tenga-tenga' men only just recruited, and consequently always sick or unable to work. Many of them deserted en route. At Kitunda we learnt that orders were cancelled and we were to leave for Col Murray's column at Mpuruhaven.

The 'road' being only a footpath made the passage of guns difficult and we had to form a 'pioneer' corps of men with axes to clear a path while Mr Swifte and I selected roads through bad places or else built bridges.

All the way from Songea the country was dense bush, it being impossible to see further than 50 yards and, as usual, the paths always went over the hills and not round them. This made it very slow as the men had to pull the gun up, and then stop it running away the other side. But we usually made camp at about 8 p.m. and after a bath, when possible, felt quite alright.

We reached Lihuyu on 4th September. This was the scene of a big scrap some time back when Major McCarthy forced the surrender of Grawert by a huge piece of bluff. The Germans, however, blew up their Maxims and big Naval gun before surrendering, the remains of the latter still lying in the position. This was evidently a 3.33 gun from the ship 'Königsberg'.

From this place, almost every mile, we came across German positions made to stop our advance along the road. Some were quite small (obviously just for the rearguard to delay us) whereas others were quite extensive, with trenches, emplacements and deep dug-outs.

We reached Mpuruguru on September 6th. Here we joined up with Col Murray again. After a few days rest it was decided to shift camp to a new position 4 miles away on the Luwale Road. This meant building new huts and gunpits and, as we had plenty of men and material, we decided to make ourselves as comfortable as possible for the rainy season. Here we built the most massive gunpits we had ever made, of logs varying from 1 ft diameter to almost 2 ft, and with a solid roof of logs laid together like ceiling boards. The men meantime, had made themselves comfortable, some with verandahs and pergolas for dining rooms, etc. We were joined by the Centre Section who had come back from Col Hawthorne's column. We had not seen them for six months and they had been through some rough times. On one occasion they spotted two German guns in the open, but were not allowed to fire, and were often in action at less than 600 yards from the enemy Maxims.

Left Section leaving 'The Bar' for Portuguese East Africa to relieve Bomas captured by the Germans east of Lake Nyasa.

After staying in this camp for some time we heard the rumour that we were to go back to Songea and be trained on Stokes trench mortar guns. Of course this was not believed in the Battery but the rumour was true and we found ourselves in Songea undergoing a course on the new gun.

About November 11th a rumour got about that a Zeppelin was to come to East Africa from Palestine, so two of our mountain guns went out to Killeo Hill and dug in for its reception, but it never materialised.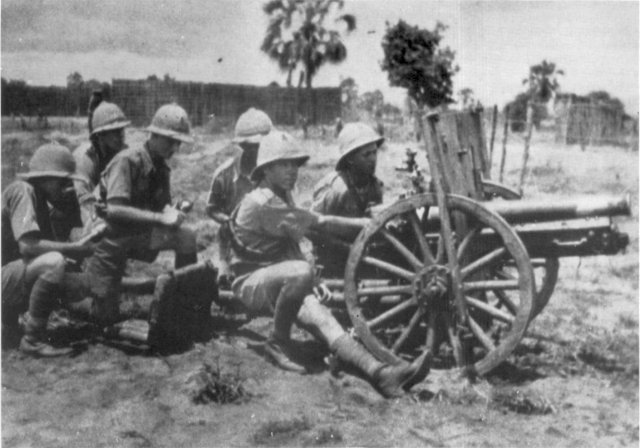 Mountain gun in action. Left to right: Bdr Liddell, Sgt H. Fish,
Gnr W. Tolmie, Bdr van Aswegen, Gnr Hickey, Gnr White.

About the beginning of December the Battery left Songea en route for Fort Johnston where they arrived on December 17th. In fact the whole of Col Hawthorne's force was transferred down, and the whole were entertained at the Garrison Institute. Each batch was provided with a good spread, with beer and whisky, and it usually ended up with a smoker. The Askaris too were well looked after and provided with buns, pipes, tobacco and native beer as well as meat galore.

We were now collecting a considerable force at Fort Johnston. There were three Battalions: 1500 of the Cape Corps, our own Battery and machine gunners of the 1st and 2nd S.A. Rifles; also 600 of the Rhodesian Native Regiment at Halindi, 7 miles away and one Battalion KAR 24 miles away.

The Battalions left one by one for different destinations and, at last, our Battery left on 5th January. I may mention that the cause of all this movement of troops was owing to the German forces breaking through into Portuguese territory. As far as we could hear it was simply a clean sweep through for the Germans, as the Portuguese retired on the slightest rumour of enemy in the vicinity, hardly ever firing a shot, and leaving guns and ammunition to fall into German hands.

The enemy split into small parties all over Portuguese East Africa, some right south in the vicinity of Port Herald on the Zambesi, so I was afraid it would be a rather tiresome job before the lot were rounded up.

Maker again takes up the story.

The enemy was now making for Nyasaland so the troops were brought down from Songea, and, as they arrived, they were entertained at the Garrison recreation rooms. I was in charge of all the whisky and beer etc., and, as each unit disembarked they were entertained that evening while those already there were camped at various places at hand.

This entertainment of the troops by the people of Nyasaland was much appreciated, as the troops had had a rough time during the last two years. The Battery occupied the recreation rooms during their short stay and joined in most of the entertainments.

The enemy was reported to have got as far as Mlanje in Nyasaland so the Centre Section was rushed off with a motorised force to deal with them, but as usual, the enemy had disappeared and in a few days the force returned.

We were now living on the fat of the land, as we could buy anything we wanted, but noticed a steep rise in the price of whisky which we could buy for 5/2d a bottle when we first came into the country. The cheapness of whisky, in the early days, was said to be the objection Scotchmen had to taxing their foodstuffs!

We had orders to leave for Namweras on December 24, 1917, but only got halfway up the mountains, when we were recalled to The Bar. (Perhaps I should mention that 'The Bar' was so called as the source of the Shire River had a 'bar' across it owing to the low state of the lake, and boats could not pass from the lake into the river).

It was a cold, miserable trip but on Christmas morning I made a good issue of rum which I had saved from the official issue while at The Bar and in the land of plenty. (What it was to be an honest Quarter-bloke!)

On 5th January, 1918, we again left for Namweras where a camp had been established. This was a healthy spot, but wet, and it was right in the middle of the seasonal game trek from the hills to the lowlands, so lion, and lion stories, were plentiful.

A lot of our men cracked up on this march so it was decided that the Battery should be medically boarded, the result being somewhat startling. Capt Ames and a number of NCOs and men were classified as 'B' - garrison duty only, 'C' unfit and repatriated to the Union, and 'A' fit for column duty. I overheard it being arranged with the Medical Officer that I should be classed as 'B' as I had had a difference with the Battery Commander over native carriers which he had taken from our establishment to move extra loads he had (mostly whisky and foodstuffs) and leaving the same number of loads of food and stores behind. However, as I was 'time expired' in the SAMR Artillery I requested I be re-engaged which entailed a medical examination, in which I was passed 100% fit by another MO. (I heard later there was a devil of a row over this). I then saw Capt Ames and insisted that I be sent on to column, or be returned to the Union, as I had not volunteered to do garrison duty, especially under the circumstances of my medical grading. After Capt Ames had consulted with the BC by 'phone - he had gone sick a few days march away - I was allowed to proceed to Column.

In a few days I left for Column conducting a thousand carriers, and caught up with the Battery Commander who was pretty cool to me. It was here that Sgt Radford met us on his way to Zomba for training as he had been commissioned in the KAR. He died a few months later at Zomba from blackwater fever.

After a few days marching we heard gunfire which turned out to be our stokes guns, under Lieut Swifte, attacking an enemy position, but it was two days before we caught up with the Column. It was a good example of how sound travelled through the forest.

On arrival at a place named Mtarika we were ordered back to Namweras. The enemy had broken back and was making for German East Africa again. His tactics were now to 'hit and run' which he did very successfully and at no time could we take any chances with him.

This march proved to be our last as, on arrival at Namweras, we were ordered to proceed to The Bar and hand in our guns and equipument, as we were en route for the Union. There were two officers and thirteen NCOs and men left of the Battery, but I understand, some members of a draft, who had not reached us on Column, elected to stay on. Reports indicated that the men gave a good account of themselves but I have no records.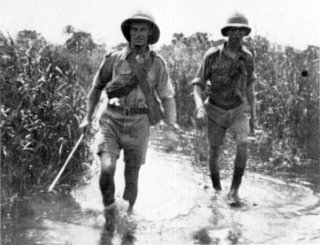 Through swamps. Bdr de Villiers and Gnr van Blerk.

On arrival at The Bar I handed over all our equipment etc., the Battery Commander having cut through to Fort Johnston and on to Zomba. Before we parted with our guns we fired a number of shells up the lake and kept the shell cases as souvenirs.

From Zomba we went to Port Herald, on the Shire River, to embark. The rainy season was still on so the Shire was navigable down to Chindio on the Zambesi and so on to Chinde. At the junction of these two rivers it was estimated that the flood waters covered an area of thirty miles. All the way down the Zambesi groups of Natives could be seen on hill-tops surrounded by water. This was an annual event so it seemed strange that the Natives did not make some provision to get away before being trapped.

The 'Centipede' made good time to Chinde. It was always a marvel to us how the captains of these paddle-steamers knew what direction to take during time of floods, as the vast expanse of water gave no indications, except the direction of the current, as to which mouth of the delta we were in.

I was ship's Sergt Major and had all the worries the job implies plus the sudden interest of the Battery Commander in the welfare of the men. He placed anyone under arrest if he caught them in the sun without a helmet even for a moment. We were a pretty hard-bitten lot by this time and a minute or two in the sun could do us little harm, so it was a pity his interest in our health had not started at the beginning of the campaign instead of the end.

We were delayed at Chinde for about a week as the coasters could not come into the Zambesi until new buoys had been placed along the channels. We landed at Beira and next day left for the Union via Rhodesia, but had quite a lot of trouble crossing the Pungwe River as the railway embankments had been washed away and the rails hung in the air. We used gangers' trolleys to get across the swollen river, but not without getting a ducking as the trolley swooped through the water as it ran from one pier to another.

We were well treated on our way through Rhodesia and the Union by the various ladies' committees who met the train at all hours of the day and night. We always gave them a rousing cheer for their kindness.

We arrived at Pretoria station at 1.30 one morning where ambulances were waiting for us, and before we knew why, we were bundled into hospital at Roberts Heights. We were each given a bowl of hot soup and made comfortable in gloriously soft beds with sheets and pillows complete - a luxury we had not had for years. It was, indeed, the return home of the conquering hero!

However the morning came round and so did the Medical Officer on his duty rounds. I was the first he addressed, asking what was wrong with me. I replied nothing. He then asked what I was doing in hospital. I could not say, other than that we had been ordered in over night. I still do not know why we were put into hospital.

That afternoon, while writing up my case, he found that I was an ex-CMR and was quite excited about it, as he had been a District Surgeon at Mt Ayliff in the Transkei. He insisted that I could not possibly be as fit now as I was when I went up to Central Africa, to which I agreed, so I was classed as a 'debility' case. Next day he enquired how I was and I reported that I was not feeling very well and thought that the debility was getting me down. He agreed and ordered me to be put on a quart of stout daily. Sgt Bean, a big, gaunt, hard-as-nails Rhodesian, hearing of my success, also decided that his debility required some attention and reported to the MO accordingly next day, but he was not as successful as I, as he was ordered to get an extra dose of salts each morning for a week!

After ten days in hospital for blood tests and what-not I was discharged and given seventeen days 'war' leave after which I reported back to the Artillery Brigade at Potchefstroom.

Well, we had travelled many thousands of miles on our flat feet during nearly three years under the worst possible conditions. Times were when we had to live on the country which amounted to game and kasava (arrow-root). We certainly lived on the heads of our native carriers and without them the war could not have gone on. They were subjected to all the risks of war without the means of protecting themselves and I saw many acts of bravery by them that should have been rewarded with the highest military honours.

Before closing this 'narrative' I would like, on behalf of the Right Section, to pay tribute to Lieut H. Swifte, MC. His consideration for his men was deeply appreciated; he never expected of them what he himself would not do. He did not get the best of treatment from those above him in so far as his Section was concerned, as it was continuously deprived of men and equipment to augment the other two Sections, but he always came out on top.

He was held in high esteem by his men and by the officers and men of other units. His disregard for his personal safety when in action was such that he often 'put the wind up' those who had to get around with him. The award of the Military Cross to him was earned several times over.

Well! I come to the end of my story. I have endeavoured to make it a little entertaining and not dry as dust as most records are. The facts are as correct as records can make them. I trust they will be read with interest in time to come.

I am indebted to Mr E. Buccholtz, of East London, for reproducing the photographs accompanying this narrative from snaps taken by me during the campaign.

Good luck and good-bye to all you Mountain Gunners of the 5th Battery, SAMR.

END OF NARRATIVE

Return to Journal Index OR Society's Home page

South African Military History Society / scribe@samilitaryhistory.org