The South African
Military History Society


---

Die Suid-Afrikaanse Krygshistoriese Vereniging
---
Military History Journal
Vol 4 No 2 - December 1977
Battle of the Falkland Islands
by Lt-Cdr A.G. McEwan, RN (Retd)

Editor's note: Lt-Cdr McEwan was a pioneer airship pilot in the Royal Naval Air Service during the First World War He entered the Royal Navy as a Public Schools entry from Shrewsbury in 1913, aged 19. After serving as a Midshipman in HMS Invincible at the Battle of the Falkland Islands in December 1914, he was appointed to the Royal Naval Air Service for duties with lighter-than-air craft. He served as an airship pilot from 1915 to 1919, attaining the temporary ranks of Flight-Lieutenant and Captain, Royal Air Force, in addition to his substantive rank as a Lieutenant, Royal Navy. He set an airship endurance record of 25 hours 22 minutes on 26/27 June 1917 from Pulham Airship Station in a North Sea class airship. He also flew a Sea Scout airship to a record height of 10 300 feet from Polegate Airship Station. This record stood even after the War. His total of airship hours flown was one of the highest, being about 2400 hours.

Lt-Cdr McEwan was demobilised from the RAF on 1 April 1919, and he relinquished his RN commission; and retired. He was promoted to Lt-Cdr (Emergency List) in 1926, and was recalled from retirement in 1939, to serve as Staff Officer Air at Simonstown. He flew as observer aboard the SAAF JU 86 from RNAS Wingfield that sighted the German liner Watussi before she was scuttled off Cape Agulhas on 2 December 1939.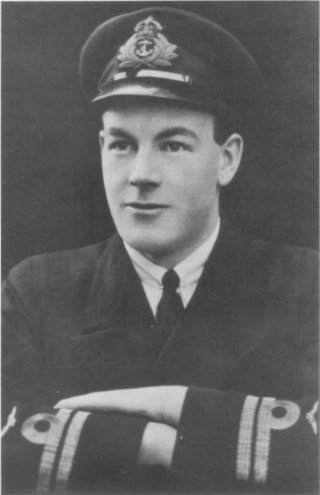 Lt Alan Grandage McEwan, RN, in 1916.

This interesting account was written by Lt-Cdr McEwan to his family when he was a Midshipman aboard HMS 'Invincible' at Port Stanley, Falkland Islands, on 10 December 1914.

We left Devonport four weeks ago yesterday, a Wednesday, and proceeded to St Vincent to coal. From there we went over to the South American coast to the Abrolhos Islands to coal. Here we had nine colliers and two oil fuel ships waiting, and we also met our South Atlantic Squadron there, which included the 'Glasgow', 'Bristol', 'Carnarvon', 'Cornwall', and 'Kent'. From there we all proceeded down to the Falklands, keeping fairly near the coast.

Of course it got jolly cold indeed and we reached Port Stanley about 10 a.m. on Monday last, 7th Dec. We all anchored. The 'Carnarvon', 'Glasgow' and 'Bristol' all coaled immediately. The coal from the collier for the 'Bristol' was far too hot for her to put in her bunkers, so she was delayed. We were to coal on Tuesday at daylight with the 'Inflexible' and leave that night for the Horn, for we had rumours - only rumours, no definite information - that the German Squadron, which consisted of 'Scharnhorst', 'Gneisenau', 'Dresden', 'Leipzig' and 'Nürnberg' at least, was going east. Our object was to meet it before it got round the Horn.

Well, on Monday at 1.30 p.m. leave was given to all officers till 6.00 p.m., so I went on shore with others. Port Stanley is a most weird place. The country is just like Dartmoor, no trees anywhere, and peaty moorland. The town might be a picture of a garden suburb or something - or what I imagine one looks like - without trees or gardens! All the houses were small and of wood. There were a few stores, an hotel, and a small wireless station. We walked about six miles to the top of the nearest young mountain, very craggy. It was hard work but we went straight for it very fast. My word, it was nice to be on 'terra firma' again and have some exercise! Of course it rained and was cold, for it rains 250 days a year, and winter temperature is 37deg [F] while the summer, now, is 10deg higher!! On the Sunday they had had thick snow!

Having enjoyed our walk we returned to raise some tea on board and were going to sleep, the sleep of the just before coaling. Of course we slept all right and started coaling at 5.30 a.m.

At 8.00 a.m. a four funnelled man-of-war was sighted on the horizon. We did not think anything of this but ate a fair breakfast and at 8.30 started coaling again. At 9.00 two ships came close to Port William where we were coaling. The 'Canopus' - the ship stationed at Port Stanley - fired on them and the shots fell just short. Her second salvo went between the ships which turned out to be the 'Scharnhorst' and the 'Nürnberg.' The ships made off at once.

At 9.05 'action' was sounded off in the 'Invincible.' Coaling stopped immediately and steam for main engines ordered. At 9.15 the collier had proceeded, which was very smart work.

At 9.35 'Scharnhorst' and 'Nürnberg' had apparently stopped well out and were waiting for the rest to come up. 9.55 enemy were making off fast.

At 10.00 a.m. we had steam to proceed and weighed anchor. We turned and were third out of the harbour, followed immediately by the 'Inflexible.' We gave chase and worked speed up to full speed of quite 27 knots.

Now from this time to 12.30 we might have been at the manoeuvres off Spithead. The enemy's five ships were hull down to the horizon going about 21 knots. We were keeping them there waiting for all our ships to come up with us. So the hands were sent to clean - for they were all black in coaling rig, etc. - and to get lunch.

I don't think I've told you my job at 'action.' I am a sort of assistant navigator - ahem! - It is my business to keep the exact dead reckoning of the ship. You understand this? i.e., to be able to put the position of the ship on the chart at any required moment. D'you see? This navigator has invented a dead reckoning calculator by which it can be done very accurately (if worked accurately!) allowing for all the alterations of course. I have had several practices with it before and only once made a bad mistake. There are several of these calculators in the fleets now on trial.

My position is in the lower conning tower - below the water line and under armour! As safe as possible, unless the ship sinks! I was down there from 9.30 till about 11.00. Then I went on to the fore-bridge till 12.20. It really was extraordinary to see those five ships away on our starboard bow. Of course we were extremely thankful they had decided to visit the Falklands for we should have left 10 hours later and would have missed them. It was rather aptly described, as they used to describe things in the Bible, when you really come to think of it: 'And they were delivered into our hands', (which occurs often, don't you think?).

At 12.30 we were all ready to fight them. You see our speed was fully equal to theirs so we could do what we liked.

At 12.30 we sounded off 'action stations' again, and the 'Inflexible' and ourselves went on full speed with the light cruisers - 27 knots. We closed them to about 17 000 yards (9½ miles fully) when we opened fire with our 12" at about 1.00 p.m. At first we engaged their right hand ship, the 'Leipzig', but she did not last long, for at 1.20 she seemed unable to keep up with the other ships and turned to starboard. We concentrated our efforts then on the 'Scharnhorst'.

Up to this time the enemy had been running away from us. But at 1.25 the 'Scharnhorst' altered course to port to engage us. At 1.30 we altered course to port to keep out of range of their guns. At 1.30 the enemy opened fire and her first shots fell 1000 yards short. At 1.45 the enemy straddled us, say one short, one over and three hits - a salvo, d'you see!! We opened out, but at 2.00 we turned towards her. At 2.10 the range was 15 600 yards but the enemy turned away then.

Now there was a lull in the proceedings. The 'Glasgow' went after the 'Leipzig' and eventually sunk her, so we heard later. At 2.45 a full-rigged ship steering SSW appeared from nowhere, so I'm told. She was absolutely white and every bit of canvas was spread. She would have been an unexpected but interesting sight. All this information was reported to me from the upper conning tower by the navigator. I was sort of reporter as well.

At 2.45 we re-opened fire on the 'Scharnhorst', at range 15 000 yards (8½ miles fully).

At 2.53 the enemy turned to engage us. But we turned also so as to keep out of her fire or dangerous zone. Now we got as close together as we ever did. At 3.00 the 'Scharnhorst' was hit badly and burning forrard. Just about now at 3.06 we were hit several times. At 3.28 the 'Scharnhorst's' third funnel was shot away and she was burning aft.

At 3.30 she turned to starboard, for we had also turned round at 3.15. We a/c towards her; range about 11 000 yards (6¼ miles). At 3.50 'Scharnhorst' was 13 500 yards away (7¼ miles). At 4.00 she was listing to port badly. We now closed in upon her but at 4.17 she slowly turned on her side and you could still see her screw going round when she sank. For a few minutes the 'Gneisenau' hesitated whether to stand by her. For the 'Gneisenau' had been with her the whole time and was still firing all her guns; the other three had made off. So at 4.23 the 'Inflexible' and ourselves at range 10 000 yards (nearly 5¾ miles) were left to finish off the 'Gneisenau'. At 4.25 the 'Gneisenau' was still straddling us.

At 4.47 the 'Gneisenau' was badly hit and looked to be suffering badly. At 5.08 her fore funnel was shot away, 5.15 she was hit badly between the third and fourth funnels, and at 5.30 was listing badly to starboard.

5.35 we ordered the 'Inflexible' and 'Carnarvon' to close on us.

6.00 the 'Gneisenau' was stopped and at 6.02 turned slowly on her side and you could see the men scrambling over the ship's side. She settled down by the head and slowly disappeared, all in 2 minutes.

We were only 4000 yards (2¼ miles) away then, so we all three closed and lowered boats and by 6.12 we were actually on the spot where she went down and hauling men up and the ship's side. The water was about 40deg F and it was bitterly cold, so they did not have much chance.

It was a most awful sight, but I was so extremely busy at the time working up my dead reckoning that I am glad to say I did not see much of it.

At 5.45 I went up into the upper conning tower to look at things and saw the 'Gneisenau' right ahead listing badly to starboard, steam coming out of her amidships. She had ceased firing.

It has since been ascertained from the survivors on board that they had run short of all ammunition and had no steam in their boilers at the end. They say their ship was an absolute wreck before she sank.

We had been hit ahout 20 times, twice below the water line, once forrard and once in our port bunker, which was flooded, giving us a list to port.

The wardroom had a shell right in the middle of it, which exploded. The result when we came to look at it was appalling. So we are now living a sort of camp life - very cold too.

The sick-bay, the canteen and our wardroom pantry are all absolutely destroyed. The officers' cabins on the port side are very badly damaged.

We had one shell in our chest-flat which got the two chests opposite mine and spoilt most of their gear. I, personally, had hardly suffered anything in that line.

The marvellous part is that we have no casualties at all. The Commander whose business it was to put out fires caused by bursting shells got a splinter in his foot when out of the lower conning tower looking for the fires, but not serious. He is the only one.

The Admiral was at the top of the mast in his director tower the whole time! It was most weird hearing the shells whistle over us, and when they hit the whole ship vibrated and staggered; and then you heard the splinters flying like hundreds of kettles and pans being thrown about. (Not a good description but will do!)

Immediately after we had repaired the damages temporarily we proceeded after the other three, as we thought, though we had no idea where they were.

But soon we heard the 'Glasgow' had finished off the 'Leipzig', and the 'Kent' the 'Nürnberg.' The 'Dresden' had got away, so we made for the Horn. We sent the 'Carnavon' after our Abrolhos colliers.

The 'Bristol', who had been about half an hour behind in leaving Port Stanley, was sent with the armed merchantman, the 'Macedonia', to seize enemy's colliers which were reported close by. She sank the two colliers but let the enemy armed merchantman get away.

So we stand now on 10th with the 'Dresden' and 'Karlsruhe' and an armed merchantman to find somewhere.

We have made a very large circle round the Falklands and hope to enter Port Stanley again tomorrow, Friday, at 4.00 a.m. to repair and coal later! Not much of a place.

Of course we had no doubt of the result of the action. We had 8 12" and 27 knots each ship against their 8 8.2" and 22 knots. It was rather like a little wiry man who had not the reach or strength of the big man in a boxing match trying to knock him out first.

So now you have heard all about it. And I have the most beautiful plan of the courses of us and the enemy during the action which the navigator and I constructed from my dead reckoning calculators.

We steamed over 120 miles during the action. Tonight we have had congrats from 'George.' Of course we are all awfully bucked.

At 6.00 p.m. we were in latitude S 52deg 40', longitude W 56deg 20'.

After a temporary rest etc. of three or four days in Port Stanley, we are going to have another organised search for these three Germans. Then I expect we'll come home.

Return to Journal Index OR Society's Home page

South African Military History Society / scribe@samilitaryhistory.org