The South African
Military History Society


---

Die Suid-Afrikaanse Krygshistoriese Vereniging
---
Military History Journal - Vol 4 No 1
EDITOR'S LETTER-BOX
Notes, Questions and Replies
Replies/Antwoorde
1. The Krag-Jorgensen Rifle of the Anglo-Boer War
Mr Berkovitch in his interesting article in the last issue ofthe Journal (Vol 3 No 6, Dec 1976), page 203, asked for information concerning Kragjorgensen rifles not listed. We have here on display at the War Museum of the Boer Republics, Bloemfontein, a rifle in excellent condition, Serial no 152 made at Steyr and dated 1896. We shall gladly provide any further information required on request.
Karel Pienaar (Director)
2. Buglers and Trumpeters of The Union Defence Force c.19l3
In reply to Cmdt Hulme's question in the December issue, (Vol 3 No 6) it seems highly likely that the buglers and trumpeters in his photograph were all members of the South African Contingent which attended the Coronation of King George V in 1911.
The Coronation Medal Roll (C.O. 523/37 6429) lists the following buglers and trumpeters:
3553 Sergt Tptr W. Williams, Cape Mounted Rifles (should be Riflemen).
695 Tptr Cpl W.T. Wigman, Southern Mounted Rifles.
119 Bugler M.G. Farrell, Duke of Edinburgh's Own Volunteer Rifles.
1277 Bugler J.H.A. Lawrence, Cape Peninsula Rifles.
491 Bugler B.R. Lagerwall, Durban Light Infantry.
The King Edward VII Coronation Medal 1902 Roll (Cape Colony and Natal) and King George V Coronation Medal Roll 1911 (Union of South Africa), at present not obtainable in South Africa, hopefully will be published in the journal of the S.A. Numismatic Society later this year.
W. Mc.E. Bisset
Notes/Notas
1. A Boer Family by Ian S. Uys (Refer Vol 3 - No 6, Dec 1976). Please note that the caption to the reproduction of a painting of P.L. Uys on page 215 is incorrect. It should read:
'Petrus Lafras (Piet Hlobane) 1827-1879'
There is no known photograph or likeness of Piet Italeni - the painting is of his son.
Ian S. Uys
Questions/Vrae
1. A Drum Horse of the Cape Light Horse: The accompanying photograph shows a mounted drummer of the Cape Light Horse. The identity of the Unit is clear from the embroidery on the drum banner but otherwise the uniform presents problems.
The Cape Light Horse existed from 1907 to 1929 and theoretically the photograph could have been taken at any time between these dates. As volunteer units gave up full dress in 1912 after incorporation into the Union Defence Forces, it is likely that the plate is dated before this time. It is, however, possible that a bandsman would have retained full dress after World War I.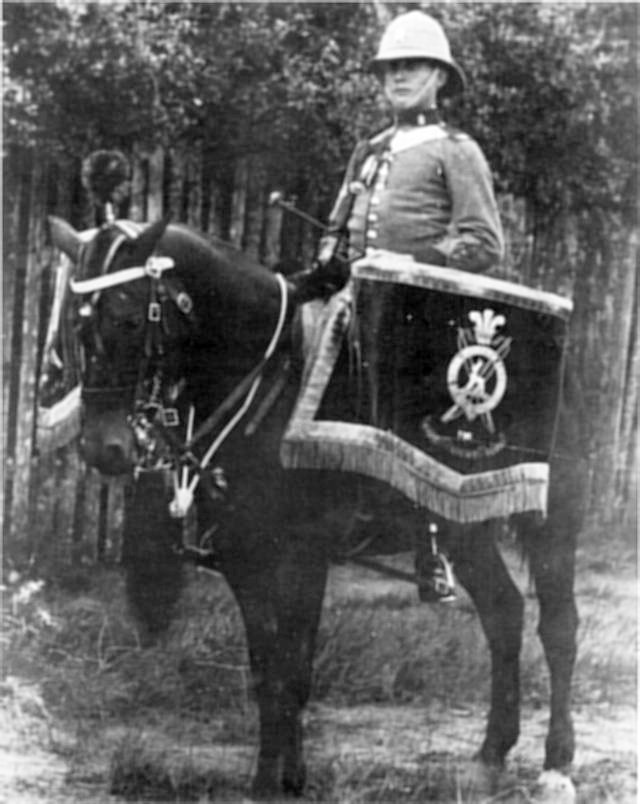 A drum horse of the Cape Light Horse

In an article in this Journal, Vol 3 No 4, Page 150, Major D.S. Augustus mentions having seen the drum banner at Keiskamma Hoek. He advises me that it was scarlet in colour. It is possible, although not certain, that the drummer's facings were of this colour.
Information and comment from readers would be appreciated.

J.J. Hulme

Return to Journal Index OR Society's Home page

South African Military History Society / scribe@samilitaryhistory.org