The South African
Military History Society


---

Die Suid-Afrikaanse Krygshistoriese Vereniging
---
Military History Journal
Vol 3 No 4 - December 1975
THE DIARY OF A DOCTOR'S WIFE (Part 1)
During the Siege of Kimberley October 1899 to February 1900
by Winifred Heberden
Editor's note: This interesting diary is published by courtesy of Col E. S. Thompson whose sister is the diarist's daughter-in-law. The diary, covering the period from 16 October 1899 to 21 February 1900, has been annotated by Col D.E. Peddle. Some minor corrections (chiefly typographical) have been made, and the annotations are mainly explanatory for the benefit of those who are not familiar with Kimberley and its environs and the famous Siege. The map illustrating the places referred to in the diary has been drawn specially for this purpose at the South African National Museurn of Military History. Some of the photographs used belonged to the late Mrs W. Heberden, others are published by courtesy of the McGregor Museum, Kimberley.
Some of Mrs Heberden's statements concerning casualties, and messages to or from Lt-Col Kekewich (which she could not have seen in the original) should be treated with reserve. Where possible, correct, or near correct, casualty figures have been given. In compiling the annotations, both Lt-Col Kekewich's own diary of the Siege and his official report, plus the original Log kept by the Duty Officer in the De Beers Mine Conning Tower throughout the Siege have been consulted through the courtesy of the McGregor Museum and the Kimberley Public Library. An 'Excerpt of the Minutes of Proceedings of the Meeting of the Institution of Mechanical Engineers, held in London on the 28th June, 1900' has also been consulted regarding details of the gun 'Long Cecil'.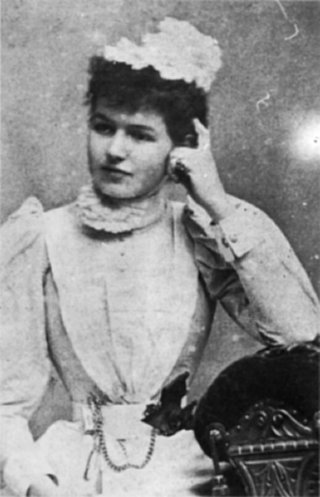 Mrs Winifred Heberden shortly before her marriage
Note by Mrs Doris Heberden, daughter-in-law of Mrs Winifred Heberden
It is perhaps necessary to explain that at the death of my husband's mother, Winifred Heberden, this battered old portfolio and photographs came to us; and although we knew it was her account of the Siege of Kimberley, it never occurred to us to realise until quite recently the historical value of this Diary, in her own faded handwriting on the old yellowed pages. This, and because of the cheerful courage, and even gallantry at times underlying the stiff-lipped account of the Siege of more than four months of strain, anxiety, danger, shock amid grief, and even physical hunger. She endured it all throughout, without complaint, and with a philosophic 'gameness' that was characteristic of her.
Her husband, Dr. G.A. Heberden, (affectionately known as 'Jack' to his family and friends), was at this time District Surgeon of Barkly West; and when it was realized that the Anglo-Boer War was inevitable after the Ultimatum, the Magistrate of Barkly West advised all who could to leave the District, as the small town could not be defended against the Boers. Dr. Heberden immediately decided to offer his services to the Imperial Forces in Kimberley, and that night he tied his three year old son, Reggie (my husband), to his back with a blanket and, together with his wife and 19 year old cousin, Harry Gibbs, left everything they possessed behind them, but for a few important papers, and rode on horseback the 23 miles into Kimberley.
It will be noted that Winifred Heberden was singularly well-informed on military news, rumours and the general state of affairs in Kimberley at that time. This was mainly through her husband, as Surgeon Captain under Imperial Orders; their close association with senior officers of most Regiments stationed there; as well as the leading townspeople; Cecil Rhodes, himself - who was a personal friend; as was also Mr Labram, De Beers brilliant American engineer, who designed and built the famous siege gun 'Long Cecil' in De Beers Workshops.
After the Relief of Kimberley, Winifred Heberden was so debilitated she weighed only 80 lbs and, as soon as he was in a position to do so, Dr. Heberden sent her over to England with Reggie to stay with relatives for the duration.
Preliminary Note. As the uneasiness over the English and Boer questions grew daily stronger, in our part of the Colony active preparations amongst the Police and Volunteers increased in proportion; and when a detachment of the Loyal North Lancashire Regiment arrived in Kimberley, Barkly West began to bestir itself about defence, in case of a sudden raid from disloyal Boers in the District, of whom, we had reason to know, there were a great many.(1)
Colonel Kekewich (in Command of Griqualand West and Bechuanaland) sent us rifles and ammunition, but could not spare a single man from Kimberley. Only a few days before the sending to England of the Boer Utimatum Barkly pulled itself together, and some 30 or 40 men who volunteered were drilled frequently, and took their turn night guarding on the surrounding kopjes. Jack and Harry Gibbs, doing their full share as 'Troopers' too. In addition, Jack gave daily Ambulance lectures to several people, and the gaol was placed in a state of defence with sandbags, etc., and fully provisioned to act as a laager at the first note of alarm.
However, on the Sunday after the Boer Ultimatum (Oct 15th) information came through that a Boer Commando of 500 strong had taken possession of Windsorton; had blown up the Railway Station, and were coming on to Klipdam (16 miles from Barkly); also that communication by rail and wire was interrupted from the South.(2)
A meeting was held in Barkly that night, and it was decided not to defend the town after all. Mr Harison, the Magistrate, advised all to leave, who could. He himself sending away the Government Books by one of the clerks the same night, via Douglas, to Cape Town.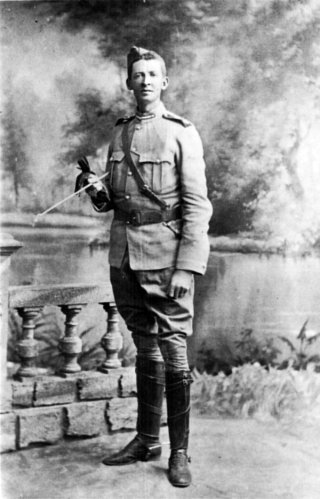 Surgeon-Captain G.A. Heberden, Kimberley Light Horse
Oct 16th. Our first thought after this was to get to Kimberley, though the Boers were closing round there, and, indeed, were reported to be (in a telegram) at the 'Half-Way House' - on our very road.(3)
Jack said that this was a 'White man's War', and that 'every Englishman strong enough ought to offer his services for his Queen', and he would not remain to serve the Boers as a doctor. So, as he and Harry were no longer required to defend Barkly, we made swift preparations and got away; leaving everything we possessed behind; merely taking a few papers and enough provisions for 24 hours, in case of a forced halt in the bush.
Jack carried Reggie, having fastened him on his back with a blanket (Native fashion), and afterwards changed him to the front. Harry rode a borrowed mare, and I had my own grey horse.
Though not seeing any Boers at the 'Half-Way House', we, nevertheless, galloped the last ten miles into Kimberley, and the sentry at the Barrier there pointed out the direction where the enemy was massing, which proved to be only a few miles on our left.(4)
On our arrival, 23 miles in 2.25 hours, after many challenges and suspicious looks thrown at our saddle bags, we took rooms at the Grand Hotel. That night we all slept well for the first time for three days, Reggie seeming none the worse for his long and hard ride.
Oct 17th. Martial Law had already been in force in Kimberley for two days, and over 2 000 men enrolled in the Town Guard and were manning the Forts, already prepared under the directions and plans of Lieut. Mclnnes, R.E.(5)
I have had to invest in quite an outfit for us all, as we could bring nothing in with us.
Nobody is allowed outside their dwelling place between the hours of 9 p.m. and 6 a.m., except those engaged in the defence of the town; or those to whom the countersign is given.
Information came in that Modder River Bridge had been destroyed, and that the enemy is still tearing up the line north and south. 170 Police with two 7-pounders and a Maxim arrived in safely from Fourteen Streams.(6)
Oct 18th. A certain number of Boers have taken possession of the Waterworks, which are comparatively close to the road we came in two days ago.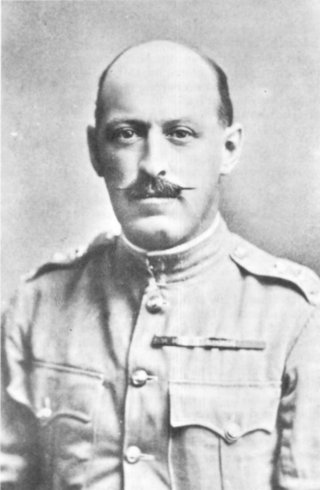 Lt-Col R.G. Kekwich, Loyal North Lancashire Regiment
who commanded the British Garrison in Kimberley throughout the siege
Oct 19th. Jack proposed to Colonel Kekewich that he should bring in the Barkly rifles and ammunition, which offer, against the advice of the Commissioner of Police, was accepted.(7) So Jack rode off. When he got there the Magistrate required 'Authority', which was wired out by Colonel Kekewich, and a military waggon sent from Kimberley - Jack being unable to hire one in Barkly.
This arrived after 10 p.m.; and eventually 126 rifles and 21 000 rounds of ammunition were brought safely into Kimberley - the waggon making such a noise on the road that it could be heard a long distance off. But, apparently, if heard, the cause was not fully understood by the Boers. An escort of Police promised by Colonel Kekewich to meet the waggon 10 miles out had not more than 3 miles to go before Jack appeared with the booty. Jack was much congratulated when he reported himself at Headquarters.
In the meantime meat and provisions have gone up to big prices here to everybody's consternation.
A Mounted Force is being raised and recruits pour in. It is to be called the Kimberley Light Horse.
Oct 20th. Mr Harison, the Magistrate of Barkly, having urged Jack to return, he, (Mr H.) being in an intensely nervous and overwrought condition, Jack did so to-day only to find Barkly almost completely deserted. Mr Harison then changed his mind, and gave Jack a paper absolving him from his duties as District Surgeon. Jack returned here this evening in great spirits at his release, in spite of great fatigue at having done the journey between here and Barkly so many times this week.
During the day the price of provisions had been limited by Colonel Kekewich, to the relief of everybody except the shop-keepers.
President Steyn has proclaimed 'Griqualand West Free State Territory'. So Colonel Kekewich issued a counter proclamation: 'Schmidt's Drift Road stopped by the enemy.'(8)
Oct 22nd. Jack appointed Medical Officer to the Light Horse and Diamond Field Horse, with the local rank of Surgeon-Captain under Imperial Orders. Our two horses taken on the strength. Jack very busy all day getting things in order.
It is understood that Mr Rhodes is paying for everything connected with the Light Horse, and has told Jack to requisition for anything medical that he wanted. Mr Rhodes is doing everything in his power to help the Colonel, and is, of course, well backed up by De Beers' Company, who use their property stores and workmen to get things in order at the Camp as quickly as possible.
The Boers are still closing round. This evening the Vryburg Police arrived and report that pressure to leave was put on them by frightened Government Officials and disloyal inhabitants. Poor Sub-Commissioner Scott shot himself in consequence.(9)
Oct 23rd. This evening Colonel Scott-Turner (in command of the Mounted Troops) asked Jack if he would like to go on the Armoured Train next morning - which Jack promptly agreed to do - though he was not told to take much surgical 'tack' with him.(10)
Oct 24th. Jack disappeared at dawn. But I did not feel anxious till almost the middle of the morning, when I heard an alarming report that the Armoured Train had been cut off about five miles away, and the lines pulled up, and that they were in the middle of a hot fire from the Boers. Later on this was contradicted, and we discovered that part of the fight could be seen through glasses from a top balcony at the back of the hotel ... So I became quite cheerful, watching the Armoured Train with Jack on it - as I thought, moving up and down the line behind the troops who were lying in the open, firing at the Boers on a Kopje (Dronfield).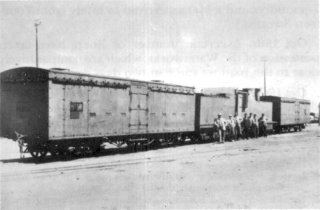 Kimberley's armoured train
Afterwards, when I heard that Jack and Dr. Ortlepp walked about during the engagement, dressing the men, and then bringing them up to the Armoured Train, I felt glad I did not know it at the time. The behaviour of the injured men on the field was grand, each telling Jack that so and so was worse than himself, and that he must dress that other one first.
At the beginning, when the enemy's fire was pretty hot, the Cape Police were arguing amongst themselves as they returned the fire whether the Boers were using Martini-Henrys or Mausers; and picking up the bullets that fell around them to prove their words. Major McGregor's Orderly, a mere lad, under fire for the first time, offered his horse to the Major, whose own horse had bolted, saying he could catch another horse for himself.
At one time during the engagement, a Boer messenger, bearing a white flag, approached, and our firing ceased to allow him a hearing. His Commandant wished to know whether they (the Boers) were fighting Imperial soldiers, Cape Police, or Volunteers? To this impertinent question Major Elliott of the Cape Police told them 'to go to h--- and find out'. So they probably did - some of them!
The white flag was then discovered to have been merely a ruse to gain time for some of the Boers to creep into a better position. The Boer Commandant was soon afterwards killed. He was a Member of the Free State Raad.(11)
When Jack went to see the wounded at the hospital that evening they all greeted him loudly as he entered the ward as 'The Doc who looked after us under fire'... We lost Troopers Elliott and MacKenzie of the Cape Police, and Trooper P. Liepoldt, D.F.H., and nineteen wounded.(12)
Oct 25th, 26th, 27th. Spent in patrolling round Kimberley and cattle guarding. No Boers to be seen in any number, though they are known to be within 6,000 yards of Wesselton Mine.(13)
We heard that Tuesday's fight so frightened the Boers in Klipdam that they promptly evacuated it. They returned, however, within the week, and made two attempts to proceed to Barkly - only to be ordered to return by dispatches from their headquarters.
Oct 28th. Our patrol fired on at Wesselton without effect.
A delayed letter came from Mr Harison at Barkly ordering Jack to return. Colonel Kekewich replied tersely that he required Jack's services here and could not allow him to return to Barkly.
Oct 29th. I went over to the Mounted Camp and found things in excellent order. Jack has a Batman and a Hospital Orderly who can dispense. He also has a small Ambulance Corps with waggons, mules, and horses ready to take the field at a moment's notice. The cooking for the Camp is very rough, the men's meat being always stewed or baked in 'billys', (three legged pots), with the vegetables thrown in. Bread, however, is properly baked for them in the town.
Great news in detail of our victories in Natal at Glencoe and Elandslaagte.(14)
Oct 30th. Natives who have escaped from Spytfontein state that the Boers are commandeering natives (probably for labour); also threatening to poison our water.
Oct 31st The enemy fired their first shell at a reconnoitering party from their position near Olifantsfontein.(15)
Colonel Kekewich has ordered that not more than 15 oxen are to be slaughtered every day. The allowance to be half a pound a head. Flour and meal at the rate of 1 lb a week for each person - or bread in proportion.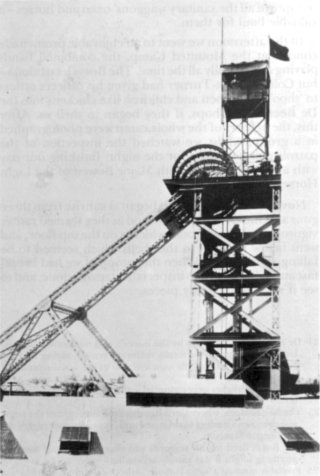 The Conning Tower on De Beer's Mine headgear, Kimberley
Nov 1st. A long rumbling noise in the afternoon caused us all to run to our windows; and out of mine I saw a huge column of heavy white smoke rising up close to the scene of the fight on the 24th; and knowing that the dynamite for the mines was stored over there I came to the right conclusion - i.e. that the Boers had blown it up.(16) Luckily all the mines for defence purposes surrounding Kimberley have already their proper amount of dynamite. Still, the loss of all this valuable material for De Beer's causes them much loss and annoyance.... Today the enemy showed up in very large numbers this side (the north) of Kimberley.
Nov 3rd. A small engagement took place this morning outside Kenilworth, which village the Boers approached somewhat closely for the purpose of raiding De Beer's cattle.(17) Major Ayliff, C.P. was wounded in the neck; and soon after the enemy retreated to their kopje at a safe distance.(18) Later, they managed to capture some oxen which their owners allowed to stray just a little too far, the native boys being afraid to ride round and drive them back.
The hooter sounded the alarm again at 4 p.m., owing to a brush with the enemy near Carter's Farm. Trooper Lubbe, C.P. was killed, and Sergeant Watermeyer, C.P. wounded. Several Boers were seen to fall from their horses.
Nov 4th. The hooter went off this morning and our artillery went out, dropping some well-directed shells amongst a party of Boers at long range.
Nov 5th. A letter was brought in to Colonel Kekewich from Head Commandant Wessels stating that unless Kimberley surrendered in 24 hours he would take it the following evening.(19) Our Colonel sent a message to say that he would reply to that letter when they came within reach of our guns; warning Wessels, that owing to the wrong use of the white flag on the part of the Boers, he had instructed his officers to fire upon any parties of Boers advancing under cover of that emblem.(20)
The same afternoon Reggie and I, escorted by Jack and Major McGregor, went to enjoy a concert given in the Gardens by the combined bands of the Lancashire and Kimberley Regiments in aid of the Refugee Fund. We were comfortably settled, and hungry to hear some good music once more, when the alarm sounded - and away flew the bandsmen, and everyone in uniform dashed to his camp or his post.
After all, it turned out to be a mistake of the telephonist, the Colonel merely requiring 125 men - not an alarm for the entire amount. N.B. The 'Hooter' is to be discontinued, as the Boers can hear it on the veld and promptly run away.(21) They call it 'Rhodes's Devil' - and it certainly sounds like one! The Search Light they call 'Rhodes's Eye', and they are reported (by an escaped prisoner) to have a great fear of it.(22)
To-day, for the first time, people remaining in the West of Kimberley have been warned by the Colonel to leave their homes for the time being and to come into the town. Various large buildings have been offered for the use of those unable to afford other lodgings.
Nov 6th. The first bombardment began punctually at 6 p.m. when a few shells fell short of Wesselton.
Nov 7th. To-day Wesselton, Beaconsfield, and the Sanatorium, where Mr Rhodes is staying, were chiefly aimed at by the Boer-German gunners.(23) Not one shell did any more harm than the breaking of a cooking 'billy'; the pieces of shells being eagerly hunted for by little boys directly the explosion is over. These shells do not set anything alight; the dates on them vary between '91 and '96 - so perhaps the climate of the Republics has not agreed with them.(24) From 1 shilling to 2 pounds sterling are being given for fragments of, or nearly complete shells.
Nov 8 and 9th. A mysterious lull in the enemy's quarter has now been explained by the Boers bombarding us from Otto's Kopje with their biggest gun and two smaller ones. It seems that large waggons with big red crosses spread right over the canvas were observed yesterday moving towards Otto's Kopje at sunset, leading our men on the Forts to suppose that funerals were going on. It is certain now that these guns were on the waggons!(25)
Shells fell very near our hotel but no-body was injured to-day. The Armoured Train was also fired on to the North of Kimberley.
Nov 10th. A little shelling went on this morning, but our guns soon silenced it. But the Boers have managed to capture all the sanitary waggons' oxen and horses - a valuable haul for them.
In the afternoon we went to an enjoyable promenade concert at the Mounted Camp, the combined bands playing delightfully all the time. The Boers let us alone - but Colonel Scott-Turner had given his officers orders to 'shoo' the women and children like chickens into the De Beers' workshops, if they began to shell us. After this, the officers of the whole camp were photographed in a group, whilst we watched the inspection of the patrols going on duty for the night; finishing our day with a pleasant dinner with Major Bowen of the Light Horse.
Nov 11th. Bombardment began at sunrise from three guns at Schmidt's Drift Road, and as they seemed rather vigorous we left our room which is on the top floor, and went below to listen to the shells which seemed to be falling all round us. When they stopped we had breakfast and sallied forth to inspect the damage done, and to see if we could get any pieces.
The worst casualty had occurred in front of the Catholic Church, where a poor old native woman had heen killed. I was looking at the spot where she had died, when a man near me kicked something soft and dusty, and remarked: 'That's a piece of her brain, Missis ...'; so, feeling rather queer, we went away.
The second bad place was a six inch hole in the roof and ceiling of a small house where the shell had entered at such an angle that it passed above a bed containing a woman and children; missed another bed, also with children in it, and fell through a small window where it burst and discharged itself harmlessly against a wall.
We then heard that our Mounted Troops were out, so I waited anxiously in the hotel till I saw them coming back in detachments.
At 11. o'clock Jack appeared, safe and sound, but in charge of the Ambulance waggon which was slowly taking Trooper Parker, C.P. to the hospital, mortally wounded in the back. Though much morphia had been given him on the field, the poor fellow was in agony, begging Jack to shoot him. Another Trooper was slightly wounded, but he rode in. These were the only casualties in a fight at Otto's Kopje - or, rather, on the veld around it, though the Boers must have lost heavily. A native asserted that he had seen 19 Boers carried away.
Our men had gone out very early and taken up a very good position, unknown to the enemy, in a natural trench in the veld. A party of Boer advanced within 600 yards of them. Colonel Scott-Turner said: 'Don't fire till I give the word' - though the men's hands trembled to pull the trigger. The Boers came still another 100 yards nearer, when they must have caught sight of something suspicious, for they werejust beginning to wheel round as the Colonel quietly said to Major McGregor: 'Now, Major, you may work your will on them!' - and the Boers fled in a hailstorm of bullets, till they found cover; where, as usual, they waited for our men to retire before they returned the fire.
They aimed at the ambulance as it was bringing in the wounded man on the field, and took six 'pot' shots at Jack, who was riding in front of the mules to show the driver the easiest route to avoid jarring the poor fellow more than was absolutely necessary.
In the afternoon they were out again, beyond Kenilworth, where the cattle guards were threatened, and Jack and his ambulance were halted by the Kimberley dust heaps for two hours - a 'savoury' spot on a hot afternoon; and after all there was no need for it, as the enemy retired when they saw our artillery coming.
Nov 13th. The Boers seem to be strengthening their artillery position at Schmidt's Drift Road, so the R.A. guns must have done a good deal of damage.(26) The usual three-quarter of an hour's bombarding Kimberley went on without much damage being done. Wesselton and Beaconsfield were also shelled. About 90 shells being fired in altogether to-day. The artillery excited us in the late afternoon by dashing away to the other side of the searchlight gear - but it was merely to cover the cattle coming in over a dangerous space.
Nov 14th. Harry Gibbs, on duty at the Rockshaft Redoubt, stopped Mr Rhodes, who was passing, and demanded his pass; read it carefully to the end, (to the amusement of Mr Rhodes's companion), then said: 'Pass, friend, and all's well!'
The Town Guard's men live up at the different forts, have their rations sent to them, and sleep in tents there. They are kept under military discipline, and occupied with sentry duty, look-out posts, and sometimes night patrols on the veld. The majority of men being much healthier with the outdoor life and regular discipline.
A native brought in about 100 head of cattle. These natives get round the Boer cattle, throw stones at them, then lie in some hole till they can throw another handful, and so on, till the oxen have apparently strayed too near our pickets to be safely rescued.
Between 1 and 2 p.m. a hot bombardment began, and shells fell again all round the hotel. One fell in the Market Square, and one in Hill and Paddon's Store yard, covering a native baby, asleep on a blanket, with dust. One went through St Cyprian's Church, making a tremendous noise;(27) whilst another fell in the passage between the Queen's Hotel and the Bar, killing two cats of the name 'Norman' and 'Candle'. These latter and a cab horse being the only lives lost to-day.
A curious escape was that of the driver of the cab horse; a splinter from the shell struck his leather belt and passed into his waistcoat pocket, there it found a box of lozenges - which it smashed up, but did no further mischief. About 60 shells were fired at us today.
During the afternoon we went to a very superior concert at the Veterans' Fort in Belgravia, where excellent refreshments were served in a flower-bedecked tent. A mystery to most people, these flowers, as owing to the Boers' occupation of the Waterworks, no gardens are allowed to be watered with the water pumped up out of Wesselton Mine. The veterans are well looked after, as their age entitles them to be. Their Commissariat is watched over by Tim Tyson of the Club - which speaks for itself (28). They have spring beds and many indulgences.
Nov 15th. The usual bombardment at sunrise, which brings my reluctant limbs down to the Drawing Room with Reggie - and back again when it ceases. Even less damage than usual done to-day - a big dust-storm at the time being more unpleasant than the shells. Later on a thunderstorm and sheets of rain kept the Boers in their laager and enabled the De Beer's Engineer (Mr Labram) to fix up a powerful searchlight looking right on to Otto's Kopje, to give warning of any forward movement on their part.
Nov 16th. I woke early, hearing the Boer guns, but went to sleep again on finding that no shells were bursting in our direction. At about 7.30, however, I saw our Mounted Troops returning to the camp and several riderless horses amongst them, and I knew that something must have been going on.
Later on Jack came in for a minute to tell me he was all right, though our men had had to retreat from tremendous odds on Carter's Farm. One Trooper (Goodall, K.L.H.) was killed, and 11 wounded, Major Peakman amongst the latter.(29) During the heavy rain last night the Boers had moved their big gun and placed it in such a position at Carter's Farm that it remained invisible under debris, stones and trees.(30) Moreover, they had dug trenches and rifle-pits much nearer to Kimberley.
Though our men left camp soon after 2 a.m., a heavy mist delayed their coming up to the Boers, and by some means the latter got warning of our movement. It is a marvellous thing that our whole Mounted Troop was not annihilated. This time the enemy even shelled the Ambulance waggon, the shells being distinctly seen from the Conning Tower to be aimed at the Red Cross.(31) One Trooper, wounded in the leg, resisted strongly at being put into the Ambulance, and swore frightfully - to be allowed to get at the B --- Boers again.
Barkly is at last occupied, and largely by the disloyal of the district. Mr Harison has been given a pass to Orange River with his remaining clerks, the gaoler, the Inspector of Mines, Mr Gardiner, and a few others, with five women. Mr Blyth, (Inspector of Police) and Sergeant Williams being the only prisoners. They are now with the Commando at Intermediate Station.(32) - To-day shells have been made for the first time in De Beer's workshops.
Nov 17th. Some shelling went on between the Boers at Carter's Farm and the Reservoir Camp without any palpable result. Soon after midday about 600 of our Mounted Troops and the Artillery went out beyond the Debris Heaps at Beaconsfield, and though the enemy fired terrific rounds of ammunition they only succeeded in slightly wounding Captain Bodley of the D.F.H.(33) The Boers evidently lost some men.
We are beginning to wonder where the troops for our relief can possibly be, for we have not heard that they are even on the way to us. Food is running shorter. Meat has been limited carefully for some time. Eggs are from 3/- to 5/- a dozen - and scarce at that. Paraffin oil is nearly finished; and firewood will soon only be found at De Beer's workshops. Butter has quite disappeared, since we used up some tinned butter that had been 'in Bond' at the Customs House for over 2 years!
Jack has been made Medical Officer to the Cape Police in addition to having charge of the rest of the Mounted Troops at the Camp, so he now takes care of nearly 1 000 men.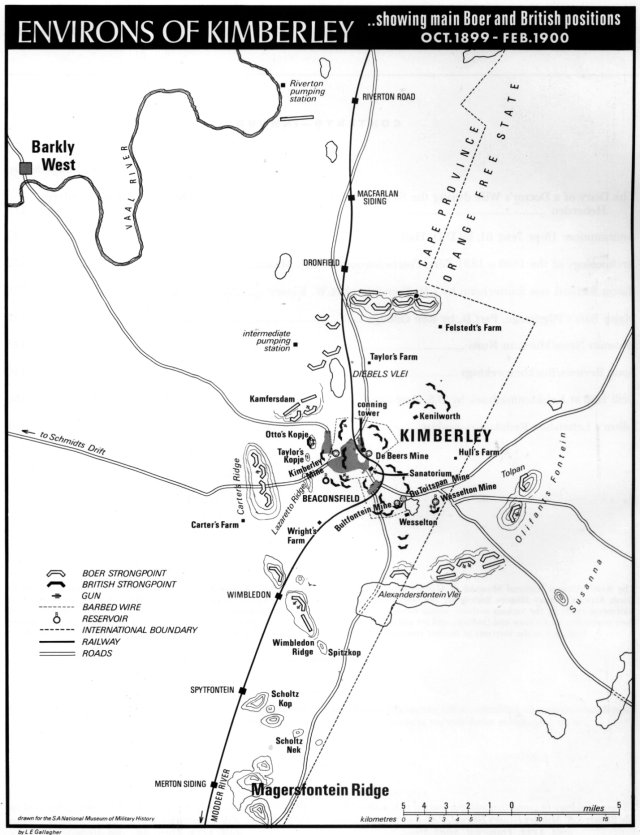 Nov 18th. All quiet. The Boers allowed us to go to the Concert at the Mounted Camp without making the weather any warmer by shelling us. Reggie was very much annoyed with Colonel Scott-Turner, he said: 'That man didn't shake hands with me' - so the oversight was immediately repaired! ... We saw Major Ayliff (wounded on the 3rd) walking about, much improved, except for a little numbness still in his arm.
Nov 19th. 'Fighting General' de la Rey sent in a message asking that families of Boer rebels may be sent out to the Boer Camp.(34) But as this request had been asked, and granted, previously, and only one family availed itself of the opportunity given by Colonel Kekewich, he took no further notice this time.
Nov 20th. Sniping at Kenilworth. Boers retreated when the Maxim was turned on them.
Nov 21st. Cattle guard shelled at Kenilworth. Nobody hurt.
Nov 22nd. More sniping at the same place. By some blunder our men turned to retreat at the same time, instead of in skirmishing order, so the men were somewhat exposed to the enemy who managed to wound Lieut. Hawker, K.L.H., and Trooper Armstrong, K.L.H. - both wounded severely. Jack had to ride out about 2 miles to fetch them in after doing the dressing.
Nov 23rd News came in that the Dutch farmers in Griqualand West have all risen. Also that there has been some fighting at Kuruman.
The shells being manufactured at De Beer's Workshops at the rate of 10 a day are proving to be a great success. On each shell, with the date, is the message: 'With C.J.R.'s (Cecil John Rhodes's) Compliments.'(35)
We have had now no news from anywhere for over a fortnight.
Have had a 'Siege Trophy' given to me in the shape of a brooch. It is made of the copper binding of a shell thrown into Kenilworth. From this is suspended one of the iron 'chocolate drop' shaped pieces from the inside of the shell - this particular piece having killed the horse of a Sergeant in the Cape Police.(36)
The search lights are signalling every night in the hope of getting some response from the troops coming up. Bets are freely offered and taken, but the date of the arrival of our Relief seems to be as uncertain as ever; and the disloyalty of some of the Colonial towns makes it more so.
Nov 24th The field guns ran out this morning and shelled the Boer snipers till they retired. The first dispatch came in to announce the departure of our Relief Column.(37)
Nov 25th. Our troops made a very early sortie, and some heavy fighting occurred before 7a.m. An air of unusual excitement took possession of everyone in Kimberley, for the first news we got was that Boer prisoners were being brought in, and that everything had gone well with our men.
I took up my position at the corner of the hotel and saw the first arrivals. These were three wounded Boers who were brought in in a cab and taken past us to the Gaol Hospital. Not long after, about 30 miserable-looking wretches were marched in by a few of our Mounted Men.
The Boers were not in uniform, and were thin and dirty-looking. The crowds of people, White and Coloured, had to be kept well in hand, so eagerly did they seem to want to hustle and mob the prisoners, and many uncomplimentary remarks were hurled at them. However, they were safely taken to the Police Barracks, and then searched. Some interesting, and, to us, amusing Dutch papers with misleading and grotesque accounts of the War being found on them. A few said they were glad to be caught as they were sick of the whole thing. Two were recognised by Jack to be rebels from Barkly District who had been attended by him at the Relief Works organised by Government to help Poor Whites.(38) Other people also identified more rebels amongst them.
We were strung up to a great pitch of enthusiasm by the time our troops returned. And, as I had heard that Jack was safe and sound, too, I joined in the many hearty cheers as they passed down to the Camp.
Poor Captain Bowen of the Light Horse was badly wounded in this engagement, his jaw being shattered by, apparently, an expanding bullet. There is little hope of his making a good recovery. Captain Rush, C.P. was also wounded in the arm and chest, and young Mayston, also. Colonel Scott-Turner received a flesh wound in the shoulder which, however, he would not have attended to until the engagement was quite over; continuing his Command on a fresh horse (his own having been shot), as though nothing had happened.
Between 50 and 60 of the enemy were killed, and a quantity of Mauser rifles and ammunition captured. Our losses were 6 killed and 29 wounded.(39)
Jack came in after giving chloroform at the hospital during several operations on the wounded. He seemed tired, but very cheerful.
The paper next day in the Leader made a special mention of Jack, saying, 'He was noticeably cool under a very hot running fire whilst rendering First Aid to the wounded on the Ridge . . .' This paper also contained the first news we have had for a long time about the rest of South Africa. Despatch Riders having brought in a 'Natal Times'; and also information about the Relief Column at Belmont .....'Battle of Belmont fought.(40) Boers completely routed with heavy losses ....' Lord Methuen sent a message to Kimberley, saying he was 'doing good work'.
Later on, on the day of the 25th, a Dr Dunlop and a Mr Vicars (Ambulance) from the Boer lines, came in under a flag of truce to ask for chloroform and brandy. They were, of course, blind-folded outside the barrier and brought into a tent until this despatch had been considered by Colonel Kekewich. The doctor drank a whiskey and soda eagerly, saying it was a long time since he had seen whiskey. Under its influence he betrayed the fact that there were a great many sick and wounded amongst the enemy. Eventually, he and the other man returned with the supplies they had requested.
Nov 26th. The morning was spent in bringing in our six men killed the day before. Our men take these sights so well. They almost seem to envy their comrades who had fallen on the field. It must be this feeling that makes our soldiers to be so thoroughly depended upon in times of War.
Nov 27th. No fighting to-day, though slight artillery duel between the Reservoir's Fort and Boer gun from Lazaretto to Carter's Ridge.
Code signals were exchanged last night with the Relief Column whose distance from us, owing to the enormous damage done to the railway, seems to be but very little lessened. The only intelligible message, however, that came through was: 'Captain Penfold thanks the officers for their kind present of cigars', . . . after which the light went out, and the meaning of the message was not explained; the supposition being that it was merely a trial one.(41) People think much more of poor Mafeking than themselves, however, and fear they must be getting worn out body and soul.
Nov 28th All our available Mounted Men, and later on some of the Lancashires (Infantry), and Town-guardsmen, took the field in the afternoon; and we heard nothing but rumours of fighting. Nobody being allowed at the Forts, or on Debris Heaps to watch events.
Nov 29th About 4 a.m. Jack came into my room looking utterly worn-out. He told me what a terrible time our men had had on the veld after a magnificent attack against enormous odds in four of the enemy's redoubts. After having taken their laager they had succeeded in capturing shells and camp equipment and the limber of a gun. Colonel Scott-Turner was killed at the taking of the third one; and the fourth redoubt com manding the others our troops also occupied. As night had fallen our men retreated as well as they could, the enemy still pouring in a hot fire in the dark from their position.
In searching for the wounded Jack lost his bearings, and spent the night in the open waiting for daylight. He tried to get over the Ridge knowing there must be some killed or wounded there, but the fire was too close (300 yards) and too heavy to make result anything but deadly. As Jack was putting a very badly wounded trooper, named Arundale, into the Ambulance, the trooper said quietly: 'Dulce et decorum est pro patria mori.' (It is a sweet and blessed thing to die for one's country.) 'You can leave out the last word, old chap,' said Jack. 'Do you think so, Doctor?' was his cheerful answer, as the Ambulance moved away with him.
By some mistake - and the whole chapter of this attack was a medley of mistakes, magnificent courage, and loss of splendid life - the Ambulance, with 'Comforts' in it, was left behind, so Jack had no little supper to give the officers who were with the Colonel under the worst of the fire. Major McGregor, amongst others, showed a stubborn courage, and his account of their enforced retreat - 'crawling and praying, then crawling again - till Carter's Farm was reached' - gives a vivid touch of the effectiveness of the Boer position. We lost 22 killed and 28 wounded.(42)
The news of the Colonel's death, and our own disasters, was brought to Kimberley about 2 a.m. and by 8 a.m. our troops were all here again, whilst the Ambulance went back to fetch the 19 killed from the Ridge. Jack had tried to fetch them in before - their poor bodies being riddled with shot.
There was one funny incident during the attack, and that was when the Cape Police seized the Boer laager up the redoubt. There they found a baboon tied to a wagon which had been brought down from a store in Vryburg. It had been accustomed to the Police, for at the sight of the well-remembered uniform it became frantic with delight, and insisted on shaking hands with all of them. They brought him back and restored him to his old master who is now in Kimberley.
Later in the afternoon the majority of the poor fellows we lost were buried at Kenilworth.(43) Sorrow was very deep and very sincere; the circumstances altogether being so very sad and so full of regrets.
Nov 30th I went in this morning to see the graves - not having had the courage to go to the funerals. It gave me rather a shock to see Colonel Scott-Turner's coffin still uncovered, or rather, merely covered by an old door. The explanation was, however, that a shell or case was being made to enclose it in order to remove the coffin later on to Cape Town.(44) Still, it had a lonely look, and seemed so unworthy of the body it contained Major Peakman is now gazetted O.C. Mounted Troops, with the local rank of Lieut.-Colonel.
Dec 1st. Flashlight signals were exchanged with the Relief Column again, but we were only vaguely told that Lord Methuen had had further successes against the enemy. Our men were allowed a good rest to-day. Some natives bringing in cattle for us were shot at by the Boers a few miles out, and the cattle driven back again.
Dec 2nd. Jack and I went to the hospital where I saw young Mayston, looking very white and shaky, on the verandah. He said he was trying to kill time, and felt very dull after the late excitement. Captain Rush was also getting on well, though still in bed. A nurse told me that Colonel Scott-Turner's Orderly could not lead his master's horse from the gate for nearly an hour. He quite broke down and leaned on its neck sobbing like a child.
Dec 3rd. At a very early hour all our Mounted Men with the Ambulance turned out for the purpose of making a fort some distance beyond the Reservoir. They were formed into vedettes to protect the natives who worked at the fort and trenches under direction of the officers.(45) Our guns fired into the Boers but drew no reply; and towards breakfast time when the work was finished, a waggon was seen to be coming in hot haste from the direction of the Intermediate Station, supposed to be full of ammunition, as the Boers opened fire just as our men reached Kimberley again. It being a very still day to-day the gun-fire from the Relief Column was distinctly heard. There was a continuous boom for a long time.(46)
Dec 4th. Two people near Mrs Beacon's house thought they would enjoy a joke against Colonel Kekewich; so they brought a mirror into the sun and flashed up to the Conning Tower - the light, for a second, blinding the officer there, who put his hand over his eyes.(47) At this these mischief-makers hid their glass for a few minutes, and, not knowing the telescope was on them, flashed again. Almost instantly two troopers dashed out from the Gardens Camp and caught them - giving each such a scolding and uttering such threats, that the offenders went away wiser and very much sadder.
Lord Methuen signalled: 'Have gained passage of Modder River after successful fight.'
Dec 5th. Again early in the morning our men went out with some guns and some of the Lancashires to make another fort and some rifle pits for the defence of the cattle guards; and again the Boers did not respond to the fire until the Order was given to retire. However, the enemy did no damage and did not show where their gun was, merely blazing away with rifle fire at long range.
Later, in the afternoon, they used their biggest guns on Wesselton with no result. During the day they were observed to be moving in large numbers both north and south, and the force round us was greatly diminished, though they seem to be leaving their artillery at present. It is rumoured that many of the Boers have their wives and children with them, which will account for the large proportion of waggons they possess.(48)
Dec 6th. The paper to-day contained an 'Official' message from the Relief Column, stating that they have occupied Jacobsdal and captured bags of grain, 2,000 head of cattle, a quantity of dynamite, and many other stores. This, however, was contradicted next day, and put down to a 'native rumour'.
Dec 7th. Had a pleasant ride to Kenilworth Defence Fort which is placed on a Debris Heap at the foot of the hauling gear some distance out from Kimberley itself. It commands a good range of country, and through a telescope we could see the Boer tents and encampment at Felsted's Farm, and a Boer patrol moving round the base of a kopje. The De Beer's cattle have now been moved to the other side of Kimberley where there is fresh grazing; so the occupation of the Boers at Felsted's Farm is gone.
On the way through Kenilworth, Jack pointed out a small flag not far from where we were riding, which indicated one of the numerous dynamite mines prepared for the Boers in case of an invasion.(49)
The guns to-day under Colonel Chamier R.A. made a reconnaissance near Otto's Kopje.
Dec 8th. A dog has lately been observed to be passing regularly through the Sanatorium barrier at night, and no efforts at catching or shooting it have been successful. In these times even cats are suspected of carrying despatches, and much more so, dogs - who, in the old days, were trained to secrete diamonds till they got over the border.
I rode this afternoon with Jack down to the Mounted Camp on Medical business; and after that to the 'Civil Service' redoubt, and on to the Reservoir Camp. The latter has two 7-pounders, and some of the R.A. men on duty are on the banks of the reservoir itself.(50) I was shown through a telescope the position of the Boer forts on a distant kopje (Spitzkop), and a laager round which we could see a few Boers moving. I also realized the position of the engagement on the 28th where Colonel Scott-Turner was killed. We, at the same time, saw some heliograph signalling from our men on Otto's Kopje to the Conning Tower here.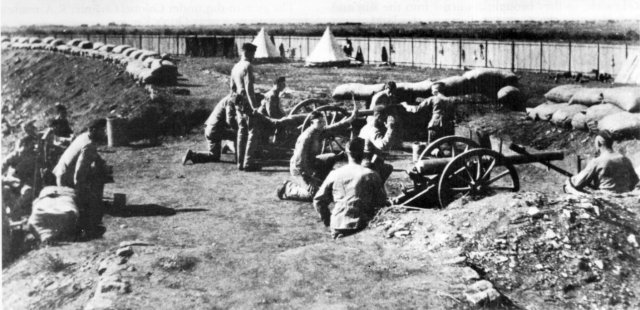 RML 2.5in Mountain guns of the Royal Garrison Artillery in action at the Reservoir, Siege of Kimberley
Photo: McGregor Museum

At the Mounted Camp Captain Hickman had told us that orders were out for the men to take 48 hours provisions with them to-morrow, and he anticipated some hard fighting. However, we preferred to take a more cheerful view, knowing that, at any rate, our men would not be ordered to do anything too ambitious.

Dec 9th. About noon Jack sent me a note by one of his Ambulance men saying that they were waiting in the Barkly Road, and that nothing much had been done, and that a few tinned things and some whiskey would be welcome.

In the afternoon reports reached us that heavy firing was going on, and our guns seemed to be busy enough. It was not till nearly 8 p.m. that the information came in that Sergeant-Major Moss, an excellent N.C.O. of the D.F.A. had been killed by a piece of shell, and that several men had been wounded; Captain White of the C.P. amongst them.(51)

Later, when Jack arrived back I heard what a hot shelling from the Boers at Kamfersdam our men had been under. They used their cordite gun on us, and Jack described this as having a much worse moral effect on one than rifle fire, or even ordinary shell fire, for there is no sound and no smoke from the gun, and you do not hear the whirr of the shell until half a second before it explodes.(52) The Boers got the range of our guns very accurately in the course of the afternoon, and the D.F.A., not following the example of the R.A. quickly enough, and altering the position of their guns, lost their fine Sergeant-Major in consequence. Our men, however, are learning to take cover now till the shell has burst, and to fight the Boer as he fights us.

A mule in the Ambulance wagon was killed by the top of a shell - the specimen being immediately pounced on by one of the men, who, on the spur of the moment, said he was going to present it to the Doctor. However, next morning he had repented his impulse, but offered Jack another piece of shell which had, unfortunately, not the distinction of having done to death a mule!

Dec 10th. Jack told the men at breakfast that yesterday's shelling made him so 'jumpy' in the night that even at the bang of a door he took cover under the bed, - a joke they much appreciated. To-day, being Sunday, things were very quiet, and Kimberley looked exactly the same as it generally does on a Sunday in time of peace, except that there were more khaki suits in Church than black ones.

(To be continued in Vol 3 No 5, June 1976).

Footnotes

1. 431 officers and men of the 1st Loyal North Lancashire Regt. arrived in Kimberley on 20 September 1899.
2. The Transvaal ultimatum to Great Britain expired at 5 pm on 11 October 1899. Telegraphic communication between Kimberley and the south was cut by the Boers at 10.45 pm on 14 October.
3. 'Halfway House' no longer exists.
4. Barriers were erected across all roads leading into the town and a fortified guard post established at each.
5. The Kimberley and Beaconsfield Town Guards were formed from citizens ineligible (mainly through age) for enlistment in established military units. They played a major role in manning the defences throughout the siege. Lt D.S. McInnes, Royal En- gineers, arrived in Kimberley before the outbreak of hostilities to supervise the construction of defences already planned.
6. Two 7-pr RML mountain guns on 'Kaffraria" carriages.
7. Lt-Col. R.G. Kekewich, Loyal North Lancashire Regt was garrison commander in Kimberley.
8. Refers to President Steyn's proclamation of 14 October, 1899; Lt-Col Kekewich's counter-proclamation, signed on 20 October and published in English and Dutch on 21 October, 1899, reads as follows:-

'Whereas it has been brought to my notice that Her Majesty's enemies have issued proclamations declaring that the territories of Griqualand West and Bechuanaland now form portions of the Orange Free State and the South African Republic.
Now, therefore, I, Robert George Kekewich, Lieut-Colonel, commanding Griqualand West and Bechuanaland, make it known that if any such proclamations have been issued they are of no effect whatsoever, and do not in any way alter the status of British subjects in the aforesaid territories of Griqualand West and Bechuanaland, and if any British subject is found to be assisting Her Majesty's enemies by word, deed, or in any other manner whatsoever, such person will be dealt with as a base rebel and will be summarily punished as such.'

9. Sub-Commissioner Scott commanded the Cape Police post at Vryburg.
10. Brevet-Major H. Scott-Turner, Black Watch, had been sent to Kimberley on special duty prior to the siege. He was given the local acting rank of Lt-Col, and command of the newly-formed Kimberley Light Horse.

11. Misuse of flags of truce by the Boers was a common British complaint at the start of the war and is referred to elsewhere in the diary. The Boer commandant was Field-Cornet P.J. Botha of Boshof.
12. D.F.H. - Diamond Fields Horse, a pre-war Colonial unit amalgamated in 1899 with the Kimberley Rifles to form the mounted infantry wing of the new Kimberley Regt. British casualties in this action were 3 killed and 18 wounded; those of the Boers are not known.
13. Wesselton Mine (referred to in some other accounts as Premier Mine), although isolated, was garrisoned throughout the siege since it had become the source of water for Kimberley and Beaconsfield.
14. There was no battle at Glencoe. The diarist was misled by the heading of a local newspaper article describing the battle at Talana Hill (near Dundee, Natal) on 20 October, 1899. The Battle of Elandslaagte took place on 21 October.
15. Olifantsfontein was the headquarters of the Free State forces investing Kimberley.
16. Dynamite from the mine magazines had been removed to near Dronfield for reasons of safety.
17. Kenilworth was established by Cecil Rhodes as a garden suburb for De Beers employees.
18. C.P. - Cape Police.
19. Head-Commandant J. Wessels commanded the Boer Forces investing Kimberley at that time. His ultimatum was delivered to Lt-Col Kekewich on Saturday, 4 November, 1899, and was answered the same day.
20. The exact words of the relevant part of Kekewich's rejection of Wessels's ultimatum were '.... you are hereby invited to effect the occupation of this town as an operation of war by the employment of the military forces under your command.' In the same letter, Kekewich pointed out that as a result of Boer misuse of the white flag he had instructed the men under his command to fire at any Boers showing a white flag 'and approaching them'.

21. Dr E.O. Ashe ('Besieged by the Boers'), and most other chroniclers of the siege give a totally different reason, saying that the hooter caused alarm in the town and that its use was discontinued for this reason!
22. In all 5 searchlights were mounted in the forts protecting Kimberley.
23. The Sanatorium, where Cecil Rhodes lived throughout the siege, was the town's leading hotel at one time. It now houses part of the McGregor Museum.
24. The Boers fired mainly segment and shrapnel shells. If these set anything alight it was purely accidental.
25. Probably quoting a 'siege rumour' - there does not seem to be any other ground for this statement.
26. Six 2.5-inch RML mountain guns (Kipling's famous 'screw guns') manned by men from the 23rd Coy, Royal Garrison Artillery.
27. Now rebuilt, it is St. Cyprian's Cathedral.
28. The Kimberley Club still exists on the same site.
29. British casualties were 1 killed and 9 wounded: those of the Boers are unknown.
30. The largest calibre Boer guns firing into Kimberley at this stage were 75mm Krupp field guns firing 5kg (11lb) and 6kg (13.5lb) shells. The shells were not only heavier, but the Boer guns also outranged their British opponents.

31. This seems to be another 'siege rumour'. A meticulously kept log was maintained in the Conning Tower giving a minute-by-minute account of everything that went on round the town. The action was seen from the Conning Tower, but Lt-Col W.H.E. Murray, on duty at the time, made no mention of any such incident. Nor did the officer who took over from him for the rest of the morning: neither does Lt-Col Kekewich in his official report on the action. Neither is there any mention of it in the local news-hungry newspaper. British casualties were 11 wounded, those of the Boers unknown.
32. The Intermediate Station was a booster pumping station about two-thirds of the way fronn the main source of Kimberley's water supply at Riverton, on the Vaal River. The Boers cut the town's water supply at this point.
33. The debris heaps are spoil from the diamond mines and consist of washed blue ground and kimberlite from which the diamonds have been extracted.
34. 'Fighting General' - a literal translation of the Dutch 'Vecht-generaal'.
35. A variety of markings was used, that quoted being common. De Beers Workshops commenced manufacturing artillery ammunn- tion on 16 November, 1899, to augment the inadequate supply stockpiled in the town prior to war breaking out.
36. Segment shells, on bursting, broke into small rectangular segments similar in shape and size to those in a slab of chocolate.
37. The Relief Column, commanded by Lt-Gen Lord Methuen left Orange River Station on 21 November. A despatch-rider reached Lt-Col Kekewich with the news two days later, and it was published in the 'Diamond Fields Advertiser' on the 24th.
38. Technically a nice point, since Boer sympathisers in Griqualand West felt themselves free to join the Republican forces after President Steyn's proclamation of 14 October, and many did. Kekewich had no means of enforcing his counter-proclamation. See Note 8.
39. British casualties amounted to 7 killed and 29 wounded. As far as can be established Boer losses amounted to 11 killed and about 50 wounded, plus 33 taken prisoner.
40. There was an almost regular despatch-rider service between the town and the Relief Column throughout the siege. Although some despatch-riders were caught by the Boers most got through.

41. The first four trial searchlight messages from the Relief Column (then at Klokfontein 50 km away) were read in Kimberley during the night of 27/28 November. The diarist seems to have written a garbled version of the last two messages coupled with the following day's newspaper report. Message No. 3 read:- 'Lord Methuen thanks the merchants of Kimberley for their kind present of cigars: he is a non-smoker, but has given them to his soldiers.' No. 4 read: 'To Rhodes. The commodore is coming up in uniform.' The next morning's newspaper stated that Capt Penfold, RNR, had made it known that he was coming up in full uniform! (Capt Penfold was a Director of De Beers).
42. British losses amounted to 23 killed and 28 wounded. Boer losses are uncertain.
43. Those killed were buried in the Gladstone Cemetery, not at Kenilworth.
44. Lt-Col Scott-Turner is buried in Gladstone Cemetery.
45. A vedette is a mounted picquet.
46. 3 December was a Sunday and there is no record of any firing, Boer or British, having taken place that day either at Kimberley, or at Modder River. The diarist of the 9th Queen's Royal lancers (then at Modder River) noted, however, that there was a prolonged thunderstorm. Mrs Heberden seems to have confused thunder with gunfire!
47. The Conning Tower was a raised platform erected on top of the main hoisting-shaft headgear at the De Beers Mine, the highest point in Kimberley. It served both as a look-out post and as Lt-Col Kekewich's command post. An officer was alwavs on duty in it, and the log kept throughout the siege is still preserved.
48. Part of the Republican forces investing Kimberley moved south at this time to reinforce Gen Cronje's positions at Magersfontein. It is correct that a number of Boers had their wives and families with them in the field.
49. A number of remote-controlled mines were laid round the perimeter of the town as part of the defence scheme.
50. 2.5-inch RML mountain guns, as distinct from the 7-pr RML guns of the Cape Police. Both guns fired 7lb (3,2 kg) shells.
51. D.F.A. - Diamond Fields Artillery.
52. Probably a 75mm Krupp quick-firing field gun. These used cordite instead of gunpowder as a propellant charge and consequently made far less smoke on firing. But they were certainly not soundless! British casualties on 9 December were 1 killed and 6 wounded.


Return to Journal Index OR Society's Home page

South African Military History Society / scribe@samilitaryhistory.org