The South African
Military History Society


---

Die Suid-Afrikaanse Krygshistoriese Vereniging
---
Military History Journal
Vol 3 No 2 - December 1974
EDITOR'S LETTER-BOX
Notes, Questions and Replies
QUESTIONS
1. Can a reader identify this uniform?
A short time ago my grandmother gave me my grandfather's papers. Among them was a photo of what looks like a Cavalry Officer. My grandfather originally came from Pommern in Prussia, where he was in the Prussian Army.
He was in the South West of Africa for a few years, working in the mines in Namaqualand for a short period, until his escape in the early 188os. I do not know if the photo is of my grandfather; his name was Baron Carl von Stanke, Alten, Lilien.
I forwarded a copy of this photograph to the Imperial War Museum, in London. They replied, 'The uniform is, however not British and the most likely explanation to this curious combination is that the soldier is a member of an irregular force, such as existed in South Africa at the time of the Zulu Wars'.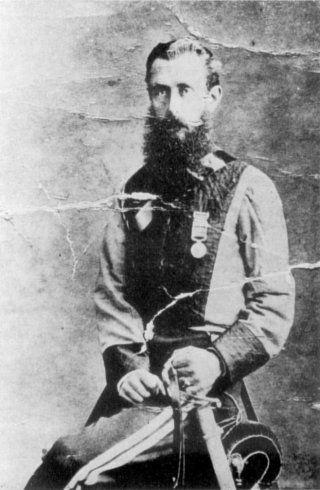 I would be most grateful if you are able to identify the unit to which this uniform belongs, and if possible to obtain the names of any such members that existed in the unit if they are available. If the photo enclosed is of any use to you other than for my interest you may keep it, as I have a number of copies.
G. von Stanke,
Member of the Military Historical Society of Australia.

2. Dr F. J. Hewitt who recently delivered a lecture to the S.A. Military History Society, entitled, Radar, its History and South Africa's Role in World War II, seeks information relating to its use by South Africans. Can Readers assist?
I am trying to obtain all possible information relating to the use of radar by the South African Forces during the War and even by South African personnel in any of the Allied Forces.
To date I have limited my search almost entirely to members of the Unit concerned the Special Signals Services of the S.A. Corps of Signals. It is obvious that I must broaden this considerably. Perhaps through the medium of your publication you could help me in an appeal to all those who may have something of interest to contribute on this subject.
I would greatly appreciate it if such people would get in touch with me. Initially all I ask is that they should indicate in the broadest terms what information they can contribute. It would then be for me to follow up in greater detail matters on which I have insufficient information. Your assistance in this regard would be much appreciated.
I fear we are already late much has already disappeared, and we must preserve what we can.
Dr F. J. Hewitt,
C.S.I.R., P.O. Box 395,
Pretoria.

NOTES

Commemorative Plaque to Major R. E. MacGregor
On a recent visit to the town of Fort William, in Scotland, my wife and I found a memorial tablet in the Episcopal Church which had interesting connections with our last Military History expedition. The plate commemorates Major R. E. MacGregor, of the Royal Scots, who was a Staff Officer at Nooitgedacht. He died at Nooitgedacht on the 2nd April, 1901, from "over-taxing his brain in planning the defence". Perhaps a warning to future Staff Officers.
His last surviving relative, Miss Edith MacGregor, was formerly the Curator of the Jacobite Museum in Fort William, and died in that town some three years ago.
Anthony Speir

Return to Journal Index OR Society's Home page

South African Military History Society / scribe@samilitaryhistory.org