The South African
Military History Society


---

Die Suid-Afrikaanse Krygshistoriese Vereniging
---
Military History Journal
Vol 2 No 6 - December 1973
Sansom's Horse
by DR. F. K. MITCHELL, JCD,
Fellow of the S.A. Numismatic Society

Nothing in the whole field of South African military medal collecting is more fun than tracking down the story of the units whose titles one finds engraved on the medal's rim. This is especially true of our earlier campaign medals, which often provide almost the only tangible evidence that some tiny unit ever existed at all. In a quarter of a century of medal collecting I have been particularly fascinated by the medal for SOUTH AFRICA 1877-79. This medal was given for service in the Gaika-Gcaleka War, the Northern Border War, at Morosi's Mountain in Basutoland, against Sekukuni, or in the Zulu War of 1879. More than 200 different South African volunteer units qualified for it. The very names of some of these units breathe romance, and conjure up mental pictures of hardy pioneers on our frontiers, men in the main of British stock, who lived no less by the horse and the gun than did their Boer neighbours to the north. Look at the names of some of these units:
Adelaide Volunteer Cavalry; Barkly Rangers; Berlin Volunteers; Bettington's Horse; Colesberg Light Horse; Murray's Orange Rovers; Natal Hussars; Kingwilliamstown Veteran Volunteers; One Star Diamond Contingent; Sidbury Mounted Rangers; Stutterheim Light Infantry Volunteers; Southey's Rangers; Bowker's Rovers; Stevenson's Horse; Lydenberg Rifles; New England Contingent; Wodehouse True Blues.
Do you blame me for being fascinated? One of the many gaps in my knowledge was happily filled by Major Justin Hulme, who told us the story, in the December 1972 issue of this Journal (Vol. 2. No. 4. The Editor's Letter-Box) of 'Carbutt's Border Rangers'. I have the medal awarded to Trooper H. Brunner of that unit. Like Capt Carbutt's, this medal has no bar, so I know that Brunner was mobilised in Natal during the Zulu War of 1879, but that he did not cross the Tugela into Zululand. (If he had, he would have qualified for the "1879" bar). Another unit of which details have eluded me over the years, has been Sansom's Horse. Now I have never actually seen a medal named to Sansom's Horse, but I have been on the look-out for one, because Tylden in his 'The Armed Forces of South Africa' lists it. His entry is brief in the extreme:
'465 SANSOM'S HORSE. A small Kingwilliamstown unit, served in the Ninth Kaflir War (Medal Roll).' For years I have had the unanswered question in my mind. Who was Sansom, of Sansom's Horse? Was a medal ever issued to Sansorn's Horse? Some months ago, an unusually determined and personable young man talked his way past my secretary and into my office, without an appointment, on a particularly busy morning. We talked briefly and to the point, about the business of the firm he represented. Then, as I stood up to usher him out, the penny dropped! 'Did you say' I asked, 'that your name is Sansom?' 'That's right, Doctor, Brian Sansom'. 'An unusual name', I said 'are you perhaps a descendant of Sansom, of Sansom's Horse?' 'I am indeed. He was my great-grandfather! We have a beautiful clock at home given to him after the Battle of the Springs'. Need I say that I found time to talk to him a little longer? Following this chance contact, I subsequently met Brian's father, Mr Doug Sansom, of Komgha. With the help of his friend, the late Dr A. W. Burton, the well-known Border historian, Doug Sansom had delved into the history of his forebears. This is their story as he has told it to me: George Sansom and his wife, Dorothy, were 1820 settlers. They were members of Calton's party from Nottinghamshire, which settled originally near Bathurst. Their son James was born in 1828 and, as a young man, saw service in the Frontier wars of 1846 and 185 1-53. After the former war it was decided to settle the area which became known as British Kaffraria, between the Keiskamma and the Kei Rivers, and James Sansom, in common with many of the young men who had rallied to the colours, was rewarded by the grant of a farm in the new territory. He thus became the owner of the farm Hopewell, on the Tyityaba River, nine miles from the present town of Komgha. A condition attaching to the grant of these farms and actually written into the title deeds of Hopewell when ownership was registered in 1864 was that all able-bodied men were required to hold themselves in readiness to defend the nearby Frontier in the event of war. James Sansom evidently accepted the responsibility of leadership in this matter, and formed his own volunteer detachment which became known as Sansom's Horse and met once a month for target practice. In due course his son, Edward Floyd Sansom, was enrolled as a private in his father's unit. In September 1877 fighting erupted on the frontier the Gaika-Gcaleka or Ninth Kaffir War. The Cape Colonial Government, which had formally incorporated British Kaffraria as part of the Colony in 1866, sent detachments of the Frontier Armed and Mounted Police, and of certain Colonial volunteer units, into the southern part of the Transkei, but no imperial troops were permitted to cross the Great Kei river. On the 9th of October, 1877, a force consisting mainly of Sansom's Horse was encamped at Springs, about six miles on the Transkei side of the Great Kei, south-east of the present Kei Bridge. Early that morning, while most of the men were still asleep, the camp was heavily attacked by a large force of Gcalekas. Captain Sansom ordered his men to stand fast, and immediately sent a despatch rider for reinforcements. Some of the young recruits were close to panic, but Sansom rallied them — he in fact threatened to shoot the first man to put his foot in a stirrup! and coolly set about arranging the defence of the camp. The battle continued until after midday, but by the time reinforcements arrived the Gcalekas had withdrawn, leaving many dead behind them. Sansom's Horse had two men wounded. Subsequently the Cape Colonial forces under Commandant C. D. Griffith drove Kreli and the Gcalekas over the Bashee River into Bomvanaland. The Cape Government thereupon came to the mistaken conclusion that the war was over, and all the volunteers including Sansom's Horse— were allowed to return to their homes before Christmas 1877. According to the late Dr Burton, 'The Kaffrarian Watchman' (Kingwilliamstown), of about April 17th 1878, contained the following report: "PRESENTATION TO COMMANDANT J. H. SANSOM: "The gift and an address were presented by Commandant Charles Duncan Griffith CMG. Battle of the Springs and Manzana Heights when Commandant Sansom was in command of 'Sansom Horse' as a separate corps in the field. 'The handsome clock set was presented by 'OUR Boys' in admiration of his conduct, display of cool bravery and skilful leadership. 'He was assisted in this battle by Commandant George Gray whose father was killed by rebel Hottentots in the war of 1850/53.' The presentation consisted of an ornate and handsome clock, with matching side ornaments, in gilt and blue enamel. The clock itself bears a silver plate on which is the inscription:

'Presented to Capt James Sansom
by Our Boys
In admiration of his conduct while serving
in the field. November 1877' On one side the ornament is inscribed 'SPRINGS', and on the other 'OCTOBER 1877'.

This was an interesting story, but my original question was still unanswered. Was a medal ever issued bearing on its rim the name "SANSOM's HORSE"? So I asked the obvious question: 'Where is Capt James Sansom's medal?' Doug Sansom told me he had never seen it but, following my enquiry, he found his own father's medal — awarded to 'CORPL. E. L. SANSOM', son of James, who had served in the unit commanded by his father. It is the South African Medal, 1877-79, with bar '1877-8', but the unit shown on the rim is 'KAFFRARIAN VOLS.' With it is an ornate cross-shaped silver medallion, no doubt a shooting prize, bearing on the obverse the arms of British Kaffraria, and beautifully engraved on the plain reverse 'PRIVATE E. F. SANSOM, Komgha Troop, K.V., 1875.'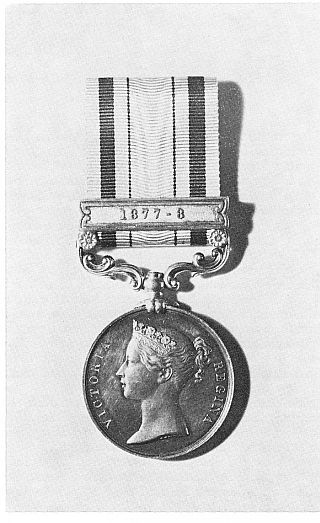 South African Medal 1877-79 with bar 1877-78 inscribed CORPL.E.L.SANSOM, KAFFRARIAN VOLs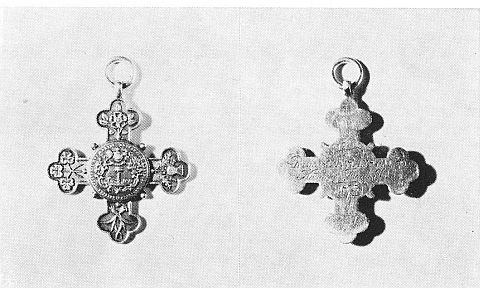 Shooting medal with the inscription VICTORIA DEI GRATIA BRITANNIA R* REG.F.D.BRITISH KAFFRARIA
on the obverse and engraved on the reverse, Private E.F.SANSOM Komgha Troop K.V. 1875

Did these two medals hold the clue? I went back to Tylden's 'The Armed Forces of South Africa' and under No. 252, as corrected by his 'Further Addenda and Corrigenda', found the following:

'252. Kaffrarian Rifle Volunteers, but described in the Comdt-Gen's Papers (D.D. 1/9) as the Kaffrarian Volunteers. Apparently not gazetted until 1871. This important unit consisted of two weak companies of infantry raised at Kingwilliamstown and of three mounted troops raised respectively at Komgha, Gonubie and Maclean. The corps did garrison duty in the Zulu War after serving in the 9th Kaffir War. In 1878 besides the Commanding Officer, Comdt Lonsdale, there was a Capt, a Lt and a Second Lt to each of the two companies and three troops.' Suspicion that Sansom's Horse was in fact the Komgha Troop of the Kaffrarian Volunteers grew to near certainty, when Mr Doug Sansom showed me an old photograph of 13 men in uniform, identified in a document signed by the late Dr Burton, as officers of sections of the Kaffrarian Volunteers. Here was Capt Sansom himself, together with Capt James Faunce Lonsdale formerly of the Inniskilling Fusiliers, the officer commanding and 11 other Captains of the Artillery, Infantry and Mounted sections. The accompanying photograph, with identification and personal details supplied by Dr Burton, provides not only an interesting portrait gallery of a number of men whose names are written large in Border history, but gives us a vivid impression of the uniforms they wore almost a century ago.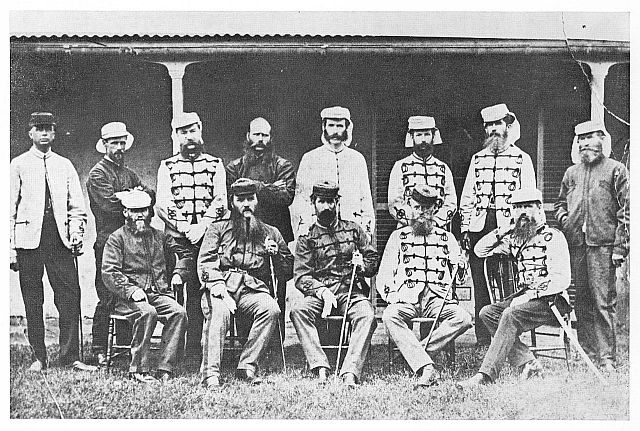 Standing (from the left): Capt F.W. Schermbrucker (Infantry Section) later Colonel and Commandant of the Eastern Amatola Division at Stutterheim; Capt W. Warren (Mounted Section). Dark uniform Jacket. Overalls have a dark stripe down the seams; Capt Cole (Infantry Section). Black braided white tunic; Capt George Gray (Mounted Section); Lieut E.J.Byrne (Infantry Section). Was an Attorney in Kingwilliamstown; Capt Richard Walker (Infantry Section). Became first Mayor of East London; Capt Broster (Infantry Section) Kingwilliamstown; Capt John Cowie (Mounted Section ) of Fort Warden Farm Komgha. Led Komgha Volunteers.
Seated (from the left): Capt J.Sansom (Mounted Section) of Hopewell, Komgha District. Gained honours in the Battle of the Springs; Capt L. Giddy (Artillery Section); Capt Joseph Walker (Artillery Section); Capt James Faunce Lonsdale (Infantry Section). Formerly in the 27th Regiment Inniskilling Fisiliers; Surgeon Capt Charles James Egan (Dr) of Kingwilliamstown (Infantry Section)
My search must go on. It is a fair assumption that Sansom's Horse and the Komgha Troop of the Kaffrarian Volunteers were one and the same unit. But even if they were, it is by no means impossible that the medals given to some members of the unit were actually named to 'SANSOM'S HORSE', and I must try to find one. In the meantime I am delighted to have hanging, side by side in my wall-cabinet, the South Africa Medal bar 1877-8, and the silver cross for shooting, awarded to Corpl Edward Floyd Sansom, of the Komgha Troop, Kaffrarian Volunteers.
NOTES:
1. KAFFRARIAN VOLUNTEER CORPS. Date of formation 8.2.1872. Title changed to "Kaffrarian Mounted Rifles" on 31.5.1883. Disbanded 14.9.1892.
2. KAFFRARIAN VOLUNTEER ARTILLERY. Date of formation 26.11.1876. It was distinct from the East London Artillery also called Kaffrarian Volunteer Artillery. Disbanded 28.4.1885.
3. KING WILLIAM'S TOWN VETERAN VOLUNTEER CORPS. Date of formation 5.12.1876. Title changed to "King William's Town Rifle Volunteers" 21.9.1880. Disbanded 1.11.1885.
4. KING WILLIAM'S TOWN VOLUNTEER ARTILLERY. Date of formation 4.7.1877. Served in the Ninth Kaffir War 1877/78 — The Fingo/Gcaleka War and Gaika Rebellion — "Ncayechibi War" on both sides of the Neiba (Great Kei) River and came to be known as "Our Boys" or the "Settlers' Sons". Disbanded 30.6.1889.
5. THE KAFFRARIAN VOLUNTEER CORPS 1872-1892. Included the above infantry, mounted and artillery sections; a cadet corps attached to the veterans, and a brass Band attached to the KWT Vol Artillery, but the names "Our Boys" or "Settlers' Sons", was given especially to those Kaffrarian Volunteers who crossed the Kei and fought the "Battle of the Springs".
6. The Kaffrarian Volunteers, of Kingwilliamstown, must not be confused with the Kaffrarian Rifles, the famous Citizen Force unit of East London which was raised only in 1883 and first saw active service in the Langberg Campaign in Bechuanaland in 1897.
Return to Journal Index OR Society's Home page

South African Military History Society / scribe@samilitaryhistory.org