The South African
Military History Society


---

Die Suid-Afrikaanse Krygshistoriese Vereniging
---
Military History Journal
Vol 2 No 4 - December 1972
Cape Colonial Volunteer Corps
by MAJOR J. J. HULME, JCD

In a previous article in this Journal (1) a general sketch was given of the Volunteer Movement in the Cape Colony 1855-1865. This article deals individually with the Corps raised between 1855 and 1863, and gives such details on each unit as the writer has gleaned from the sources used.

ADELAIDE RIFLE CORPS
Mentioned in the Graham's Town Journal (C.M. 26/5/1860) and was on parade under Commandant Brown during Prince Alfred's visit to Fort Beaufort (C.M. 22 August, 1860).

BATHURST RIFLES (1860?-l866)
Also known as the Bathurst Volunteer Corps whose officers were Joseph Ward, Colonel; William Froward, Captain; Joseph Trower, First Lieut.; and Adjutant Ernest Biddulph as Second Lieut., and A. Schaller as Quartermaster (C.A. 22/12/1860).

The Blue Book for 1860 confirms the information on the officers, and states that no strength return had been submitted.

Reported in the 1861 Blue Book as the Bathurst Grey Rifles, with a strength at the end of the year of 63. Officers as for 1860 with E. Davies added as Surgeon. A rifle presented for competition by G. Wood & Sons in 1862 was won by S. Dicks (C.A. 19/8/1862) and in the following year a saddle was won by N. Cock on 18th November, in the presence of Colonel Bisset (C.A. 28/11/1862). The strengths at the end of 1862 and 1863 were, respectively, 40 and 43. In 1864 Ward, Biddulph and Schaller remained as Officers, and the strength was 40. In 1865 Bisset inspected and reported on the Corps and the Blue Book for 1866 notes it as disbanded.

BEAUFORT (WEST) VOLUNTEER RIFLES (1857-1862?)
Noted in the Blue Book of 1859 as 40 strong at the end of the year under the title Beaufort Royal Rifles. Officers: J. G. Devenish, Lt-Col.; J. Christie, Captain; P. McNaughten, Lt.

At the end of 1860, the Blue Book gives the strength as 38 with two additional officers, T. B. Lawson, Lt., and Adj. P. J. S. Truter as Pay- and Quarter-master. At the end of 1861 the strength was 28, and the corps is not noted again. The first move to form a corps was noted in 1857 (C.M. 28/11/1857) followed by a meeting on 17/12/1857 at which formation was agreed and 20 names taken (C.M. 26/12/1857). The first parade took place on 24/3/1858 under Lawson, but employers were unwilling to release men for drills (C.M. 7/4/1858). On 24th July the Corps in uniform with muskets and bayonets under Lt. McNaughten welcomed Sir George Grey (C.M. 14/8/1858). Later that year, Rawbone imported rifles and sword bayonets for the Corps, of the pattern used by the Cape Royal Rifles, at a cost of £7, complete with belt and cartouche box (C.M. 17/11/1858) to replace the rusty old muskets with which the Corps paraded for the Chief Justice (C.M. 4/12/1858). By August, 1859, numbers were falling and the drill master refused to drill so few on parade (G.M. 3/9/1859), although they paraded to welcome Judge Watermeyer, drill being noted as good (G.M. 17/9/ 1859). In 1862 a member named Rice won Prince Alfred's Rifle for the Western Province.

BEDFORD MOUNTED RIFLES (1857-1864)
Officially enrolled on 4/12/1857, 33 strong. Officers: Comdt. William Frederick Liddle; Captain Benjamin Soloman; First Lt. John Webster; Second Lt. and Adj. Alexander McMaster; Q.M. William Keen (C.M. 20/2/1858). At the end of 1859, the Corps was 35 strong. Officers: Liddle, Soloman and Lts. J. Riley and A. Fraser (B.B. 1859). Paraded under Soloman for Prince Alfred's visit (C.M. 22/8/1860) and were 35 strong at the end of 1860. In February, 1862, they were ordered out under Fraser to search for nine escaped convicts (G.M. 15/2/62). Strength at the end of 1863 was 20. Disbanded in 1864 (CCBB 1864). Also called Bedford Rifle Corps.

BURGHERSDORP VOLUNTEERS (1857 ?-186l?)
Active steps to raise the Corps were taken early in 1857 (C.M. 18/3/1857). In 1860 the parade was dismissed and the men refused to parade until notified of the embodiment, and that arms and ammunition would be supplied (C.A. 4/12/1860). Under Orsmond, they were ready to welcome Prince Alfred (C.A. 28/8/1860) but in the following year they refused to take the oath of allegiance (C.A. 30/5/1861). The Corps is not mentioned in the Blue Books and its services were possibly never accepted officially.

CAPE TOWN CAVALRY (1857-1888)
Proposed formation was advertised on 12/5/1857 (C.A. 16/5/1857) and a CRR meeting on 7 July, 1857, considered raising a cavalry unit (G.M. 11/7/1857). According to the Colonial Govt. Gazette, formation took place on 8/7/1857. Hon. William Porter, Attorney General of the Colony, was unanimously elected to command on 21st August and his commission as Captain was from that date (C.A. 22/8/1857 and 23/9/1857). Lt. and Adj. Ryk le Sueur was commissioned from 19/9/1857. The strength on 9/9/1857 was 33. Guard duties were begun at once (G.M. 23/9/1857).

Uniforms arrived in April, 1858, and were worn for the first time on 25/5/1858 (G.M. 21/4/1858 and 29/5/1858). By 1859 the Cavalry had Colt revolvers medium size, specially imported for them (C.A. 26/7/1859 and G.M. 2/5/1860).

On 28th July, 1860, the carrying of sabres was noted. Cornet William Spittal was elected on 10/2/1860 and Dr William Abercrombie as Surgeon (G.M. 14/2/1860).

In July, 1861, their services were accepted for garrison duty on the departure of the regulars for Natal (G.M. 27/7/1861). Strengths: 1859, 60; 1860, 65; 1861, 62; 1862, 54; 1863, 50; 1864, 60; 1865, 55 (BB). The Corps was one of the few to survive after 1865.

CAPE VOLUNTEER SAPPERS & MINERS (1859-1867)
Recruits were called for (in a notice dated 8/7/1859) by the Colonial Engineer, J. Scott Tucker (C.A. 9/7/1859). An enthusiastic meeting was held on 20 July and 65 enrolled (C.A. 21/7/1859; 26/7/1859), and regulations were approved at the end of the month (C.A. 2/8/1859; C.M. 3/8/1859). The Governor provided 150 stand of arms and the Corps was proving popular among the working classes (C.M. 6/8/1859), and numbers reached 85 (C.A. 9/8/1859), and then 140 (C.A. 13/8/1859). Officers appointed were: Lt-Col. J. S. Tucker; Bt. Majors: M. Woodifield and E. Pickering; Captains: John Koopmans and G. NV. Pilkington; Capt. and Adj. H. Lochee Bayne; First Lts: G. W. Bayne and G. Blackall; Second Lts: R. Moir and T. NV. Perrott; Surgeon: A. Brown; Chaplains: Rev. J. Quin and Rev. F. Meagher. Officer appointments (instead of elections) proved unacceptable to the men and, at a meeting on 14 September, the officers resigned and were re-elected (C.M. 17/9/1859).

Sydney Hawkins was gazetted as Second Captain in August (C.M. 17/8/1859), and the Corps paraded idr the first time on 11 August (C.M. 13/8/1859). Authority was given for the issue of 115 marine muskets, with belts, bayonets, pouches and cap pockets.

Fees were settled at the following rates:

Entrance Subscription

| | |
| --- | --- |
| Lt. Col | £1 |
| Major | - 10s 4d |
| Captain | - 5s 3d |
| Lieut. | - 5s 2d |
| NCOs and Men | - 1s 1d |
Other rank appointments in August, 1859 were: RSM, J. Scott; No. 1 Coy: 1st Sgt, William Goodman; 2nd Sgt, J. Leary; Cpls: Hickey and Swift; No. 2 Coy: 1st Sgt, J. Rice; 2nd Sgt, J. Art; Cpls: Ashley and Fenton. At the same time it was resolved that Cooke, of Adderley Street, be appointed Regimental Tailor on the basis of having produced the lowest tender for clothing, i.e. £2 l2s. 6d. (C.M. 13/8/1859).
The bye-laws of the Corps, published in November, 1859, made certain provisions tbr what was termed the Volunteer Corps of Cape Sappers & Miners:
(1) Establishment of H.C).:


1 Lt.-Col. or Commanding Officer
2 Brevet Majors
1 Adjutant
2 Chaplains
1 Surgeon
1 Paymaster
1 Quarter-Master
1 Sergeant Major

(2) Each Company to have 1 Captain; 1 First Lieut; 1 Second Lieut; 1 Colour Sgt; 1 Sgt; 2 Second Corporals, and 40 men.

(3) Dress: Scarlet flannel blouse, with blue facings, yellow cord; blue trousers, red stripe; blue cap with scarlet crown piece; white leather pouch and waist belts. Commissioned Officers to wear tunics in lieu of blouses for full dress. Sword to be regulation infantry pattern with steel scabbard and white waist belt with serpent. Field Officers to have brass scabbard in lieu of steel (C.A. 15/11/1859).
The Sappers attended their first Volunteer muster on 25 November, 1859 (C.M. 26/11/1859), and were present at a Volunteer review on 30 March, 1860 (C.A. 31/3/1860). On 14 September that year, 45 of them paraded for the return of Prince Alfred from his tour (C.A. 15/9/1860).

In October, they were hoping for the issue of Government Enfield Rifles (C.A. 14/11/1860), a change sanctioned in March, 1861, when the issue of Enflclds was approved and the Sappers were ordered to return their Minie Rifles to the Quarter Master (C.A. 24/1/1861).

In December, 1860, tenders were called for new pattern caps (C.A. 29/12/1860), and in May, 1861, greatcoats were available at 7/6 each, provided all outstandings were paid up (C.M. 14/5/1861). The new caps arrived in November, 1861, from England (C.M. 16/11/1861) and cost 4/6 each. Cap covers were available in January, 1862, at a cost of 2/6 each (C.M. 21/1/1862). In February of that year, tenders described the uniform as of scarlet cloth tunic; blue cloth trousers with broad scarlet stripe down the side; tunic with blue cloth facings trimmed with yellow cord (C.A. 22/2/1862). Cap covers were discontinued in April (C.A. 1/4/1862).

A rumour that Scott-Tucker was resigning from command, current in January, 1861, proved untrue, but in October he dropped rank to Captain in view of the reduced number of the Corps (C.A. 29/1/1861; 17/10/1861). In April the Corps became known as the Corps of Volunteer Engineers (C.M. 23/4/1861), and in July their services were accepted for garrison duty as a result of Zulu troubles on the Natal frontier (C.M. 27/7/1861).

The need for funds caused the Engineers to advertise for honorary members "having been refused participation in the Cape Town Honorary Members Fund by the Rifles, Cavalry and Artillery on the ground that the Corps refuses to adopt their bye-laws and regulations" (C.A. 17/10/1861). At the end of 1861 numbers were 90, an increase of 14 in six months (C.A. 26/12/1861).

On 3 February, 1862, the Engineers were at gun drill in the Table Bay Batteries at 6 a.sn. under Lt. Hopkirk, C.V.A. (C.A. 4/2/1862; C.M. 6/2/1862). In March, 35 turned out on a Volunteer holiday (C.M. 11/3/1862) and the Corps under Lt. Flack attended a Vol. review at Stellenbosch on 8 October, 1862 (C.A. 9/10/1862). Lt. Perrott resigned in December, 1863 (C.A. 8/12/1863), and was replaced by Charles Reid as Second Lt. in February, 1864 (C.A. 4/2/1864). Scott-Tucker resigned in February, 1864 (ibid). The Engineers were at a Volunteer Review at Stellenbosch on 7 September, 1864 (C.A. 8/9/1864), and were reported on in the same year (M.H.J. Vol. 2, No 1, p. 36).

The Blue Book gives Lt. J. Flack as C.O. at the end of 1863 and the strength as 67, reducing to 50 at the end of 1864, and to 40 at the end of 1865 and in 1866. It notes the Corps as disbanded in 1867.

CATHCART RIFLES (1860?)
Blue Book 1860. 100 strong under Comdt. S. de Lange, with Headquarters at Stockenstrom.

COLESBERG RIFLE CORPS (COLESBERG MOUNTED RIFLES) (1860 ?-1863)
Raising probably occurred in 1860. A report from Colesberg in May says the Corps paraded on the Queen's birthday and drilled. The O.C. was previously a Lt. in the army, and the medical officer was Dr Morgan, the district surgeon. Both were mounted (C.A. 5/6/1860). In November, 1861, the Hon. L. von Maltitz, MLc, presented a silver bugle (O.C.A. 7/11/1861). The Blue Book reports as follows:

1860: 37 strong at 31 December. Colonel H. Green; Maj. W. Dawson; Capt. G. Murray; Lt. & Adj. W. Roach; Lt. D. Olthoff; Q.M. B. van Blerk; Surgeon H. P. Morgan.

1861: 30 strong at 31 December. Col. H. Green; Maj. G. Murray; Capt. R. A. Green; Q.M. D. Olthoff; Surgeon H. P. Morgan.

1862: Quotes 1861 return.

1863: Disbanded.

CRADOCK MOUNTED VOLUNTEERS (1860-1866)
Raising took place in 1860. The officers appointed Captain J. E. Nelson (commanding); 1st Lt. T. C. Scanlen; 2nd Lt. and Adj. Louis Schrijner; Surgeon George Grey, MD (CXC. G.G. 24/8/1860). The strength at the end of year was 7l (B.B.).

A meeting in September (?) decided to order from Hamilton of Grahamstown, a supply of sword belts similar to those worn by the Grahamstown Corps. The turnouts at musters were good and the Corps was fast becoming composed of good riders and swordsmen. A request was made the C-in-C for a Drill Sgt. from the CMR (Imperial) for a few months. Uniforms and accoutrements were on order (C.A. 8/9/1860). In December, the people of Cradock decided to order from England a guidon for the Corps carrying the battle honours, "Farmersfield", "Whittlesea" and "Imvani" (C.M. 12/12/1860).

In March, 1861, 12 of the Corps turned out to assist the Police to catch horsethieves. In this they were successful recovering stolen stock at Pretorius' Kloof and arresting 12 Kaffirs (C.M. 26/3/1861; C.A. 28/3/1861). A local report refers to them as the "Cradock Bricks" (see below). In August the Corps was intending to ride out to welcome Hon. H. Tucker, MLC (C.A. 27/8/1861).

In January, 1862, the Corps challenged the Cape Royal Rifles to a postal shoot (C.A. 23/1/1862). The guidon was again in the news in 1862. "The Volunteer Force at the Cape of Good Hope - Mrs. Flight, military outfitter of Southampton, has at her shop a very splendid light blue silk standard, which is about to be sent out to the Cradock Mounted Volunteers. The corner of the standard is occupied by the Union Jack, in the field is a circle surmounted by an Imperial Crown, its centre upon a red ground, being occupied by the rose, shamrock and thistle and round the same within a ribbon are the words in gold thread 'CRADOCK MOUNTED VOLUNTEERS', beneath it is the motto of the Corps, 'READY AYE READY'. Upon the standard are emblazoned the following engagements in which the Corps has taken part — WHITTLESEA, IMANVIR (sic), INGOOBIR (sic) and FARMERFIELD (sic). The workmanship and embroidery are very magnificent, and well worthy of an inspection 'Hampshire Independent"' (C.M. 18/1 / 1862).

The guidon was presented in the same year. "The Queen's Birthday at Cradock — The Volunteer Corps were (sic) presented with their new colours (sic) by Mrs. Gilfillan, widow of the late William Gilfillan, Esq., for many years Civil Commissioner of Cradock, and who with his sons were (sic) engaged in the late numerous Kaffir Wars" (C.M. 7/2/62).

Strength for 1861 and 1862 was 84; 1863-85; 1864-28 and 1865-22. Lt. Scanlen was Officer-Commanding in l865. The Corps was disbanded in 1866.

This unit was the second to bear the title. Its predecessor existed from 1850 to 1852 and rendered excellent service in the 8th Kaffir War with Nelson as Officer-Commanding and Scanlen as a Lt. and there were probably numerous others who served in both units. This however does not mean that there was unbroken continuity from 1852 to 1860, and the writer prefers to treat the two Corps as having separate identities (see Africana Notes & News for brief notes on the earlier unit).

In 1962, the guidon was laid up in St. Peter's Church, Cradock, by the Regiment Transkei(2).

Through the courtesy of the Rector, the Ven. J. Heath, Archdeacon of Cradock, it is possible to reproduce a photograph of it.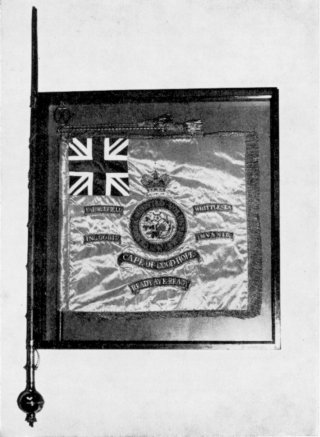 The standard of the Cradock Mounted Volunteers.
EDITOR'S NOTE: The author has noted the incorrect spelling of three of the Battle Honours.
The Drum Major's Mace would also appear to be upside-down.
DRAKENSTEIN CAVALRY (1857)
It is doubtful if the services of this corps were official accepted. So far evidence of its activities is scanty. In March 1857, it was reported that it would attend the Volunteer Review at Wynberg on the 25th if uniforms were complete (C.M. 18/3/1857). In September the same year the Paarl Rifle Corps was reported to be raising a Cavalry Corps to act with the Drakenstein unit (C.A. 16/9/1857), whose presence was expected at the Volunteer Review at Stellenbosch, 30 strong (C.M. 19/9/1857; C.A. 19/9/1857).
D'URBAN VOLUNTEER CAVALRY (1856-1866)
The Corps dated from 7 February, 1856, its regulations were approved on 21 February, 1856, and its strength on 23 September, 1857 was 76 (C.A. 23/9/1857). Initial officer appointments dated from 14 March, 1856, and were: Comdt. W. A. van der Byl; Capt. Theodore C. Whitcomb; Lt. James Denyssen; Cornet Adrian Louw; Quarter-Master William Jessup; Surgeon Johannes Zacharias Herman, M.D. (see Burrows: History of Medicine in S.A. p. 312).
The horses were reported efficient in February, l857 (C.M. 18/2/1857), and the Corps attended the Volunteer Review at Wynberg on 25 March, 55 strong (C.M. 25/3/1857) and 60 were expected at the Stellenbosch Review in September (C.A. 19/9/1857). "The D'Urban Cavalry are to have helmets with red plumes, but they will not be able to get them in time for the Review at Stellenbosch. They will wear, on that occasion, the black helmet, with the horsetail."
The unit was also known as the D' Urban Volunteer Cavalry Corps - notice of half-yearly meeting on 29 March, 1858, signed by the Secretary, O. J. Horak (C.A. 24/3/1858). A dinner was held on 7 June that year, with 60 present. Swords were carried for the first time. The horses were untrained, the trained animals having been sold to the Indian Government, for the Indian Mutiny (C.A. 10/6/1858). The Band was due to make its first appearance at a bazaar on 27th October, 1858. The Bandmaster had previously served in the West Indies (C.A. 12/8/1858). In December the Corps was called out to pursue a party of Kaffir sheep thieves on their way to Wellington, and captured the miscreants (C.A. 22/12/1858).
By 1 January, 1859, the Corps was organised in two troops (G.M. 16/2/1859) and attended a Review at Claremont on 30 March (C.A. 3l/3/l859; C.M. 2/4/1859) and assembled at Cape Town to say farewell to Sir George Grey (C.A. 11/8/1859). They were at another review on 7 October, 1859 (C.A. 11/10/1859).
The band was expanded to full cavalry size at the end of 1859, instruments arrived from Europe at a cost of £100 and one Namick was engaged as Bandmaster at a salary of 100 guineas per annum. Bandsmen numbered 17, all mounted (G.M. 26/10/1859; 21/12/1859; 8/2/1860).
During Prince Alfred's visit to Mulder's Vlei, he was escorted by a detachment of the Corps; Comdt. W. A. van der Byl; Capt. T. Whitcomb; Lt. O. J. Horak; Cornet Melt van der Spuy; one Sergeant, and 22 Troopers, all of whom had Dutch names (C.A. 30/7/60).
Inspection was invited in Cape Town of 50 double-barrelled Enfield carbines, Colt revolvers and sabretaches imported by Rawbone for the Corps (C.A. 18/8/1860).
Rawbone presented a Colt revolver for competition, which was won by D. F. Bester firing at ranges of 200 and 300 yards (C.M. 3/1/1861). New accoutrements were ordered from England by Rawbone, and arrived in January, 1861; shoulder belt and patent cartouche box, with cross belt to correspond (G.M. 31/1/1861).
Forty, plus band, present at a Volunteer Review, all wearing dark uniforms (C.A. and G.M. 25/4/1861). Later in the year the Corps attended another review, with precedence ahead of the others (G.M. 8/10/1861), being the only country Corps present, 38 strong, a large proportion being bandsmen (C.A. 10/10/1861).
In April, 1862, still in existence with band (G.M. 5/4/1862) although another bandmaster was being sought later in the year (G.M. 7/10/1862).
Strengths (Blue Book): 1863, 80; 1865, 66; 1866, 66; 1867, disbanded.
FORT BEAUFORT MOUNTED RIFLE CORPS (1860-1863)
The officers were gazetted on 22 May, 1860: Capt. George Valentine; Lt. James Vigne; Lt. and Adj. John James Gunn (G.M. 23/5/1860; C.A. 6/6/1860). Later in the year the Corps was willing to perform a guard-of-honour for Prince Alfred (G.A. 31/7/1860).
Officer appointments are obscure. In September it is stated that J. Scott had retired from command and T. Stringfellow, the Civil Commissioner, had been chosen in his place (G.A. 11/9/1860). The 1860 Blue Book gives Stringfellow as G.O. and notes Valentine, Vigne and Gunn, and adds Q.M. W. Estment and Paymaster S. H. Roberts.
Parades took place every Monday at 6 a.m. and a GMR Sergeant-Major was employed as drill-master (G.A. 18/9/1860). Strength at the end of 1860 was 39 (B.B.). Stringfellow's appointment was made in November, 1860 (G.M. 10/11/1860).
In May, 1861, the Corps was referred to as the Fort Beaufort Rifle Corps (G.M. 7/5/1861). Valentine and Gunn resigned (ibid). The Corps was disbanded in 1863 (B.B.).
GEORGE ARTILLERY (1858?-1859?)
Noted as having been on parade on the Queen's Birthday as the George Town Mounted Burgher Artillery and having fired a 21-gun salute (C.A. 21/6/1858). At a ball in May, 1859, one man was noted as being present, dressed in the uniform of the George Artillery Corps (then defunct), with sword (G.M. 1/6/1859).
GEORGE MOUNTED RIFLES (GEORGE RIFLE CORPS) (1856-1863)
Enrolled on 19 July, 1856; regulations approved on 4th September, 1856, and strength on 30 September, 1856, was 30 (C.A. 23/9/1857). Officer appointments dated from 8th September, 1856: Capt. Andries Ludolph Meyer; Lieut. Petrus van der Spuy; Lieut. Reyn Varkevisser; Q.M. Philip William Hoskins (ibid).
The Corps under Capt. Meyer escorted Judge Cloete into George on 19 September, 1857 (C.A. 26/9/1857), paraded on the Queen's Birthday on 25 May, 1858, and fired a feu de joie (G.M. 29/5/1858). Referred to also on that occasion as the George Town Mounted Rifles (C.A. 1/6/1858).
Noted as of one company strength on 1 January, 1859 (G.M. 16/2/1859). Paraded on 14 May that year in uniform, few in number (G.M. 21/5/1859). At the end of the year strength was 26, and the officers Capt. Meyer; Lt. W. Hooper, and Lt. J. de la Harpe (B.B.). Paraded on the Queen's Birthday in May, 1859 with colour (G.M. 1/6/1859). Strength at the end of 1861 and 1862 remained at 46. No mention in the Blue Book after 1862.
GRAAFF REINET MOUNTED RIFLE CORPS (1856-1860)
Formation resulted from the passage of the Burgher Law and rumours of another Kaffir War and a meeting called for 21 February, 1856 (G.M. 23/2/1856). The Corps was enrolled on 21 February, 1856, its regulations were approved on 11 March, and officer appointments dated from 9 April. Comdt. Anthony Berrange (15 April); Capt. John Heugh; Lt. and Adj. William Henry Addison; Lt. John Henry Roselt and Q.M. Edward Nathan. Cornet Chris van Blommenstein was commissioned on 25 February, 1857. Strength on 9 September, 1857 was 55 (C.A. 23/9/1857, quoting Govt. Gazette of 22 September, 1857). Tenders were called for uniform on 28 June, 1856, by notice signed by Lt. Addison (G.M. 12/7/1856). Uniforms became available on 10 February, 1857, when the Corps met to inspect them (G.M. 2 1/2/1857). The Corps mustered on the Queen's Birthday "to receive presentation of their colours which had been elegantly designed and worked by the ladies" (G.M. 6/6/1857). The Corps paraded in November, 1857 and fired a feu dejoie at the news of the fall of Delhi (G.A. 25/11/1857). The Corps rules were amended at a meeting on 19 November, 1857, where the raising of an infantry division was resolved upon and the officers for this division were elected: Capt. Bremner; Lt. Ford; Ensign van Ryneveld (C.A. 2/12/57). Parade on the first Monday in December. The band was improving and the infantry were waiting for uniforms (C.A. 12/12/1857). In the following month, the Government agreed to waive duty on imported arms and Sir George Grey allowed the Corps to use his crest and would send a copy to the Adjutant (C.A. 13/1/1858). Both Divisions were on parade under Capt. Bremner for the Queen's Birthday (G.R. Herald 29/5/1858). Parades were held once a month (C.A. 16/6/1858), but by August the infantry were not attending (G.A. 28/8/58), and, at a meeting in September, it was resolved to request the Civil Commissioner to resign from command as he was not taking sufficient interest. This resolution itself caused resignation (C.A. 25/9/1858).
By April, 1859, the Corps had uniforms and accoutrements and were referred to as the Graaff Reinet Rifles (Grey's Own), but were meeting with opposition from employers (G.A. 21/4/1859). All was not well, and in October it was decided not to have a mounted Corps, but to reorganise as one large Rifle Corps (C.A. 15/10/1859).
GRAAFF REINET VOLUNTEER RIFLES (1860-1866)
The Graaff Reinet Advertiser (G.M. 26/4/1860) carried report in April, 1860, of a meeting of the members of the old Rifle Corps (i.e., Mounted Rifles), recorded the disbandment of the Corps and the resolve to raise a new one, infantry only, "This is an excellent movement, for the display made by the former cavalry was never creditable to them as far as regarded the horses, for in cavalry it is requisite that the horses be as well drilled as the men."
A committee was elected to canvass for members of the new Corps: Buyskes, Roselt, Barber, de Beer and McCusker and a meeting was called for 22 April.
At the end of December, 1860, the following officers had been appointed to the Graaff Reinet Rifles: Comdt. A. Berrange; Lt.-Col. P. L. Buyskes; Major W. J. Dixon; Capts. W. Meadway and S. O. Wimble; A. C. Melville and J. C. Roehlin; Lt. and Adj. J. R. O'Reilly; Q.M. H. de Beer; Paymaster M. Lilienfeld; Commissariat Officer J. L. Leeb; Chaplain, Rev. R. W. Staebler (Blue Book). A new spirit was noted in the Corps and the new Paymaster, P. Caro, who replaced Lilienfeld (G.M. 9/2/1861) had managed to collect £120, of which half was for the band (C.M. 22/1/1861). Rifles were applied for, and a move was made to form a second company (G.M. 7/2/1861), and shortly after, the corps was out after Kaffir cattle thieves (C.M. 28/3/1861). In April, a Colour-Sergeant was reduced to the ranks for negligence and disobedience of orders, and expelled (G.M. 20/4/1861), followed by litigation. The action instituted in the Magistrate's Court at Graaff Reinet against Mr A. F. du Toit, for the recovery of the Colours of the Graaff Reinet Rifle Corps, which he unlawfully detained was tried on the 11th instant and resulted in favour of the Plaintiff, Lt. Colonel Buyskes, with costs. Mr Buyskes conducted the prosecution (G.M. 23/4/1861). The unit was not prospering as it should have done, although many had kept to their duties. The band, composed mostly of former German Legionaries, was a great pleasure to the town (report from Graaff Reinet, 13 April, 1861). By June interest was waning and only four men appeared for a parade ordered on 12 June for the Queen's Birthday (C.M. 30/6/1861), and only seven or eight of a strength of 170 were attending at musters (G.M. 3/7/61). In August, the 'Herald' commented on the low state of the Corps, reorganised in 1860 with 135 men, soon revised to 60, and with enthusiasm wearing off. The band was originally engaged at an annual cost of £220 (G.M. 6/8/1861).
At the end of 1862 strength was 59, with Capt. Meadway commanding; Q.M. de Beer and Surgeon A. A. Lilienfeld.
In 1863, Capt. J. Gill took command and strength at the end of the year was 49. This dropped to 40 at the end of 1864 and 38 at the end of 1865. The Corps was disbanded in 1866 (Blue Books).
GRAHAM'S TOWN RIFLE RANGERS (1860-1862)
Raising of a Corps was decided upon in April, 1860, at a meeting convened at the request of the Lt. Governor and presided over by the Civil Commissioner. A committee was appointed consisting of Southey, Blame, Jarvis, McMaster, Webb, Mundry, Beadle and Brodribb, to draw up rules which would encourage subscriptions from honorary members (C. A. 14/4/1860). At a meeting later in the month, proposed uniform was displayed: a serviceable shepherd plaid and helmet hats, duly adopted (C.A. 24/4/l860 G.M. 25/4/1860). The Corps was to consist of infantry and cavalry (C.A. 5/5/1860). Officers elected were: Colonel R. Graham; and for the Infantry, Capt. C. H. Huntley and Lts. Beadle and Webb (G.A. l2/5/1860). Drills began to be held frequently under two sergeants of the 10th Foot (C.A 26/5/1860), and the Governor advised that £20 was available for the Corps from the previous year's Parliamentary grant (G.M. 25/6/1860) and, by October, the Infantry were progressing well with a strength of 110, with parades every Saturday afternoon (C.A. 26/10/60), although Graham had resigned as Colonel as the result of some remarks made by members (G.A. 3/11/1860). At a meeting on 1 December the Corps resolved: to change its name to the Grahamstown Volunteer Rifles; that Geoghagan succeed Stewart (resigned as Paymaster, and that 7 new members be admitted, five of them to the band (C.A. 11/12/1860).
The Blue Book gives the following at the end of December 1860: Graham's Town Rifle Rangers: Acting Commandant Col. W. Lee; Cavalry Division: Strength 35. Lt. Col. H. Grump; Capt. J. McMaster; Lts.J. Webb and W. Beadle; Adj. Bloomfield and Surgeon S. Spanger. Infantry Division Strength 93. No. 1 Coy: Capt. C. H. Huntley: Lts. W. Hume and S. Mandy. No. 2 Coy: Capt. S. J. Brodribb; Lts M. A. Armstrong: T. Mathews; Adj. J. du Pakh; Paymaster J. Geoghagan; Surgeon Edmunds. (Note: du Pakh was probably an ex-Officer of the German Legion. See E. L. C Schnell "FOR MEN MUST WORK", Maskew Miller 1954, page 83.)
The Corps paraded in August, 1861, 22 strong, plus band (G.M. 29/8/1861) and appears to have begun suffering trouble. In July, 1862, the infantry was reported to be in languid state, with no parades since January (G.M. 12/7/1862), although McMaster had held a shoot on 15 February (C.A. 25/2/1862), and there was a ball on the Queen's Birthday, 23 May, 1862 (G.A. 3/6/1862).
Arms had originally been issued in April, 1861 (G.A 16/4/61) and were returned in July, 1862 (G.M. 16/7/1862) There are no returns in the Blue Book after 1862 which gave the total year-end strength as 40.
When Col. Bisset made his inspection of the Eastern Province Volunteers in 1865, he reported that the Corps no longer existed (C.A. 14/2/1865, quoting a letter dated 12 January from Bisset to DQMG)(3).
HOPE TOWN MOUNTED RIFLES (1856-1861)
The Corps was enrolled on 7 February, 1856; regulation were approved on 16 September, and the strength on 19 September was 23. Officers were: Comdt. D. P. Papenfus Capt. O. B. Biddulph and Adj. George Greaves, all appointed on 22 September, 1856 (0. M. 337 of 1 October, 1857) and the Corps was granted seniority after the Cape Volunteers (i.e., those of the Cape Division).
At a muster on Saturday, November 8, 1856, the Corps was in uniform to receive a colour from the Commanding Officer's wife (G.M. 3/12/1856). On 8 February, 1858, the Corps paraded under Capt. Biddulph to welcome the new Resident Magistrate and Civil Commissioner, W. Dely (G.M. 24/2/1858). On New Year's day 1859, the Corps, in a new uniform of green with red facings, all mounted, paraded to receive a new standard from Mrs. Dely (the flag was provided by M. Bulterman (G.M. 19/1/1859). 21 members were present under Comdt. W. Dely and Sub-Comdt. D. P. Papenfus. The standard was a Union Jack, "having at its four corners the letters H.T.M.R.", made locally (G.A 18/1/1859). In August the Corps was present at the laying of the foundation stone of the new prison (C.A. 8/9/1859). The Blue Book gives the following return at 31 December, 1859: Strength 50; Comdt. W. Dely; Major. D. P. Papenfus and Capt. O. Biddulph. On 31 March, 1860, the Corps met in the Court Room. The tenure of the officers had expired and new ones were to be elected. The Secretary reported a total strength of 30, including officers (4 plus a sergeant). It was unanimously resolved that all the officers be dismissed and only two be elected, of whom Bidduiph was elected captain, and Harvey Lieut and Adjutant, Vice G. Greaves. One member had died and received a military funeral at which three volleys had been fired. A new secretary was elected (G.A. 17/4/1860).
The end of the year return (Blue Book) gives the strength as 50, with the officers as Dely, Papenfus, Biddulph, Greaves and Surgeon M. T. C. Besig. Corps disbanded during 1861 (Blue Book).
HUMANSDORP VOLUNTEER RIFLES (1861-1864)
On 31 December, 1861, the strength was 57. Officers were Comdt. C. B. Cox; Gapts. P. E. Faulkes and W. S. G. Metelerkamp (Blue Book). On 5 November that year, the Corps under Faulkes had turned out to welcome the Civil Commissioner from Port Elizabeth with his bride (C.A. 12/11/1861). On 31 December 1862, strength was 48 with Capt. Faulkes and Lts. Maynier and R. Metelerkamp (Blue Book) and at the same date in 1863 the strength had dropped to 10, with only Faulkes left as an officer (Blue Book).
KNYSNA VOLUNTEER RIFLES (1861-1865)
Formation was decided upon at a meeting held on 13 September, 1861, and a uniform of dark grey, with green facings, was adopted, similar to the London Victoria Rifles (C.A. 17/9/1861). Official approval was given, probably in February, 1862 (C.A. 1/3/1862; G.M. ditto) and the following officers appointed: Capt. James Fichat (the Civil Commissioner); 1st Lt. William MacPherson and 2nd Lt. Thomas Prince. The Queen's Birthday was celebrated on 27 May, 1862, with a feu de joie and the taking of the oath of allegiance (G.A. 3/6/1862); in June, Prince resigned and was replaced by Gerrit Theodore de Graaf (C.A. 14/6/1862). In August Fichat was given a dinner on his appointment as Magistrate of Bathurst (G.M. 12/8/1862) and in November the Corps turned out to welcome the Governor (C.A. 11/11/1862).
At the end of December, 1863, the Blue Book return reports strength as 35, with Capt. J. Blake; Lts. W. MacPherson and G. T. de Graaff, and Q.M. T. Horn. At the end of 1864 the strength was 70, with the same officers except de Graaff. Noted as disbanded in 1865.
LANGKLOOF VOLUNTEER RIFLE CAVALRY CORPS. (1856-1863)
Corps enrolled on 21 August, 1856; regulations approved 24 January, 1857; and strength on 1 September, 1857, was 70. Officers were: Comdt. Gottlieb; W. B. Wehmeyer; Capt. Matthys P. H. Wehmeyer; Lt. Michael A. Rademeyer and Adj. Jan A. J. van Rensburg, all appointed on 21 September 1856 (List of Volunteer Corps published by order of the Governor), (G.A. 23/9/1857). Wehmeyer had called a meeting on 21 August, 1856, of the Corps all to attend mounted for rifle drill (C.A. 13/8/1856).
Referred to also as the Langkloof Cavalry Rifles (G.M. 23/9/1857). Given seniority next to the George Mounted Rifles (G.N. 337 of 1/10/1857).
The Blue Book returns for 1859 to 1862 give a consistent strength figure of 70 and make no mention of the Corps after 1862.
SOURCES:
CA. Cape Argus. C.M. = Cape Monitor. These newspapers were published three times a week at this period. The Monitor ceased publication in 1862.
CCBB or BB: The Annual Cape Colony Blue Book, records Colonial statistics, including, after 1859, Volunteer Returns at the end of the preceding year.
The early years of the Cape Royal Rifles (later DEOVR, DEOR and now Cape Town Rifles) and of the Cape Volunteer Artillery (later PAOCVA, PAOCFA, Regt. Tygerberg and now Cape Field Artillery) have been chronicled in published regimental histories, and have, therefore, been omitted from these notes.
(1) See Vol. 2, No. 1, p. 30, M.H.J. "Gallant Gentlemen."

(2) Cape Times, 14/8/1962.

(3) This seems to dispose of any claim by the First City to continuity with this unit. See Griffiths "First City - a Saga of Service", p. 36. The First City Volunteers date officially from 7/10/1875. See M.H.J., Vol. 1, No. 4, p. 8.
EDITOR'S NOTE: Due to lack of space this article has been split into two parts. Part II will be published in Vol. 2, No. 5 in June 1973.

Return to Journal Index OR Society's Home page

South African Military History Society / scribe@samilitaryhistory.org