The South African
Military History Society


---

Die Suid-Afrikaanse Krygshistoriese Vereniging
---
Military History Journal
Vol 1 No 7 - December 1970
Linden Bradfield Webster's Reminiscences of the Siege of Mafeking
Note by his son, Selby Webster:
Mr. LINDEN BRADFIELD WEBSTER, who is now 84 years old, is probably one of the very few men alive today who took an active part in the Siege of Mafeking. His father, Captain Daniel Webster, who had fought in the Kaffir Wars in the Eastern Cape under General Sir Harry Smith, had a shop in Mafeking and, as a result, the Webster family were very much involved when hostilities broke out in October, 1899. Mr. Webster still retains many vivid memories of what took place during the eight months that Baden-Powell and his small force held off the overwhelming might of the Boer Commandos.
After the siege, Linden Webster was one of those selected to represent Mafeking at the coronation of King Edward VII in 1902.
"I was only a young lad when Baden-Powell arrived in Mafeking. I recall that it was soon after his arrival that, amongst others, he sent for my father. It was not long after this that I overheard my father telling my mother to start preparing for war with the Boers. We had many friends amongst the Boers who often called at our shop. The discussion was whether or not there would be war. The Boers said they would ride in over the Transvaal border and take the town in the first week.
It was obvious, however, that the Colonel (as Baden-Powell was known) had been preparing for hostilities. As soon as war was declared, various divisions of the Cape Police moved into the town from the Vryhurg area, and at the same time, the Protectorate Regiment entered from the north so that the town had already become a military camp before the first shot was fired on 15th October.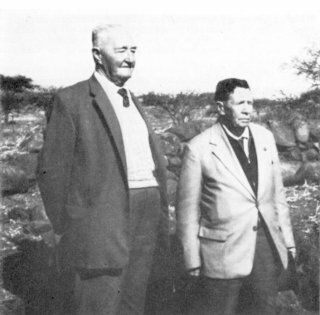 Mr G . MacNicol and Mr L.B. Webster (right) both of whom served at Mafeking during the siege.
Photograph taken in 1963.
After war was declared, we did not see any Boers. Then, on the morning of 15th October, 1899(1), at about 10 a.m., the Boers opened up with cannon fire. There was panic in the town with mothers gathering their children and running for shelter.
We fled to the Kaffir-stad (Native village) because it was in a valley. However, after that first day, my mother refused to return to it and my father then decided to make a dug-out next to the shop. Until this was completed the bags of produce inside our shop were used for protection.
Within that first week, Baden-Powell decided that every man or boy who could be used would fall under the colours. All fit boys from the age of 12 to 15 had to report to his H.Q. when they were addressed by him and Lord Cecil. I was amongst this group. We were told that we were to be employed as dispatch runners. Our officer was Lieut. Goodyear and our Sergeants were Luke Green and Ivan Stenson. We went to Julius Weil's shop where we were issued with uniforms.
We were divided into teams and allocated to various positions in the town. Together with two brothers Len and Tom Brown I was allocated to the Colonel's Headquarters. I remember that the various officers gathered there at about 4 p.m. each day to get their orders and the pass-word for the night.
Sunday was our day off from the war as a result of an agreement reached between the opposing forces. We had inter-unit football matches, cricket, carnivals, etc., and this helped to break the tension of the war. However, I recall that just before Christmas, the Boers broke this agreement by launching an attack on a Sunday morning. Other than getting away with our Christmas dinner (19 horses) they achieved very little.
Horse meat, of course, was a regular part of our diet. So was mule and donkey meat. In fact, we had to eat the hide as well. We received meat twice a week. Towards the end of the siege, we also received a ration of 'Sowen' named after the man who dreamed it up. This was a sloppy porridge made from horse oats.
I remember well the famous attack made by our forces on Game Tree Fort. We, in the town, were convinced that traitors had leaked the news of the attack to the Boer forces. It was in this attack that FitzClarence and, I think, six others were awarded VC's(2). If I remember rightly, FitzClarence was killed on top of the fort.(3)
I had a lucky escape on one occasion. I was due to come off shift at 2 p.m. Things were very quiet and, being only a young lad, I forgot all about the war. Instead of using the trenches to get home, I gaily wandered across the open ground. Suddenly a bullet whistled past my ear. As I dropped to the ground, a hail of bullets fell around me. However, I managed to reach cover safely. When my father heard what had happened, he wanted to give me a hiding. However, I had learnt my lesson. Funnily enough, about a year after the war, my father and I were visiting some Boer farmers in the Lichtenburg area. One was a Koos Snyman, reputed to be one of the finest shots in the Western Transvaal. In discussing the war with him, my father mentioned this incident in which I had been involved. Snyman looked at me and laughed - 'Magtig', he said, 'you're lucky to be alive. I was the man who fired that first shot. I was sure I had killed you".
When news came through that Kimberley had been relieved we knew that we were next on the list. There was great rejoicing in the town. We knew to a day when we could expect the relieving force. The local newspaper published it as 20 days to go - 19 days to go, and so on. On 13th May, we could see the dust of the relief troops in the south. The first troops came in on the evening of the 16th of May. They were seven men from the Imperial Light Horse Regiment led by my cousin, Sgt. Bert Jefferson.
A lot of people have criticised Baden-Powell for the Siege. We were about 2 000 strong (including us boys) and at one stage we had 12 000 Boers around us. What would we have achieved by going out to fight them? I believe that Baden-Powell achieved what he was set to do - to keep a large body of the Boers occupied and away from the main fields of battle at Ladysmith.
He was a great man and a magnificent leader."
1.

According to History of the War in South Africa 1899-1902, Vol. III, compiled by the direction of His Majesty's Government (l908) the first shells were fired by the Boers into Mafeking at 9.20 a.m. on 16th October, 1899. They continued to fire until 2.15 p.m. However, the same source says that "on 13th October, Baden-Powell wishing to get rid of two trucks of dynamite, standing in the siding, had sent them up the line, pushed by an engine which was detached and run backward when the attention of the enemy had been attracted. The Boers immediately attacked the apparently derelict armoured train, and scenting another capture*, closed round, shooting rapidly. Soon the trucks blew up with a tremendous explosion . . ."
* The Boers had captured an armoured train carrying two 7-pdr. guns and ammunition at Kraaipan between Vryburg and Mafeking on 12th October (the day after hostilities commenced).
Chief Editor.

2.

It was in this attack that Capt. Charles FitzClarence and two others - (not six others), Sergeant Martineau and Trooper Ramsden - performed acts of heroism which won them the Victoria Cross. Actually Captain FitzClarence's VC was awarded for the display of conspicuous bravery in this and two previous engagements. On the 14th October, 18994 he led his squadron of the Protectorate Regiment to the assistance of an armoured train, and on the 27th of the same month he conducted a bayonet charge on a Boer position.
Chief Editor.

3.

Capt. FitzClarence was not killed in this action, but went on to enjoy many years of good health and a distinguished military career. On the 27th September, 1914, he took command of the 1st Guards' Brigade with the Expeditionary Force in France. He was killed in action on the 11th November, 1914, while leading his Brigade against the Prussian Guards.
Chief Editor.
Return to Journal Index OR Society's Home page

South African Military History Society / scribe@samilitaryhistory.org