The South African
Military History Society


---

Die Suid-Afrikaanse Krygshistoriese Vereniging
---
Military History Journal
Vol 1 No 7 - December 1970
EDITOR'S LETTER - BOX
QUESTIONS
3. DID A SOUTH AFRICAN FIGHT THE FIRST AIR BATTLE? -- On the 28th August, 1914, a Royal Flying Corps pilot, Lieutenant Norman Spratt from South Africa, in an unarmed Sopwith single-seater scout deviated from the normal reconnaissance routine, when he encountered a German two-seater, which he forced to land by making sham attacks on it from above. Early in September, 1914, he followed an enemy aircraft and fired 30 pistol bullets at it in vain.
These and other similar actions marked the change in role of the RFC from a scouting to a fighting force and the beginning of aerial warfare.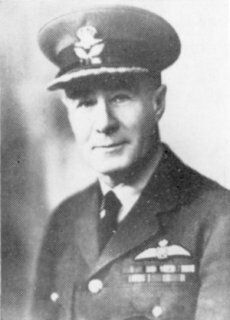 Group Captain Norman Spratt, OBE.

Lieutenant Spratt had served in the ranks of the Natal Field Artillery during the Natal Rebellion of 1906. He was commissioned as a Temporary Second Lieutenant in the R.F.C. Special Reserve on the 5th August, 1914, promoted to Lieutenant on the 1st December, 1914 and ended the War as a Captain in the RAF with a mention in dispatches. He was created an Officer of the Order of the British Empire (Military Division) in 1925. During World War II he held the rank of Group Captain and served in England. Ill-health forced him to retire in the early 1940's and he died in 1944. Any further information about Group Captain Spratt which members may be able to add would be greatly appreciated.

(See replies -- Editor.) W. McE. Bisset.

REPLIES

1. FIRST AIR BATTLE -- see question 3 (this issue) by Mr. W. McE. Bisset. It is unlikely that Lieutenant Spratt was the first to fight an air battle, but he could well have been the third. The first seems to have been fought on 25th August, 1914, by three aircraft of No.2 Squadron, RFC, and Lt. H. D. Harvey-Kelly flew round and over the enemy aircraft until it eventually was forced to land. Harvey-Kelly and his observer, Lt. W. H. C. Mansfield, landed nearby and chased the German crew, who escaped into a wood. The British airmen burnt the German machine. Another German aeroplane was forced down and captured near Le Quesnoy on the same day.
Lieutenant Spratt's appears to have been the third victory and was probably one of those referred to by Sir John French in his despatch of 7th September when five were reported destroyed. He said of the RFC: "Their skill, energy, and perseverance have been beyond all praise. They have furnished me with the most complete and accurate information which has been of incalculable value in the conduct of operations."
At this time the arming of aircraft was still very much in the experimental stage. The Vickers Company was developing its "Gunbus" and the Farman was armed with a machine-gun but generally aircraft crews equipped themselves with hand-grenades, revolvers, rifles and even shot-guns.
Editor.

The beginning of aerial warfare appears in fact to have started on 22nd August, 1914 when a German Albatross bi-plane appeared over the RFC airfield at Maubeuge. Various accounts of the chase that followed appear in "The War in the Air", Vol.1, in the Official History of the War by Walter Raleigh (Oxford University Press, 1922).
Chief-Editor.

2. FATE OF GUNS LOST BY BRITISH AT SANNA'S POST - In your Newsletter, you mention that some correspondents have been inquiring into the fate of the guns lost at Sanna's Post. I wonder how much they already know? There may well be nothing new in anything I have to offer, but, for what it's worth, this is what I have been able to discover.
Of the 12 guns of 'Q' and 'U' Batteries involved in the action on 31st March, 1900, five guns of 'U' Battery and two of 'Q' Battery were lost.
Two 'U' Battery guns were recaptured in the Brandwater Basin on 31st July, 1900 (Times history). The two 'Q' Battery guns were recaptured near Hector Spruit on 25th September, 1900. (Proceedings of the Royal Artillery Institution).
A third gun was recaptured at Bothaville on 6th November, 1900 (Times history). To confuse the issue, the Proceedings of the RAI states that this was a 'Q' Battery gun as well - but only two of this Battery were lost.
Anyway that seems to account for five of the guns, two of 'Q' and three of 'U' -- although there may be argument as to where the two 'Q' Battery guns were recovered.
Darrell Hall.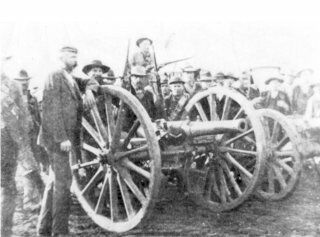 One of the guns captured at Sanna's Post (or more correctly, Koornspruit).

Return to Journal Index OR Society's Home page

South African Military History Society / scribe@samilitaryhistory.org