The South African
Military History Society


---

Die Suid-Afrikaanse Krygshistoriese Vereniging
---
Military History Journal
Vol 1 No 4 - June 1969
From Playing Field to Parade Ground
The Record of King Edward VII School, Johannesburg
By P. K. A. DIGBY
Cadets, as a school activity, came to King Edward VII School in 1905, some three years after the foundation of the school. The Cadet Movement had only been thought of in 1904 and was the brainchild of Col. R. P. Macdonald, DSO, who became Staff Officer and Commandant, Transvaal Cadets of the Transvaal Volunteers.
Exactly what degree of influence cadets have had on King Edward VII School, cannot be expressed in precise mathematical terms; yet their influence has been great. It still is.
The spirit and tradition of the particular cadet training which pupils received while they attended this school, helped to make the contribution of Old Edwardians fighting for their country, one which is out of all proportion to their numbers. Let facts and figures speak for themselves. When the Great War broke out in 1914, the school was still very young, only twelve years old. Yet 474 Old Edwardians are known to have gone on active service. Of these 66 did not return and 45 were decorated. The decorations included:
OBE -- l; DSO -- 5; DFC -- 6 (and 1 bar); DSC -- l; MC -- 25 (and 1 bar); MM -- 3; French Croix de Guerre -- 1; Belgian Croix de Guerre -- 3; Italian Military Cross -- 1; Italian Naval Medal -- 1. One of those to receive the award of the Distinguished Service Order was Lieut. G. R. McCubbin, of the Royal Flying Corps, who was responsible for bringing down the famous German air ace, Immelmann.
During the Second World War, over two thousand Old Edwardians and masters were in the fighting forces: 178 made the supreme sacrifice. The list of over 100 decorations included: CBE -- 2; OBE -- 10; MBE -- 14; DSO -- 9; DSC -- 2; MC -- 17; DFC -- 37 (and 4 bars); AFC -- 3; DCM -- 1; George Medal -- 1; DSM -- 1; MM -- 4; DFM -- 3; Bronze Star (U.S.A.) -- 2; DFC (U.S.A.) -- 1; French Croix de Guerre -- 1. These achievements of the School were honoured by a special broadcast by the B.B.C., when it was said that the Roll of Honour of King Edward VII School, for the Second World War, was the highest in the Commonwealth for one school.
Neither does the story end there. At present, former pupils of this school still hold responsible positions in the South African Defence Force. Major-General G. T. Moll, SM, DSO, is the Republic's Air Adviser to the Chairman of the Defence Production Board. Brigadier J. N. Robbs, SM, DFC, is O.C. Tactical Group and Colonel J. H. Eccles is Head of the S.A. Air Force College. In 1956, Comdt. S. J. W. Inglesby, at present Staff Officer Flight Safety at Air Force Headquarters, became the first pilot to go through the sound barrier over South African soil. Until the 8th Field Regiment S.A.A. was absorbed into another unit, Col. F. W. Stegmann was their Hon. Col. The present Hon. Comdt. of the Transvaal Scottish, Comdt. I. Mackenzie, DSO; the Hon. Col. of the Kaffrarian Rifles, Col. L. H. Bailie, MC (and Bar) and Col. C. Metcalfe, ED, Hon. Col. of the Durban Light Infantry, are also former pupils of King Edward's.
The close links that have always existed between the Transvaal Scottish and the School Cadet Detachment have played their part in forging a worthwhile tradition and giving the Detachment standing in the eyes of observers. Parent regiment and affiliated cadet detachment have grown up together. The long association began in 1906 when Sgt.-Maj. Donald Macleod, DCM, of the Transvaal Scottish Volunteers, was Cadet Instructor. He later became Lieut-Col. D. M. Macleod, DSO, MC, DCM, who commanded the 4th S.A.I. (S.A. Scottish) through Delville Wood and after the war took command of the Transvaal Scottish.
In 1920, the Detachment was officially allied to the Transvaal Scottish. On 5th May, 1920, Lieut.-Col. Macleod inspected the Detachment and explained its relation to the parent Regiment. He presented cadets with the unit flash (diamond-shaped, divided vertically into two white and red halves, worn on the upper arm). Lieut.-Col. Macleod pointed out that cadets who wore the flash were under obligation to maintain the traditions of the Transvaal Scottish and further to join that Regiment on leaving school. Since then, six ex-pupils have commanded battalions of the Regiment.
Cadet training has always been taken seriously. Field-days were in fashion in the 1900's. In those days, until 1914, the Transvaal Cadets wore a slouch hat, stylishly cut khaki barathea-type tunic with silver buttons, green collar and three-pointed cuffs, riding breeches, the long puttee and a leather bandolier over the shoulder. Cadet camps were held frequently and, after the Great War, they continued until the late twenties. During that period, the Detachment sometimes went on manoeuvres with the Transvaal Scottish.
The success of the practical aspect of Cadet training at the school was made possible by the visiting Permanent Force Cadet Instructor, Sgt.-Maj. "Jock" Chalmers, DCM. His association with the Detachment (66th Detachment Union Cadets) began in 1911, and in 1926 on retiring from the Defence Force with the rank of captain, he joined the School Staff as Cadet and P.T. Instructor. Cadet training at the school was in his hands until his retirement in 1944. This man, who had won the DCM at Spioen Kop, during the South African War of 1899-1902, was the making of many a soldier - not only from his work in the cadet field, but also while he was P.F. Instructor to the Transvaal Scottish. Their debt of gratitude to "the greatest Jock of them all", as the R.S.M. of the Transvaal Scottish put it, spontaneously showed itself soon after his death, when a clock to his memory was presented to King Edward VII School. Contributions had come, not only from his comrades of the Transvaal Scottish, but from Old Edwardians belonging to Regimental Associations of all four provinces. In 1921, when the Transvaal Inter-School Efficiency Platoon Competition was instituted, the Efficiency Platoon of King Edward VII School won the competition for the first time. In 1930, when the school withdrew, it had carried away the Efficiency Shield for seven out of the ten years it had competed. On the other three occasions it was placed second. These successes were largely attributable to the patient training of Captain Chalmers. An Inter-Company Competition, which was based on the Transvaal Efficiency Platoon Competition, is still an annual feature of Cadets at King Edward's.
Today is an age of uncertainty in the field of Cadet training. Few Cadet officers who saw service in the Second World War remain. Some quarters feel that now, with the introduction of National Service, Cadets, at school, are redundant. Yet there is positively no substitute for the opportunities of leadership, responsibility and co-operation that Cadets gives the schoolboy. Cadet training conducted efficiently by the school concerned, can make all the difference to a trainee's adaptation to army life during his military training and, of course, can accelerate his promotion. Boys' schools which do not have, or do not support school Cadet detachments, can have no experience of the inestimable value of the Cadet training movement in the development of the character, of the independence, of the self-confidence and the loyalty to country, of the youth of the nation. The older schools which have maintained Cadet detachments, with their wide experience before, during, and after two world wars, are best equipped to bear testimony to this. It would indeed be a tragedy if the Cadet movement were to be discontinued.
ROLL OF HONOUR
King Edward VII School, Johannesburg
THE GREAT WAR 1914-1918
| | | |
| --- | --- | --- |
| 2/Lieut. | George Auburn Allan | Royal Garrison Artillery |
| Gunner | John Basil Badham | SAFA |
| Driver | James Francis Bell | SASCMT |
| Squadron-Commander | Aylmer Fitzwarrine Bettington | RNAS |
| Lieut. | Edward John Blyth | RFC |
| Lieut. | Wilfred Ernest Hill Blyth | RFC |
| Pte. | Vincent Vivian Victor Cockcroft | 1st SAI |
| Lieut. | Richard Lester Coltman | Coldstream Guards |
| Cpl. | Edwin George Coombe | 2nd SAI |
| Captain | Rupert Ramsay Copeland, DSO, MC | Royal Artillery |
| 2/Lieut. | Norman Vivian de Beer | RFC |
| 2/Lieut. | Morris William Duirs | King's Own Scottish Borderers |
| 2/Lieut. | Vivian Spence Edmunds | RFC |
| Pte. | Morris Feinberg | 2nd SAI |
| Lieut. | Vincent Reginald Robert Filmer | Royal Scots Greys |
| 2/Lieut. | George William Fisher | 4th Suffolk Regiment |
| Tpr. | Harold Ross Frames | Enslin's Horse |
| Lieut. | Alan Cumming Fraser, MC | 7th London Regiment |
| Gunner | Charles Farness | SAHA |
| Pte. | Cyril Philip Geraghty | 2nd SAI |
| Captain | Edwin Tufnell Hayne, DSC, DFC | RFC |
| Captain | Eric Joseph Henderson, MC | RFC |
| 2/Lieut. | Charles Henry Hilditch | Royal Field Artillery |
| Captain | Charles Percy Hill | 1st North Staffordshire Regiment |
| Pte. | Robert Bertram Lake Hirtzel | 3rd SAI |
| Pte. | Lawrence Joubert Hogan | 2nd SAI |
| 2/Lieut. | Leslie Imroth | 11th Hampshire Regiment |
| 2/Lieut. | Newton Tarring Johnson | Royal Fusiliers |
| Captain | William Joseph Johnstone | 7th London Regiment |
| 2/Lieut. | Leslie Seymour Ross Jones | RFC |
| Lieut. | Bernard Herbert Kemp | Suffolk Regiment |
| Lieut. | Charles Sylvester Kernick | Life Guards |
| Lieut. | Reginald George Kernick | 3rd SAI |
| Pte. | George Pannell Leslie | 3rd SAI |
| Pte. | Stanley Watkins Lockyer | RNVR |
| Pte. | William Gordon Lomas | 2nd SAI |
| 2/Lieut. | Jack Charles Lowenstein | RFC |
| Lieut. | Reginald Herbert Lownds | RFC |
| Cpl. | George Burwill Luck | 2nd Mounted Brigade |
| Captain | James Ivan Mackay | RFC |
| Gunner | James Hugh Walls Matches | SAFA |
| Sergt. | Patrick Charles Millar | Honourable Artillery Company |
| Pte. | George Douglas Mosses | 4th SAI |
| Lieut. | Francis Michael Myers, MC | RFC |
| Pte. | John Allen Parker-Quine | 2nd SAI |
| Lieut. | David Moir Paton | RFC |
| Cpl. | William Robert Colquhoun Pearson | 3rd SAI |
| Staff-Sergt. | Jack Aurthur Penny | SASCMT |
| Lieut. | James Prentice | RFC |
| Pte. | Benjamin Rabinson | 1st Rhodesia Regiment |
| Cpl. | John Henry Rainier | SASCMT |
| Sapper | James Reynard Reid | Divisional Signalling Company |
| Pte. | Frank Xenophon Rennie | 7th SAI |
| Driver | Norman Ross | SASCMT |
| Sergt. | Thomas Robert Landy Savory | 2nd Rhodesia Regiment |
| Pte. | Evelyn Curtis Cloete Smith | 2nd SAI |
| 2/Lieut. | Walter Sondheim | RFC |
| Lieut. | Baron Starfield | RFC |
| Pte. | Norman Rhodes Sturgeon | 3rd SAI |
| Driver | Eric Bertram Thomas | SASCMT |
| Air Mechanic | Gordon Thompson | RFC |
| Pte. | Alfred Turner | Imperial Light Horse |
| Cadet | Jack Vallentine | RFC |
| Pte. | Ernest Lange van der Hoven | 4th SAI |
| Driver | Clifford John Wickee | SASCMT |
| 2/Lieut. | Wifred Edwin Woolley | Middlesex Regiment |
THE RAND REVOLT 1922
| | | |
| --- | --- | --- |
| Lieut. | Eldred Leonard Bawden, MC | Railways and Harbours Brigade |
THE WORLD WAR 1939-1945
Lieut.
George Eric Abbott
SAAF
Air Observer
Jan Leendert Achterberg
SAAF
Lieut.
Richard James Alexander
SAAF
2/Lieut.
Bryce Bothwell Amm
SAAF
W.O.
George Alexander Anderson
SAEC
Pte.
John Hall Brown Ayton
1st Transvaal Scottish
Lieut.
Henry Graham Ballard
SAAF
Lieut.
Desmond Barton
SAAF
Air Cpl.
Robert Batty
SAAF
Cpl.
Duncan Bayliffe
Rand Light Infantry
Lieut.
Sydney Ivor Becker
SAAF
Lieut.
James Errol Begbie
RAF
Pte.
Oscar Dennis Beiles
1st Transvaal Scottish
Lieut.
Eric Bestwick
SAAF
2/Lieut.
Arthur Nairne Blake
SAAF
Lieut.
Neville Clement Blake
SAAF
Lieut.
Robert Southey Bostock
Fleet Air Arm
Lieut.
Jeremiah Louis Ronald Hartley Brent
SAAF
Trooper
Henry James William Bridgewater
Prince Alfred's Guard
Major
Arthur Wellesley Briscoe, MC
1st Transvaal Scottish
Trooper
Zane Brown
1st Royal Natal Carbineers
2/Lieut.
Keith Jack Brunton
Cape Town Highlanders
Pte.
John Macdonald Bryant
1st Transvaal Scottish
Capt.
Alfred George Macrae Budd
SAAF
Lieut.
Eric Haig Burr
SAAF
Lieut.
John Philip Carlisle
SAAF
Lieut.
Richard Saxon Carr
SAAF
Sergt.
Arthur Chapman
Prince Alfred's Guard
Lieut.
Patrick James Chapman
SAAF
L/Cpl.
Peter Christie
11th S.A. Armoured Brigade
Flying Officer
Colin Antony Gordon Clark
RAF
Sergt.
Godfrey Frederick Roy Clayden
2nd Transvaal Scottish
Lieut.
Geoffrey Aldred Collard
SAAF
Pilot Officer
William McGregor Cooper
RAF
Lieut. Comdr.
Edward Croghan
RNVR
Pte.
Archibald Bailey Cunningham
3rd Transvaal Scottish
Lieut.
Paul Westerford Dallamore
SAAF
Pilot Officer
Arthur Howell Davies
RAF
?
Desmond Gronow Davis
?
Captain
Roy Noel Day
SAAF
Flt. Lieut.
Robert Ogilvie Day, DFC
RAF
Lieut.
Philip Allen Denton
SA Artillery
Pilot Officer
Peter Ralph Grenfell Dexter, DFC
RAF
Lieut.
William Alan Maxfield Donald
SAAF
2/Lieut.
George Maxfield King Donaldson
SAAF
Lieut.
Robert Graham Donaldson
SAAF
Pte.
Rex Clifford Duke
SA Irish
Flt. Lieut.
Jeffrey Hugh Edwards
RAF
Lieut.
Alan Edward Farrow
SAAF
Captain
Peter John Ffytche-Hogg
SAAF
Pupil Pilot
Kenneth Andrew Fraser
SAAF
W.O.
Jocelyn Friendly, DFM
RAF
Lieut.
Edward William Bernard Fripp
SAAF
Captain
Dudley Vivian Furniss
3rd Transvaal Scottish
Pte.
Ernest Vivian Gardner
2nd Transvaal Scottish
Captain
David Coutts Gartly
SAEC
Major
John Devitt Elrick Gartly
3rd Transvaal Scottish
Sergt.
Edmund Adrian Compton Gay-Roberts
54th Field Coy. EAE
Flt. Sergt.
Michael Gerson
SAAF
Pte.
Ronald Gillman
2nd Transvaal Scottish
Lieut.
Jeffrey William Gishford
SAAF
Cpl.
Harry Goldberg
SA Corps of Signals
Lieut.
Stephen Goldfoot
SAAF
Squadron Ldr.
Robert Merton Graham
RAF
Air Sergt.
Ronald Grant
SAAF
Pilot Officer
Albert Aaron Greenberg
RAF
2/Lieut.
Norman Fitzgerald Guiney
SAAF
Signaller
Theodore Guinsberg
SA Corps of Signals
Pte.
Graham Hall
SA Tank Corps
2/Lieut.
Raymond Amyas John Hardwick
SAAF
Lieut.
Colin Ainslie Harris
SAAF
Wing Comdr.
Frazer Apsley Harte, DFC
RAF
W.O.
Frank Edgar Hatfield
SAAF
Pilot Officer
Richard Haviland Haviland
RAF
Air Sergt.
Horace Nathaniel Voss Hawke
SAAF
Captain
Leopold Heilbronner
SA Intelligence Corps
Sergt. Pilot
Denis Arnold Helcke
RAF
Lieut.
Robert Taverner Hildick
SAAF
Pupil Pilot
Cedric Alan Hinton
SAAF
Lieut.
John Aitken Hoffe
SAAF
Lieut.
George Suttie Hogg
SAAF
Lieut.
Charles John Hudson
Witwatersrand Rifles/
De la Rey Regiment
Cpl.
Henry George Finch Humphrey
SA Irish
Pte.
William Irvine
1st Transvaal Scottish
Sapper
Harold Edgar Jackson
Royal Engineers
Lieut.
Rowan Edgar Jackson
SAAF
Lieut.
Brian Desmond Jenkins
SAAF
2/Lieut.
Guildford Clarence Ralph Jenkins
SAAF
Pte.
Roderick Douglas Jenner
SA Irish
Captain
Eric James Jennings
SAAF
Lieut.
Charles Ferdinand Kallenbach
SAAF
Lieut.
Francis Desmond Kane
SAAF
Pilot Officer
Thomas Keightley-Smith
RAF
Flying Officer
Hector Keil
RAF
W.O.
Louis Keil
SAAF
L/Bdr.
Norman Laidlaw Kerr
SA Artillery
Lieut.
David James Smith Whittaker King
SAAF
Pte.
Lionel Fordyce King
Rand Light Infantry
Lce. Cpl.
Eric John Knight
Rand Light Infantry
Cpl.
Otto Archibald Koll
Royal Army Service Corps
Flying Officer
Max Kotkin
RAF
Lieut.
Arthur Beaumont Chudleigh Langton
SAAF
Lieut.
Douglas Hamilton Larter
SAAF
Pilot Officer
Norman Leonard Lewis
RAF
Lieut.
James Arthur Lithgow, DFC
SAAF
John
Cpl.
Arthur Leslie Dudley Lorch
SA Artillery
Lieut.
William Gordon Low
Royal Fusiliers
Major
Garth Whitton Lucas
SAAF
Lieut.
Donald Ewen Macdonald
SAAF
Cpl.
Arthur Bernard Maurice Maile
Royal Natal Carbineers
Lieut.
Guy Vincent Marks
SAAF
Pte.
Warwick Richard Marlin
SA Irish
C.Q.M.S.
Kenneth Richard Marshall
Rand Light Infantry
Lieut.
Rex Distin Martienssen
SAAF
Pilot Officer
Dennis Stanley Masur
RCAF
2/Lieut.
Charles William McGregor
SAAF
Lieut.
Patrick Alexander Wilson McKie
SAAF
Flt. Lieut.
Brian John McMaster, DSC
RAF
Lieut.
Harold Sinclair McMaster
SAAF
Cpl.
Ian McDonald McPhee
SAEC
Lieut.
Alexander Morris Medalie
SAAF
Captain
Wilbur Edgar Middleton
SAEC
Lieut.
Allister Mackintosh Miller, DFC (U.S.A.)
SAAF
Cpl.
Gordon Frederick Mills
6th Armoured Regiment
Lieut.
William Patrick Moore
SAAF
Lieut.
Robert Terence Edmund Morrison
SAAF
Bomb.
Douglas Hamilton Mullens
Anti-tank Regiment
Lieut.
Gavin Christo Murray
SAAF
Major
Thomas Patrick Loraine Murray, DFC
SAAF
Pupil Pilot.
Douglas Alistair Nelson
SAAF
Gunner
Johannes Adriaan Neser
SA Artillery
Lieut.
Eric Tom Newby
SAAF
Captain
Gerald Hope John Nicholson
SAAF
Lieut.
Burton Haig Nicol
SAAF
Lce. Bomb.
Thomas Ivan North
SA Artillery
Lieut.
Dorrien le Tall Norton
SAAF
Lieut.
Hugh William Nottingham
SAAF
Major
Terence Patrick Reginald John O'Brien
7th Gurkha Rifles
2/Lieut.
David Weir Orchison
SAAF
Sergt. Air-gnr.
Leslie Orlek
SAAF
Lieut.
Harold McGregor Palmer
SAAF
Sergt. Pilot
Richard Henry Dampier Palmer
RAF
Captain
Douglas Dolley Pannell
SAAF
Air Pupil
Reginald Charles Henry Papenfus
SAAF
Lieut.
Richard Walter Passmore
SAAF
Major
Rupert Maliss Perkins
SAAF
Sergt. Air-gnr.
John Ewart Phelps
SAAF
Gunner
Thomas Rodney Phillips
SA Artillery
Flying Officer
William Arthur Charles Phillips
RAF
Tpr.
Henry Neville Powell
1st City/CTH
Captain
Frank Ribbink
SAAF
Air-Gnr.
Thomas Robert Frederick Rose-Price
SAAF
Pilot Officer
Harold Rosofsky
RAF
Lieut.
Kenneth Harold Salmond
SA Artillery
Captain
Claude Charles Justin Scott
7th Rajput Regiment
Major
Samuel Barr Ferguson Scott
SAAF
Cpl.
Thomas Alexander Ferguson Scott
SAEC
Pilot Officer
George Guy Sharp
RAF
Squadron Ldr.
Harold Wentworth Aylward Sheahan, DFC
RAF
Pte.
Robert George Silson
1st Transvaal Scottish
Lieut.
Hector Ian Simson
2nd Transvaal Scottish
Lieut.
Desmond Smith
SAAF
Lieut.
Dudley Edward Smith, DCM
Natal Mounted Rifles
2/Lieut.
Eric Richard Smyth
SAAF
Lieut.
Joscelyn Tudor Albert Steele
SAAF
Lieut.
Robert Rervers Wreford Sutton
SAAF
?
Neville Haig Tayler
?
Lieut.
Aage Macdonald Thomsen
SAAF
Pte.
Ronald Hyman Tren
Imperial Light Horse
Sergt.
Herbert Wilman Truter
SAMC
Lieut.
Wilfred Jeffrey Vine
SAAF
Sergt.
John Dulford Walrond
16th Australian Infantry
Cpl.
Douglas James Watson
3rd Transvaal Scottish
Captain
Denys Stuart Waugh
SAAF
Pte.
John Brian Whitaker
1st Transvaal Scottish
Lieut.
John Brunton White
SAAF
Sergt.-Maj.
Victor James White
7th Recce. Bn.
KOREA 1950-1953
| | | |
| --- | --- | --- |
| 2/Lieut. | David Lacey Taylor | SAAF |
EDITOR'S NOTE: It will be noted that rank and regiment are not shown against D. G. Davis and N. H. Tayler. Information in this regard would be welcomed from readers.
REDAKTEURSNOTA: Daar sal opgelet word dat rang en regiment nie gewys word teenoor D. G. Davis en N. H. Tayler nie. Informasie in hierdie verband sal verwelkom word van lesers.
---
Addendum: November 2006

NATIONAL SERVICE 1978
| | | |
| --- | --- | --- |
| | Weyers Ivor Botha | |
| | Daniel de Klerk | |
| | Robert James Fraser | |
| | Mark Mason | |
| | Timothy James Oliver | |
| | Howard D'arcy Remington | |
| | John Alan Robinson | |
| | Gregory Grant Swaine | |
| | Steven Warwick Watts | |
---
Since the advent of democratic government in 1994 cadets no longer exist at South African schools, however the Memorial Service remains an important event on the School Calendar.
The Grade 11 learners are allowed to participate and practice for months before the Service of Remembrance which is held in the Quadrangle on the Sunday morning closest to 11 November each year.
---
The following photographic record was compiled by MJC Marsh on 11 November 2007: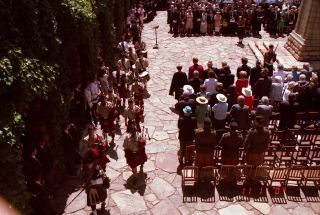 Guard of Honour enters the quadrangle ....... followed by the Pipe Band.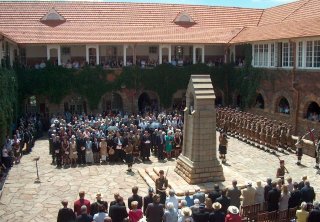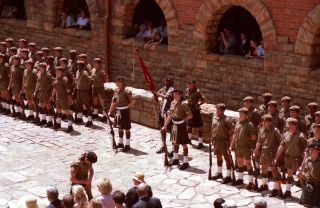 Guard of Honour in place behind Cenotaph in quadrangle. Close-up of Flag and officers.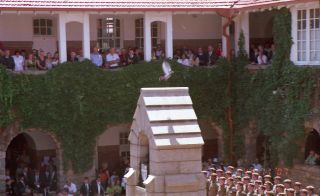 A pigeon alights on the top of the Cenotaph watched by the crowd in the gallery.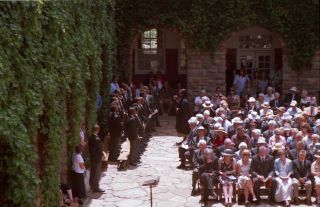 The service includes the school choir leading the hymns.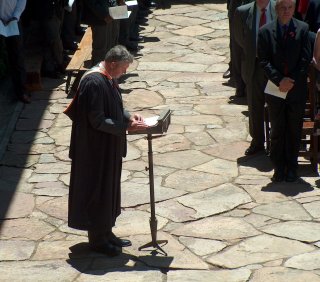 The Headmaster, Mr M Fennell, reading the Roll of Honour.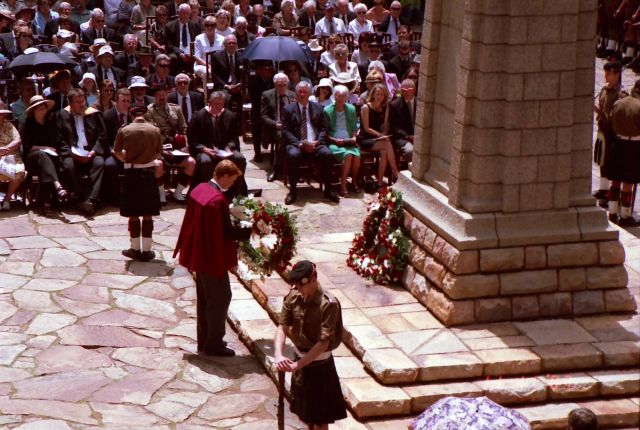 The Head Boy, D Rimmer, laying a wreath on behalf of the boys.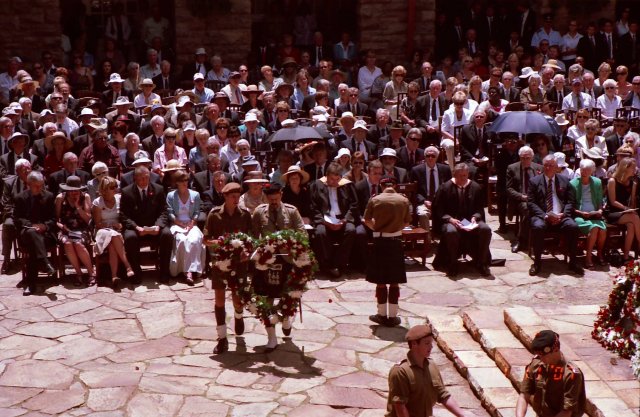 Wreath-laying on behalf of the Transvaal Scottish.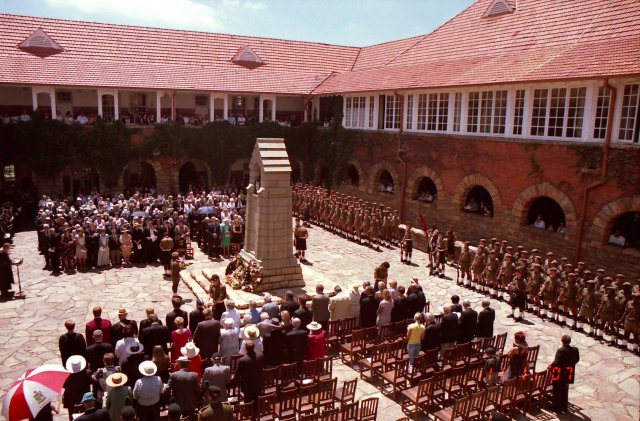 The reading of the Roll of Honour continues as more wreaths are placed in memory of the fallen.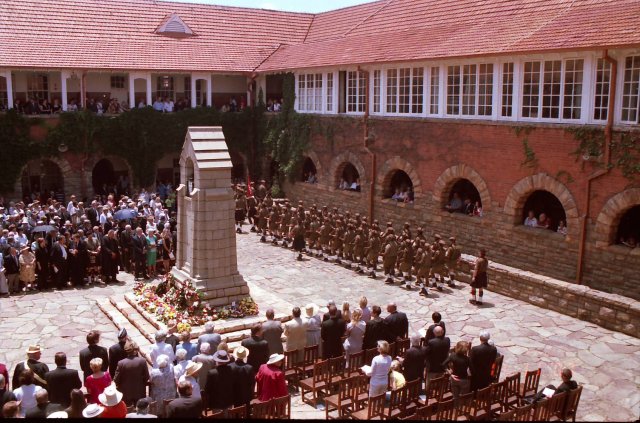 The ceremony completed, the guard of honour marches out of the quadrangle.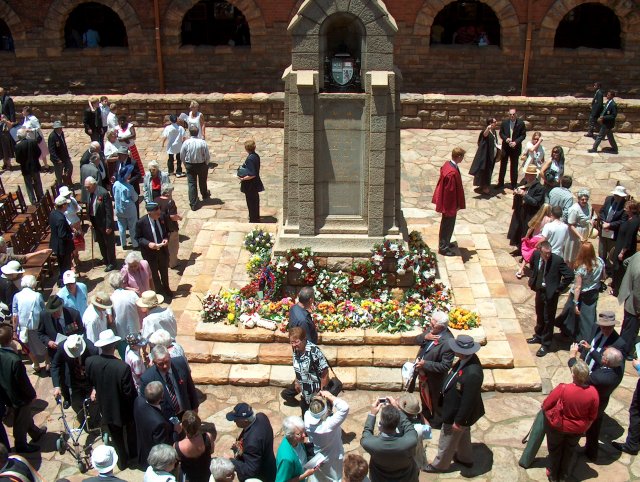 The floral tribute for 2007.




Return to Journal Index OR Society's Home page

South African Military History Society / scribe@samilitaryhistory.org