The South African
Military History Society


---

Die Suid-Afrikaanse Krygshistoriese Vereniging
---
Military History Journal
Vol 1 No 4 - June 1969
South African National War Museum honoured by
Field Marshal The Viscount Montgomery KG, GCB, DSO
The only signed copy of "A History of Warfare", of which Field Marshal Montgomery is the author, was recently autographed by him and presented to the South African National War Museum. He refused all other requests to autograph the book of which 50,000 copies were printed. He inscribed the following message on the flyleaf:
"In memory of the South African Forces which fought under my command at Alamein and for whom I developed a high regard. From the author, Montgomery of Alamein, F.M."
This monumental work is yet another example of Field Marshal Montgomery's dynamic personality and brilliant knowledge of war. It is a book which will be read by military personnel, historians and students of war throughout the world for many decades to come.
Field Marshal Montgomery has always extended a warm hand of friendship to South Africa and in particular to those South Africans who served under him. He has enjoyed several visits to our country and only advancing years now prevent him from coming as often as he would wish.
We thank him for his gesture and wish him many years of good health.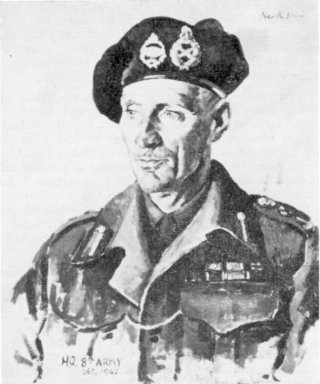 A portrait of Field-Marshal Viscount Montgomery, KG,GCB,DSO,
painted by one of South Africa's Official War Artists, Neville Lewis,
in December 1942. The portrait is hung in the S.A. National War Museum.

Return to Journal Index OR Society's Home page

South African Military History Society / scribe@samilitaryhistory.org