The South African
Military History Society


---

Die Suid-Afrikaanse Krygshistoriese Vereniging
---
Military History Journal
Vol 1 No 3 - December 1968
HMSAS "Southern Maid"
By H. K. KELLY
During 1958 there came into my possession a group of medals comprising: the Distinguished Service Cross & Bar; the 1939/1945 Star; the Atlantic Star; the Africa Star; the War Medal 1939/1945; the Africa Service Medal and the Queen Elizabeth II Coronation Medal and, being an enthusiastic medal collector, I immediately set myself the formidable task of research into the history and activities of the recipient, Lt. Commander David Alfred Hall, leading up to these awards.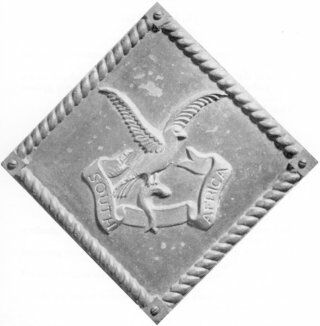 Badge of H.M.S.A.S. Southern Floe which was picked up in an Italian dugout in the Desert by a sergeant in the Royal Army Medical Corps during the North African Campaign.
As most genuinely keen collectors will appreciate, this was to take a number of years, but I am pleased to state, although not entirely complete as yet, has progressed steadily and most favourably.
I shall not dwell on the personal activities of Lt.Cdr. Hall as this is reserved for another time, but will relate what activities I have managed to unearth of his command -- the HMSAS Southern Maid, one of those famous "Little Ships" of the South African Seaward Defence Force in the Mediterranean Sea during the early stages of the Second World War.
Her story commences shortly after the outbreak of the Second World War when the South African Government took over from the Southern Whaling & Sealing Co. Ltd., Durban, four whalers naming them: HMSAS Southern Maid, HMSAS Southern Sea, HMSAS Southern Isles and HMSAS Southern Floe.
These little ships of approximately 344 tons each were converted for Anti-Submarine operations and were each armed with 1 x 3 lb Gun (forward), 20 mm and machine-guns. Each had a complement of 20-25 Officers and ratings -- all South Africans -- and were commanded by: Lt. D. A. Hall; Lt. John Charles Netterburg; Sub. Lt. Louis Botha Ribbink and Lt. John Lewis respectively.
These four little ships left South African waters in December, 1940, under Command of Lt. D. A. Hall, as the 22nd Anti-Submarine Group, S.A. Seaward Defence Force, for the Mediterranean Sea with the Senior Officer SASDF being Lt. Commander A. F. Trew.
They joined the Mediterranean Forces the Commander-in-Chief being Admiral A. B. Cunningham. These four ships, with the exception of HMSAS Southern Floe which was sunk by enemy mines on 11/2/1941 with only one survivor, Leading Stoker Jones, during her first operational cruise and later replaced by HMSAS Protea, operated throughout the duration of the War and, as evidence of their magnificent work, particularly up to the period ended 31/7/1942, had 22 Decorations and Mentions In Dispatches awarded.
Amongst these awards was the only Conspicuous Gallantry Medal awarded to the South African Forces during World War II, that to Leading Stoker Rene' Sethren of the Southern Isles, whose sad and untimely death was recorded in this journal recently.
Having given a general outline of these "Little Ships", I shall now concentrate on the activities and exploits of the Southern Maid principally because of my extreme interest in her Commander Lt. Cdr. D. A. Hall and can only assume that the other ships were closely related to her.
The Southern Maid received the finest of her many congratulatory messages (signals) from Admiral Cunningham (later Admiral of the Fleet Viscount Cunningham of Hyndhope, KT, GCB, OM, DSO) during April-June, 1941 whilst escorting s.s. Helka in company with HMS Grimsby. Helka was carrying petrol and water supplies to Tobruk, and after surviving terrific onslaughts from enemy dive-bombers, was eventually struck and broke in two. Throughout these attacks, the Southern Maid zig-zagged to and fro across the bows of the convoy engaging the enemy aircraft with all her guns. She shot down one and damaged several. After the enemy aircraft withdrew, she collected all the survivors from the Helka and made for Mersa Matruh.
Three days after her return to Alexandria, the Southern Maid set out again in another attempt to get petrol and water supplies through to Tobruk. These were carried by s.s. Pass of Balmaha with the sloop HMS Auckland as the other escort vessel. After twice being attacked by dive-bombers and once by ME 109's she brought the convoy through with four of her crew wounded - one of them mortally. This was to be the pattern for almost 12 months and eventually, the Southern Maid, accompanied by the Southern Isles, were the first ships to enter Tobruk Harbour after its capture the previous night by the Allied land forces on the 27/11/1941.
In 1942, the Southern Maid returned to South African waters and was engaged on Coastal Patrol duties in a 200 mile perimeter from Cape Town.
Shipping activities had by now been considerably "hushed up" because of the German U-boat menace and consequently, the Southern Maid spent a considerable amount of time at Sea. On August 1st, 1942, the South African Naval Force came into being receiving the blessings of King George VI and My Lords of the Admiralty. Captain J. Dalgleisch was the Director and Commander W. J. Copenhagen Officer Commanding, Naval Training Base, Cape Town.
Coastal Patrol, Mine Sweeping and Convoy duties continued through to the beginning of 1944, and from 11/3/1944 to 2/7/1944, the Southern Maid participated in 15 convoy escorting voyages -- these convoys consisted of from two to seven ships at a time from Cape Town, Port Elizabeth and Durban, to Kilindini, East Africa, plus two specifically operational voyages out of and returning to Durban Naval Base during the period 5/7/1944 to 21/7/1944.
From this time until the cessation of hostilities, I am afraid that I have been unable to trace the continued operations of the Southern Maid, and would therefore, be extremely grateful to anyone who could perhaps, enlighten me.
I do know that her Commander, Lt. Cdr. D. A. Hall, was selected to proceed (with once again a South African Crew) to the United Kingdom to commission the new frigate, HMSAS Natal, during February, 1945, and that he was awarded the Bar to his DSC for his successful attack on a German U-boat on the 14/3/1945 just prior to his return to South Africa.
This then is the story, admittedly not in its entirety, of one of those gallant "Little Ships" of the 22nd A/S Group, SASDF, who, manned entirely by South Africa's sons, did so much to enhance the prestige of South Africa during a period when the ravages of war were very much against the efforts of the British Empire. It is a heritage of which all South Africans are justly proud.
All told, 63 (1) ships saw service with the SANF during the Second World War -- they are as follows: 15 SAN Warships, including two Salvage ships, took part in the Mediterranean Sea Operations during 1941 and up to 15/8/1945. (2)
8 Other Ships did Escort and Anti-Submarine duties as far afield as Kilindini, East Africa; Madagascar and Mauritius.
40 (3) Ships were on Active Service in South African Waters.
Of these 63 ships, only four were sunk and lost by enemy action -- a truly wonderful record indeed.
Decorations awarded to the four Southerns during operations with 22nd Anti-Submarine Group for the period 15 January, 1941, to 31 July, 1942 were:
HMSAS Southern Maid
DSC
Lt. D. A. Hall
&nbsp
Sub.Lt. C. B. B. Watson
&nbsp
Sub.Lt. (E) C. L. Evans
| | |
| --- | --- |
| &nbsp | Stoker P.O. C. H. Arnold |
| &nbsp | Ldg. Smn. N.M. Hardwich |
| &nbsp | Ldg. Stwd. B. D. Tarling. |
HMSAS Southern Isles
DSC
Sub.Lt. L. B. Ribbink
| | |
| --- | --- |
| &nbsp | Ldg. Smn. H. Offer |
| &nbsp | Stoker (1st Cl.) A. Mooney |
| &nbsp | Ldg. Stoker H.M. Jewell |
| | |
| --- | --- |
| CGM | Ldg. Stoker Rene' Sethren |
| | |
| --- | --- |
| &nbsp | A.B. T. E. E. Overton |
| &nbsp | Signalman P. D. Kockett |
HMSAS Southern Sea
DSC
Lt. John Charles Netterburg
&nbsp
Lt. Allan Thomas
DSM
A.B. P. L. Lewis
&nbsp
A.B. J. Riley
&nbsp
Stoker (1st Cl.) R. H. T. Keppler
| | |
| --- | --- |
| &nbsp | Ldg.Cook R. C. E. Miles |
HMSAS Southern Floe
Sunk by Enemy Mines on the 11/2/1941. Only one survivor -- Ldg.Stoker. Jones. (Captain Lt. John Lewis).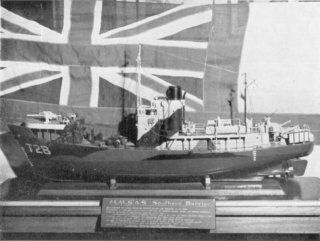 Model of H.M.S.A.S. Southern Barrier one of South Africa's famous "little ships". In the background is a White Ensign which she flew during World War ll.
REFERENCES:
The Cape Times Ltd., Cape Town.
The Cape Argus, Cape Town.
"The Mediterranean Fleet", April, 1941 to January, 1943.
Published by HMSO, London, 1944.
"The Battle of the Atlantic", Published by HMSO, London.
Private Papers and Documents very kindly given to me by Mrs. R. M. Hall, wife of Lt.Comdr. D. A. Hall, for my perusal and retention.
According to the S.A. Official History, "War in the Southern Oceans", South Africa had a total of 65 ships - Editor.
The same history gives this figure as 13 -- Editor.
If one accepts the figures shown in the S.A. Official History then this figure should be 44 - Editor.
---
The "Diaries" section of this web-site includes some reminiscences of N A Tomalin who served on the "little ships" in WWII.
[Note added in September 2010.]
---
In January 2014 an e-mail from Andy Wight added the following information:

I know that Leonard John Bangley served on this ship and was awarded a DSC and was mentioned in dispatches for the following action. I have so far unearthed these details:

For skill and resource in action against enemy Submarines while serving in H.M. South African Ships Protea and Southern Maid and in H.M. Naval Aircraft:

The Distinguished Service Cross. Lieutenant Leonard John Bangley, S.D.F. (from the London Gassette)

These are the details of how he got the DSC

1942 - HMSAS Protea (Lieutenant G. Burn-Wood) and HMSAS Southern Maid (Lt L J Bangley) sail as an independent group from Beirut to Famagusta 106 miles to the north-west. They are in a loose line abreast formation 14 cables (about 2.5km) apart in order to increase the chances of a sonar detection but still remain in visual distance of each other.

At 15:00, Protea's officer of the watch sights something on the surface about 2˝ miles on her starboard quarter. This means that if it had been a surface vessel, then Southern Maid would have had to pass within half a mile of it and could not have missed it. It was therefore immediately assessed to be the conning tower of a submarine. This was confirmed when it submerges soon after. On the first sighting, Protea turns towards the contact and also instructs Southern Maid to investigate. Both ships now steam toward the datum at maximum speed.
As there is no sonar contact on this first sweep, the two ships conduct a second sweep through the area. Eventually at 16:10 Southern Maid gets a sonar contact, but at such close range that she passes over it before she can increase speed sufficiently to carry out a depth charge attack in safety and again loses contact. Five minutes later Protea makes contact and releases a six-charge pattern, with 250- and 350-foot settings, the only apparent result being a yellowish discolouration of the water. Contact is once again lost but is regained at 16:25. At 16:35, Protea drops her second pattern, this time with 350- and 500-foot settings; oil is seen to bubble up among the splashes.
Contact is retained and at 16:50 Protea releases her third pattern (350- and 500-foot settings), also dropping a calcium flare to mark the spot. A minute later the submarine surfaces, listing heavily to starboard and stops. As she slowly rights herself the crew are seen pouring out of her conning-tower hatch, some of them jumping into the water.
Both ships immediately close the enemy at full speed, opening fire with their 4-inch and Oerlikon guns at 1,000 yards obtaining numerous direct hits. One hit sets the submarine's ready-use ammunition on fire preventing her gun from being manned. At the same time Walrus aircraft No 2709, having arrived a few minutes earlier from Beirut as a result of a W/T report made by Protea, drops two depth-charges close alongside of the submarine.
At 16:55, when the ships cease fire, the enemy is obviously out of action, with the last of her crew taking to the water. She sinks a minute later in position 34° 35? N, 34° 56? E – six miles from the position in which she had first been sighted. The ships then pick up five officers and 36 men – two of the latter badly wounded and finds that five of the crew have been killed. Interrogation of the officers indicated that the submarine was the Italian Ondina (787 tons submerged, and armed with one 3.9-inch gun and six torpedo-tubes). Her captain had at first mistaken Southern Maid for a small merchant ship and, not being suitably placed to torpedo her, had surfaced in order to attack with gunfire. Realising his error he dived the submarine.
---
Return to Journal Index OR Society's Home page

South African Military History Society / scribe@samilitaryhistory.org