The South African
Military History Society


---

Die Suid-Afrikaanse Krygshistoriese Vereniging
---
Military History Journal
Vol 1 No 3 - December 1968
More about the Horse in War
by G.R. Duxbury
Major Tylden in his interesting article "Ponies in Warfare" (in this journal) makes mention of "the tremendous losses in horseflesh during the South African War". According to the "Times History of the War" the Remount Department of the British Army supplied 520,000 horses and 150,000 mules of which 350,000 horses and 50,000 mules perished. The losses by the Burgher Forces are not given but the total turnover probably exceeded 150,000.
At Port Elizabeth there stands a memorial and drinking fountain erected in memory of these horses. The inscription on the memorial reads, "In recognition of the services of the gallant animals which perished in the South African War, 1899-1902". It also bears the following appropriate words, "The greatness of a nation consists not so much in the number of its people or the extent of its territory, as in the extent and justice of its compassion". It is believed that this inscription is a composite paraphrase by John Ruskin based on his "A Crown of Wild Olives".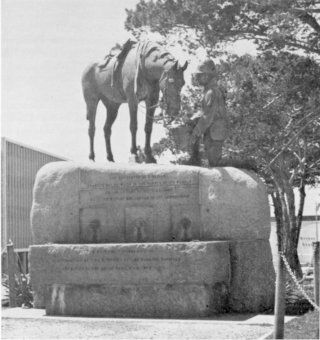 Horse Memorial - Port Elizabeth
Port Elizabeth Publicity Association
It would he interesting to learn what the losses were in respect of all combatants in the 1914-1918 War. There were not less than 3,000,000 horses in service in 1915 -- probably nearer 4,000,000 and the turnover must have exceeded this figure by several millions.
According to figures quoted in "The Nongqai" of 12 May, 1915 Great Britain, France Belgium, Germany, Austro-Hungary and Russia had between them 39,265,000 horses. The supply in Russia, which is given as 24,652,000 far exceeded that in the other countries mentioned. The next highest was Germany with 4,523,000. Despite this number of horses Germany found it difficult to keep her armies moving. The following extract from a "Daily Intelligence Summary" dated 21st August 1918 and issued by XV Corps, somewhere in France, bears out this fact.
"Shortage of Artillery Horses.
The following is the translation of a captured German document:-
Crown Prince RUPPRECHT'S Group of Armies. Art. No.48403
ARMY H.Q. 18/4/18.
To 4TH, 6TH, 17TH AND 2ND ARMIES.
According to a communication received from G.H.Q., whole regiments or independent ABTEILUNGEN of divisional or Army field artillery are said to have had their horses taken away from them in order to replace casualties, without the matter being referred to higher authority.
This procedure is forbidden and is equivalent to breaking up the unit concerned. See also Army Group Order laf No.6413, secret, dated 25/3/18. G.H.Q. is not in a position to bring these regiments and ABTEILUNGEN up to strength again in horses.
Should the Quartermaster General, in conformity with G.H.Q. Ic. No.83041 op. of 15/4/18 (Army Group Order No.48150 of 16/4/18) be unable fully to comply with the demands for horses submitted, a re-adjustment must be carried out within the field artillery regiment, a part being made mobile at the expense of the rest, which must lose its horses and be left behind; for instance, batteries will horse only 3 or even 2 guns and 4 wagons.
A return will be rendered stating whether, and, if so, in which field artillery regiments or independent ABTEILUNGEN, the procedure mentioned at the outset has been ordered.
(Sd.) ??VON KUHL.
Note:-
The Second Army rendered a nil return to the above; the returns of other Armies are not shown." (this summary is now in possession of Capt. J. A. Ball having been discovered among some papers belonging to his late father-in-law Major W. McCartney).

If one takes into consideration the fact that Germany's original supply was considerably augmented by horses commandeered from Belgium and Northern France the need must have been very great or the losses staggering.

Britain was in a much more fortunate position for whilst she is shown as having 2,231,000 horses at the commencement of hostilities she had the vast reserves of Canada, South Africa, the United States and Southern America upon which to draw. France, who started off with 3,222,000 also drew heavily on Canada, the United States and Mexico.

The campaigns in German South West Africa and East Africa in the 1914-18 war proved particularly hard on horses and mules. Lt-Gen. Geo. E. Brink CB, CBE, DS0, once mentioned to me that whilst serving in East Africa as a Brigade Major he used up six horses and that his mounted brigade ended up with 98 horses at Kissaki after which they had to operate as dismounted riflemen. At one stage of the 1914-18 War the monthly wastage for all combatants was calculated at 1,000,000. This figure is probably an exaggeration and was most likely based on the figures of the retreat of the Allies from Mons but the requirements were nevertheless considerable. From the figures given above it is quite apparent that horses played a major role in World War I. In the South African War they played almost as important a role for there is no doubt that the horse plus superb horsemanship enabled the Burghers to hold out for three years against a force so numerically superior that the war should have been over within six months.

In fact horses have been used in practically every branch of the World's armed forces from the earliest times.

At one time the "pedestrian" soldier was looked upon as a "lowly type of warrior" and unless he could provide himself with a horse his chances of becoming a knight were remote. Horses of many types and sizes have been specially bred by man to fill his war needs but it is equally well known that the association of man with horses bred a type of man peculiar to all horse units. With the disappearance of horses in favour of mechanization this type of soldier has almost disappeared from the military scene and it would seem that the armed forces are poorer by his loss.

There has always been something romantic about mounted troops and this has perhaps added considerably to the dash and bravery, often amounting to rashness and folly, displayed repeatedly throughout centuries of mounted warfare.

The consequent losses have often been appalling. Napoleon stated, "The number of horses killed is very large. Generally in battles I have constantly, for each cavalryman killed or wounded, lost three to four horses".

It was indeed a happy day when the horse disappeared from the scene of battle for no matter how compassionate the rider the suffering of these magnificent animals must have been beyond man's keenest sense of perception. Nevertheless as the horse gradually gave way to mechanized armies there was much heartburning in the services where deep attachments and understanding existed between men and horses - attachments and understanding which were reciprocated by these so-called dumb animals and which enabled them to face with equanimity the shattering bombardments and slaughter of the battlefields. An example of this relationship is aptly conveyed in the following extract from a letter written by a driver, RFA, who was later killed in action, (quoted in "The Royal Artillery Commemoration Book 1920"), "I had driven them for three years. I tell you I could talk to them just as I am talking to you. There was not a word I said that they did not understand. And they could answer me - they could indeed. I was never at a loss to know what they meant. When I was astride one of them - why, I only had to THINK what I wanted him to do and he would do it without being told.

'Early in the retreat from Mons a big shell crashed right into the midst of the section. The driver in front of me was blown to bits, but I was thrown clear unhurt. My gun was wrecked, I was ordered to take the place of a casualty in the other. As I mounted the fresh horse to continue the retreat I saw my two poor horses with the blood coming from them struggling and kicking on the ground to free themselves. I could not go back to them. I tell you it hurt me.

'Suddenly a French chasseur dashed up to them, cut the traces and set them at liberty. I was a good way ahead by that time, but I kept looking back at them, and I could tell that they saw me directly they were on their feet.

'Those horses followed me for four days. We stopped for hardly five minutes, and I could not get back to them. There was no work for them, but they kept their places in the line like trained soldiers. They were following me to the very end, and the thought occurred a thousand times, 'What do they think of me on another horse?' Whenever I looked, there they were watching me so anxiously and sorrowfully as to make me feel guilty of deserting them. Whenever the word 'Halt!' ran down the column I held up my hand to them and they saw it every time. They stopped instantly.

'Whether they got anything to eat I do not know. I wonder whether they dropped out from sheer exhaustion. I hope to heaven it was not that. At any rate one morning when the retreat was all but over I missed them. I suppose I shall never see them again. That's the sort of thing that hurts a soldier in war.

A number of horses have had distinguished service over long periods. One such horse, David, is mentioned in "The Artillery Commemoration Book (1920)" as having served throughout the South African War of 1899-1902 after which he was posted to 107 Battery RFA. As a wheeler in a gun-team he proceeded with the battery to France in August 1914, where he took part in a number of the principal battles from Mons to the date of the Armistice; during the later stages of the war he became an orderly's horse. He wore four wound stripes and in terms of service would have qualified for the Queen's Medal with four clasps, King's Medal with two clasps; 1914 Star with bar; British War Medal and the Victory Medal. He also fulfilled all conditions entitling him to the Long Service and Good Conduct Medal.

How fitting it is then that a memorial should have been erected at Port Elizabeth so that man in the hustle and bustle of this modern mechanized age can occasionally be reminded of his debt to these humble creatures who, like our Lord, were born in a stable.

I end this article with a poem written by the late Brigadier the Hon. F. B. Adler, MC, VD, ED, one of South Africa's most distinguished Gunners and a horse lover who will be remembered by many South Africans but in particular by members and ex-members of the Transvaal Horse Artillery. It was prompted, with "tongue in cheek", after he had read the first of the two poems printed below, of which only the author's initials W. K. H. are known to the writer hereof and which was written at the time the Royal Horse Artillery was being mechanised.
---
GOOD-BYE HORSE GUNNERS
by W.K.H.
Many a veteran's head will shake and many a heart be sore
To hear the news that the R.H.A. is the R.H.A. no more.
The galloping guns that made the pride of many a gallant tale,
That leapt to the tug of a six-horse team, will roll in a tractor's trail!

Nobody rode as they could ride, the man and the mount as one,
And wheresoever a horse could go, there could they take the gun;
One pace only for all they did was rapid enough top speed,
Till they stood and fired, while a gun was left, in the hour of deadly need.

Sad young driver, hang up your whip, and bid goodbye to your nags,
Grow wise to the ways of a dead machine that is groomed with oily rags;
The spur you polished so oft and well unbuckle from off your heel,
And thank your stars if your bridle-hand is apt for the steering-wheel.

But those who sat in your saddles once, now stiff in the old arm-chair,
Are glad they haven't your change to make, your drop in the world to share,
And when, as the veteran loves to do, of their bravest days they dream,
They'll thrill to think of a gun that bounds on the heels of a racing team.
---
THIRTY YEARS LATER
by F.B. Adler
Yes! You've learnt "the ways of a dead machine which is groomed with oily rags",
You know no more the pride we felt when atop of our well groomed nags.

To many of you the horse has become just another play time beast,
And you move into action a faster way as crew of the swifter "Priest".

Methinks I spoke rather hastily when I spoke of your "drop in the World"
for now I compare our rounds per day with the greater number you've hurled.


Though you get into action with a tank and jeep in a very much faster way
You've not forgotten the meaning of "Horse" in your title T.H.A.
Return to Journal Index OR Society's Home page

South African Military History Society / scribe@samilitaryhistory.org