The South African
Military History Society


---

Die Suid-Afrikaanse Krygshistoriese Vereniging
---
Military History Journal
Vol 1 No 3 - December 1968
South African Air Aces 1939-1945
by Squadron Leader D. P. Tidy, MA
Editor's note
The first two articles in the series "South African Air Aces of the 1939-45 War" appear below. Doug Tidy, who contributes this series would welcome photographs and information on those listed in Vol.1 No.2 of this Journal. Michael Schoeman (one of the keenest of our younger air historians, at present serving in the SAAF), kindly points out that Squadron Leader A. G. Lewis's name was omitted from the list. With a score of 18 (some sources indicate 21) he should of course have appeared at No.5 in the list. He served with Nos. 616, 504, 65, 249 and 261 RAF Squadrons and was awarded the DFC and bar.
Michael Schoeman also considers that the name of Group Captain C. P. Green, DSO, DFC, should appear in the list. He was not originally included as his South African background was not appreciated, it having been believed that he only came to this country after the war. His 14 victories would place him at No.7 in the list, and he served with Nos. 601, 92, 91 and 600 RAF Squadrons. For the same reason the name of Wing Commander M. N. Crossley, DSO, DFC, was omitted as it was believed that his 22 victories were scored before he settled at White River, and that he did not have a South African background.
Sincere thanks are extended to Mrs. M. Montgomery of Swakopmund for the picture of Squadron Leader Pattle. She knew him when he was a boy when she stayed with his family in Luderitz in 1920. The photograph of Group Captain Malan is a hitherto unpublished snapshot belonging to Doug Tidy.
No. 1 - Squadron Leader M.T. St. John Pattle, DFC & Bar
Without doubt, E. C. R. Baker's "Pattle -- Supreme Fighter in the Air" (William Kimber) is the last word on Tom Pattle. Had it not been for this author it is probable that the efforts of this great South African fighter pilot might have been left at the former officially credited 34 confirmed victories. After nearly three years of research involving many interviews and much correspondence with scores of pilots and airmen, and a very thorough investigation of many flying log-books, diaries and personal letters, Mr. Baker is certain that Squadron Leader Pattle (Tom to his family and South African friends, but Pat to the RAF) destroyed at least 40 enemy aircraft. This opinion is borne out by Chris Shores and Clive Williams in their most comprehensive book "Aces High" (Neville Spearman) who also consider that his final score was over 40 and may have been much higher. They say that some who survived the Greek campaign consider it to be nearer 60, and that there is no doubt that he was the highest scoring pilot of the RAF and Commonwealth Air Forces.
He scored his victories in less than nine months of active warfare, and for about half of them he was flying an obsolete biplane - the Gloster Gladiator. This gives some idea of the almost incredible ability of this great fighter pilot, of whom his friends said: "He flies like a bird". Like Sailor Malan, he was a magnificent shot, and a master tactician, far too sensitive and full of imagination to be careless in the air and he had perfect vision. Such were the prerequisites for the great fighter pilot.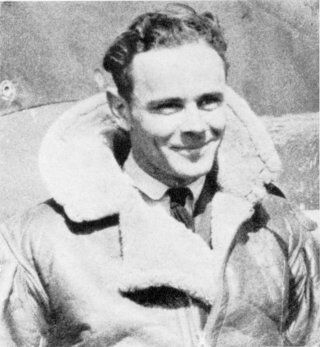 Squadron Leader M.T. St. John Pattle, DFC.
Marmaduke Thomas St. John Pattle was born on the 23rd July 1914, in Butterworth, Cape Province, South Africa. He matriculated from Grahamstown in 1931, having already applied to join the South African Air Force, but it was not until March 1933 that he was interviewed, only to be rejected. He took a job as a salesman for a month or two and later in the year went into the assay office at the Sheba Gold Mine at Barberton. In January 1936, just as Sailor Malan was entering the Royal Air Force, Tom Pattle became a cadet in the Special Service Battalion which had been formed in South Africa. By April, 1936 he too was on his way to England to join the RAF. He arrived at RAF Station Prestwick in Scotland on 29th June, 1936, and promptly became "Pat" Pattle, in the same way that Malan became "Sailor".
Early in September 1936 he was posted to No. 10 Flying Training School at Ternhill, Shropshire, in England. After Armament Training Camp at Penrhos in Wales his instructor reported: "Pattle was a phenomenally good shot. Most of the trainees were very indifferent performers and the air men stationed on the range had very little to do in the way of patching holes in the air-to-ground front-gun targets; but Pattle was the exception and the airmen used to pretend to curse whenever he was on a detail, because he used to cut the target to shreds as he got such a high percentage of hits with the bursts he fired. Quite apart from his skill as a marksman he was also a well-above-average pilot". This fact was borne out by his assessment -- "Exceptional", and he was posted to No.80 (Fighter) Squadron.
Originally formed on 1st August, 1917, the Squadron had been disbanded in Egypt on 1st February, 1920. On 8th March, 1937, it had been re-formed with Gloster Gauntlet 2s, and by May began to re-equip with the Gloster Gladiator which at that time was the newest and fastest fighter (although it was a biplane) in the RAF, with a maximum speed of just over 250 mph. Pat Pattle flew Gladiator K7913 on May 1937, and the Squadron moved to Debden in Essex in June, Pat becoming Adjutant in October. By April 1938 he was on his way to Egypt with the Squadron which had been presented with its badge, a gold bell in a white circle with a thin blue edging (Major Bell had been the Commanding Officer in 1918).
The beginning of World War II on 3rd September, 1939 found Pattle at Helwan in Egypt. No.80 Squadron had one Hurricane which he flew from time to time, but mostly his flying was confined to one of the 22 Gladiators. It was not until June 1940, when Italy entered the war on the side of Germany that Pat first flew to intercept a suspected enemy aircraft. Like Sailor Malan's first sortie in search of the enemy it proved abortive, the "enemy aircraft" being an Egyptian civil airliner.
No. 80 Squadron received 6 more Hurricanes and Pat became deputy Flight Commander of "A" Flight ( the Hurricane Flight) for a time. Two others in the Flight (Flying Officers John Lapsley and Peter Wykeham-Barnes) later became Air Marshals. Pat returned to his Gladiator flight before joining No. 33 Squadron in a Hurricane for a detachment to Mersa Matruh, and eventually returned to assume command of "B" Flight's 8 Gladiators at Sidi el Barrani, 60 miles from the Libyan border. On 4th August, 1940, in his first action, fighting against 27 Italian aircraft, with only three other Gladiators, he shot down two (one Fiat CR42, one Breda Ba 65) but was himself shot down, and walked back to the Egyptian border to be picked up by the British Army. He and Peter Wykeham-Barnes were the first members of the "Late Arrivals Club", which was founded much later in Cairo. The members of this Club used to receive a badge depicting winged flying boots and a certificate saying 'This airman when obliged to abandon his aircraft on the ground or in the air as the result of unfriendly action by the enemy, succeeded in returning to his Squadron on foot or by other means long after his estimated time of arrival. It's never too late to come back". Pat, on that occasion, was over 48 hours late.
On the 8th August, 1940, the Squadron shot down nine confirmed and six damaged (Pat getting two Fiat CR 42s) for the loss of two Gladiators. On 15th September, as Sailor Malan was leading his Squadron in the Battle of Britain over South-East England, so Pat Pattle led "B" Flight against the Italians over Libya and damaged a Savoia SM 79.
No.80 Squadron was by then at Sidi Haneish and "B" Flight was detached to Bir Kenayis in October, getting Mk 2 Gladiators by November, and moving to Abu Suweir en route to Greece on 9th November 1940, arriving at Eleusis, 15 miles from Athens on the 18th. They made their first Greek sortie from Trikkala on 19th, shooting down nine confirmed and two possibles, of which Pat got two CR 42s.
Torrential rain kept them grounded until 25th November but thereafter they continued to shoot down Italians almost at will, and Pat took command of the Squadron at Yiannina, the CO being still at Trikkala. He was awarded the Distinguished Flying Cross and with his score at 11 confirmed, plus a share in two, held the Middle East record at that time. The official citation read: "In all his engagements he has been absolutely fearless and undeterred by superior numbers of the emeny.''
Pat flew Hurricanes from Paramythia from mid-February 1941, and on the 28th with 19 Gladiators and eight other Hurricanes helped shoot down 27 confirmed and eight damaged (of which he personally accounted for five). This brought his successes to over 20, as well as many probables, and No. 80 Squadron's score to over 100. Pat however, was not concerned with scores: his concern was for the efficiency of his Flight and safety of his pilots. His superb leadership resulted in his promotion to Acting Squadron Leader on 12th March, 1941, to command No. 33 Squadron at Larissa.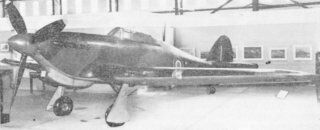 Hawker Hurricane on view at the S.A. National War Museum. A great deal of Squadron Leader Pattle's flying and fighting was done in Hurricanes. Over 14,000 Hurricanes were produced. The prototype, No. K5083, flew on 6 November, 1935, and the last, No. PZ865, was handed over to the RAF in September, 1944. A series of tests carried out during the Battle of Britain revealed that the average speed of 6 Hurricanes was 305 mph.
No. 33 Squadron had been formed on 12th January 1916, disbanded on 13th June 1919 and reformed on 1st March 1929; it had served in India and Egypt since 1935. It was composed of a tough bunch of individualists and had already scored 91 victories in the Middle East. Pat's reputation and his capabilities as a pilot and a leader of men won them over. His views on air fighting stimulated them and gave them complete confidence in him as a pilot and as a leader. On 23rd March 1941 he led the Squadron for the first time, shooting down a G 50 confirmed, another probable, and destroying three on the ground. He was awarded a Bar to his DFc and was Station Commander at Larissa as well as being CO of No. 33 Squadron.
On 6th April 1941 the Germans attacked Greece and Pat destroyed two Messerschmitt Bf 109s. On 7th he destroyed a CR 42 and on the 8th two Bf 109s on the ground. He continued to destroy enemy aircraft almost daily; Ju 88, Bf 110, Bf 109, He 111, Do 17 and SM 79; all fell to his superb gunnery and airmanship.
The Squadron fell back to Eleusis, and he probably destroyed many further aircraft during this period; his surviving comrades insist that he did, but due to the confusion and destruction of war it is not possible to prove this from RAF records. Pat was exceptionally fatigued by almost non-stop operational flying by this time; he was worn out, suffering from influenza and had a high temperature and had lost much weight. He could easily have gone sick; but he knew that this would have lowered the Squadron's morale; he was determined to fight to the end.
On the morning of the 19th April, 1941, he shared in the destruction of a Henschel 126 and shot down two Bf 109s. He was tired, mentally and physically, but he would never give in. The Medical Officer refused to let him fly again that day, allowing him to remain on standby only in the event of an air raid. Sure enough, there was a raid; Pat flew yet again, sick and tired as he was, and shot down a Ju 88.
On Sunday, 20th April 1941, Hitler's birthday, he still had a high temperature and was undoubtedly a very sick man. Despite this, he insisted on taking off to follow the remnants of Nos. 80 and 33 Squadrons to meet more than 100 enemy aircraft. With 15 other Hurricanes, which were the only fighters left in Greece, he swept into battle and was about 1,000 feet above a defensive circle of Bf 110s when he saw a single Hurricane climbing towards them, and then a single Bf 110 peel off from the circle to dive at the Hurricane. Pat swooped through the Bf 110s to protect the lone Hurricane's tail. He must have known that the 110s would follow him, but he pulled up under the first 110 which was firing into the Hurricane and shot it down in flames, thereby saving the life of Timber Woods (who after shooting down two 110s was himself shot down and killed later in the day). Pat pulled his Hurricane up and round and dived into a space between the 110s, shooting down another 110 in flames as he did so. He was last seen diving in flames, slumped forward across his instrument panel, and his aircraft fell into Eleusis bay.
Pat Pattle was the most successful fighter pilot of the RAF and Commonwealth Air Forces in the 1939-45 war; that he has never been officially acknowledged as such is due to the fact that the British Ministry of Defence is not in a position to confirm his victories. His last official score was 23 in the citation for his Bar to the DFC in March 1941. All official records of the last few weeks in Greece were destroyed. The operations record book of No. 33 Squadron RAF, written from memory and intelligence summaries, confirms that he destroyed many more enemy aircraft during those few weeks in which he commanded that Squadron (which command, and even his posting to the Squadron, are not recorded officially).
There is no doubt that he was the highest scoring pilot of the RAF and Commonwealth Air Forces; he would have cared nothing for this. That he died, trying to save his friend, would have been enough for Tom Pattle, one of South Africa's greatest air heroes and leaders, and one of the most modest and charming of men.
No.2 Group Captain A.G Malan, DSO and Bar, DFC and Bar
Adolph Gysbert Malan was born in Wellington, Cape Province, in 1910 and joined the Royal Air Force in England after some years as an officer in the Union Castle Line of the Mercantile Marine, from which service he derived his nickname "Sailor". His initial seafaring training he received at the South African Merchant Navy Academy "General Botha", and was thus one of the many famous "Botha Boys" produced by that fine training ground for quiet heroes.
His wife Lynda always called him John, and it was by this name that he was known to a few of his closest friends, but to his Squadron as a whole, and to the world, he was, and always will be, "Sailor".
He was one of that splendid batch of young men who came forward in their hundreds at the end of 1935 and early 1936 to meet the rapid expansion of the R.A.F. when, at last, the danger signs from Nazi Germany were recognized. Between then and 1938 the number of squadrons available for the defence of Great Britain was multiplied threefold. It was in this atmosphere of urgent expansion that "Admiral", as he was at that time nicknamed, began his R.A.F. career.
He learned to fly on Tiger Moth aircraft at an Elementary flying Training School at Filton, near Bristol, in England, where he first took to the air on 6th January, 1936. From there he graduated to No.3 Service Flying Training School at Grantham in Lincolnshire, where he flew more advanced types of aircraft and learned the first steps of his new profession. While at Grantham he left the ranks and was commissioned as an Acting Pilot Officer, the commission dating back to the beginning of his service in January 1936. He duly passed the course and received his pilot's wings, and on 20th December, 1936, he was posted to No. 74 (Fighter) Squadron, then stationed at Hornchurch, in Essex. It was his first and only squadron, and was the most famous fighter Squadron of all time in the opinion of all those who served in it.
The Squadron had been in XI Wing in France in 1918 when that Wing had been commanded by another great South African pilot, Sir Pierre van Ryneveld, whose brother had also been a member of the Squadron at its formation in 1917. This brother was unfortunately killed in a "Sopwith Camel" with another formation later in the war.
In 1918, No.74 Squadron flew S.E. Sa aircraft, which will be familiar to anyone who saw the film "The Blue Max". Edward Corringham Mannock, VC, DSO and two bars, MC and bar (better known as "Mick"), "Taffy" Jones, DSO, MC, DFC, MM and the South Africans "Swazi" Howe, "Dixie" Kiddie, "Zulu" Savage, and L. Harrison helped the Squadron to shoot down 225 enemy aircraft and 15 balloons in less than eight months in 1918.
This was the great Tiger Squadron (so called as recorded in Vol. 1, No. 1, because of its fierce fighting record and its badge, a tiger's face surmounting the motto "I Fear No Man") which the young Malan heard about when he reached Hornchurch, on the muddy estuary of the River Thames to the southeast of London. Few dreamed then that under his leadership the Squadron would achieve even greater fame in the desperate years to come.
In December 1936 when "Sailor" (as he began to be known as soon as he reached the Squadron) arrived, the Squadron had been reduced to about one-third of its normal strength owing to the drain on existing squadrons to meet the formation of many new ones. He was one of about a dozen of the new "expansion" intakes who arrived at the end of 1936 and early in 1937. They were all straight from their training schools untried, but magnificent raw material, as events were to prove in the years following 1939.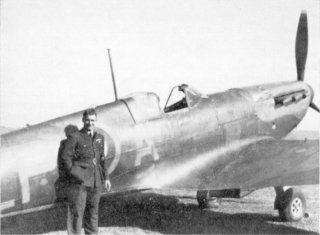 Group Captain A.G. Malan, DSO, DFC, with his usual Spitfire Aircraft ZP-A (1940).
In January, 1937, Sailor was promoted to Pilot Officer and while in that comparatively humble rank was appointed in August, 1937, as acting Flight Commander of "A" Flight for the good reason that there was at that time no officer in the Squadron of higher rank, other than the Commanding Officer, Squadron Leader D. S. (Brookie) Brookes. This was a fairly common state of affairs at that period of the expansion of the R.A.F., and it brought Sailor into the position previously occupied by the great "Mick" Mannock in 1918.
The men who formed the R.A.F. in the 1930s were of a great breed. Hector Bolitho in a book of much feeling, "Combat Report", published by Batsford, wrote of them:
"One fights shy of words like sincere, just and kind. Yet these are words I should use. I think the chief attraction of the pilots lay in their lack of humbug, their ruthless contempt for pretence in others and their passionate belief in the Royal Air Force. . . The pilots and airmen lived in a faith in each other and this seemed to segregate them from other men . . . Those who watch the Service at a distance, without knowing the careless nonsense, the loyalties that are bred, the thrill of living at double speed; the dazzling fun and the deep-rooted theme of truth and affection that binds all these things together, have missed the gayest and yet the saddest world: a complete world in itself. For the Air Force draws you into its secrets and fills your life, even if you live on its edge as I have done, wearing no wings."
Even in such exalted company Sailor stood out. He quickly showed that he was an outstanding marksman in air firing practices and, as a Flight Commander, soon developed qualities of leadership which were amply demonstrated when, in November, 1938, he trained and led his Flight to win the Sassoon Flight Attack Trophy, which was then the most coveted award in the Royal Air Force's Fighter Command. This he achieved in obsolete Gauntlet bi-planes in the face of competition from twenty-three other squadrons, several of which were equipped with the new eight-gun Hurricane monoplane, some hundred miles an hour faster than the elderly "Gauntlet". Thus, when the war started, "Sailor" was already established as a first-class shot and a fine leader.
He was promoted to Flight Lieutenant just before the war began, and at ten minutes to three on the morning of 4th September, 1939, fifteen hours after war had been declared he led Red Section of "A" Flight into the dawn sky. He was flying Spitfire K9864, and was ordered to patrol to intercept an enemy raid approaching the British coast from Holland. The "raid" was later identified as some friendly bombers returning to Britain and the frustrated "Sailor" landed just after four in the morning. However, 74 Squadron had been into the air with attacking intent for the first time since 1918; they were at war once again.
In the evening Sailor wrote a rare letter to his parents in Golden Valley and turned in early. There followed a lull in the fighting known as the "Phoney War", but after the fierce fighting over France in the summer of 1940 came the award of the Distinguished Flying Cross for Sailor and the "London Gazette" of the 11th June, 1940, read: DISTINGUISHED FLYING CROSS
Flight Lieutenant Adolph Gysbert Malan. (37604), Royal Air Force. "During May 1940, this officer has led his flight, and on certain occasions his squadron, on ten offensive patrols in Northern France. He has personally shot down two enemy aircraft and, probably, three others. Flight Lieutenant Malan has displayed great skill, courage and relentless determination in his attacks upon the enemy".
The bitter struggle over Dunkirk left all R.A.F. pilots in a state of near collapse from fatigue. When Sailor landed for the last time for the day on 27th May, 1940 his eyes were so tired that the airfield was in a sort of haze and he just threw his Spitfire on to the ground. He said afterwards that he did not know why he had not crashed.
His almost unbelievable calmness in action was demonstrated in his laconic report of his shooting down of a Heinkel 111 three days before: "I was leading four aircraft of Yellow Section on offensive patrol, Dunkirk -- Calais -- Boulogne. Spotted anti-aircraft fire at 12,000 feet over Dunkirk when at 500 feet off the coast, west of Dunkirk. Climbed in line astern to investigate and saw three vics (approx. 9-12-9). (That is to say that the bombers were flying in vee-shaped formations of 9, 12 and 9 -- D.P.T.) Intercepted second vic at 12,000 feet and passed through very heavy and accurate anti-aircraft barrage. Attacked starboard flank in echelon port from astern as Me 109s and Me 110s were observed above and into the sun, turning on to our flank for attack. Observed about eight of these, although probably more were about. Delivered three one-second bursts at both engine and fuselage of He 111 from starboard flank, 250 yards to 150 yards. I was then hit on starboard mainplane and through fuselage by anti-aircraft fire, which severed electrical leads near my seat and extinguished reflector sight. As I broke off I observed one Me 110 coming up on the starboard quarter and one Me 109 astern. I executed some very steep turns into the sun and lost sight of the two fighters. I changed bulb in reflector sight, but as it failed to function I concluded that the wiring had been cut. By this time the battle had gone out of sight and I hadn't enough petrol to give chase. Whilst climbing into the sun I observed crew of He 111 I had shot take to parachute and aircraft gradually lose height on zigzag course. Whilst climbing up to the attack I observed one bomber badly hit (presumably by AA) (AA -- anti-aircraft fire from artillery -- D.P.T.) with port engine stopped and left wing well down and dropping out of formation .
The calm care with which he changed his reflector sight bulb, even in the height of combat, damaged and attacked as he was, was typical of his whole professional approach. His coolness, and complete confidence and efficiency were admired infinitely by the rest of us. "Bill" Skinner, who won the Distinguished Flying Medal with 74 Squadron and flew right through from the outbreak of war until he was shot down in March 1941 and taken prisoner, says of Sailor with whom he flew so often: "He was a born leader and natural pilot of the first order. Complete absence of balderdash. As far as he was concerned, you either did your job properly, or you were on your way. He inspired his air crews by his dynamic and forceful personality, and by the fact that he set such a high standard in his flying. Weather never bothered him. He would frequently take off when the birds were grounded. On occasion, notably at Rochford, he would give a spontaneous display of aerobatics fully equal to the demonstrations of Supermarine's own test pilots, who were acknowledged to be in a class of their own. Another example of Malan's supreme flying ability and powers of leadership was shown by the fact that when occasion presented itself at Hornchurch or Manston he would take off and land the whole squadron in perfect formation. When it is realised that the twelve machines in vics of three occupied the whole width of the aerodrome, and the complicated cockpit drill allied to the high landing speed of the Spitfires, it will be appreciated that, to put it mildly, a very nice sense of judgement and timing was involved".
John Mungo Park (who succeeded Sailor as Commanding Officer of 74 Squadron) said before he was tragically lost in 1941: "What I like about Sailor is his quiet, firm manner and his cold courage. He is gifted with uncanny eyesight and is a natural fighter pilot. When he calls over the R/T, "Let 'em have it!", there's no messing. The so-and-so's are for it, particularly the one he has in his own reflector sight. Mannock and Malan have made 74".
To read Mungo's words is almost to hear Sailor's quiet strong tones calling: "Let's cut some cake. Let 'em have it!" as if the 25 years and more had not slipped away, and as if his mortal remains did not lie beneath the Kimberley sun, so far from the English skies in which he fought so well.
On 18th June 1940 he took off at twenty minutes after midnight at his own request in Spitfire K9953. His combat report for that night tells what happened far more vividly than any words of mine. "During an air raid in the locality of Southend various E/A (enemy aircraft) were observed and held by searchlights for prolonged periods. On request from Squadron I was allowed to take off with one Spitfire. I climbed towards E/A which was making for coast and held in searchlight beams at 8,000 feet. I positioned myself astern and opened fire at 200 yards and closed to 50 yards with one burst. Observed bullets entering enemy aircraft and had my windscreen covered in oil. Broke off to the left and immediately below as E/A spiralled out of beam. Climbed to 12,000 feet towards another E/A held by the searchlights on northerly course. Opened fire at 250 yards, taking good care not to overshoot this time. Gave five two-second bursts and observed bullets entering all over E/A with slight deflection as he was turning to port. E/A emitted heavy smoke and I observed one parachute open very close. E/A went down in spiral dive. Searchlights and I followed him right down until he crashed in flames near Chelmsford. As I approached target in each case, I flashed succession of dots on downward recognition light before moving in to attack. I did not notice AA fire after I had done this. When following second E/A down, I switched on navigation lights for short time to help establish identity. Gave letter of period only once when returning at 3,000 feet from Chelmsford, when one searchlight searched for me. Cine camera gun in action .
Blenheim aircraft got five more that night, and as soon as Sailor got down he telephoned a nursing home in Westcliff-on-Sea to see how Lynda and his new son Jonathan had fared. They had slept through it all.
King George VI presented Sailor with his DFC on 28th June, 1940, and Oliver Walker related that Sailor commented: "The first letter of congratulation that I received came from an insurance company, a firm whose correspondence used to frighten me because the only time they ever wrote me was when I was behind with my premiums. This time they never mentioned a word about any money owing".
He was given command of 74 Squadron, with the rank of Acting Squadron Leader, at the height of the Battle of Britain on 8th August, 1940. Three days later the Squadron attacked and damaged or shot down 38 enemy aircraft. The day became, for ever, "Sailor's August the Eleventh". 11th August 1940 was a Sunday, if my memory serves me correctly, and it dawned fair and became cloudy later. 74 Squadron was operating from the forward base at Manston in Kent, and at twenty minutes past seven the order was received to intercept a hostile raid approaching Dover, and Sailor, leading for the first time since his promotion, slashed the 12 aircraft into a climb to 20,000 feet into the sun, and then turned down-sun towards Dover. Sailor later reported: "I climbed on an east north east course to 20,000 feet into the sun and then turned down-sun towards Dover. I ordered the Squadron to attack. Some of the enemy adopted the usual German fighter evasive tactics, i.e. quick half-roll and dive. On this occasion, as the air seemed clear of German aircraft above us, I followed one down and overtook him after he had dived 2,000 feet, opening fire during the dive at 200 yards range with deflection. He levelled out at about 12,000 feet, when I gave him two two-second bursts at 100 yards range. He was in a quick half-roll and dived towards the French coast. I closed again to 100 yards range and gave him another two or three two-second bursts, when he suddenly burst into flames and was obscured by heavy smoke. This was at 4,000 feet, one mile north west of Cap Gris Nez. I did not watch him go in, but flew back as fast as I could. I did not see the engagements of the rest of the Squadron. N.B. Normally I have strongly advised all pilots in the Squadron not to follow 109s on the half-roll and dive because in most cases we are outnumbered, and generally at least one layer of enemy fighters is some thousands of feet above. It was found that even at high altitudes there was no difficulty in overtaking E/A on diving apart from the physical strain imposed on the body when pulling out".
The second combat in which he fought on 11th August, he recorded thus: "I climbed on a north-easterly course to 24,000 feet and did a sweep to the right, approaching Dover from the sea. I saw a number of small groups of Me 109s in mid-Channel at about 24,000 leet, and as we approached most of them dived towards the French coast. I intercepted two Me 109s and dived on to their tails with Red Section. I delivered two two-second bursts at 150 yards, but as I was overshooting I went off and the remainder of the section continued the attack. I immediately climbed back towards the spot where Blue and Green Sections were waiting above and tried to attract their attention, but owing to R/T difficulties did not manage to get them to form up on me. I proceeded towards Dover by myself. I attacked two Me 109s at 25,000 feet about mid-Channel, delivered two two-second bursts with deflection at the rearmost one and saw my bullets entering the fuselage with about 15 degrees deflection. He immediately flicked off to the left, and I delivered two long bursts at the leading one. He poured out quite a quantity of white vapour. Eight Me 109s, which had previously escaped my attention, dived towards me and I climbed in right-hand spirals, and they made no attempt to follow me. I proceeded towards Dover on the climb and saw ten Me 109s at 27,000 feet in line astern with one straggler, which I tried to pick off, but was unable to close the range without being turned on to by the leader of the formation. I circled in a wide sweep with them for about ten minutes whilst I attempted to notify the remainder of the Squadron by R/T. This proved to be impossible owing to heavy atmospherics and in the end I gave up and returned to Manston".
The third combat of the day started at 1145 when 11 aircraft took off to patrol a convoy about 12 miles east of Clacton. About 40 Messerschmitt 110s were sighted approaching the convoy from the east in close formation, just below cloud base. They formed a defensive circle but the Squadron followed Johnny Freeborn in a dive into the middle of the circle. This attack was very successful and resulted in 11 E/A being destroyed and 5 damaged.
The Squadron, weary, sweaty and oily, took off for a fourth time just before two o'clock, with eight aircraft, to patrol Hawkinge at 15,000 feet, and subsequently north-east of Margate where enemy raids were reported. Sailor climbed through 10/10 cloud (thickest cloud -- it was measured in tenths from 1 to 10) with the eight Spitfires in two sections of four. On emerging from the cloud he spotted about 30 Junkers 87 aircraft in long lines of small vic formation, and about 15 Me 109s about 2,000 feet above and half a mile astern. He reported: "On sighting us, the bombers dived towards a gap in the clouds whilst the Me 109s closed their range with the bombers. I ordered Freeborn's Blue Section to attack the bombers whilst I attacked the fighters with Red Section. I closed the range with the fighters and attacked an Me 109 as he dived through a gap. I opened up at 30 degrees deflection at 200 yards and closed to 100 yards dead astern. After the third two-second burst he burst into flames and went into the sea approximately off Margate. I immediately climbed towards the cloud and then dived towards another group of four Me 109s and delivered 30 degree deflection bursts of about three seconds at about 200 yards. I saw no results. As my ammunition was now expended, I returned to Manston."
He said later, in one of his masterly understatements: "Thus ended a very successful morning of combat". For the first day of action under his command it was successful even by 74 Squadron standards.
He relinquished command only when promoted to Wing Commander on the 10th March, 1941, to become Wing Leader of the Fighter Wing in which 74 Squadron flew.
In the meantime, on Christmas Eve, 1940, the London Gazette had recorded:
DISTINGUISHED SERVICE ORDER
Acting Squadron Leader Adolph Gysbert Malan, DFC (37604), Royal Air Force, No.74 Squadron.
"This officer has commanded his squadron with outstanding success over an intensive period of air operations and, by his brilliant leadership, skill and determination has contributed to the success obtained. Since early in August 1940, the squadron has destroyed at least 84 enemy aircraft and damaged many more. Squadron Leader Malan has himself destroyed at least eighteen hostile aircraft and possibly another six.
On 22nd July, 1941, came:
BAR TO DISTINGUISHED SERVICE ORDER
Acting Wing Commander Adolph Gysbert Malan, DSO, DFC (37604) Royal Air Force.
"This officer has displayed the greatest courage and disdain of the enemy whilst leading his Wing on numerous recent operations over Northern France. His cool judgement, exceptional determination and ability have enabled him to increase his confirmed victories over enemy aircraft from 19 to 28, in addition to a further 20 damaged and probably destroyed. His record and behaviour have earned for him the greatest admiration and devotion of his comrades in the Wing. During the past fortnight the Wing has scored heavily against the enemy with 42 hostile aircraft destroyed, a further 15 probably destroyed and 11 damaged."
In addition, "Sailor" was awarded the following decorations by Allied Governments:
The Belgian Croix de Guerre with bronze Palm
The Czecho-Slovakian Military Cross
The French Legion of Honour, in the degree of Officer
The French Croix de Guerre
He was the outstanding fighter pilot of the 1939-45 war, and by the end of June, 1941, was the top scorer with 29 enemy aircraft destroyed, a record which he held for three years. But he was much more than an individual performer. He had assimilated, with others of that fine first batch of "expansion" pilots the fierce and fanatical "tiger spirit" handed down from the great days of Mannock, VC in World War I, and this spirit he inspired in others so that he carried the Squadron to great deeds with him.
Sailor's "Ten Rules for Air Fighting" are the classic tenets for successful air fighting for as long as there are manned fighters. They were pinned up in their shortened form in many crew rooms, and those who followed them often lived. This short version, so well-known to all of us who ever spent any time in the crew-rooms of Fighter Command in 1941-42 was as follows:
TEN OF MY RULES FOR AIR FIGHTING
Wait until you see the whites of his eyes. Fire short bursts of one to two seconds only when your sights are definitely "ON"
Whilst shooting think of nothing else, brace the whole of your body: have both hands on the stick: concentrate on your ring sight.
Always keep a sharp lookout. "Keep your finger out".
Height gives you the initiative.
Always turn and face the attack.
Make your decisions promptly. It is better to act quickly even though your tactics are not the best.
Never fly straight and level for more than 30 seconds in the combat area.
When diving to attack always leave a proportion of your formation above to act as a top guard.
INITIATIVE, AGGRESSION, AIR DISCIPLINE, and TEAM WORK are words that MEAN something in Air Fighting.
Go in quickly - Punch hard - Get out!
There followed his neat, firm signature, so typical of the man himself. To see it was to obey.

Instrument Panel from a Heinkel Bomber shot down by Group Captain A.G. Malan, DSO, DFC.
Later in the war, after returning from a trip to America, partly technical, partly propaganda, Sailor was sent to the Central Gunnery School, Sutton Bridge, where, Oliver Walker says he ". . . could demonstrate to youngsters the fatal art of making a gun-platform out of a Spitfire flying at 400 m.p.h. . . . 'The German fighter' he told pilots, 'pays a lot of attention to tactics. That's a good fault. But unfortunately for Hitler he seems to lack initiative and guts. His fighting is very stereotyped, and he's easily bluffed. Part of his reluctance to stay around and mix it is, of course, due to the fact that his aircraft is less manoeuvrable. As for tactics he insists on using the same old tricks without any imagination. For instance, one gag is to detach a pair of decoys which dive past in front of a British formation, hoping someone will be fool enough to follow them, and they can do a surprise pounce on the rest. Despite warnings, some of our pilots, I'm sorry to say, have been caught by this. The old saying from the First World War: 'Beware of the Hun in the sun' is truer today than ever before and for three reasons:
The Hun seldom attacks from any direction except the sun.
The modern machine, with its clean lines and good camouflage is more difficult than ever to spot against the sun.
Modern high speeds give you even less time than ever for evasion before your opponent has you in range. It's a well-known fact that the man who knocks you down in air combat is usually the one you did not see. A fighter pilot should approach the problem of teaching himself how to shoot and fly in exactly the same way as he would learn to use a shot-gun. First your shot-gun instructor would show you a shot-gun, the various parts of it, its trigger action and safety gadgets, so your flying instructor shows you your aeroplane and explains the flying controls and knobs in the cockpit. Then you handle the shot-gun and get familiar with it. The instructor shows you how to hold it, and use it, so that you get used to the feel of it and forget how the barrel appears when you want it in a flash of time. So you learn to fly and how to handle your aeroplane so that you can get your sights in the right place in the quickest possible time. When you can handle the gun instinctively your instructor will tell you the ways and wiles of ducks, and how you can find them and approach them. So you will learn the tactics of fighter operations and how to fight. Your Spitfire is nothing but a gun with a couple of wings and an engine to keep it in the air. Your job is to use it as a gun and fly it as a part of you with your attention outside of it, until you have something in your sights when your whole concentration is along the sight and on the target. Taking my own experience as a standard, if every fighter pilot had had an adequate shooting training, as I had not, our scores of enemy aircraft destroyed would be exactly four times what they are. Unless you take a tremendous grip on yourself on operations you're certain to fire at twice the range you ought to. It feels easier to shoot when the range is great; the contrast between the size of the enemy aircraft from the speck it was when you first saw it, and the size of it when you feel close enough to shoot makes it look as if it is two hundred yards away when it is six hundred. It is only by kicking yourself that you won't shoot out of range. Sheer determination alone will make you hold your fire. There are two ways of judging range. One is to learn by means of the range bar, or by knowing how much of the ring the target should fill at say, three hundred yards - and never shooting when it is smaller. The other is to notice at a particular range how much detail of the aircraft you can see - the crosses, the oil streaks, the pilot's canopy - and never shoot when you can see less.' Reverting to the shot-gun simile in judging line of flight he said: 'Whatever kind of attack you're making always bring your sight up to the target from behind it, and carry it through the target along its line of flight until you reach the correct deflection; then fire. Don't hold the sight ahead and wait for the target to meet it. Unless you do this it is impossible to hold a steady aim without skidding and making the shooting phenomenally difficult for yourself. This is infinitely more true with an aeroplane than it is with a shot-gun because an aeroplane is slower to handle and you are firing a continuous burst, and even with a shot-gun you must always swing through from behind . . .' "
Taffy Jones, who was no mean shot himsell, was a great admirer of Sailor's ability and writes of a visit he paid to Biggin Hill in 1941 when Sailor was there: ". . . he asked, do you like jugged hare Taffy?' I replied: 'Very much.' Well, drive my car,' he said. 'I know where there is a hare on the aerodrome. I saw it when I was flying this afternoon.' Into his car we got. Sailor, armed with a double-barrel gun, opened the sun-roof and guided me to a certain spot on the aerodrome. Suddenly a hare got up near the centre of the drome and about 40 yards ahead of us. I put my foot on the accelerator and went flat out after it.

When we closed up with the hare, it began to zigzag. I followed, keeping formation with it. When I got to within 25 yards of the target, I was doing between 50 and 60 mph and the car was jolting a good deal. Sailor lifted the gun to his shoulder. There was a bang - and in front of us was dead hare. Having picked it up, Sailor said: 'Taffy, I think there is another one over there.' He pointed out the direction in which I was to drive. Sure enough, we got onother hare, and I did some more dirt-track driving. Again Sailor waited until we got within 30 yards before firing. And once more we picked up a dead hare.

We were now at the far end of the aerodrome, the opposite one from the officer's mess. As we were driving back, Sailor asked: 'Do you like plovers, too?' Smiling, he pointed up at a small covey flying across the aerodrome. I knew by the twinkle in his eye that he wanted me to drive under them. I obliged. Believe it or not, he got a left and a right!

I was so amazed by the exhibition that all I could say was: 'Good God, Sailor! How do you do it? I just can't believe it.

When we got back and carried our 'bag' into the mess, Al Deere said: 'Where did you get those?' 'On the aerodrome,' Sailor replied with his pleasant smile 'We've been ferreting.'

I then knew one of Sailor's secrets as an air fighter - a steady aim and good deflection shooting. I used to think I was quite a useful deflection shot, but I was 'not at the races' compared with Malan." (from 'Tiger Squadron')

Sailor left the Royal Air Force and returned to South Africa in 1946. He died on 17th September, 1963, from the rare Parkinson's Disease about which little is known. It is a mark of the esteem in which his fellow countrymen hold him, that they set up a "Sailor Malan Memorial Fund" which raised R20,000 to promote bursaries at the University of Witwatersrand for the study of this malady.

To those of us who served with 74 Squadron during anytime between 1936 and 1945 he was the greatest leader of them all. As the smallest token of our esteem, 28 of us who remain presented a ceremonial sword to the Squadron in July, 1966, at Headquarters Fighter Command, in proud memory of Sailor and in honour of his exceptional service to the Squadron. It is intended that this Sword should serve as an inspiration to those coming after, so that his high standards of courage, determination and leadership shall live on. He was, perhaps, a man who, more than any other, could quote the motto of 74 Squadron, and say in all truth: "I Fear No Man."

Return to Journal Index OR Society's Home page

South African Military History Society / scribe@samilitaryhistory.org