The South African
Military History Society


---

Die Suid-Afrikaanse Krygshistoriese Vereniging
---
Military History Journal
Vol 1 No 2 - June 1968
Further Notes on Early Rhodesian Military Units and Early Rhodesia's Weapons
by MAJOR G. TYLDEN, ED

The following notes, collected over the years, may serve to add a few details to Mr. E.H.J. Shaw's article whicb appeared in the first issue of the Military History Journal.

In April, 1927, Major J.C. Jessor Coope, so well known in Rhodesia, was staying with me and gave me notes on arms used in the early days. He supplemented these in a long letter written later on.

In March, 1890, when serving in the newly formed B.S.A. Company's Pioneer Police, he was ordered to take over two seven pounder R.M.L. guns from the Bechuanaland Border Police. The guns were in the Fort at Mafeking, H.Q. of the B.B.P. They had originally belonged to the Frontier Armed and Mounted Police of the Cape Forces, 1855 to 1878. They had been used in 1884/1885 with Warren's Force, presumably in the Volunteer Battery commanded by Major Ollivant, Royal Artillery, and then taken over by the B.B.P.

These mountain guns, the first steel rifled ones in use by the British Army, were made at Woolwich in 1868 and issued to the Royal Artillery for the Abysinnian Expedition of that date. These were Mark III, Sea and Land Service, (hence Major Jessor Coope referred to one he took over as "a boat gun"). Mark III was only 29 inches long and in pack transport was carried across the saddle. It weighed 150 lbs. and had an effective range of 1,100 yards. The second gun taken over was Mark IV, Land Service only, length 39 inches, weight 200 lbs., effective range 2,500 yards. Both Marks fired common, shrapnel, double and star shell. They were both mounted on a high field gun-carriage, manufactured at the Cape, giving clearance over the very high grass prevalent in Southern Africa.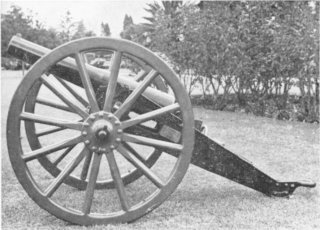 One of four 7 Pr. R.M.L. Steel Gun (200 lbs complete)
on exhibition at the S.A. National War Museum
(They are dated 1882, 1884, 1884 and 1885)

Major Jessor Coope stated that nine men made up a full gun crew - they had of course, to run up the gun into position after recoiling at each shot - and that one was later mounted on an armoured train. The other "went to Massikessi". During this expedition "a three-pounder Hotchkiss gun, firing ammunition, was captured. It was carried on a pole during the Rebellion and was in action on the 5th August."

The following extracts are from the letter already mentioned. "The Mashonaland Pioneers had a three-barelled machine gun, a Nordenfelt, and a five-barrelled Gardner, both from H.M.S. Raleigh, the flagship at Simonstown. One or both were probably used at Abu Klea in the Sudan in 1884.

In 1890 the Pioneer Police received three or four Gatling and Gardner guns with clusters of barrels arranged in a cylinder fed by a hopper, firing 600 rounds a minute.

The original Gardner is now on top of the Matabeleland Memorial at Bulawayo.

In 1892 the Maxim Company sent out two Maxims on galloping carriages firing a one pound shell. These were believed to be the first pom-poms.

In 1895 the Chartered Company's Police and some of the Volunteers were rearmed with the .303-inch Lee-Metford rifle. It was used in the Raid."

This is the finish of the notes from Major Jessor Coope.

We now come to notes from four publications made available at the Library of the Ministry of Defence (Army) Old War Office Building by courtesy of the Librarian.

The B.S.A. Company's Report on the Matabeleland Campaign by Major P.W. Forbes, Inniskilling Dragoons, published in 1894. The Europeans of the Salisbury Column had .45-inch Martini-Henry Rifles, the Coolies (sic) had double-barreled arms, one barrel taking the Martini-Henry cartridge, the other bored smooth for loopers. The .45 Maxim had special ammunition.

AUTHOR'S NOTE Who the Coolies were is not stated. This special ammunition for the .45 inch black powder Maxim is mentioned in "Hiram Maxim's Life." Except as noted later on, all the Maxim Machine guns used in Rhodesia in the early days took black powder.

The B.S.A. Company's Report on Native Disturbances in Rhodesia in 1896/97, published 1898. Matabeleland, Afrikander Corps, two troops, one 35 strong under Commandant van Rensburg, the other, 30 strong, under Captain van Niekerk, ex-trooper B.B.P.

Belingwe Field Force, strength 40.

Bulawayo Field Force, Coope's Scouts.

Cape Corps, Colenbrander c. 200 strong, Major Robertson 250 strong. All carried Martini-Henry rifles or carbines with side arms.

There are a few notes on units in "Operations in Southern Rhodesia, 1896", issued by the Intelligence Division, War Office,9 410, 14, 1898.

There follow notes from two unofficial books.

"An Irregular Corps in Matabeleland", by Lt. Col. H. Plumer, published Kegan Paul 1897.

In 1896 the Matabeleland Relief Force was organised at Mafeking, 850 strong. This included 100 B.B.P. and M.M.P. returned from England. They had taken part in the Jameson Raid. All carried the Martini-Henry rifle.

There were two ex-Royal Navy .45 Maxims on wheeled carriages and 10 others bought at Durban with tripods.

NOTE BY THE AUTHOR: It has been surmised that these ten Maxims may have been intended for the Raid.

"With the M.I. and the Mashonaland Field Force", by Lt. Col. Alderson, published by Methuen in 1897. It gives full details of all the Imperial troops engaged, including the four companies of M.I. - English, Rifle, Highland and Irish.

Irregular Corps mentioned include 1st Hartley Patrol, 1st and 3rd Mazoe Patrol, Captain Brabant's Native Contingent, and White's Scouts, 65 strong.

The Imperial troops brought .303 Maxims with them.

All the units mentioned in Mr. Shaw's article are included in one or other of the above-mentioned publications.

Return to Journal Index OR Society's Home page

South African Military History Society / scribe@samilitaryhistory.org