The South African
Military History Society


---

Die Suid-Afrikaanse Krygshistoriese Vereniging
---
Military History Journal
Vol 1 No 2 - June 1968
The South African National War Museum Looks Ahead
by G. R. DUXBURY, Director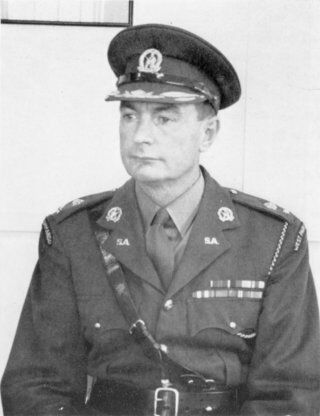 Comdt. GEO R DUXBURY, Director,
SA National War Museum
In the first issue of the Military History Journal I gave a brief resumé of the Museum's history. At the time I had no idea that it would stimulate the interest since shown by readers. This article is therefore an attempt to answer some of the many questions asked by those concerned about the future of the Museum.
My mention of temporary corrugated-iron buildings overcrowded with exhibits obviously formed a bleak picture in the minds of many readers. Let me say at the outset that the Board of Trustees is not treating the position lightly. Considerable developments are envisaged and the period 1969-1972 should see a start made on a new museum building.
The site chosen is the present one adjoining the existing temporary aircraft-hangars in the north-east corner of Johannesburg's Zoological Gardens. A site in the centre of the city would entice more lunch-time visitors but I doubt if there is another area in the whole of Johannesburg, or any other city in South Africa, that would draw more visitors at weekends. During 1967 over 170,000 persons visited the Museum and such is the rate of increase from year to year that even this figure should soon be eclipsed.
Although the site is only two acres in extent it is not anticipated that this will be a drawback for at least two sides of the building will open on to wide tracts of parkland formed by the North and East vistas of the Rand Regiment's Memorial.
Having settled for a site the Trustees were faced with the problem of getting a new building erected as quickly as possible - the first step towards arresting deterioration to the exhibits caused by lack of facilities for proper storage, display and maintenance.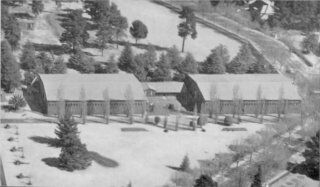 Present Museum Buildings
As the Museum appeared very low on the Government's building priority list a delay of at least 10 years was anticipated and knowing that such a delay might allow irreparable damage to be done to exhibits it was decided to launch a national fund raising campaign. The first steps were taken in July, 1965 and to date the fund stands at R225,000. This sum is far short of the total of R1,100,000 required but it is hoped that the Government will provide the balance. Even if there is some delay in this direction it should be possible to make a start on the building, with the funds already collected, during the next year or two.
The design of the building will present a challenge to the architects, for a museum of military history of the size visualized, is unique in the Republic.
Initial thinking allowed for a triangular building with concrete domed roof supported on three arches; the sides practically all glass except where offices and certain halls and galleries broke the vertical plane. However, a study of museums in overseas countries has left no doubt in our minds that this type of structure is completely unsuited to our Museum. The architects will be asked to think along conventional lines bearing in mind not only the best possible means of displaying the exhibits but also the need for a public building of this nature to measure up to certain civic standards. To do this it obviously must suit the taste of as many members of the public as possible and be worthy of the city in which it is built as well as being in harmony with the beauty of its surroundings. It should have a dignity and solidity that will stand the test of time and not be a creation of contemporary thinking which might produce for posterity a monument of a short-lived revolutionary era in design. It must, nevertheless, not be unimaginative but should be designed to stimulate the visitor's aesthetic sense and bring about a desire on his part to enter and view the contents. A challenge indeed but one to which, I feel certain, our architects are equal and will be quick to take up.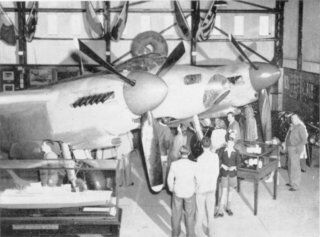 Interior of one of the two aircraft hangars showing
crowded exhibits. The aircraft is a de Havilland Mosquito
The opinion has often been expressed that a museum such as this with aircraft, tanks and many other large exhibits calls for nothing more than a large open hall. Nothing could be further from the truth and I go as far as to say that it would be difficult to find anything as frustrating and over whelming as a large hall filled to capacity with a variety of exhibits. Such a hall not only reduces the educational value of the exhibits but makes a strict chronological sequence impossible. The visitor is also faced with the major problem of finding his way around and is never certain that he has seen all the exhihits. Orderly conducted tours are almost impossible and end up resemhling the floor of a stock market. Good layout of the exhibits is difficult and the displays more often than not consist of a series of "pockets" of untidy appearance. It is visualized that the new building will consist of a variety of halls of different sizes varying in height and constructed of different materials with many types of finishes to cases, walls, ceilings and floors.
In the early days of the Museum's existence the policy appears to have been one of collecting every possible exhibit. This, of course, is a policy of many museums but as the years have passed greater selectivity has been practised. The old methods of display are also gradually disappearing and it is no longer the practise to cram as many exhibits as possible into showcases. The value of our Museum in future must not lie in the number of exhibits it holds but rather in their quality and the methods employed to make them interesting and of greater educational value.
The displays will be grouped into three distinctive sections. The first will comprise a chronological history of all the important battles fought in South Africa or in which South Africans have taken part. This display will consist of a series of dioramas set out so that the history of our armed forces will be unfolded to the visitor as he passes from case to case. Each diorama will, however be so arranged that it can be used for lecture purposes. This will require considerable thought regarding lay out in order to avoid interference from adjacent dioramas and other lecture groups.
Each will, therefore, be an entity on its own with seating, or facilities for seating, but at the same time remnain part of an overall three dimensional story.
The second section will deal with the development of weapons of the three fighting services. Here, too, a chronological sequence in the various groups of weapons will tell a story. Where exhibits are not available they will be represented by illustrations. Drawings, pictures and photographs will also be used to show how they were made and how they were used. The displays in this section will be mainly of educational and interest value and in order not to tire visitors the number of items in each group of weapons will be kept to a minimum. However, the specialist will also be catered for by housing study collections of all available material, in the particular field, in study-rooms adjacent to or behind the actual displays. Admission to these study-rooms will be controlled.
The third section will comprise collections of medals, badges, uniforms, stamps and similar items. It is here that thousands of researchers, specialits and collectors will be catered for and encouraged to further research in their respective fields of interest.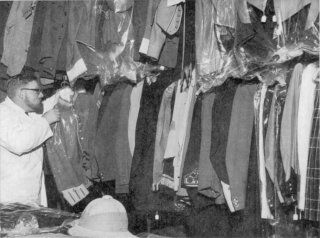 View of storeroom showing valuable collection of uniforms
Further departments will house and display war art, photographs, films, maps and prints.
A great deal of thought has also been given to the reference library which is essential if the Museum is to fulfil its role.
Planning in this direction will allow for 35,000 bound volumes and 10,000 journals. In addition to the normal reading rooms provided for members of the public it is hoped to provide special reading rooms, lounges and club facilities during hours when the main library and Museum will normally be closed, i.e. after 5.0 p.m., for the use of affiliated associations and registered members who will be called upon to pay an annual subscription for the use thereof.
Equally important will be the auditorium which will have seating for at least 200 persons and where up to date equipment will allow for the showing of films at regular times during the day and on special occasions.
The latest methods of display are being carefully studied in advance and planning will continue whenever the present limited staff can be spared for this important task. Great care will be taken to reduce museum fatigue, suffered by visitors to most big museums, to a minimum. Among many ideas in this direction will be the installation of escalators and lifts and the provision of ample seating in rest areas away from the exhibits. These rest areas will, where possible, have flower arrangements, plants, fountains and indoor gardens to give them a restful atmosphere. A well planned and carefully placed tea room will also make for a pleasant interlude during a visit to the Museum.
Cases will be so sited that the visitor will not need to retrace his steps from one room or collection to another. Carpeting in some of the galleries will make walking more comfortable. Care will be taken to place exhibits at convenient heights. Colours, lighting and notices will also be planned to reduce eye-strain and fatigue to a minimum.
Special attention will be given to those visitors who have poor eyesight. Blind visitors will be specially catered for on certain days when they will be allowed to handle exhibits.
Lack of space prohibits a more detailed description of the many improvements and innovations planned. Much will depend on the amount of money provided by the Government towards the project. In the meantime the fund raising campaign continues, for when the building is completed the far greater task of developing the displays to achieve the utmost educational and interest value therefrom will still have to be tackled and this will be extremely costly.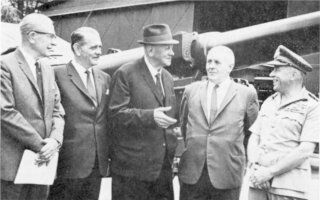 (By courtesy of THE STAR)
Some of the Trustees inspecting the site for the proposed new building:
L to R: Brig. Councillor J.C. Lemmer, MC.,(Vice-chairman), Combat-General B.G. Viljoen, SSA.,OBE.,
Lieut-Gen E. Brink, CB., CBE., DSO (Chairman), Gen S.A. Malville, SSA., OBE., Maj-General R.F. Armstrong, SM.

South Africans may rest assured that if funds are made available the Trustees will ensure that South Africa's proud military history is preserved and displayed in a manner worthy of our fighting men and women. It is the least we can offer as part of our immense debt to those who so unselfishly paid the supreme sacrifice and it is also, our duty to posterity.

Return to Journal Index OR Society's Home page

South African Military History Society / scribe@samilitaryhistory.org