The South African
Military History Society


---

Die Suid-Afrikaanse Krygshistoriese Vereniging
---
Military History Journal
Vol 1 No 2 - June 1968
Dekoratie Voor Trouwe Dienst
(THE D.T.D.) PART II
by D. R. FORSYTH
The Editor, in a footnote to the article on the D.T.D. that appeared in the first copy of the Military Journal, made mention that the names of a further 64 unpublished awards would be given in this issue.
The names with ranks, appear hereunder:
| | | | | | |
| --- | --- | --- | --- | --- | --- |
| Name | Rank | Name | Rank | Name | Rank |
| Anderssen, E. C. | Kaptein | Krause, C. | Ass. Veldkornet | Robinson, P. J. | Luitenant |
Ranks Awarded to:

Vecht Generaal 1
Kommandant 15
Kapteins 11
Kapt. en Adjud 1
Adjudant 1
Luitenant 11
Veldkornet 20
Assistent Veldk. 3
Burger 1
The award to Burgher A. Kuit it of particular interest for the D.T.D. was an Officers Decoration. Research, has however, shown that he was awarded the Decoration whilst occupying the position of "Inspekteur van Veldpos" (Inspector of Field Postal Services). Maybe he was a postal official in times of peace.

It is pleasing to further record that the writer now has a full list of the Commandos and Units to which the 655 recipients belonged -- in addition the names of those Decorated who also received the "Lint Voor Verwonding Opgedaan Gedurende De Anglo-Boeroorlog, 1899-1902" (the wound ribbon) are available. A few of the interesting (to me) Commandos/Units are here quoted:
Betsjoeanaland Kommando.
Swaziland Kommando.
Skandanawiese Korps.
Botha's Verkenners Korps.
Kolb's Korps.
Gatsrand Kommando.
Griqualand Wes Kommando.
Duitse Kommando.
Koloniale N.W. Korps.
Hollandse Korps.
What an open field for research there surely must be into the exploits of these and the very many other "Kommando's."

Description of the Decoration

Perhaps there are some of you who have not seen this fine Decoration, so it is pleasing, to be able to reproduce here, a photograph of the obverse/reverse.

Description:
The coat-of-arms of the South African Republic with the inscription "Voor Trouwe Dienst 1899-1902" on one side and the coat-of-arms of the Orange Free State and the inscription "Voor Trouwe Dicust 1899-1902" on the other side.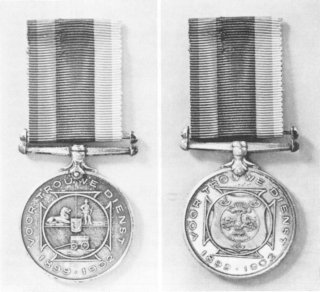 LHS - Obverse to a Burgher of the S.A. Republic
RHS - Obverse to a Burgher of the Orange Free State

The medal is of silver and 1 and 7/16 inches in diameter. The obverse to a burgher of the South African Republic is the reverse to a burgher of the Orange Free State and vice versa.
The ribbon is just under 1 and 3/16 inches in width and has in the centre a broad blue stripe; to the left of that a narrow green stripe and on the edge a narrower red stripe. On the right of the centre blue is a narrow yellow stripe with a narrower white stripe on the outer edge -- the colours are thus, red, green, blue, yellow (orange) and white.
The Decoration has a fixed bar suspender.

Return to Journal Index OR Society's Home page

South African Military History Society / scribe@samilitaryhistory.org