The South African
Military History Society


---

Die Suid-Afrikaanse Krygshistoriese Vereniging
---
Military History Journal
Vol 1 No 2 - June 1968
MELROSE HOUSE
by MRS A.C.M. TYRRELL

Behind a wall topped with iron railings, with gate piers surmounted by imposing eagles and entrance steps guarded by lions couchant a Victorian mansion stands overlooking Burger's Park in Jacob Mare Street, Pretoria. This is Melrose House with its turrets and Dutch gable, furnishings and fabrics giving an atmosphere of by-gone days of gracious living and historic events, yet probably few people walking past give it more than a cursory glance, surrounded as it is by modern buildings.

Melrose House was built by George Heys, a young man born and educated in Durban, and married to a Durban girl, Emma Jane Harris. Heys had made his way to Kimberley during the diamond rush to seek his fortune, and he was certainly successful. He formed the coach transport company of Heys and Gibson operating between Kimberley and Pretoria, and, in the early days, he occasionally did some of the driving himself.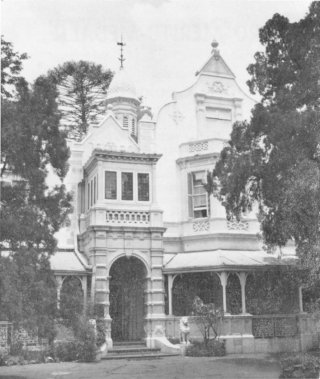 "Melrose House"
(by courtesy of "Pretoria News")

In 1879 the Heys moved to Pretoria and in 1880 built their fascinating three-storied house, later naming it after Melrose Abbey in Scotland which had greatly impressed them when on a belated honeymoon visit. The house was furnished with the most sumptuous trappings of the Victorian era and today much of the original wallpaper, furniture and furnishings are still in place, some in an excellent state of preservation. Among the numerous oil paintings are several by James Ward, RA, a 19th century artist, watercolours of Italy and various bronzes.

In the main drawing-room the furniture is covered with satins and brocades, the curtains are padded and there are ornate mirrors, elaborately moulded and gilded ceilings and painted glass windows. The predominant colour scheme is blue, with blue carpet, blue wall-paper and blue suite. The entrance hall leads into the small library which has painted glass windows portraying Shakespeare and Milton with quotations from their works. The billiard-room, added later, has fluted pillars and windows depicting hunting scenes. Leading off the billiard-room is the conservatory with studies of birds on the fanlights, but the main historical interest lies in the dining-room where many eventful meetings took place and where the Peace Treaty of Vereeniging was signed.

Carved wooden bannisters lead past a beautiful painted window to the first floor landing where an organ stands. The main bedroom contains a large brass bedstead with mother-of-pearl inlays at head and foot. The bathrooms, obviously introduced later are large rooms with typical Victorian appointments. The "attic" floor housed the servants. Through the main rooms runs a ventilating system operated by a lever in the shape of a hand in each room.

In the two-acre grounds, now somewhat overgrown, there are various buildings, a charming housekeeper's cottage, a coach house (which also housed the coach driver) horse boxes with the usual loft above, and today still containing George Hey's Minerva car, an enormous vehicle bought in 1920, which he used for a short while, did not like, and had put up on blocks where it has stood ever since. There is one old African still living there who worked for the Heys family.

Many distinguished people have been entertained at Melrose House over the years. In 1893 Sir Henry Loch, Governor of the Cape Colony, was invited to Pretoria on a state visit and there being no other suitable accommmodation at the time, Melrose House was lent for the occasion. The British Government presented Mr. and Mrs. Heys with a silver bowl inscribed with their thanks.

President Kruger and Mrs Kruger were close friends of the Hey's and frequently visited them. When Pretoria was handed over to the British in June, 1900 the Heys were anxious about their position due to their friendship with the Krugers, and rather than have their home commandeered they offered it to the Government, an offer which was accepted. Lord Roberts, Commander of the British forces occupied the house until he handed over command to Lord Kitchener on 29th November 1900 when Kitchener took up residence.

During April and May 1902 Melrose House was the scene of much activity and many meetings. On Saturday, 12th April, the two Republican Governments, travelling in separate trains, arrived in Pretoria, and at 9 a.m. the first meeting to negotiate the Peace Treaty was held in the dining-room of Melmose House, and further meetings took place on 14th and 17th April. After weeks of discussion at Vereeniging, the Treaty was ready for signature and at 10.30 p.m. on 31st May the signatories seated themselves around the vast dining table at Melrose House again and, after reading through the document, it was signed. Lord Milner and Lord Kitchener shared the top of the table, Kitchener seated on Milner's right. On Lord Milner's left sat the Acting President S.W. Burger, the State Secretary F.W. Reitz, Commandant-General Louis Botha, General J.H. de la Rey, Mr. J.C. Krogh and General L.J. Meyer. On Lord Kitchener's right sat the Acting President C.R. de Wet, General C.H. Olivier, General J.B.M. Hertzog, Acting Government Secretary W.J.C. Brebner. And so an historic occasion was ended by Lord Kitchener saying: "We are good friends now" with a sigh of satisfaction that the very weary warfare was over.

On the conclusion of the South African War Lord Kitchener left Pretoria on 21st June. He handed over command to Lord Lyttelton who moved into Melrose House on 12th June, and in his own words the house "was in a very disordered condition", but this was remedied by the time his wife arrived on the 29th and on the following day Lord and Lady Lyttelton entertained General Botha, General de la Rey and General de Wet, to lunch.

The Republicans made no move to call upon Lady Lyttelton who was anxious to establish friendly relations, so she started dancing classes for children at Melrose House. Soon the children accompanied by their mothers were attending the classes and good relationships at all levels were established. However the Lytteltons did not stay long at Melrose House as Roberts Heights was under construction, and though it was mainly a tent town, the Lytteltons moved there early in 1903.

In time Mr. and Mrs. Heys moved back into their beautiful house, re-establishing a pattern for elegant living, and there they remained for their lifetime. Mr. Heys presented to the city the Heys Memorial Hall in Sunnyside (in memory of his wife), and a 32-tubular bell carillon for the City Hall. The House was left in a family trust but the Pretoria City Council recently bought the property, some furnishings and paintings and it is hoped that it will be restored to its original condition and opened to the public as a Museum. Then many people will be able to see Melrose House as it was in the days of Paul Kruger and the opposing Generals of the second South African War and Pretoria will be the richer for the acquisition of this famous house.

Return to Journal Index OR Society's Home page

South African Military History Society / scribe@samilitaryhistory.org