The South African
Military History Society


---

Die Suid-Afrikaanse Krygshistoriese Vereniging
---
Military History Journal
Vol 1 No 1 - December 1967
FROM THE EDITOR
LET US LOOK BACK
... AND GO FORWARD
Let us look back down the years ... let us look back into our military yesterdays ... and let us delve, examine, and research into the fascinating kaleidoscope that is our South African military history.
In doing this we must seek to discover all that is good and noble in our military past ... and there is so much of it for the diligent seeker to find.
Let us remember that we in our History have the distinction of having been major participants in what was truly "the last of the Gentlemen's Wars" ... that war in which there was, on both sides, so much of chivalry and gallantry which even today is not known widely enough nor fully appreciated.
In our researching therefore, let us take for our guidance, that profoundly wise counsel given to us by President Paul Kruger ... and again many years later, by Field Marshal Jan Christiaan Smuts ...
"Let us take the best from the past ... and help to build the future on it."
El Alamein . . . Twenty-five years after
At 21.40 hours on 23rd October, 1942, a quarter of a century ago today, the British Eighth Army launched the greatest artillery barrage the world has ever known.
This massive bombardment was directed against the combined might of the German and Italian forces entrenched near a remote little desert railway station whose name is now recorded for all time in the annals of war ... El Alamein.
From here the Eighth Army, including the 7th Armoured Division forever remembered as the "Desert Rats" and composed of men from the United Kingdom, Australia, New Zealand, South Africa, and India, with other Allied units drove the enemy westwards through the desert all the way to Tripoli and brought the war in North Africa to an end by 12th May, 1943 ... less than seven months after El Alamein.
This inaugural issue of the South African Military History Society's Journal sees the light of day at the end of 1967, a quarter of a century after the Battle of El Alamein, in commemoration of that great desert victory in which, as in so many epic battles in our military history so many South Africans distinguished themselves and wrote their country's name in the pages of glory in the history of war.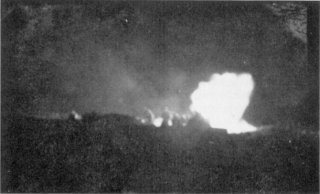 Gun flash from 25-pounder firing during the Battle of El Alamein
on the night of 23/24 October 1942.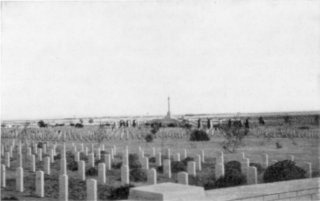 The Allied Forces Cemetery at El Alamein ...
and the Cross of Sacrifice in the distance.
---
Comment added in December 2006 - a reader in Canada submitted the following link about one of the "Desert Rats" and his medal.
---
South African Military History Society / scribe@samilitaryhistory.org