The South African
Military History Society


---

Die Suid-Afrikaanse Krygshistoriese Vereniging
---
Military History Journal
Vol 1 No 1 - December 1967
Only South African to Win the Conspicuous Gallantry Medal
(WORLD WAR II)
The only Conspicuous Gallantry Medal to be awarded to a South African during the 1939-45 War is on exhibition at the South African National War Museum.

This medal is the naval counterpart of the Army medal for Distinguished Conduct in the Field. It was sanctioned originally for the Crimean War only, but was re-instituted in 1874 and is now available for any war. H. Taprell Dorling "Ribbons and Medals", states that "Ten C.G.M.'s were awarded in 1855. Since its re-institution in 1874 no more than 233 medals and one bar have been granted."

The distinction of being the only South African to receive this rare medal is held by ex-Chief Stoker Petty Officer R. Sethren. At the time of the action which gained him this award he was serving in the Mediterranean theatre in one of South Africa's "little" ships, H.M.S.A.S. Southern Isles as a unit of 42nd Anti-Submarine Group.

The citation reads:
"For his steadfast bearing when H.M.S.A.S. Southern Isles was attacked by an enemy aircraft which machine-gunned the deck. Though eleven times wounded, he stood to his gun and turned a steady fire on the aircraft until it fell in flames into the sea."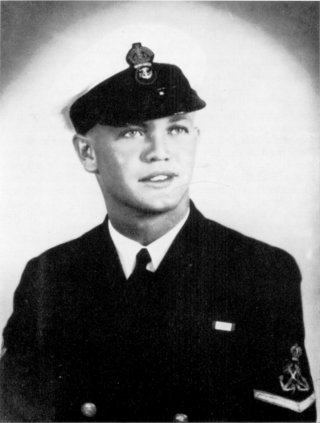 Chief Stoker Petty-Officer R Sethren, C.G.M.

Chief Petty Officer Sethren was released from service in 1943 due to his wounds. Twenty-five years after the action he still undergoes periodic operations for the removal of shell-splinters from his back.

South African Military History Society / scribe@samilitaryhistory.org