The South African
Military History Society


---

Die Suid-Afrikaanse Krygshistoriese Vereniging
---
Military History Journal
Vol 19 No 3 - December 2021
OBITUARY
Johan van den Berg
It is with great sadness that the Cape Town branch of the SAMHS announce the passing of Johan van den Berg. He died on 6 November 2021 aged 70 after a long illness.
Johan was a long-standing member of the Cape Town Branch of the SAMHS. He was Chairman from 2009 until 2018 when ill health forced him to relinquish the post. Johan was born in Vryheid, Natal on 18 October 1951. He was educated at Jim Fouchť Secondary School, one of the top schools in Bloemfontein, matriculating in 1969. He completed his National Service with 2 SAI Battalion, Walvis Bay in 1970 and then served in the Citizen Force with the Bloemspruit and Dan Pienaar regiments as well as 52 Battalion.
Johan attended the University of the Orange Free State, gaining his BA in Political Science and Geography in 1973. He obtained his Honours degree in Urban and Economic Geography and finally his Masterís degree in Town and Regional Planning in 1978. He was registered with the SA Council for Planning and with the SA Town Planning Institute.
Johan started his working career in the Local Orange Free State Government in 1974. He moved to Cape Town in 1981, joining the Cape Metropolitan Planning Committee in a post he held until 1990. In 1990 he was promoted to Branch Manager of the Regional Services Council, a post which he held until retiring in 2005. After 2005 Johan was professionally self-employed, consulting to various organisations and professional colleagues.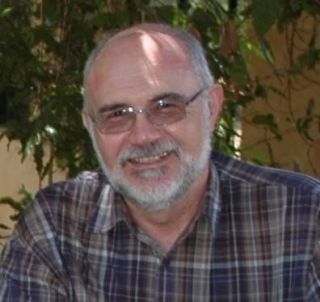 Military history was one of Johanís greatest interests and he formed an outstanding library on the topic. He started The Military Bookshop in 1995 which was well known for its excellent service, sourcing and supplying many rare or out of print books. His knowledge of military matters enabled him to present many excellent lectures which were always very well researched and greatly appreciated by members of the society and their guests, some of whom joined our ranks. Johan was well read on many differen military subjects and over many eras. His wide in-depth knowledge was a grea inspiration to many authors who sough his advice. He was the author of many articles and book reviews which were published in this journal. His wide circle of friends included many serving and retired members of our armed forces who were always prepared to give talks to the society.
On 16 October 2016 he and his wife Emsie represented the Cape Town branch at the SAMHS 50th anniversary celebrations in Johannesburg. Johanís interest in military matters extended beyond the SA Military History Society. He was a co-founder and committee member of the Armoured Warfare Studies Group (AWSG), Chairman and Vice Chairman of the WW2 Aircraft Club member and scribe of Cape SAAACA (SA Arms and Ammunition Collectors Association) and a member of the Van Riebeeck Society.
All these organizations have expressed their sorrow and are unanimous in the opinion that they have lost a true giant. Not only will the loss of his knowledge and contributions be felt but also the lack of his presence. Few will be able to fill Johanís giant shoes. He will be missed by all that had the privilege to know him. Johanís own input, enthusiasm and hard work for the society were very considerable, but he always acknowledged the help he received from the committee.
We mourn his untimely passing and extend our deepest sympathy his wife Emsie, son Gideon and daughter Chrisna.
Cape Town Branch committee
---
Return to Journal Index OR Society's Home page

South African Military History Society / scribe@samilitaryhistory.org