The South African
Military History Society


---

Die Suid-Afrikaanse Krygshistoriese Vereniging
---
Military History Journal
Vol 19 No 2 - June 2021
'MILITARIA VI'
Brian Culross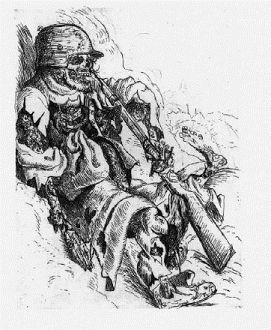 If you dig down through several feet
Of Flanders filth, then we might meet.
But do not think to shake my hand,
Or watch me walk, or see me stand,
For hands and legs were blown away
That dark lead-ladened Flanders day
When our attack through monstrous mud
Became a festival of blood,
And rank on rank, my pals and I
Were sent into the world to die.
---
'MILITARIA VII'- More Epitaphs from Brian Culross
'Rat-tat-tat' was often the last sound a WWI pilot heard if he let an enemy scout – a fighter plane – get on his tail unobserved. The appalling death rate among pilots on both sides, but (in)famously among British pilots in April 1917, is reflected in the second line
Death's tattoo rattled, and I earthwards fell,
To lie at last where all my friends now dwell;
And I would greet them, saying 'I have come!' –
But foul clay fills my mouth, and I am dumb
---
I was not prepared for death that day,
As I crossed the field in Picardy,
But death had chosen, so there I fell,
Obedient to his explosive knell.
---
I carved a cross to mark his end;
He never knew I was his friend –
Nor that I loved him far too well,
In ways that no true friend should tell
---
---
Return to Journal Index OR Society's Home page

South African Military History Society / scribe@samilitaryhistory.org