The South African
Military History Society


---

Die Suid-Afrikaanse Krygshistoriese Vereniging
---
Military History Journal
Vol 19 No 2 - June 2021
A World War One Mystery
By Anne Ward
In December 2018 Anne and Damian Ward of Llangammarch Wells had family over for a one-off Christmas visit from Australia and South Africa.
When looking for a 'nice tablecloth' in a bag of assorted white goods in the Brecon British Red Cross Shop, she found a bedspread which has taken her and her family on a time-travelling and international journey of incredible historical discoveries. They have been to villages and towns in the UK and Wales, to 1914-18 Flanders Fields, the Somme at 1916, Hollywood USA, a Benedictine Abbey in Ireland, and to Australia, New Zealand, Canada and South Africa and all during a world-wide lockdown.
This bedspread is hand embroidered with twelve regimental badges that were all active in World War One. It is entirely, and uniquely, in white work and bordered with machine made filet lace - 26 metres of it. It has been dated to have been made between 1916 and 1920 and by very skilled hands, as confirmed by the Royal School of Needlework and the British Embroidery Guild.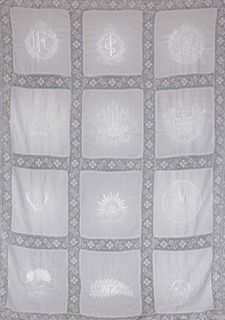 The whole bedspread
But there is no information on who, why or where it was made as there is no label or signature on it. Anne and Damian have been doing extensive research, trying to find these answers so as to give it as much provenance as possible so that its story, whatever it is, can be told by the museum they are donating it to. The Charity Shop could not tell them how they came by it and local appeals to try and find its donor/last owner have not been successful.
They have written a book, entitled 'Twelve Secret Voices' about their research and the bedspreads possible origins which is now available.
"We as a family have a lot of theories that even experts we have consulted agree with. Just a few of the many there are include:
That it was sewn by soldiers convalescing from wounds, or those receiving specialist treatment, as a gift for one of the medical team.
'Lap Crafts' were taught to occupy patients who were bed-ridden for extended periods of time, including embroidery, crotchet, knitting and basket weaving. It was the start of what we today know as Occupational Therapy.
Embroidery was seen as so mentally productive to these men in the First World War that in World War Two, embroidery kits were even included in British POW relief parcels.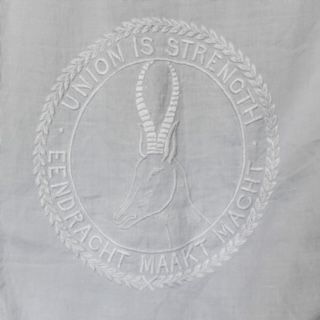 The Springbok panel
Another theory is that it was made by continental refugees as a thank you gift for someone in England who showed a particular kindness to their plight or maybe made a significant fundraising contribution.
Over 200 000 refugees came to the UK from Belgium, France and Russia from 1914 onwards. They were welcomed and accommodated by civilians who wanted to 'do their bit' but they also set up their own communities such as 'Elisabethville' (named after the Queen of Belgium) near Folkstone. Despite the language barrier, they took jobs locally and in turn contributed to the war effort. There were even ammunition factories that were entirely managed and staffed by refugees who were after all able-bodied and skilled men and women. When the war ended, they were offered free passage back to the continent and by 1921 records show that 90% had returned to the Continent.
One more theory is that it was sewn by an embroidery college or club for a war, or post-war, fundraising exhibition and sale. The quality of the needlework definitely lends merit to this theory.
All sorts of fundraising incentives were done in all the countries involved in the war. In Australia there was a national 'Belgium Day' in May as well as 'Australia Day' in July. Rosettes were sold, balls and concerts organized and all sorts of fundraising ideas were employed. Similarly in New Zealand, there are accounts telling of the same methods as Australia but we also found a story of how school children contributed their pocket money coppers to make money trails and knitted socks for soldiers. So a specially made, exhibited and then sold high quality item such as this bedspread can certainly be considered.
We may never find out its reason for being made and where it has been these last 100 years, but it will be available to be seen and be puzzled over at the museum to which it has been donated.
Anne and Damian do 'love' it but have no personal connection to it or the right home to enjoy it. "It is too long for our bed anyway" laughs Anne. "And we would be too scared to use it lest we spill our morning cup of tea on it. And until we can find its story, if ever, we can still continue to enjoy speculating over it with it gone to the museum."
The book, entitled 'Twelve Secret Voices' about this mystery is now available at www.aspect-design.net for £10 plus p&p Any queries, please contact anneward77@icloud.com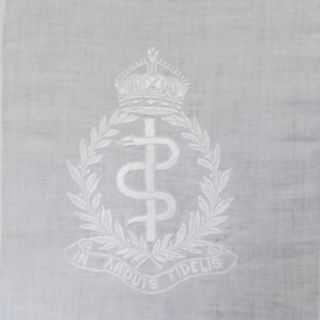 The British Medical Services panel
---
Return to Journal Index OR Society's Home page

South African Military History Society / scribe@samilitaryhistory.org