The South African
Military History Society


---

Die Suid-Afrikaanse Krygshistoriese Vereniging
---
Military History Journal
Vol 19 No 1 - December 2020
Kursk
Ablaze, alight,
plummeting, thundering, crashing to her fate
and that of a hundred and eighteen sailors
By Dr Elina Komarova-Tagar
I met André van Heerden some years ago at the Ship Society South Africa and André told me that in 2000 he participated in the operation to recover casualties from the sunken submarine Kursk.
André van Heerden is a diver who served in South African Navy in early 70s.
South African Navy divers are considered to be among the best in the world.
Diving selection in SA Navy was always very rigorous. The physical and mental pressure put on a candidate was immense and ensured elimination of those who would not fit the chosen profession. Primarily it was a preparation for combat diving, which means readiness to survive. To get through one had to be absolutely determined in a wish to become a diver.
Training methodology for commercial diving is very different.
In South Africa's Atlantic Ocean the currents can be very strong and the water temperature is cold, especially in winter, dropping to as low as 4-10 degrees Celsius, which is a challenging to routine night diving operations.
A well designed and structured approach to the training prepared naval divers to perform with excellence during special missions.
In 70-80s of the last century there were some episodes of confrontation between SA and Russian Navy at the Angolan shores, with divers being involved...
In March 2020 Cape Town welcomed (with some restrictions due to lock-down which followed very soon afterwards) the legendary training tall ships Sedov and Pallada. Visiting Cape Town was a part of their round the globe trip dedicated to the 200th anniversary of the discovery of Antarctica by a Russian Naval Expedition, under the fleet commander M. Lazarev and his deputy F. Bellingshausen.
The sailing vessels Sedov, Pallada and Kruzenshtern rendezvoused near Antarctica for the celebratory Regatta. The initiative was also held in celebration of the 75th anniversary of the Victory in the Great Patriotic War (1941-1945).
On board the barque Sedov, the biggest tall ship in the world, André van Heerden was warmly welcomed by Captain E. Romashkin and invited to be a part of an official delegation. André also gave an interview to the organisers of the project 'A Rendezvous with Russia'.
André says that people who are doing mid-level jobs don't often have many opportunities.
Back in 2000, André took part in the Stage 2 casualty recovery operation on the submarine Kursk which sank on 12 August in the Barents Sea. The joint work lasted approximately two months, half of it spent in saturation underwater tasks.
"It was an unusual, even shocking job. To cope with that helped build the camaraderie of us working together, soft humour and a friendly smile in sombre conditions.
We were at the time working commercially on the saturation diving vessel Regalia, a semi-submersible oil field construction ship in the North Sea.
Regalia was a Haliburton privately owned United States registered ship with a mixed crew. On board ship there were divers from Scotland, other parts of the United Kingdom, USA, Australia and South Africa, as André remembers. It was coincidental that we were busy with a project approximately three days travel away. Upon request Regalia responded to the emergency and proceeded to the location.
Our task was purely to extract the casualties.
We collected everybody whom we could find. Due to the cold water the bodies were well preserved, some intact, but many with horrific injuries because of the explosion. One third of the submarine's bow was totally destroyed, so some sailors were never accounted for."
According to the submariners, they experience lengthy periods entering into our primal element, deep waters in the crucial safety of a submarine vessel. With neither blue sky, nor sun above. They see familiar faces of each other - their trusted family as a crew.
The Kursk Crew were recovered by the dedicated efforts of the international diving team. For the last time, Russian sailors emerged from their home submarine on the stormy sea surface towards the earthly light.
The polar days were short, the Sun was orbiting in only a semicircle above the horizon, from the right to the left, as André recollects.
The late Autumn sun was in suspension in a rainbow — like an arc path for sailors and divers — and all seafarers in the duty mission on the Northern Sea.
There is uniting power of the disaster which resonating into future life.
For André the meaning of that experience is to meet more friends.
Indeed later on he was invited to work together with the Russians on a special project in Sakhalin.
With appreciation to Gary van Eck for editing.
----------------------------------
The Dedication in the Book
"Navy Divers"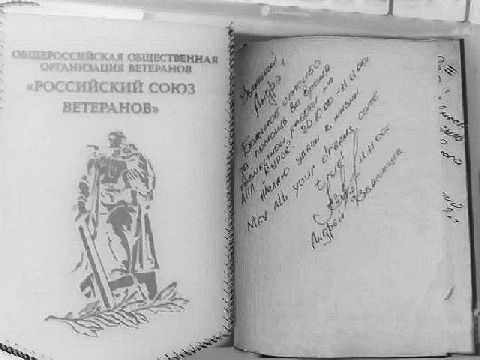 Dear André,
Thank you very much for your assistance in our joint work on APL (Nuclear Powered Submarine) "Kursk" during 20.10.00 - 11.11.00
Wishing you all luck in life.
May all your dreams come true!
11.11.00
Andrei Zvyagincev
Andrei Zvyagincev was Head of Diving Rescue Operation from Russian side.
In the documentary film "The bitter truth about explosion on Kursk Sub-marine" (2019) he remembers in regard to his diving experience:
"We often took part in Navy drills, have known many of submariners personally. It is united seamen brotherhood.
A submarine is always a living organism. Then suddenly you discover such speechless, motionless, soundless and I had an impression of a grim even tragic P body, I can't say corpus, no. It is laying without sign of life. It is very impressive. (It makes such an impact) it still makes me shudder."
Andrei Zvyagincev was awarded the Golden Star decoration of the Hero of Russia.
-----------------------------------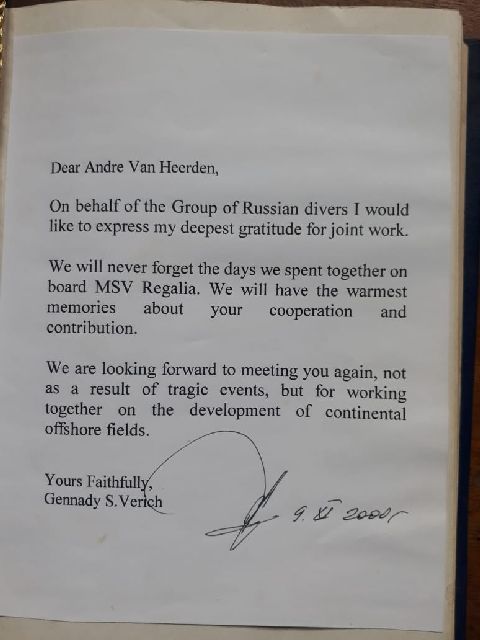 Letter from Admiral G.S. Verich
Dear Andre van Heerden,
On behalf of the Group of Russian divers I would like to express my deepest gratitude for joint work.
We will never forget the days we spent together on board MSV Regalia. We will have the warmest memories about your cooperation and contribution.
We are looking forward to meeting you again, not as a result of tragic events, but for working together on the development of continental offshore fields.
Yours faithfully,
Gennady S. Verich
09.11.200
-------------------------------------
André van Heerden writes:
When we arrived in Russian waters and were within range, Mil-5 helicopters mobilised Russian military personnel and divers. It was amazing for us to see counter-rotating main rotor helicopters.
We proceeded immediately to introduce the Russian specialists to the tools and diving equipment unfamiliar to them which we had on board.
The technical procedure was to cut access holes into the pressure hull, using oilfield related technology. The access holes were circular as we were using a radial cutter. To reduce the risk of explosion, high pressure cold cut water jets were utilised.
We had Geiger counters to check the radiation levels due to possible leaks, in which case the operation would have been suspended. But no abnormal radioactivity was detected.
Once preparation was completed, the saturation diving operation commenced. During a "bellrun" – an operational cycle both diving bells could carry three people: one bellman and two divers on umbilical cords, spending six hours in the water working a shift.
The saturation system used could accommodate and decompress 18 divers living at pressure. We were diving in small teams of three — two Russian divers and one foreigner.
The procedure was that once access holes were completed, the Russians would proceed to enter the submarine to search for casualties in that area. The Kursk submariners were thus fetched with brotherly care and accompanied out of the submarine and placed into baskets to be recovered to the surface.
We were certainly not involved with the salvage operation of the Kursk vessel, it commenced after we departed. It started a few months later, in spring conditions and was led by the Dutch company Heerima.
---
Inside back cover:
Commemoration in Cape Town
20 years after the Kursk tragedy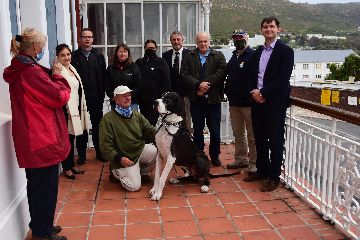 The group of Kursk memorial attendees
including Russian Consulate
retired and current SA Navy staff, Russian
Club, ex SAN Diver Andre van Heerden
who assisted in recovering casualties
from the Kursk, and his Great Dane Quiz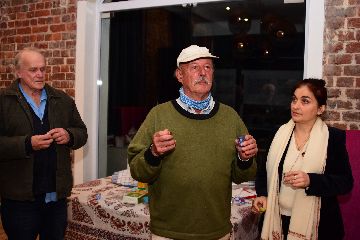 Left to right: Lt Cdr (Ret) Robin Cross,
ex SA Navy diver Andre van Heerden and
Russian Club organiser
Dr Elina-Komarova-Tager participate
in the traditional toast in
memory of the 118 Kursk submariners.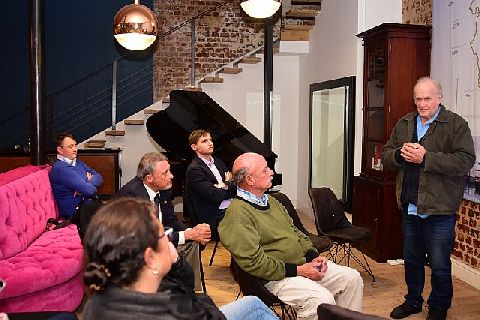 Retired SANR Lt Cdr Robin Cross recounts
how the Naval Control & Guidance (NCAGS)
team at SAS UNITIE first heard of the sinking
of the Kursk during an exercise, their annual
"118 seconds" commemoration and how they
and Russian sailors onboard MSC Suez
shared a few special moments.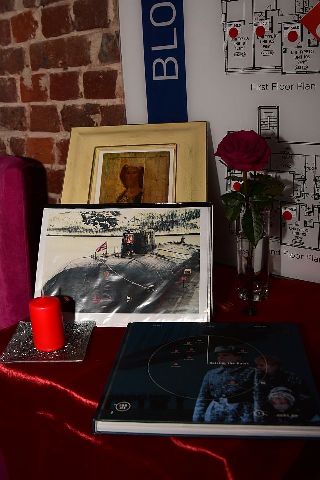 Memorial candle, book and photograph
of the Kursk at the commemoration.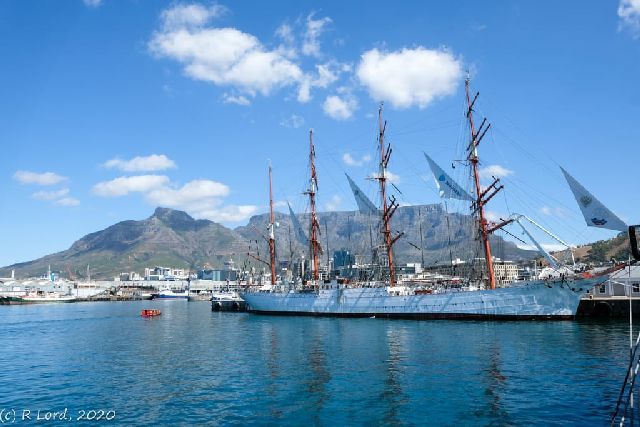 The barque Sedov in Cape Town.
---
Return to Journal Index OR Society's Home page

South African Military History Society / scribe@samilitaryhistory.org