The South African
Military History Society


---

Die Suid-Afrikaanse Krygshistoriese Vereniging
---
Military History Journal
Vol 19 No 1 - December 2020
'MILITARIA I'
Brian Culross
Sprinkled through this issue of Military History Journal are a handful of poems inspired by my readings around the subject of the First World War, and (inevitably) by my readings of WWI poets – Sassoon, Owen, Kipling, and others. Another influence has been – as elsewhere in my verses – the works of A.E. Housman.
Most, but not all, were composed roughly in the period 2015-16.
The collection begins with an 'odd man out' – a poem inspired by (and dating from) my visits to Anglo-Boer War sites during my years in Durban ...
During my years in Durban I often went, in company with friends from the local Hiking Club, on weekend explorations of Anglo-Boer War battle fields – both major encounters and minor skirmishes. These trips, and on them the discovery of isolated and almost forgotten graves being swallowed by the bush, as well as a fair amount of reading about the subject, led to this poem. It remembers, wistfully, all the 'Anglo' dead of that war who sweated with heat and fear, and then died, far from home; whose sacrifice is now a completely impersonal matter for historians to summarise and tabulate, and whose short immortality died when mothers, lovers, sisters and friends in their turn took their memories and mental images to their graves. Dust, verily, to dust.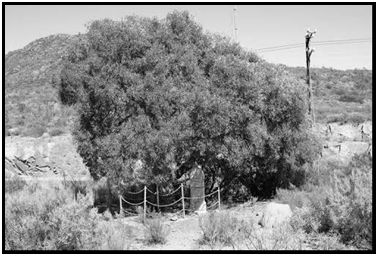 We two, who on Sundays went unblessed,
Truant children in ragged sleeves,
Plundering the orchards or the nest
Or flinging wild through autumn leaves –

Who later went whoring at harvest
In the hayricks, among the sheaves –
Who drank with the worst, fought with the best –
Feckless often, and sometimes thieves –

We two …

Being careless of life, took an oath,
Donned puttees and khaki, and thus
Came here to fight your sons, nothing loathe,
Learned to march, and to dig, and to cuss,

– And found, as the burst took us both
That life could be careless of us.
---
'MILITARIA II'
The firing lever on larger artillery pieces – which exhibited a fearful recoil – was pulled from a relatively safe distance by means of a cord, usually referred to as a lanyard. But I only had room for a single syllable ...
He pulled the cord, the gun fired, and I died.
Cause, agent, effect. Yet he had not spied
On me, to pick me out or mark me down,
And had we met in some small Flanders town
In other times, we might have shared a beer
And called each other "Friend", and cried "Good Cheer!"

But we came strangers to this fatal land,
Not knowing each – and then he raised his hand,
And – cord, gun, death: such was the fateful chain
That binds us always on this fetid plain.
---
'MILITARIA IIIa'
In a pale imitation of Kipling's pithy and justly famous "Epitaphs" ('I could not look on Death ...' and others), and Housman's similar lines ('Here dead we lie ...) I tried my hand at writing in the same vein. Here and on p 38 are two examples.
This 'epitaph' was prompted by my contemplation of an image of the 70,000 or so names on the Menin Gate memorial, commemorating those 'with no known grave'. Though technically recorded for all to see, how, I wondered, does any one name catch the eye and more especially the heart of the onlooker?

I died in Flanders mud; I have no grave.
Do you remember me?
That day each year that you salute the brave –
Do you remember me?
---
'MILITARIA IV'
a second epitaph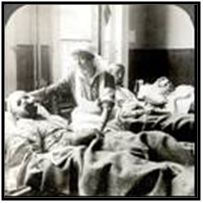 A PASSING

(The speaker is a nurse or VAD)
My breaking heart could not hold back its primal tears
As low I leant and listened to his whispered fears:
For though he pleaded, as I held his weakening hand,
In truth I could not say there was a Promised Land.
---
'MILITARIA V'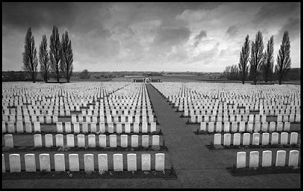 Tyne Cot is one of the largest Commonwealth WWI cemeteries in France. It is located close to Passchendaele.
In peacefulness, in peacefulness, in peacefulness they lie,
In ranks, in ranks, in countless ranks beneath a silent sky
That, while they lived, was foul with death, was foul with death and noise
That marked the end of all they knew, their friends, their loves, their joys.

To war, to war, to war they went, with regimental pride;
In fear, in fear, in fear they rose, and charged, and so they died.
The ground they won, and lost again, and hallowed with their blood
Was but a meagre acre, worthless wire-bound stinking mud.

Yet now they rest in glory, rest in glory for all time,
Delivered by our reverence from mud and blood and slime.
Though mindless sleep is now their lot, and free of all regret,
Regret, remorse and pain are ours, and we must not forget.

So tend the graves of these brave men, these ranks of Portland stone,
These ranks, these rows, these sacred groves – else how may we atone
For their lost lives, and those who lost, and lost ideals and more? –
And on these endless altars swear the oath of 'Nevermore!'
---
Return to Journal Index OR Society's Home page

South African Military History Society / scribe@samilitaryhistory.org