The South African
Military History Society


---

Die Suid-Afrikaanse Krygshistoriese Vereniging
---
Military History Journal
Vol 19 No 1 - December 2020
Remembrance Service
Sappersrus, Hartbeespoort,
Tuesday 11th November 2020.
A "Sandy" Buchanan
They shall grow not old, as we that are left grow old:
Age shall not weary them, nor the years condemn.
At the going down of the sun and in the morning
We will remember them.
My wife and I attended a very touching and pleasant memorial service held at the lapa at Sappersrus on Tuesday the 11th November 2020.
Organised by Mike Benn of the Magaliesberg Association for Culture & Heritage (MACH) approximately sixty people attended. The guest speaker was Peter Terry, well known broadcaster and voice artist, currently on Classic FM, whose subject was "Putting the Great War Poets into Context". Peter has over the years developed a passionate interest in the Great War, and has travelled to Belgium and other European centres -visiting cemeteries and memorials which commemorate this epic struggle.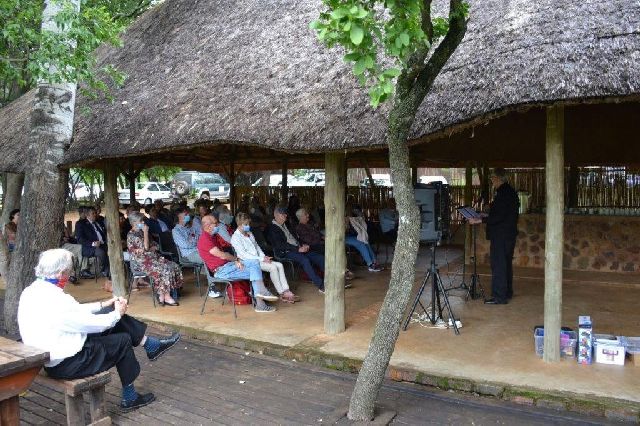 The Remembrance Service gathering
The ground on which Sappersrus was founded was donated to the Sappers by Field Marshall J C Smuts.
Proceedings started at 10h30 with Mike Benn calling all to order and relating a few facts about the programme, which was entitled "Remembrance Service, First World War Armistice".
As readers will know, there is a strong South African connection to Armistice Day, in that Sir Percy Fitzpatrick, a South African born in King William's Town, wrote on 27th October 1919 to King George V suggesting that a minute's silence be observed annually on the 11th November, the day on which World War I hostilities ended.
The King's private secretary replied in the affirmative stating that the idea of the two minute Pause on Armistice Day the 11th November 1918, was due to his initiation, which was carried out throughout the Empire.
What followed was that on the 9th November 1919 (a year after the cessation of hostilities) King George V proclaimed "That at the hour when the Armistice came into force, the 11th hour of the 11th day of the 11th month there may be for the brief space of two minutes a complete suspension of all normal activities". This was to be a minute to honour those who had lost their lives, and a second minute to give thanks for those who had fought and survived.
Sir Percy had lost two sons in WWI, and he conceived the idea of the South African War Memorial at Delville Wood, France, of which he was Committee Chairman.
Credit should also be given to an Australian, Edward George Honey, who, whilst working in London at the Evening News suggested a five minute silence, but this fell on deaf ears.
The first official Armistice Day commemoration was held in the grounds of Buckingham Palace on the morning of 11th November 1919.
Similar ceremonies developed in other countries, and after the end of World War II, most member states of the Commonwealth followed Canada's example and adopted the name Remembrance Day thereby honouring those of both world wars and subsequent conflicts.
Derick van Rooyen, manager of both Sappersrus and "Harties is Africa" gave a short address, followed by the President of the Sappers.
At approximately 10h50 Mike Benn called for names of relatives or friends who had fallen in any conflict and whom should be remembered. A number of names were called out, including my wife's father Lieut- Col Frank H Cochran.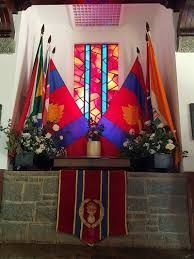 Inside the memorial at Sappersrus
where their colours are displayed
We all stood at 11h00 and the Last Post was played, followed by a minute's silence, then Reveille.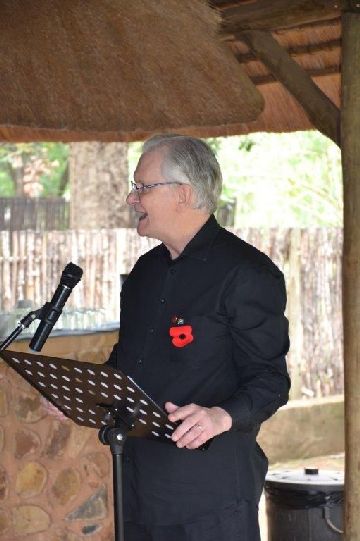 Peter Terry reading War Poetry
Peter Terry then commenced his most interesting talk on the Great War. It was filled with anecdotes relating to an old teacher at his high school in Grahamstown, and numerous quotes from well known WWI poets, such as Wilfred Owen, Siegfried Sassoon (who was awarded the Military Cross), Rupert Brooke, Isaac Rosenberg and others. His delivery of the poems was superb.
I would encourage any of you who have an interest in the poetry of WWI to search the various websites and read these: they are most touching. Don't just think about it – do it now!
After the readings by Peter we all enjoyed a cup of tea and then visited the Sappers Chapel on the premises, which was beautifully built by master masons.
Why am I relating this account to all, you may ask? Well, my great great uncle Capt Angus Buchanan of the South Wales Borderers was the recipient of the MC following an action at Gallipoli in WWI, and the Victoria Cross at Mesopotamia in April 1916.
Thank you to the MACH people for organizing what we felt was a dignified and sincere commemoration of Armistice Day.
---
Front cover pictures: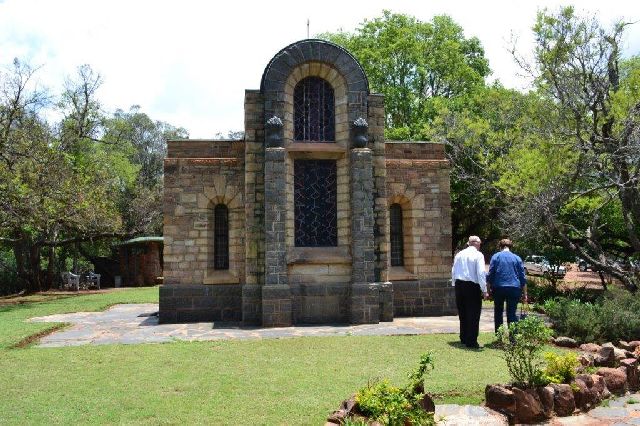 Front of the Sappers Memorial
Photograph courtesy of Sandy Buchanan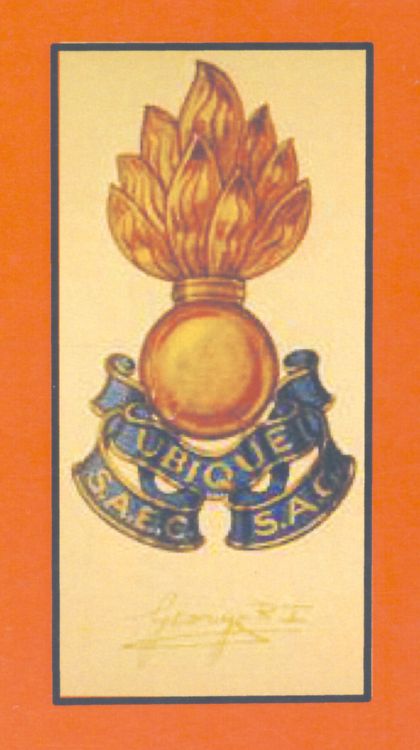 Inset: Sappers emblem
South African Sappers were granted the right to use the "exploded grenade" of the British Engineers, by King George VI in December 1944, to which two more "flames" were added to make the SAEC emblem.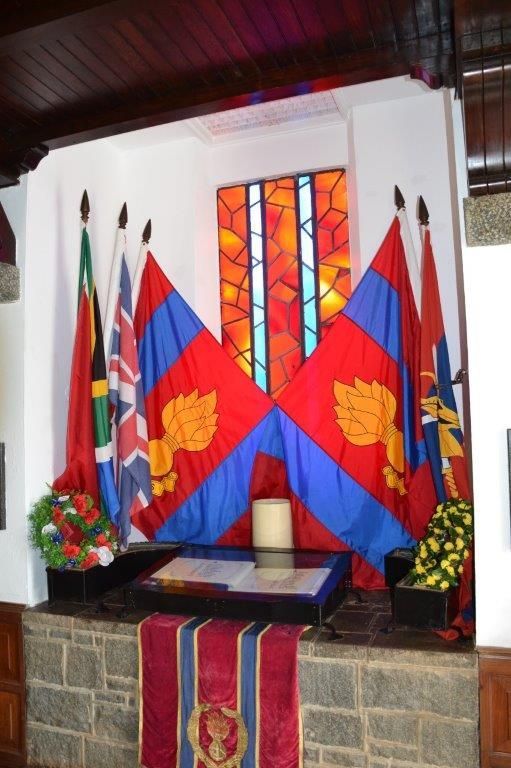 Another view of the memorial book and flags
---
Return to Journal Index OR Society's Home page

South African Military History Society / scribe@samilitaryhistory.org