The South African
Military History Society


---

Die Suid-Afrikaanse Krygshistoriese Vereniging
---
Military History Journal
Vol 18 No 5 - June 2019
OBITUARY - Stephen Arthur Watt
16 April 1941 – 28 September 2019
Steve Watt's book 'In Memoriam' is a quite remarkable work of scholarship. It lists, in great detail, the Imperial casualties of the Anglo-Boer War. Steve began its compilation as a young man by taking the official casualty list and determining to travel to each and every site where a fatality had taken place. It was not possible for many – those who had died aboard ship for example, or were drowned.
Once the place of death was established, then the burial place. Each man is listed by name and rank, regimental number and regiment. The cause of death, killed in action or died of wounds, then by disease, and those who died of disease comfortably outnumbered battle casualties. Various causes of death by disease are given. Falling from horses, accidents, accidentally shot, killed by lightning and 'shot himself' were all listed. Often the religious affiliation and age are given and there are many whose name is spelled in several different ways.
'In Memoriam' lists almost 30,000 fatalities in the period 1899 to 1902 and indeed after the war in the garrisons that were located in the four colonies until Union in 1910. Steve's memory of all this data was phenomenal and he hardly needed to consult his book to answer an enquiry from military historians who came to him from all the countries that were involved in the war.
Steve had visited almost all the graves sited in all four of the old provinces of South Africa. Seldom it happened that a site was unknown to him but his book was a living work and he continued working on corrections and additions until the day he died. Published on the centenary of the start of the Anglo Boer War in 1999, copies today command high prices on the internet. A sortable listing by CD comes with the book although initially an electronic list could only be found in Steve's own computer.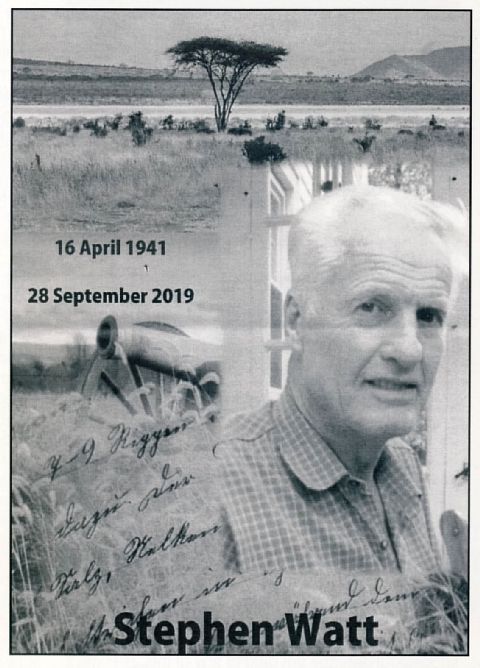 Steve was a mathematician by calling and was a high school teacher at retirement. However, he had worked at a number of professions during his life. He worked for the government weather bureau and spent six months on Marion Island in that outpost of South Africa. He was for a time with the 'Natal Witness' newspaper (now 'The Witness') and his interest and knowledge of war graves earned him the jocular nickname of 'rigor mortis'.
Steve lived most of his life in Pietermaritzburg, was married with two children. His wife tragically died some years ago and quite recently Steve moved into a retirement home in Howick. His health and mobility were impaired towards the end of his life. It was something of a shock to hear quite unexpectedly that he passed away one Friday night in September. His memorial service in Howick was attended by several hundred of his friends and he will be sadly missed. Steve's two children, Colin who lives in Germany and Dianne in New Zealand both attended this celebration of his life.
Steve, wherever you are now, rest in peace.
Robin Smith
---
Return to Journal Index OR Society's Home page

South African Military History Society / scribe@samilitaryhistory.org