The South African
Military History Society


---

Die Suid-Afrikaanse Krygshistoriese Vereniging
---
Military History Journal
Vol 18 No 3 - December 2018
Military History around Southern Africa ... Magaliesberg
KEDAR LODGE AND THE MAGALIESBERG BATTLEFIELDS ROUTE
By Marjorie Dean
(Photographs by courtesy of Richard Schütte)
On Saturday, 13 October 2018, fifteen members of the Gauteng branch of the Military History Society were transported by coach, kindly sponsored by Committee Member, David Scholtz, to Kedar Heritage Lodge, just outside Rustenburg. Kedar is an important historical site, being on the farm Boekenhoutfontein, which was home to Paul Kruger for many years. It is owned and run by Recreation Africa, under its chairman Robert Forsyth, and, under his leadership, has developed into a very important place to visit for those interested in the second Anglo-Boer War (1899-1902).
Forsyth has amassed an extensive and quite amazing collection of Boer War artifacts and documents of all kinds, which are beautifully displayed throughout the property. As it is a hotel, and a busy one, the rooms do have other uses, but the magnificent Armoury restaurant, furnished with paintings of war leaders and a wonderful collection of pre-war firearms that once reposed in Fort Klapperkop in Pretoria, leaves one in no doubt that the War is the subject of intense study and interest here. So too do the rooms full of fascinating items not available to view elsewhere and the life-size sculptures by a local artist of figures from among all participants that surround the magnificent lawns. The Anglo-Boer War collection at Kedar is much admired by both local and overseas visitors, and quite breathtaking in its scope.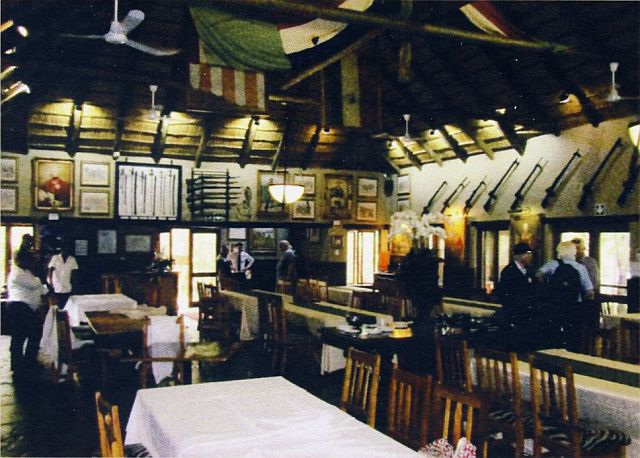 The museum and displays at Kedar Lodge
Compared to the hugely well-known and popular battlefields in KwaZulu-Natal and the Free State, the many and varied battlefield sites of Rustenburg and the Magaliesberg have been rather neglected from the point of view of those with a more general interest in the Anglo-Boer War, though the area was certainly very important in the latter stages of the War. And from the important economic standpoint of battlefield tourism, this area has been seriously overlooked, lying, as it does, very close to the main centres of tourism in Gauteng and only 21 km from Sun City. But this is changing fast. Under the enthusiastic leadership of Forsyth, very ably assisted by the flourishing Rustenburg Historical Society, urged on by the redoubtable John Pennefather, and bearing in mind the important work done by the late Lionel Wulfsohn, author of Rustenburg at War (1987), work is now under way to bring the Magaliesberg Region Battlefields very much more into the knowledge of the general public and to encourage them to visit these important sites.
Robert Forsyth, as part of the day's proceedings, presented beautifully illuminated Certificates of Appreciation to several local people who have done outstanding work in this regard, including the establishment of a museum in the village of Swartruggens. Also, as part of the day's events, the British High Commissioner, Nigel Casey, unveiled a bust of Sir Winston Churchill, sculpted by local artist Adam Madebe, joining many of his contemporaries already so honoured. As part of the special Churchill Day, wellknown author Roger Webster gave an interesting talk on aspects of the great man's life, illustrated by carefully chosen movie clips.
From the point of view of the South African Military History Society it is hugely encouraging to see that important work in preseNing military heritage is being carried out by local historians and enthusiasts, and that it is being backed in very practical ways by major players in the local tourism industry. We hope that these efforts will bring more and more visitors to the important sites of the Magaliesberg Region Battlefields in a part of the country that direly needs a new source of employment and revenue. We wish more power to their endeavours and congratulate them on what has been achieved so far.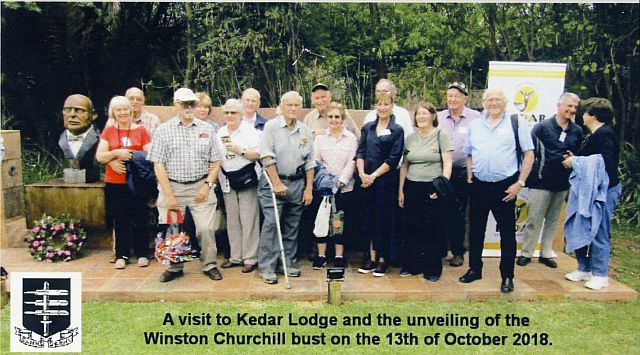 ---
Return to Journal Index OR Society's Home page

South African Military History Society / scribe@samilitaryhistory.org