The South African
Military History Society


---

Die Suid-Afrikaanse Krygshistoriese Vereniging
---
Military History Journal
Vol 18 No 3 - December 2018
OLD, OLDER, OLDEST ...
The long-serving ships of the South African Navy
Cdr L Steyn, Curator SA Naval Museum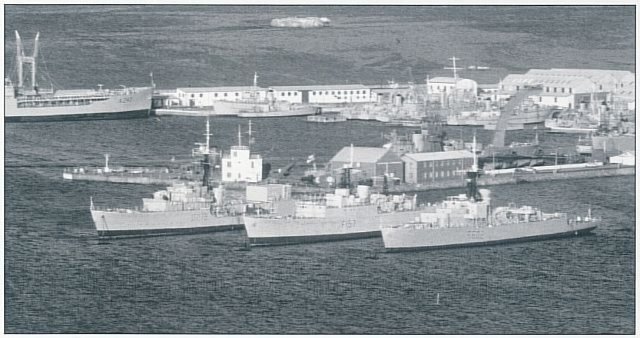 The Reserve Fleet at Simon's Town in the late 1960s
(Photo: By courtesy, Trevor Jones).
'Modern-day naval ships are designed to provide long service and it is not uncommon for these vessels to remain in commission for extended periods that could easily total thirty to forty years. Their longevity has become essential, amidst shrinking defence budgets, enforcing the need to get the most out of the equipment in service. The average age of modern-day combat vessels in the US Navy currently stands at eighteen years, nearly the halfway point in that force's estimated service life of 36 years. But the longevity is often dependent on the type of vessel and the type of cycles and frequency of their utilization. Maintenance regimes and the availability of spare parts are all factors that can either lengthen or shorten the life span of naval vessels in service.' (Congress of the United States CBO, 2018, p14)
SAS Protea
The South African Navy's Hydrographic Survey vessel, SAS Protea, was commissioned on 23 May 1972. The 'White Lady', as she is often referred to, will therefore reach the service age of 46 years in 2018. It could well be that Protea will reach the half-century mark by the time her scheduled Project Hotel replacement makes its appearance. Fifty years in service would indeed be a remarkable achievement, and she will join the ranks of many other famous ships that served that long. The aircraft carrier, USS Enterprise (CVN-65) served the US Navy for 51 years, from 1961 to 2012. A few Second World War-era warships have continued service well into the 21 st century. The most significant of these was the Cannon class destroyer, USS Atherton, first commissioned into service in 1943. She ended her days in service with the Philippine Navy as the BRP Rajah Humabon and was finally paid off on 15 March 2018 after 75 years of service! (Global Nation Inquirer, 2018, para 1).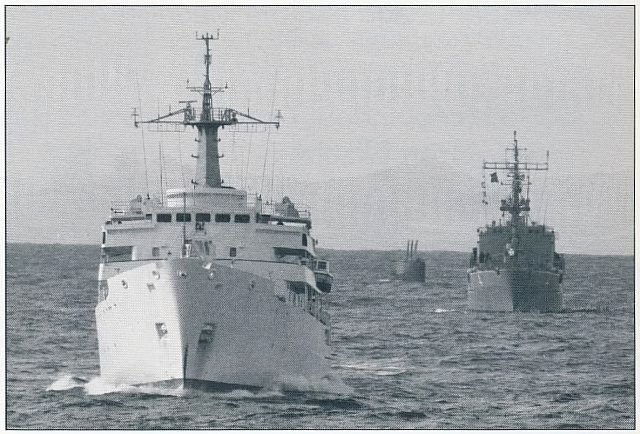 The South African Navy hydrographic survey vessel, SAS Protea
seen here during Exercise Atlasur XI (the multinational biennial maritime exercise
between South Africa, Brazil and Uruguay), held in September 2018.
Despite her age, the 46-year old 'White Lady' continues to be an active part of the Fleet.
(Photo: By courtesy, Dean Wingrin)
How significant is 46 years of active service for a naval vessel in the South African Navy? It turns out that, at the time of writing, SAS Protea held the distinction of being the South African naval vessel with the longest span of active service. What is more significant is that, in comparison with other ships in the South African Navy, Protea had a particularly active and demanding service career. Apart from her primary role as a hydrographic survey vessel, Protea proved her versatility in undertaking numerous other tasks through the years. Visiting many other foreign ports, she has been a worthy grey (white) South African diplomat, while her southward and often arduous voyages to Tristan da Cuna, Marion Island, and Antarctica have been more frequent than any other naval vessel. Between these tasks, SAS Protea has been the Methuselah of many search and rescue operations, which have earned her the SA Navy Sword of Peace award on more than one occasion (Wessels, 2017, P 171).
The top ten 'oldies' of the South African Navy
Looking at the list of longest serving ships in the SA Navy, a number of pertinent observations can be made. It is important to make a distinction between the age of the vessel in service and her actual span of active service in commission. A naval vessel may have enjoyed a lengthy life span (years in service), but less time in active service (years in commission). An illustration of this was the common practice during the 1960s and 1970s to decommission vessels as they went in for lengthy refits or modifications and, similarly, to place vessels in 'Reserve', decommissioned, with an option to bring them back into service if needed.
The President class frigate, SAS President Pretorius, served the SA Navy for 21 years (1964 - 1985), but was out of commission for almost five years during a protracted refit (from 1973 to 1977). On the other hand, a ship like the fleet replenishment vessel, SAS Tafelberg, (26 years in service) retained her commissioned status right through refits and major conversions. The Type 15 frigate, SAS Vrystaat, spent more time in reserve than on active service (in commission) and therefore a surprisingly short time with the SA Navy. Corrosion problems, common to the Type 15s, and the delivery of the new President class frigates signalled an early retirement and the frigate was relegated to the reserve fleet after only seven years of service (from 1956 to 1963). The former 'Greyhound of the Sea' spent the next thirteen years in reserve and was eventually expended as a target in 1976 (Du Toit, 1992, pp 202-204).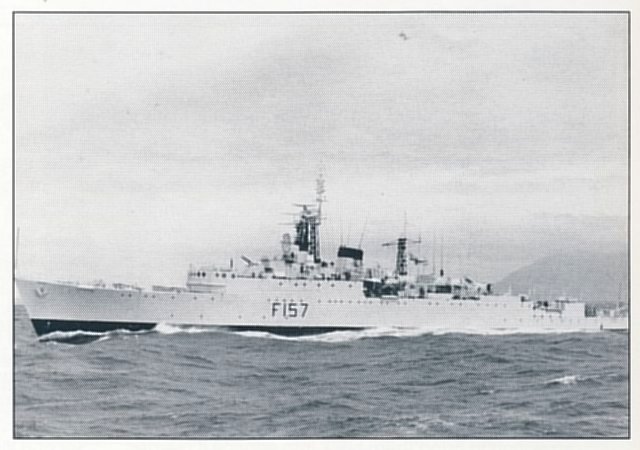 The Type 15 frigate, SAS Vrystaat, was a converted W class destroyer,
fast and elegant, but the modernised frigate only served actively for seven years.
(Photo: SA Naval Museum)
Inclusively, SA Navy frigates and destroyers of the 1950s, 1960s and 1970s totalled an average of no more than twenty years in active commissioned service between them. (Nine frigates and destroyers were in service at various stages between 1944 and 1985). Their relatively short service in commission was often on account of regular rotations, lengthy refits and modifications, while personnel shortages also affected the effort to keep more vessels in commission during that time. Manning ships of that era proved particularly labour intensive, especially where it involved steam propulsion associated with the W class destroyers and President class frigates, then in service (Bennett, 2009, p 41).
The Loch class frigate, SAS Natal (first commissioned in 1945), enjoyed a more prolonged and active service life. This was due to a decision taken to convert her from a frigate to a hydrographic survey vessel in 1957. Natal continued this important task until the arrival of the new, purpose-built, Hecla class vessel, the SAS Protea, in 1972. Having accumulated a total of 27 years in service, Natal was sunk as a target in the same year (Wessels, 2017, pp 160-161).
The oldest former SA Naval vessel still afloat, the Boom Defence Vessel SAS Somerset, amassed a total of 42 years of service in the SA Navy (1944 -1986). Following her paying off, the vessel was donated to the Maritime Museum (now Iziko Museums of South Africa) at the V&A Waterfront in Cape Town, where she remains to this day, now 74 years old and a veteran of the Second World War! It is, however, most unfortunate that this historic vessel has been allowed to decay to such an extent that it has now been closed to the public for a number of years (Wessels, 2017, p 247).
SHIP
SERVICE
YEARS
1
SAS Protea
1972 - current
46 *
2
SAS Somerset
1943 - 1986
43
2
SAS East London
1958 - 2001
43
3
SAS Walvisbaai
1959 - 2001
42
4
SAS Windhoek
1958 - 1999
41
5
SAS Kimberley
1959 - 1999
40
6
SAS Isaac Dyoba (Frans Erasmus)
1979 - current
39 *
7
SAS Umzimkulu
1981 - current
37 *
7
SAS Umhloti
1981 - current
37 *
8
SAS Galeshewe (Hendrik Mentz)
1983 - current
35 *
9
SAS Fleur
1969 - 2004
34
10
SAS Assegaai (Johanna vd Merwe)
1971 - 2003
32
10
SAS Makhanda (Magnus Malan)
1986 - current
32 *
11
SAS Gelderland
1954 - 1985
31
11
SAS Umkhonto (Emily Hobhouse)
1971 - 2002
31
11
SAS Drakensberg
1987 - current
31 *
* Still in service
The most ubiquitous class of the 1960s and 1970s, the Ton class minesweepers, racked up between thirty and forty years of service. The Navy operated ten of the class from 1955, but retired six of them in 1985. The four that remained in service after that boasted 40-plus years of service. In fact, today the former Walvisbaai (now a grand old lady of 63 years!) continues actively afloat, following a conversion to a motor-yacht in Dubai (Super Yacht Times, 2012, para. 1).
The River class Minehunters (better known as the Um-boats) faired just as well as the Tons and the two vessels that remain in commission have both now accumulated 37 years of service. They were originally named Navors (research), numbered I to IV and initially operated by the South African Navy for the Department of Transport (Du Toit, 1992, P 310). First introduced into service amidst great secrecy in 1977, the Warrior class Offshore Patrol Vessels (former Minister Class Strike Craft) far exceeded their intended design life of around twenty years. Based on the Israeli Sa'ar IV class missile boats and designed primarily for the Mediterranean Sea, six of the nine boats were built locally in Durban. They performed admirably considering the rough sea conditions to which they were exposed. The most senior of the three that remain in service today is now fast approaching forty years of service in the SA Navy (Du Toit, 1992, P 151).
Similarly, the three Daphne class submarines proved able to match the longevity of the Strike Craft and Minesweepers. The fleet leader and last boat to decommission, SAS Johanna van der Merwe (renamed SAS Assegaai in 1997) paid off with 31 years of service accumulated. Opened as a submarine museum in 2011 by the then Chief of the Navy, Vice Admiral Mudimu, the Assegaai remains a part of the SA Naval Museum, now 46 years old; the same age as SAS Protea, but long since retired.
The shortest service?
The oldest or 'longest in service' records having been established, which South African naval vessel holds the record for the shortest time in service? This dubious privilege befell the Type A69 corvette, the SAS Good Hope, which flew the South African flag for a mere two months in 1977.
The South African Navy placed orders for two new corvettes with the French firm DCAN in 1975, to replace the dated Second World War era frigates and destroyers. Good Hope was laid down in March 1976, with her sister ship, Transvaal, following in October of the same year. A total of 370 South African naval personnel were based in Lorient, France, to oversee the construction of the new vessels and to attend the necessary training courses. Following Good Hope's completion, the South African flag was hoisted on board for the first time on 17 September 1977. Successful harbour trials were conducted at the end of October, and the much anticipated first day of sea trials was successfully concluded on 4 November 1977. However, this proved to be the one and only time that the Good Hope would go to sea flying the South African flag.
The French Government's strict adherence to the mandatory arms embargo, instituted by the Security Council of the United Nations on the very same day (4 November 1977), meant that Good Hope was prohibited from leaving the harbour of Lorient again, on her return. With that, the orders for the two Type A69 corvettes, as well as two Agosta class submarines were cancelled, and the South African naval contingent in France had to return home. To rub salt into the wound, the two corvettes were sold to the Argentinian Navy shortly thereafter; renamed Drummond and Guerrico, respectively. They have gone on to serve for almost 40 years (Du Toit, 1992, pp 281-287).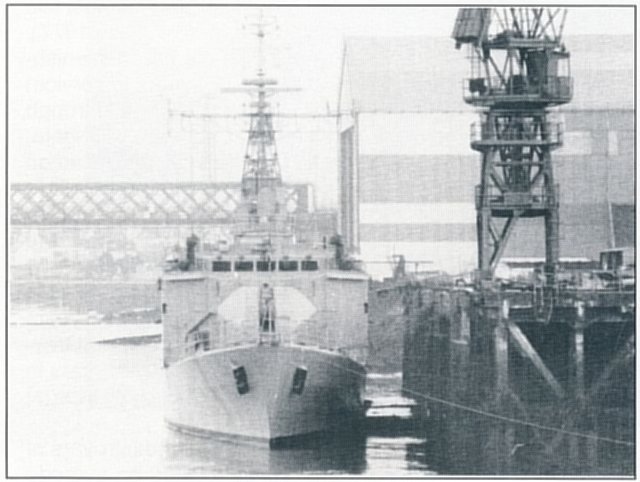 The Type A69 corvette, SAS Good Hope, alongside in the Scarff River, Lorient, France,
following the cancellation of her sale to South Africa in November 1977.
(Photo: SA Naval Museum)
Other South African naval vessels that had short stints in service included the City class Type 351 mine hunters. Only two of the six German Type 351 mine hunters, delivered to South Africa in 2001, were commissioned, primarily to provide continuation training, pending the arrival of the new Valour class frigates. SAS Kapa and SAS Thekwini were put into service in September 2001, but Thekwini was out of commission by June 2002, suffering serious engine damage, after only nine months in service. SAS Kapa fared better and was kept in commission for five years from 2001 to 2006) (Wessels, 2017, pp 112-113).
Wartime losses also accounted for abbreviated service and this was the case with two of the requisitioned trawlers and whalers that were put Into service of the Seaward Defence Force during the Second World War. HMSAS Southern Floe was in commission for only four months when she was sunk by a mine off Tobruk on 11 February 1941, while HMSAS Parktown lasted a mere five months before she met a sad end at the hands of Italian torpedo boats on 21 June 1942, also off Tobruk. The two other wartime losses were those of HMSAS Bever on 30 November 1944 and HMSAS Treern on 12 January 1945 (Du Toit, 1992, p 29).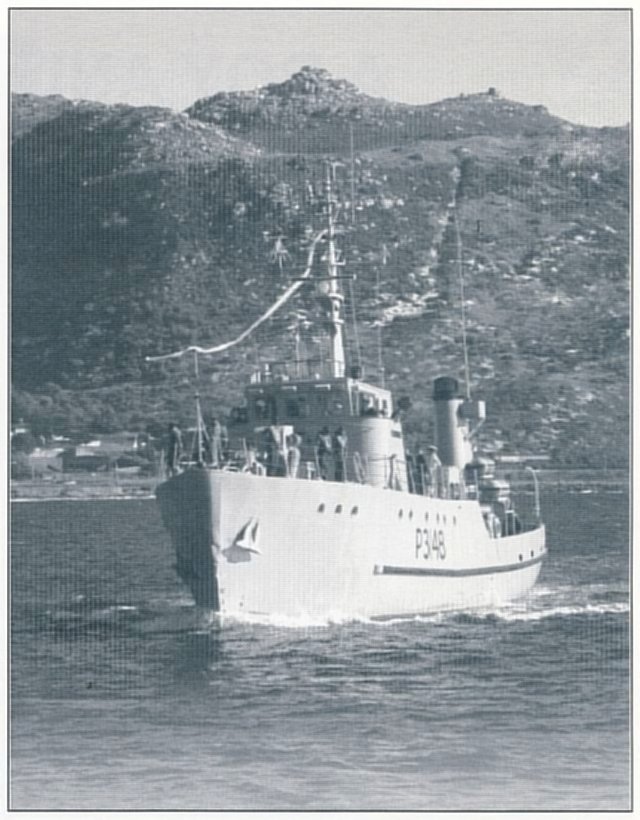 SAS Fleur was built specifically to support the Daphne class submarines.
The locally manufactured Torpedo Recovery Vessel and Diving Tender served the SA Navy for 34 years.
After her sale, her new owners renamed her Fleur du Cap and she continues to sail today, aged 49!
(Photo: SA Naval Museum)
Honourable Mentions: The Harbour Master's Workhorses
The Mooring Lighter was launched in Simon's Town on 17 October 1901 and transferred to the SA Navy in 1957 and, although not in regular use any longer, is 117 years old! Tug De Neys was built in 1969 and replaced in 2015 with the delivery of Tug Imvubu after 46 years of service (now in reserve). Tug De Mist was built in 1978 and replaced in 2016 with the delivery of the Tug Inyathi, serving for 37 years (now in reserve). Tug De Noorde, built in 1961, was replaced in 1997 with the delivery of the Tug Umalusi after 36 years of service (and continues to work for a civilian company as the Mzungu, now 57 years old!)
Closing remarks
The delivery of new vessels to replace SAS Protea (Project Hotel) and the remaining Warrior class patrol vessels and River class mine hunters (Project Biro) will no doubt change the appearance of the Fleet. The delivery will positively impact the average age of the Fleet in such a way that it will leave the Combat Support Ship SAS Drakensberg as the most senior vessel in the Fleet, and deservedly so (Defence Web, 2018, para 1). The core of the Fleet, the four Valour class frigates and three Type 209 submarines, have been in service for ten to twelve years (taken into service in 2006 to 2008), and the expectation is that they will remain in service for at least thirty years, if not longer.
Bibliography
Congress of the United States Congressional Budget Office, (2018) Comparing a 355-Ship Fleet with Smaller Naval Forces,
retrieved from http://www.cbo.gov/publications/53637
Bennett, C, Three Frigates, The South African Navy comes of Age (Just Done, 2009).
DefenceWeb, (27 February 2018) Armscor finally orders inshore patrol vessels for SA Navy,
retrieved from https://www.defenceweb.co.za/
Du Toit, A, South Africa's Fighting Ships, Past and Present (Ashanti Publishing, 1992).
Global Nation Inquirer, (15 March 2018): 'PH Navy's oldest warship fades away',
retrieved from https://www.globalnation.inquirer.net/
Super Yacht Times, (12 December 2012): 'From minesweeper to superyacht, the story of Mojo',
retrieved from https://www.superyachttimes.com/
Wessels, A, Suid-Afrika se Vlootmagte, 1922 - 2012 (Sun Press, 2017).
---
Return to Journal Index OR Society's Home page

South African Military History Society / scribe@samilitaryhistory.org