The South African
Military History Society


---

Die Suid-Afrikaanse Krygshistoriese Vereniging
---
Military History Journal
Vol 18 No 2 - June 2018
Military history around South Africa ...
Cape Town, Western Cape
APOSTLE BATTERY
A land-use proposal
In terms of the National Heritage Resources Act of 1999, the Cape Town Branch of the South African Military History Society is an identified interest group of Heritage Western Cape (HWC) with regard to military heritage sites and artefacts in the Western Cape. As a commenting authority, it was recently requested to provide input, amongst others, on certain development and utilisation proposals regarding the Apostle Battery, which is situated within the Table Mountain National Park (TMNP) Provincial Heritage Site. The TMNP forms part of the Cape Floral Region World Heritage Site and, as such, Apostle Battery will be managed by SAN Parks. This is in terms of the TMNP Park Management Plan 2015-2025 (PMP) as a 'low volume', 'mixed-use leisure' visitor site. SANParks assumed management of the site from the national Department of Public Works in 2000. The site has also been proposed as a Grade I heritage source by SAHRA (South African Heritage Resources Agency).
Apostle Battery is a Second World War coastal defence battery and quite unique, as the three Cape Peninsula batteries are the biggest concentration still extant worldwide. The 9.2-inch gun battery is one of three constructed prior to the Second World War (at Llandudno and Simon's Town on the peninsula, and one on Robben Island). The Apostle Battery, above Llandudno, is armed with three MK XIX breech-loading ex-naval guns and consists of extensive subterranean structures as well as construction on the surface. The location and sensitivities of the extant material cultural remains, along with the three MK XIX 9.2-inch guns, are the focus of development and re-use opportunities in terms of the development proposal. The applicants will be responsible for the restoration and maintenance of the three guns as a contractual obligation during the lease period.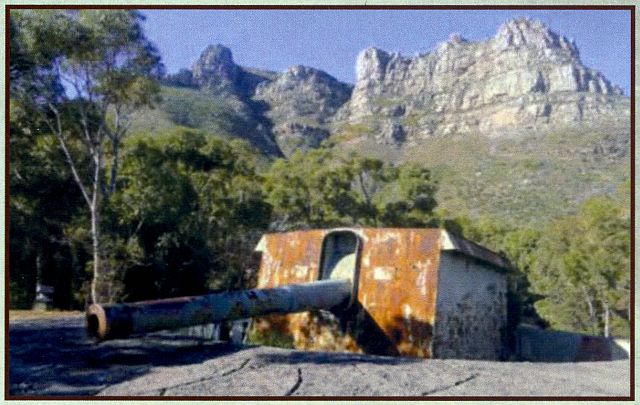 Apostle Battery, Gun 3: View from the south.
Military heritage resources in the Cape Peninsula, such as these, are currently under tremendous pressure due to a lack of oversight, accountability and maintenance, and are also threatened by vandalism; they are in a thinly populated area and provide a rich source of scrap metal in the instrumentation, high-grade steel and brass components still extant. The Cape Town Branch supported the application as preservation is the core issue of the proposed management plan and the options of attaining it are rather limited. The proposed plan therefore provides the best attainable solution under the circumstances.
The application was evaluated by Cape Town Branch members Johan van den Berg (a professionally-qualified and registered Town & Regional Planner) and Cdr Mac Bisset (SAN ret.) who, for most of his military career, was involved in the preservation and management of the display of military artefacts at Cape Town's military museums.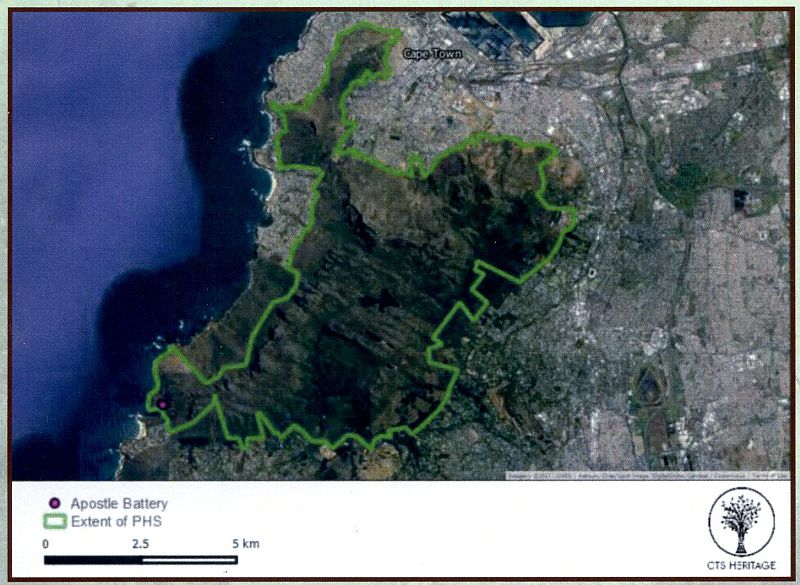 Locality Map showing the Apostle Battery Site within
the larger Table Mountain Provincial Heritage Site (2017).
---
Return to Journal Index OR Society's Home page

South African Military History Society / scribe@samilitaryhistory.org