The South African
Military History Society


---

Die Suid-Afrikaanse Krygshistoriese Vereniging
---
Military History Journal
Vol 18 No 1 - Dec 2017
LUMSDEN'S HORSE
The action at Os Spruit, 30 April 1900
By Steve Watt
Background
Even before the commencement of hostilities in South Africa, the Government of India offered to provide a mounted force of volunteers, comprising two companies of mounted infantry and a Maxim gun detachment, for service in South Africa. The British government accepted the offer. A force was raised from tea, indigo and coffee planters, with some civil service men, under the command of Lt-Col D M Lumsden of the Assam Valley Volunteers. Lt-Col Eden C Showers, the commanding officer of the Surma Valley Light Horse, was appointed second-in-command with the rank of major. The contingent, 250-strong, was named Lumsden's Horse.
'A' Company sailed from Calcutta on 26 February 1900 and landed in Cape Town. 'B' Company left Calcutta on 3 March and disembarked at East London. Both joined Lord Roberts' force at Bloemfontein on 3 April. On 21 April, Lumsden's Horse joined Lieutenant-General Charles Tucker's 7th Division, which had been occupying the hills won at the battle of Karee Siding on 29 March. They were attached to the 8th Corps Mounted Infantry (420 men) commanded by Lt-Col W C Ross, with Lumsden's Horse (240 men), Loch's Horse (220 men), 1st West Riding Company with 1st Oxford Light Infantry Company (220 men), 'J' Battery, Royal Horse Artillery (RHA), and 'L' Section with a Pom-Pom. They proceeded another 7 km northward, to Spytfontein (Pearce, 1903, p21; Stirling, p320).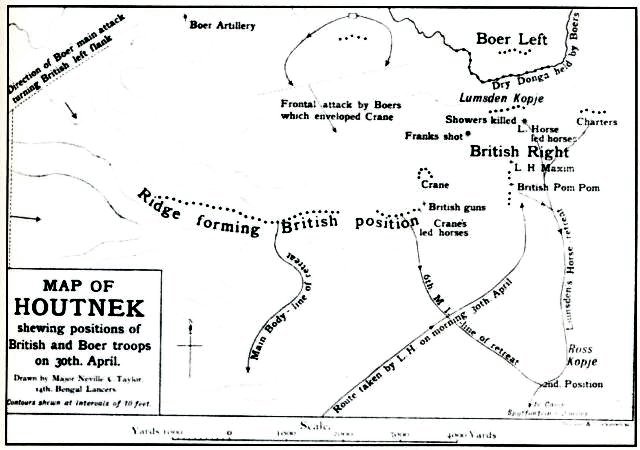 MAP OF HOUTNEK
Spytfontein
Lord Roberts' force of 38 000 men began his northward movement on 3 May 1900. He wished to keep open his communications with Maj-Gen Sir Ian Hamilton's force, then at Thaba Nchu. Orders were accordingly issued for moves to be made by Hamilton and Tucker's 7th Division to advance from Thaba Nchu and Houtnek, halt at Jacobsrust, then proceed to Winburg. Hamilton began his advance to Houtnek, where he encountered a Boer force and called upon Tucker, then at Karee Siding, to clear the ridges between Glen Siding and Houtnek. It was thought that the Boers under Gen J H de la Rey, then at Brandfort, might be discouraged from sending reinforcements to Houtnek, 70 km away. Meanwhile the 8th Corps (Ross) received orders to make a demonstration against the suspected Boer positions, draw them out if possible, and allow the 14th Brigade (Maxwell) to seize their position. Lumsden's Horse, then at Spytfontein, was detailed for the task. Spytfontein was described as 'consisting of several koppies with rocks in between. As far as I can see, only one farmhouse' (Stirling, p332; Pearce, 1903, p143).
Few details exist as to the Boer dispositions prior to their advance. Breytenbach, in Die Geskiedenis van die Tweede Vryheidsoorlog, Volume V (1983, P 421) makes no mention of how the Boers were to contain the British advance after Brandfort, save that the 450 men under De la Rey were deployed on the Boer left flank (ie east of the railway) with two guns opposite General Tucker's 7th Division. However, Maxwell's 14th Brigade was confronted by men from Ermelo under Comdt L H N Grobbelaar. Tucker was less stoutly opposed by the Wakkerstroom Commando under Comdt A Greyling (Maurice, Vol III, p 43).
The advance
A trooper recalled that the march out of camp at Spytfontein on 30 April 1900 began at 03:00: 'We fell in punctually and moved off to the rendezvous, the moon shining brightly and making wonderful black shadows among the surrounding koppies. The cold was intense and numbed our fingers so that our reins could scarce be felt. The order to trot was received with satisfaction, for we were all shivering, men and horses alike.' They were joined by two guns and mounted infantry.
'The attacking forces being now mustered, we made a start and away we marched.' So wrote a correspondent (Pearce, 1903, p152). Their route proceeded via Kareefontein, Spytfontein and Noord Amerika to occupy the high ground on the farms Stella, Luna and eastward to Di Poort.
'For some part of the time our route lay alongside a pretty lagoon and then the road gradually lost itself in the great open veldt. As we were now approaching some suspicious-looking koppies, we opened out into extended order and we were told to hold a certain line of koppies: some two miles off [3.2 km]. Arriving at the base of the koppies, without opposition, we dismounted, and skirmished up to the tops ... our scouts in the meantime had advanced along the plain on the other side of the koppies, and just as we arrived on top, the enemy opened on them with continuous rattle of rifle-fire.' (Pearce, 1903, pp153-4; Loock & Musgrave, nd, p1). (See maps of Houtnek and 2826 DC Spitzkop).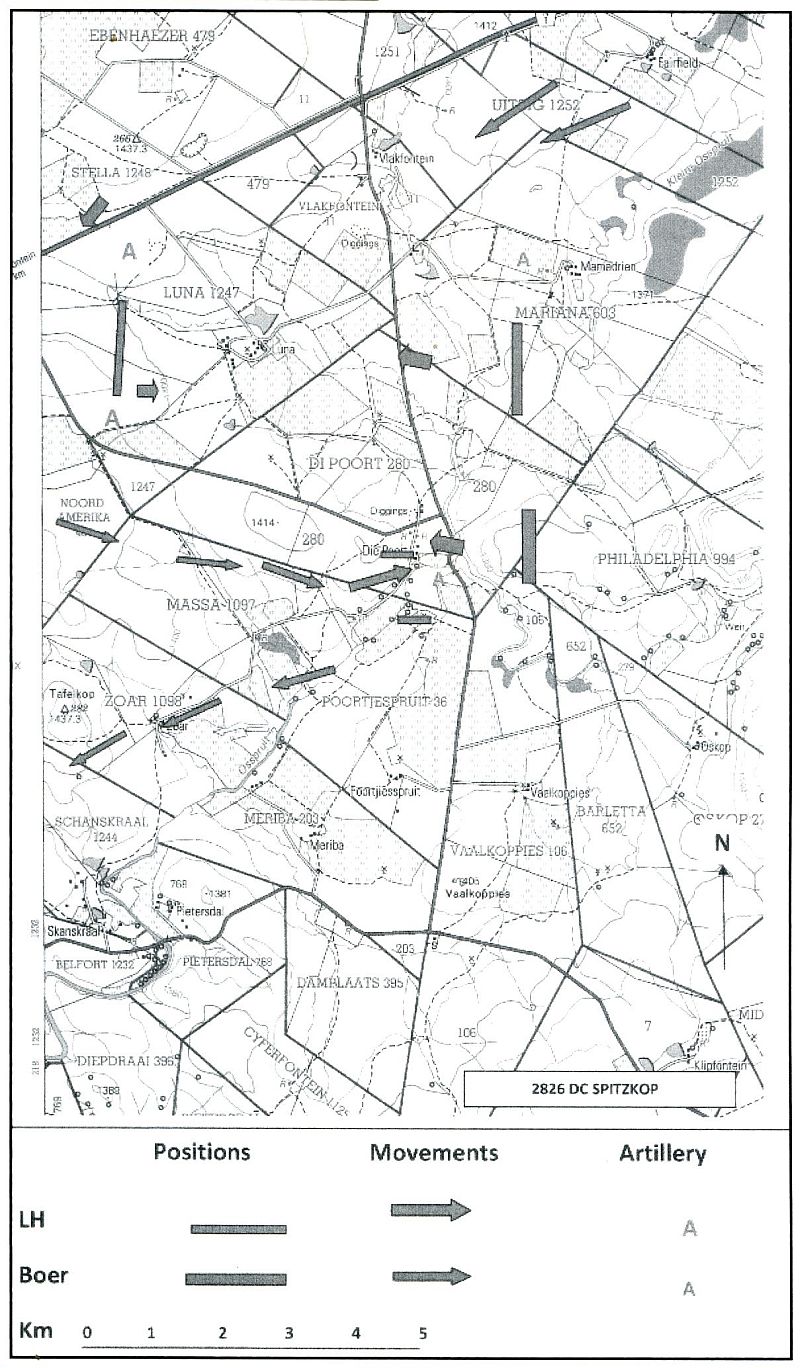 2826 DC Spitzkop
Lumsden's Horse was ordered to Di Poort, Major Showers and a few men to occupy 'Lumsden's Koppie', so-named for reference purposes. To the east, in a shallow valley, a Maxim and a Pom-Pom were emplaced. Meanwhile, scouting ahead, Lieutenant H 0 Pugh and his men encountered a Boer force of sixteen men dressed in khaki, who opened fire, wounding Pte Franks. He managed to remain in the saddle until Lumsden, with three troopers, rushed to his aid. A few shots were fired at the rescue group, who, finding themselves in a dangerous situation, left Franks to his fate. Later that day, the Boers found him and removed him to a temporary hospital at Vlakfontein, where he died. Five days later the hospital fell into British hands. It then became known that Franks had died and was buried there in their custody (Loock & Musgrave, nd, p3).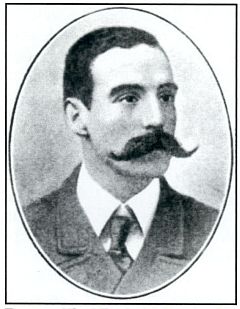 Trooper Alfred Frederick Franks, 'B' Company, No 2 Section.
Mortally wounded while scouting ahead, he lay all night on the battlefield
until found by the Boers. They took him to a hospital, where he died.
He is interred at Karee. Photo: Pearse, 1903).
Action at Os Spruit
A force of Boers, emerging out of the valley of the Os Spruit (called a deep donga by the British), took the offensive. While watching his men, Showers, who moved about devoid of cover despite calls that he was in imminent danger, was mortally wounded. So strong and determined was the Boers' action that Lumsden's men were ordered to retire. Emboldened, the Boers redoubled their efforts and rushed the koppie before them (Pearce, 1903, p164).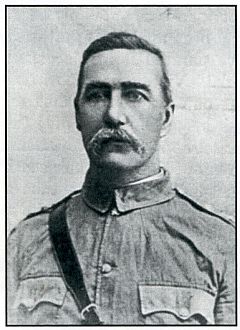 Major Eden Currie Showers, Second-in-Command,
who lost his life early in the engagement by not taking cover.
He was buried at Spytfontein, but the exact location of his grave is unknown.
(Photo: Pearse, 1903).
Earlier, Cpl E A Chartres, with eight men, was ordered to occupy a koppie 600 metres to the east. They were instructed to prevent any attempt of a Boer encirclement of the British position. There they remained from 07:00 until ordered to retire at 13:00.
Fourteen men under Lt C E Crane took up a position on Luna, further to the west. The terrain consisted of an open glacis, studded with rocks, which gradually sloped to the east. Boers coming from a position on Mariana, supported by others on the high ground on Stella, maintained an aggressive attack, wounding Crane. This was followed by fighting at close quarters. Among the killed were Troopers Clayton-Daubeny and Case.
The Boers pressed home their attack and Trooper Lumsden was killed. A Boer named Meyers carried the wounded Crane to a place of safety. (Lt-Col Lumsden related how, six months later, when they were approaching Barberton, they came across several Boer families, one of whom recognised the Corps and said: 'Oh, we fought against you at Hout Nek [sic],' to which Lumsden replied: 'You are the man who carried my subaltern Crane at the risk of your life into a place of safety.' The man was none other than Meyers. [Pearce, 1903, p190]).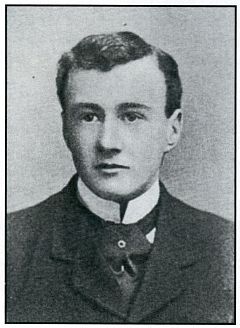 Trooper Harry C Lumsden of 'A' Company No 2 Section,
killed in action when the Boers overran the position held by Lt Crane.
Buried by the Boers after the battle, his body and those of Troopers Case
and Clayton-Daubney, were later re-interred at Karee. (Photo: Pearse, 1903).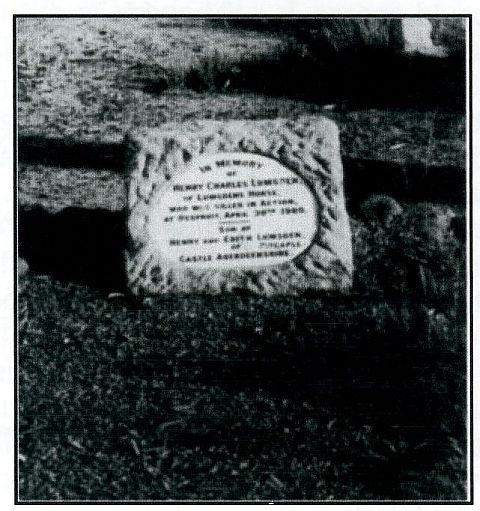 The grave of Trooper Harry Lumsden at Karee.
(Photo: Author's collection).
The Maxim gun occupied the position between Showers and Crane and engaged the Boer artillery, whose gunners quickly replied, locating their target and soon finding the range. A trooper was wounded and two horses were killed. The Boers then seized the initiative and were able to advance undetected. The Maxim then became the focus of attention of the Boer gunners but not before firing 250 rounds followed by another 230 before it jammed. Their position had become untenable and they were ordered to retire in the direction of Noord Amerika, but not before the Boers pressed home their attack with vigour, wounding some of the Maxim crew and capturing others (Pearce, 1903, pp182-183, 186,190; Loock & Musgrave, nd, p 3).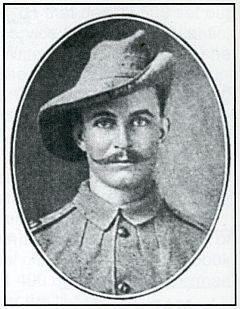 Trooper Robert Upton Case, 'B' Company, No 2 Section,
was killed when Boers overran Lt Crane's position.
He was buried by the Boers and his body was later exhumed
and re-interred at Karee. (Photo: Pearse, 1903).
A general retirement then took place. Crane and his section, detached from Lumsden's command, did not receive the order to withdraw. He and his men continued to hold on to their position until they were captured. Crane's force lost three men killed and four wounded and taken prisoner. Five men escaped.
At 18:00, accompanied by a tonga (a light, two-wheeled horse-drawn carriage), a search party went to the aid of the wounded and collected the body of Showers. The party lost its way and had to spend a night on the veld. The next day, another search party located the graves of Case, Clayton-Daubney and Lumsden, evidently having been buried by the Boers. They had searched Trooper Lumsden's pockets and mistook him for the Colonel. Showers' body was brought back to camp the next day and buried at Spytfontein.
Baptism of fire
Lumsden's Horse lost five men killed, three wounded and nine captured (including two wounded). The Boer losses were two men wounded (Loock & Musgrave, nd, p4). After their return to camp, Lumsden's men received praises from Col Ross, Col Henry (8th Corps) and Gen Tucker.
Lumsden's Horse experienced its baptism of fire at Os Spruit. For the remainder of its time in South Africa, it was never really seriously engaged in conflict. On 3 May, Lord Roberts commenced his advance on Pretoria, during which Lumsden's Horse, part of 8th Corps Mounted Infantry, scouted and skirmished in front of the right centre of the great army. They were active at Sand River, near Kroonstad, on 10 May, at Viljoen's Drift on 25 May, and at Elandsfontein on 29 May. After the occupation of Pretoria, Lumsden's Horse was active near Irene and at Springs. On 22 July they returned to Pretoria and were joined by a force under Lt-Col T E Hickman, in patrol work.
In early August 1900, the corps, then under Col B T Mahon and Gen Ian Hamilton, started a march to Rustenburg, then proceeded northwards, and returned to Pretoria near the end of the month. There Mahon was ordered to Carolina, where he was instructed to cooperate with the force of Gen J P O French. Both forces then advanced to Barberton, then on to Machadodorp, followed by a march to Heidelberg, which they reached on 26 October.
Lumsden's Horse then returned to Pretoria. Towards the end of November, they departed for India. Lord Roberts telegraphed the Viceroy of India, Lord Curzon, expressing his 'appreciation of their excellent service .... lt has been a pride and a pleasure to me to have under my command a volunteer contingent which has so well upheld the honour of the Indian Empire' (Pearce, 1903, p371). Lieutenant-Colonel Lumsden, and Lieutenants H O Pugh and C E Crane were mentioned in Lord Roberts' despatches, gazetted 2 April 1901.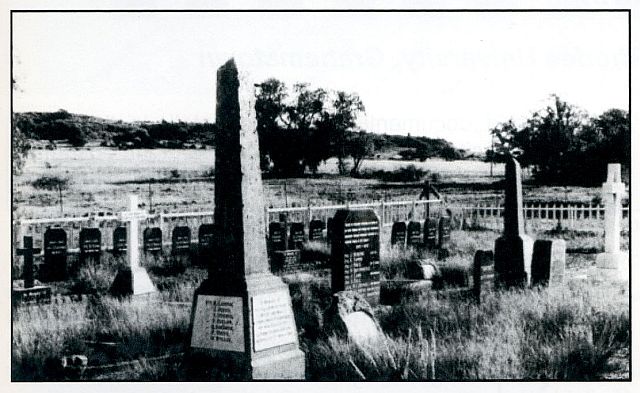 Karee Cemetery. There are 66 Imperial graves,
including reinterments of those killed in action nearby
at Os Spruit, Karee and Glen, and those who died of disease at Karee.

Many accounts incorrectly refer to the battle as having taken place at Houtnek, which is 40 km distant from Os Spruit. The bodies of Troopers Lumsden, Case, Clayton-Daubney and Franks were exhumed from the battlefield and re-interred in the military cemetery at Karee. Although interred at Spytfontein, the grave of Major Showers has not been traced. A monument to Lumsden's Horse, located on the farm, Olivia, near Spytfontein, commemorates those who lost their lives whilst campaigning in South Africa. In all, eight died: six in action and two from disease.

LUMSDEN'S HORSE: Roll of Honour
| REGT No | RANK | NAME | INITlALS | REGIMENT | CASUALTY | PLACE | Date | INTERRED | MNMT | REMARKS |
| --- | --- | --- | --- | --- | --- | --- | --- | --- | --- | --- |
| 58 | TPR | CASE | RU | LUMSDENS HORSE | KIA | GLEN DIST.OS SPRUIT | 30-04-1900 | KAREE | 40 | GLEN DIST.SPYTFONTEIN A24 |
| 38 | TPR | CLAYTON-DAUBNEY | RJ | LUMSDENS HORSE | KIA | GLEN DIST.OS SPRUIT | 30-04-1900 | KAREE | 50 | GLEN DIST.SPYTFONTEIN A24 |
| 194 | TPR | FOLLETT | MB | LUMSDENS HORSE | DOD | JOHANNESBURG | 07-07-1900 | BRAAMFONTEIN JNB | 130 | A25 |
| 172 | TPR | FRANKS | AF | LUMSDENS HORSE | KIA | GLEN DIST.OS SPRUIT | 30-04-1900 | KAREE | 450 | GLEN DIST.VLAKFONTEIN A24 |
| 46 | TPR | LUMSDEN | HC | LUMSDENS HORSE | KIA | GLEN DIST.OS SPRUIT | 30-04-1900 | KAREE | 40 | GLEN DIST.SPYTFONTEIN A24 |
| 194 | LCPL | MACLAINE | JMH | LUMSDENS HORSE | DOD | PRETORIA | 29-08-1900 | PRETORIA, 1 | 50 | #300 |
| 172 | TPR | MEARES | AK | LUMSDENS HORSE | KIA | VET RIVER | 05-05-1900 | VET RIVER PUMP STA | 20 |   |
| 58 | MAJ | SHOWERS | EC | LUMSDENS HORSE | KIA | GLEN DIST.OS SPRUIT | 30-04-1900 | ? | 0 | 2 O/C LUMSDENS HORSE |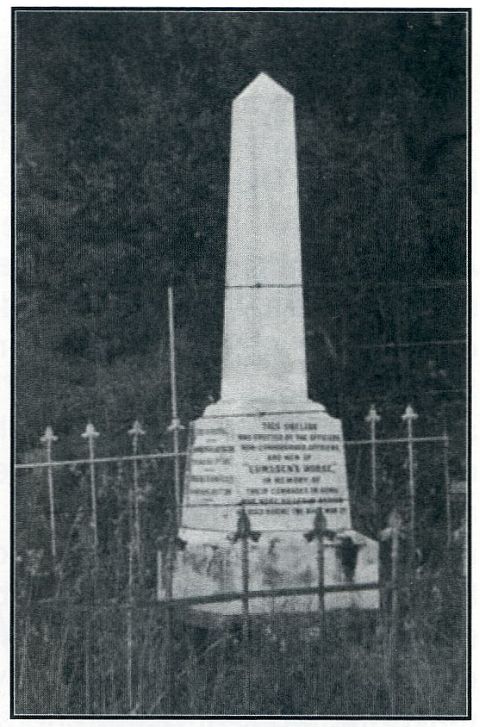 Memorial to Lumsden's Horse at Olivia, near Spytfontein.
(Photo: By courtesy, Jan Marais).
Acknowledgements
The writer wishes to express his thanks to Arnold van Dyk for showing him the sites of Os Spruit, Spytfontein and Olivia, and for pointing out some of the publications used in this story; and to Jan Marais, for supplying the photograph of the memorial to Lumsden's Horse, located on the farm, Olivia.
BIBLIOGRAPHY
Breytenbach, J H, Die Geskiedenis van dieTweede Vryheidsoorlog in Suid-Afrika, 1899-1902, Volume V (Die Staatsdrukker, Pretoria, 1983).
Maurice, Maj-Gen Sir F & Grant, M H, History of the War in South Africa, Volume III (Hurst & Blackett, London, 1908).
Loock, J & Musgrave, B, Die Vuurdoop van Lumsden's Horse, 30 April 1900 (Private publication).
Pearse, H H S (ed), The History of Lumsden's Horse (Longman's, Green and Co, London, 1903).
South African War Casualty Roll: The South African Field Force, 11 Oct 1899 - June 1902, (J B Hayward & Son, Polstead, 1982).
Stirling, John, The Colonials in South Africa 1899-1902 (William Blackwood & Sons, Edinburgh and London, 1907 (J B Hayward & Son, Polstead, reprint, 1990).
Amery, L S (Williams, Basil) (ed), Times History of the War in South Africa, Volume IV (Sampson Low, Marston and Co Ltd, London, 1906).
Watt, Steve, In Memoriam: Roll Of Honour, Imperial Forces, Anglo-Boer War, 1899-1902 (University of Natal Press, Pietermaritzburg, 2000).
---
Return to Journal Index OR Society's Home page

South African Military History Society / scribe@samilitaryhistory.org