The South African
Military History Society


---

Die Suid-Afrikaanse Krygshistoriese Vereniging
---
Military History Journal
Vol 18 No 1 - Dec 2017
Military history around South Africa ...
A visit to the Anglo-Boer War Museum Bloemfontein, Free State
By Jan-Willem Hoorweg, Chairman, SA Military History Society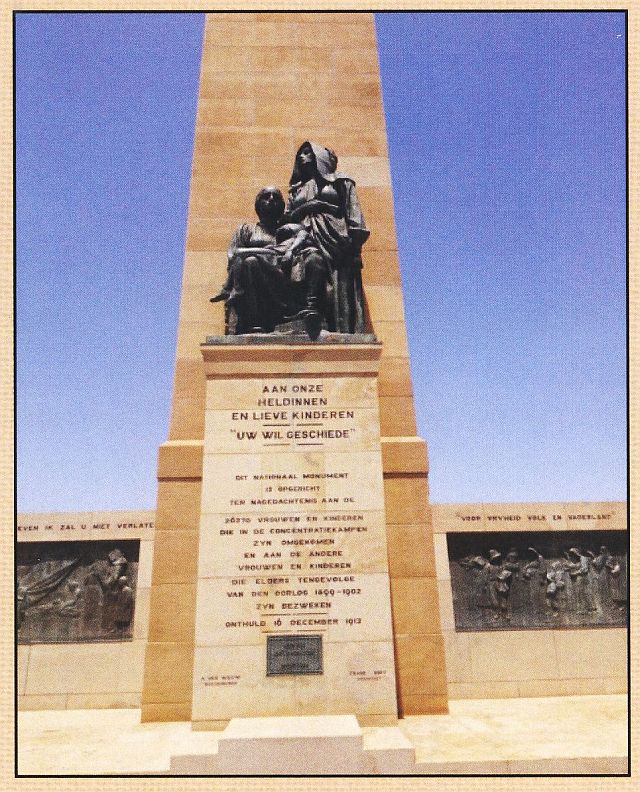 The National Women's Monument, designed by architect Frans Soff
and sculptor Anton van Wouw and unveiled on 16 December 1913.
Whilst in Bloemfontein on business recently, I had the pleasure of visiting the Anglo-Boer War Museum. The Museum provides the visitor with an insight into the development and course of the Anglo-Boer War of 1899-1902 through its many exhibitions and unique collection of memorabilia.
The displays are housed in a number of halls named after famous personalities of the time, such as General Louis Botha, Lord Fredrick Sleigh Roberts and Emily Hobhouse. The Sol Plaatje Hall, dedicated to the famous Mafeking court interpreter and founding member of the South African Native National Congress, forerunner of the African National Congress, is dedicated to the role of black and coloured people on both the British and Boer sides during the War.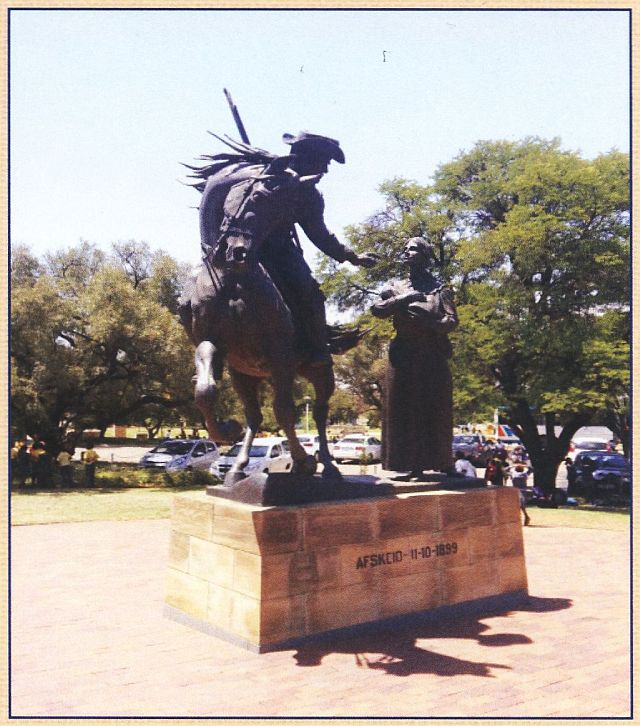 Afskeid (Farewell) by Danie de Jager, unveiled in 1986.
It depicts a Boer bidding farewell to his family to serve in the war against the British.
All exhibits are clearly marked and explained in a comprehensive, yet easy to understand, manner. The museum even has braille signs everywhere to make it accessible to the visually impaired. Many school groups visit, showing a strong emphasis on educating the next generation on the devastation of war.
Outside exhibits include the famous National Women's Memorial, which should be a must-see for anyone visiting the grounds. Here Emily Hobhouse, General de Wet and President Steyn are buried. The recently opened Garden of Remembrance, recognising women and children of all races who died in concentration camps and in the field, as well as a number of sculptures, including Afskeid/Farewell and Die Banneling are also well worth the walk around the beautiful gardens.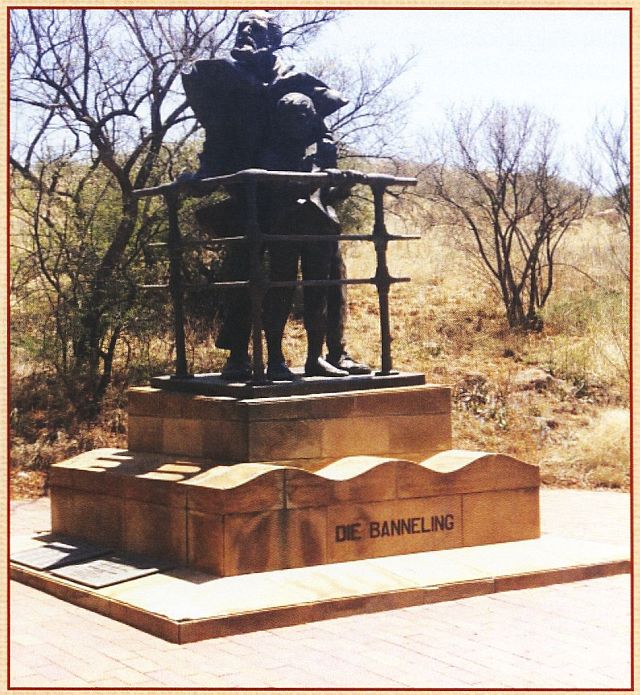 An earlier sculpture by artist Danie de Jager,
Die Banneling (The Exiled), was unveiled in 1983.
One can easily spend the best part of a day at this wonderful museum, a must see and highly recommended for anyone wanting to know more about the Anglo-Boer War, and the universal suffenng that this conflict caused.
---
Return to Journal Index OR Society's Home page

South African Military History Society / scribe@samilitaryhistory.org