The South African
Military History Society


---

Die Suid-Afrikaanse Krygshistoriese Vereniging
---
Military History Journal
Vol 18 No 1 - Dec 2017
Military history around South Africa ...

Battle of Blaauwberg Tour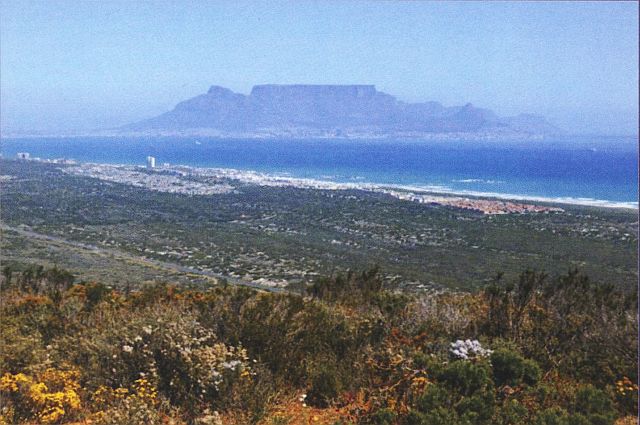 Table Mountain, as seen from Blaauwberg Hill
The Battle of Blaauwberg took place on 8 January 1806 at Blaauwbergsvlei Farm, some 20km north of what is today the Cape Town city centre. This Anglo-Dutch battle was one of the lesser-known incidents in Europe's Napoleonic Wars. The Cape Colony at the time belonged to the Batavian Republic, a French vassal.
To commemorate this event, on 30 September 2017, twenty-seven members of the Cape Town Branch of the South African Military History Society participated in a tour of the key points of the battle. The tour was the first of its kind, and conducted in motor vehicles due to the distances between the various points of interest.
The tour started at Melkbosstrand, site of the British landings. Today the area is built-up and most of the dunes have been flattened but it is still possible to determine the exact landing area. The British lost 37 soldiers from the 93rd Regiment, who drowned when their boat overturned. There is no monument at the site commemorating those who lost their lives.
The group then moved to Jan Mostert's Farm (present-day Blaauwberg Farm), to view Baird's command post. This location later became the site of one of three meridian markers used to produce the first ordnance maps of the Cape. It offered a clear view of the route of the British advance to the battle site and the position of the Batavian line.
Lunch was enjoyed at the Blaauwberg Nature Reserve, specifically proclaimed to preserve the battlefield as well as one of the few remaining sites of Cape fynbos. Alien vegetation and urban sprawl, encroaching on the battlefield, is a matter of concern.
Final discussion of the battle took place on top of Blaauwberg Hill where the group was treated to a magnificent view of Cape Town, and the world heritage sites of Robben Island and Table Mountain,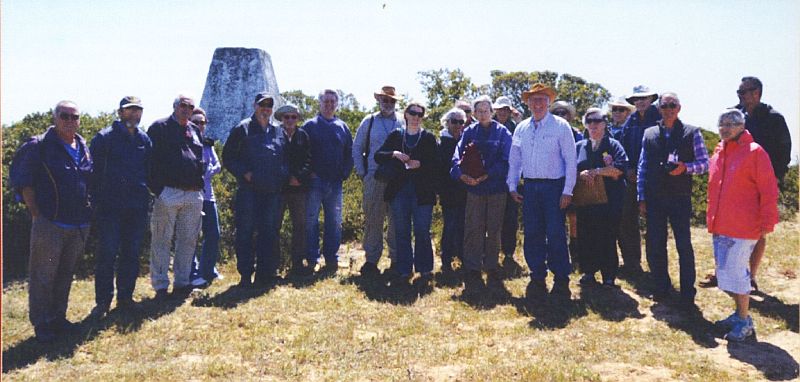 The members of the tour group in front of the meridian marker.
---
Return to Journal Index OR Society's Home page

South African Military History Society / scribe@samilitaryhistory.org