The South African
Military History Society


---

Die Suid-Afrikaanse Krygshistoriese Vereniging
Published on the Website of the South African Military History Society in the interest of research into military history
Copyright Mike Etches 2011.
---
The Soldier Who Came Home To Die
About a year ago having finally retired from work I finally got round to undertaking a project I had been keen on for a long time - tracing my family history.

I had always been led to believe that nothing particularly eventful had happened in my branch of the Etches family and so it proved as I began to delve into my past.

However when I ordered the death certificate of my great uncle Edgar, who I knew had fought in The Boer War, I was astonished to see that he had been found drowned in a lake, Queensmere, on Wimbledon Common on the 23rd April 1905.

The certificate stated that the cause of death was "failure of the heart due to shock from immersion in very cold water".

I was intrigued as to how this could have happened to a young and apparently fit man who had been a career soldier.

Edgar was born on New Year's Day 1870 at Burghley Park, Stamford, Lincolnshire. He became a soldier at the age of 18 when he enlisted in the 4th Hussars as a private. At some point he transferred to the 13th Hussars. He became Pte. 5130.

He fought in The Boer war and was awarded the Queens South Africa Medal, which included clasps for Natal, Orange Free State and the Transvaal.

Subsequently Edgar served with two Divisions of the South African Constabulary - 1006 B and 54 Reserve Divisions.
---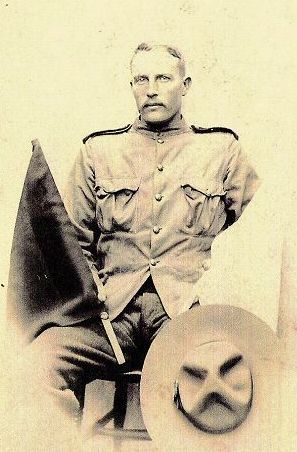 Edgar Etches during his time with the South African Constabulary
---
I managed to track down a local newspaper report via The British Library and discovered a very sad and tragic story about my great uncle.
It seems that early Saturday morning on the 23rd April a keeper on Wimbledon Common found a white felt hat on the embankment of Queensmere lake. The lake was then dragged and the body of a man later to be identified as Edgar Etches was taken out.
At the inquest his brother, Arthur, told the coroner that when Edgar had finished his time in the army he transferred to the South African Constabulary but " he was stationed right up country. He did not like the work. He was too lonely."
About a month before his death Edgar had returned to England to lodge with his brother, Arthur, and Arthur's wife, Elizabeth.
Arthur said that Edgar was always cheerful and had "made himself very homely with him and his wife. He added that he was a very strong man and had no anxieties or troubles. In fact he was " a well and cheerful man, of sober habits".
On the morning of his death, which was a Good Friday, Edgar had decided to walk to Twickenham to visit some friends.
In his evidence the Common keeper said that the body had been recovered from the lake at about 9.45 a. m. the following day.
The doctor who made the post mortem examination said that the immediate cause of death was not suffocation but failure of the heart due to sudden immersion in water, adding that "the deceased's physical condition was that of a perfectly healthy man".
A verdict of "Found Drowned" was given but at the very end of the newspaper article there was a small paragraph, which put a very different interpretation in my mind. This is what it said:
PC Neal, who was deposed to moving the body to the mortuary, said that on the bank, near to where the deceased's hat was, he found his Army discharge papers - all torn up.
To me this speaks volumes. Despite what was said by Arthur and Elizabeth Etches I suspect that Edgar was a very depressed and unhappy man. No doubt he kept his true feelings to himself.
He had been a career soldier since the age of 18, had seen action and adventure overseas, and perhaps he could not face the adjustment to an uncertain life in England and being in "civvy street".
I will never find out. Nobody in my family spoke about Edgar much and we only have one photo, which I am attaching. I believe that this shows Edgar in his South African Constabulary uniform.
In a strange way I feel a great deal of sympathy for this great uncle who I never knew.
---
Copyright Mike Etches South African Military History Society / scribe@samilitaryhistory.org