The South African
Military History Society


---

Die Suid-Afrikaanse Krygshistoriese Vereniging
Published on the Website of the South African Military History Society
in the interest of research into military history
Compiled by Rob Grice East London Sept. 2009
---
East London's Edkins brothers in WWI
EDKINS FAMILY
Clifton, Cambridge/East London, Eastern Cape
1914-1918 Great War record of brothers Vernon, Sidney and Ernest Edkins
This is a story about three men, brothers in fact, who heeded the call for men to fight the 'Hun', as Germans were called, early in 1914 - the Great War of 1914-1918 begins.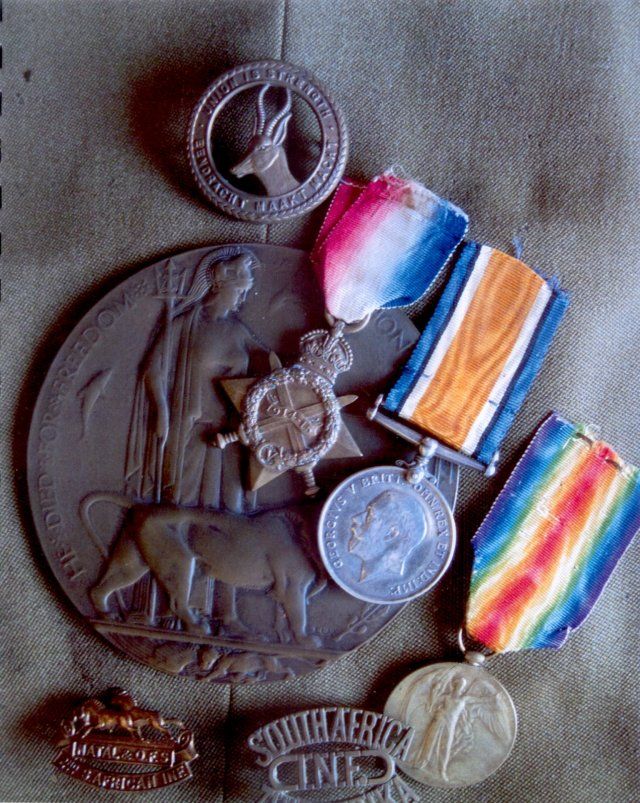 TOP: SOUTH AFRICAN INFANTRY, BRASS CAP BADGE WORN IN FRANCE 1914-19
MEDALS:
TOP -1914/15 STAR
CENTRE - BRITISH WAR MEDAL 1914 - 20.
(INSTITUTED TO RECORD THE SUCCESSFUL CONCLUSION OF THE FIRST WORLD WAR, BUT LATER IT WAS EXTENDED TO COVER THE PERIOD 1919 - 20 AND SERVICE IN THE MINE-CLEARING AT SEA AS WELL AS PARTICIPATION IN OPERATIONS IN NORTH AND SOUTH RUSSIA).
LOWER - VICTORY MEDAL. (RIBBON COLOURS ADOPTED BY THIRTEEN ALLIED NATIONS. THE UNION OF SOUTH AFRICA PRODUCED A VERSION WITH THE MEDAL REVERSE TEXT IN ENGLISH AND DUTCH).
MEMORIAL PLAQUE: (BACKGROUND) AWARDED TO THE NEXT-OF-KIN OF THOSE WHO LOST THEIR LIVES ON ACTIVE SERVICE DURING THE WAR.
LOWER LEFT: 2ND SOUTH AFRICAN INFANTRY, BRASS COLLAR BADGE WORN 1915-19 ..
LOWER RIGHT: 1ST SOUTH AFRICAN INFANTRY BRIGADE, BRASS SHOULDER TITLE WORN 1915 -19
* * * * * * *
Of the five children born to Albert and Gertrude Edkins of Clifton, Cambridge (later incorporated into the City of East London in the Eastern Cape) the three boys were born in sequence after Florence - born 26.5.1884, and before May born 27.5.1893 (May Leonora Edkins being the grandmother of Iris Howes who has been instrumental in researching and putting into print much of the family history).
The 'Great War' of 1914 - 18 started on 28th July 1914. In August 1914, Germany invaded Belgium and then moved into France.
The Union of South Africa (as it is was then known) was part of the British Commonwealth and on the 8 th Sept. 1914, General Louis Botha, the then Prime Minister of the Union and Commander-in-Chief of its armed forces announced that the war would be carried by the Union into those German territories to the west and east to protect the security of the Union.
Early in 1915 began the greatest 'drive' into German South-West Africa , (G.S.W.A.) which brought the troops of the Union on 12th May 1915 to Windhoek and on 2nd July to Otavifontein, and on 9th July forced the enemy remnant to an unconditional surrender.
Let us take up the 'brothers' Edkins' story from here.
The youngest, Vernon (born 26th April 1891), was first off the mark, enlisting at the age of 23 in the 4th Infantry (1st City and Queenstown Rifle Volunteers). He was posted to 'D' Company of the regiment and saw service in GSWA between 27th Oct. 1914 and 3rd June 1915. (for this he was awarded the 1914 -15 star) More of Vernon's military activities to follow.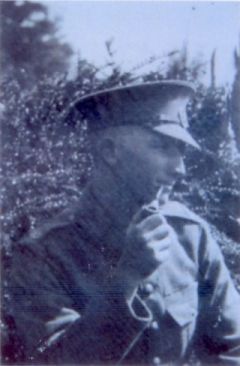 Vernon Jeffrey Edkins

Next to enlist was Sidney (born 5th Feb 1888). His first period of military service was with the 8th Infantry (2nd Battalion, Transvaal Scottish) Aged 27, Sidney spent approx. 7 months in GSWA between 2nd Jan. 1915 to7th Aug.1915. As an 'older' soldier, and considering his occupation of bookkeeper, he possibly saw service in a clerical role. Again, Sidney was awarded the 1914- 1915 Star which was sent to him on 28th May 1921.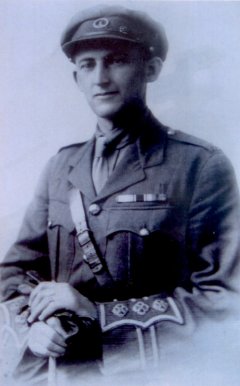 Sidney Graham Edkins

Ernest (born 17th April 1886) attested for service at Potchefstroom on 11th Dec 1915. With the GSWA campaign ended, he was recruited into the 9th Regiment. S.A.lnfantry (Cape Peninsula Rifles) for service in German East Africa (G.E.A.).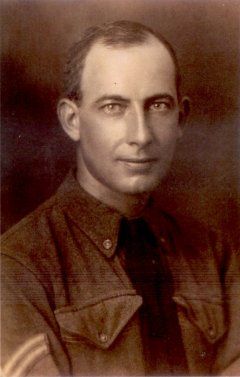 Ernest Vincent Edkins

He embarked on the S.S. Gaika, on the 7th Feb. 1916 for G.E.A. (Union Troops normally disembarking at Kilindini). Struck down with dysentery late March through April 1916, he then suffered malaria in Dec resulting in his passage back to the Union on H.M.T. Aragon. Arriving in Durban on 25th Dec.1916, he spent a few days in No 3 General Hospital in Durban before being moved to No 4 General Hospital at Robert's Heights (now Voortrekkerhoogte, outside Pretoria).

Ernest was discharged 'temporary medically unfit' from Roberts Heights on 25th March 1917 after 1 year and 87 days service. (Approx.12,000 South Africans were invalided home from G.E.A. as unfit for further sevice in the tropics). For his service, No 5398 Corporal Ernest Vincent Edkins was awarded the British War Medal 1914 -18 and the Victory Medal. For him the Great War was over. During his service, his aunt, Mrs Edith Cooper, received salary payment as his dependent.

Interestingly, the Germans never lost the war in German East Africa and the campaign ran on until the Armistice was signed in Europe ending the war on 11th Nov 1918. Hostilities only ceased in G.E.A. approx a month later. The German Commander, General Von Lettow-Vorbeck "had the bearing of a Prussian Guardsman, but none of the bluster and swagger ... his manner was just what it should have been, courteous and polite". So reported a South African staff officer on the German surrender. Surprisingly, the German troops were allowed to keep their weapons in consideration of the gallant fight they had made.

* * * * * * *

Now, what of Vernon and Sidney - the two brothers still in uniform?

After the G.S.W.A. campaign, Union troops were officially discharged from service and could choose whether to re-enlist for service in G.E.A.or with the British Expeditionary Force (B.E.F.) to fight in Europe .

Vernon, who soldiered in G.S.W.A. until 3rd June 1915, re-attested for military service at Potchefstroom on 23.8.1915. He was posted as 1608 Private Edkins V.J. to 'D' Company of the 2nd African Infantry. (2nd S.A.I.) as part of the 1st S.A .Infantry Brigade which saw service in Libya, France and Flanders (Belgium) during 1915 - 1919.(An Infantry Brigade normally consisted of four battalions of Infantry - approx. 30 officers and 1200 men to a battalion. The SA Brigade had a strength of 160 officers and 5648 other ranks when they arrived at Bordon Camp in Hampshire, England, in August 1915.

There is no record of Vernon's departure from the Union, but the record of a man who also attested at that time shows the following sequence of events for the 2nd S.A.I.

Home Service:
23.8.15 to 3.10.15, on route to England on the S.S. Norman
4.10.15 to 19.10.15.
In camp at Bordon, Hampshire, (for training) 20.10.15 - 28.12.15

Now, we have Vernon's records which mirror the continuation of the above as follows:-
He embarked at Devonport on H.M.T. Saxonia (His Majesty's Troopship) on 29.12.15 and disembarked at Alexandria on 12.1.16.(The Saxonia was a Cunard Lines vessel of 16 000 tons taken into service a troop ship)

So why off to battle on the Western Frontier of Egypt?

The Turks had sided with Germany and were instigating the mobilization of Arab and Berber Tribes of the Libyan Plateau for a 'dash upon Egypt from the West!' The hope of the Turks in that region lay in the support of the Great Senussi Brotherhood. An action was fought by a British and Dominion Force on 13th Dec. 1915 but was only checked and not routed. It was about this time that the S.A.Brigade arrived in Alexandria. The 2nd S.A.I. - Vernon's Regiment - was chosen as an immediate reinforcement for the Dominion Forces attack on an enemy concentrations south west of Matruh. The Regiment embarked on the H.T.Rodosto arriving at Mersa Matruh after a 16 - hour voyage on 20.1.16.

Actions were fought against the Senussi in this harsh country until the occupation of Sollum. The South African Forces returning to Alexander by sea from Sollum on 28.3.16 arriving next day.

Without much rest, the South African Brigade left Egypt - Vernon's Regiment sailing on the 12.4.16 on the Megantic - a troopship bound for Marseilles, France, which was reached on 20.4.16.

* * * * * * *

While all this was going on, Sidney had re-attested for service after his 7.8.15 discharge on the completion of the G.S.W.A.Campaign. His records show that he re-attested on 31.7.15, a week before his official discharge! His second period of service was to take him to German East Africa with the 1st S.A.Rifles and S.A.Special Service Corps.

Enlisting as a private, he rose fairly rapidly through the ranks - Staff Sgt. on 18.5.16 Warrant Officer Class one on 1.6.17 (top of the non- commissioned officer ranks). He was commissioned on 16.3.18 - temporary Second Lieutenant - rising to temporary Captain on 1.2.19.

His capabilities were not only recorded in his rise in rank, but more importantly, in his receiving a 'Mention in Dispatches' (M.I.D.) on 20.1.19 for "Gallant and Distinguished Services in the field."(M.I.D.'s were only granted to approx. 5 percent of all troops in anyone particular campaign making it a fairly prestigious award) . This award is signified by a bronze oakleaf emblem worn on the Victory Medal ribbon.

From his available service records and extracts from various military history books it is possible to reconstruct his service and movements as follows :-
Having re-enlisted on 31.7.15 (with the 1st S.A.Rifles) he saw "Home Service" with this unit - possibly in the pay section - before embarking from Durban for probable disembarkation at Kilindini - the Southernmost port used by the Union Forces in G.E.A.

His actual first entry date into the G.E.A. theatre is not clear. Having moved from the 1st S.A. Rifles (possibly just his 'holding unit') to join the Nyasa Rhodesia Field Force (N.R.F.F.) - application made on 31.7.15 - he was possibly based at Limbe in Nyasaland (now Malawi). Certainly he took leave from 25.8. 16 leaving Zomba in Nyasaland for the Union. It is recorded that he embarked from Durban on 14.10.16 - assumed to return to Lomba or Limbe via Beira (rail to Limbe from Beira). On the 5.9.19 he left Limbe by train for Beira - departing this port on 11.9.19 by sea (it is assumed) as he disembarked at Durban on 18.9.19 and reported for duty as Pay Master in the Union Forces, Durban on this day.

Sidney was released from duty on 5.11.19 and relinquished his temporary commission on account of ill health. However, he retained the Honorary rank of Captain - note rank badges of three 'pips' on his sleeve in the photo of him. (He applied for his Honorary rank in the Imperial Army on 30.5.18). This allowed him to use the title of 'Captain' instead of 'Mister' in civilian life after the war.

Sidney's medal entitlement for his two campaigns totalling service of 4 years and 10 months was the 1914/15 Star, the British War Medal 1914-18 and the Victory Medal with oak leaf (M.I.D.) In addition, he received a certificate acknowledging his M.I.D. (signed by Winston Spencer Churchill) and dated 1st March 1919.

* * * * * * *

We now pick up on Vernon's service, which saw him disembarking at Marseilles, France, on 20.4.16. Whilst part of the Brigade was placed in quarantine owing to a case of contagious sickness on board another troopship, the 2nd and 3rd Regiments entrained for Flanders(Belgium). Reaching Steenwerck on 23.4.16, they marched to their billeting area along roads wholly under water.

Battalion training in the methods of trench warfare continued over the next two months. On 14.6.16, orders were received to move to the Somme. The Brigade was based at Ailly-Sur-Somme and officers and N.C.O.s visited the front line in the Maricourt Region.

The 2nd and 3rd Regiments were attached to the 30th Division to assist in the work of preparation for the coming attack (Battle of the Somme) rejoining the Brigade for the move to Corbie and Sailly-le-Sec - a few miles from the front.

On 30th June, the day before the Battle of the Somme, the South African Brigade, comprising the four Infantry Battalions, the 64th Field Company Royal Engineers, the 28th Brigade Machine Gun Company and the South African Brigade Trench Mortar Battery, moved to Grove Town, a large dump on the outskirts of Bray as part of the 9th Division.

Next morning, Saturday, 1st July 1916, at 7.30am, under a cloudless and windless sky, the Allied Infantry went "over the top", and the battle began.

The 1st and 4th Regiments held a position of the line (new ground captured from the Germans) east of Montauban. The 2nd Regiment - Vernon's - were in reserve at Talus Boise. This was the position of 5th July. At dawn on the 8th July, the only South Africans in the line were the 4th Regiment, holding the Briqueterie Trench. The 2nd Regiment was ordered up from Talus Boise to relieve the 12th Royal Scots and the 6th Kings Own Scottish Borderers who were holding a part of Bernafay Wood.

Relieved on the 10th July by the 4th Regiment the 2nd Regiment had been most severely shelled during its short time in the line. Some 200 casualties had been incurred including 4 officers. (This action took place in the Bernafay Wood area which is some 2000 yards south of Delville Wood).

In the cloudy dawn of Friday, the 14th July, General Haig launched his attack against a section of the German second position - the four miles of front from a point south-east of Pozieres to Longueval and Delville Wood.

To the S.A. Brigade all this was a mere continuation of the Somme offensive. Little did they realize what lay ahead during the next six days - the battle for Delville Wood.

The attack was renewed at 3.25am on 14 July. The assault took place in the predawn half-light after only a five minute barrage from the artillery. It was on this day that Vernon lost his life. His service records state "died of wounds received in the field" on 14.7.16. This information was sent to his unit 2nd SA Infantry - by No 5 Casualty Clearing station (No 5 C.C.S.) on 19.7.16 which was located at La Neuville - a suburb of Corbie across the Ancre River and about 15 km south west of Longueval.

When, or how, Vernon was wounded on that day would have been lost in the wrath and smoke of battle, for much of the action took place in the tumble of masonry of the village of Longueval - a haven of cover in the form of nooks and crannies for the German defenders.

Vernon is buried at the Corbie Communal Cemetery Extension in Plot 1. Row C. Grave 21. He is one of the 918 First World War burials.

* * * * * * *

It can be assumed that his appointed next-of-kin, Mrs Edith Cooper - an aunt - was sent his medals. These were the British War Medal 1914 - 18 and the Victory Medal. From his records it appears that his three medals (the 1914 - 15 Star previously awarded for the G.S.W.A. Campaign) were dispatched together in 1934 - some 16 years after the war ended. This is quite possible as survivors of the war were only receiving their medals from 1921. In addition, next-of-kin would have received a commemorative scroll and a memorial plaque bearing the full names of the deceased (the last two items yet to be traced in Vernon's case).

Of interest is the number of medals awarded for the war in total - these are: 1914 -18 Star: 2 350 000
British War Medal 1914 -18: 6 500 000
Victory Medal: Some 6 million.
(The South African variety having the wording on the reverse in English and Dutch - not Afrikaans as is often stated.)

* * * * * * *

Vernon's name, along with 43 fellow Cambridge soldiers who fell was cast in bronze on the Cambridge War Memorial which was unveiled on Delville Wood Day, Sunday, July 16th, 1922.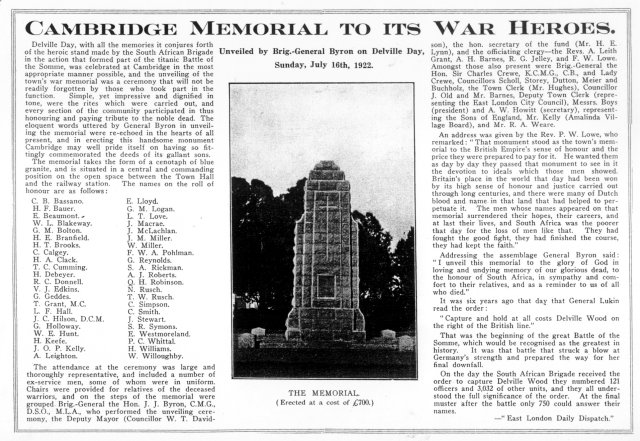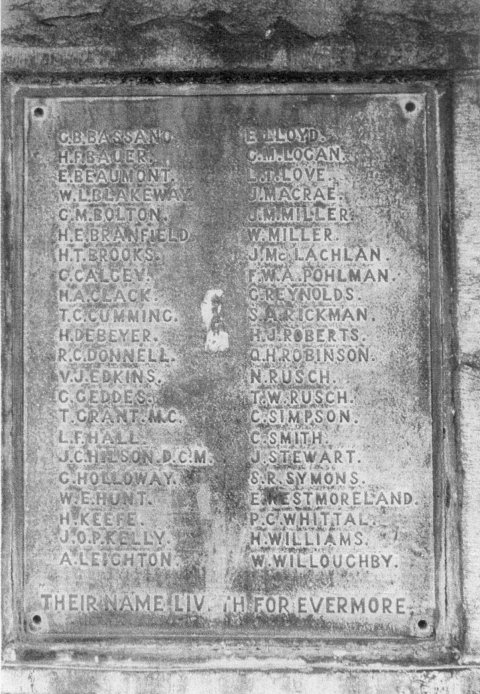 Plaque, Cambridge War Memorial
(Since removed)
Vernon is recorded in Ian Uys's fine book, "Roll Call - The Delville Wood Story", as being present for the Battle - so a " Delville Wood man" he shall always remain!
---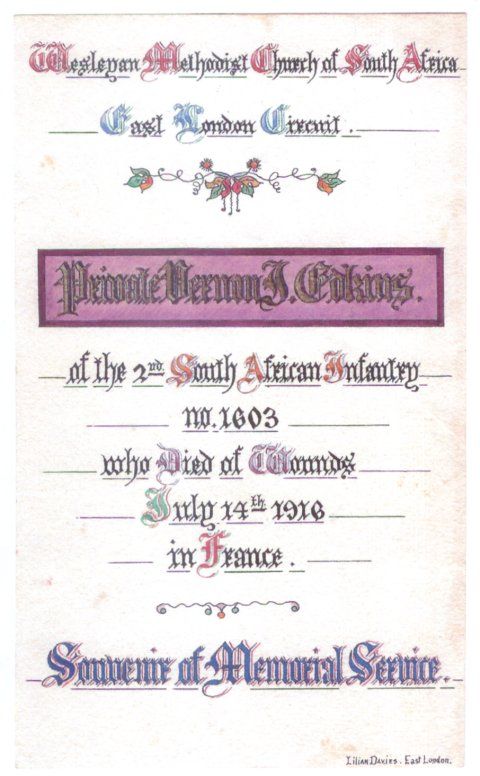 The Souvenir brochure prepared for Vernon's Memorial Service
* * * * * * *
Ekdins is mentioned in the Diary of Walter Giddy on the Delville Wood site at: www.delvillewood.com/giddy.html as having been wounded on 13th July 1916.
---
Appendix 1 - Vernon's documentation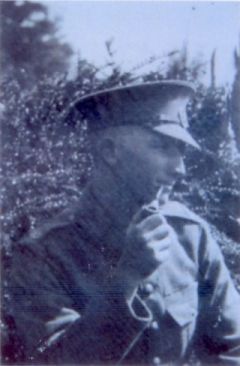 Vernon Jeffrey Edkins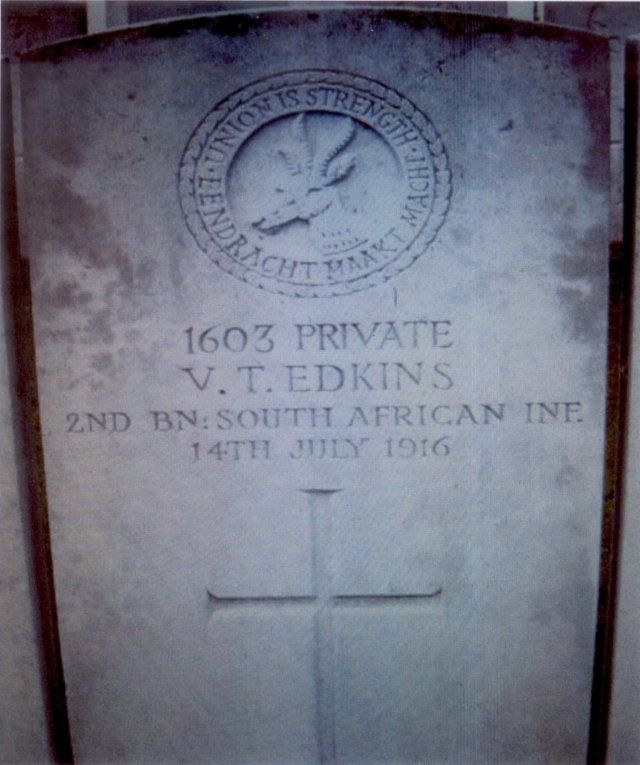 Headstone, Corbie Communal Cemetery Extension,
Somme battlefield, France. (Plot 1 Row C Grave 21).
This is near the site of No 5 Casualty Clearing station to which
Vernon was taken after being wounded in Delville Wood.
(Note the incorrect initial "T", however, his regimental number,
unit and official date of death are correct).
This photo was taken off the internet.
---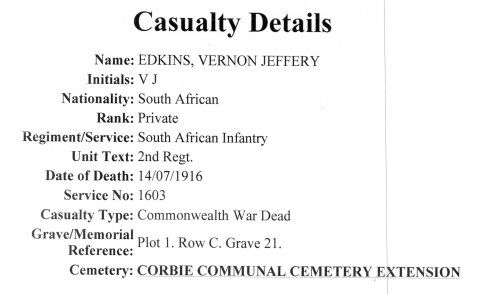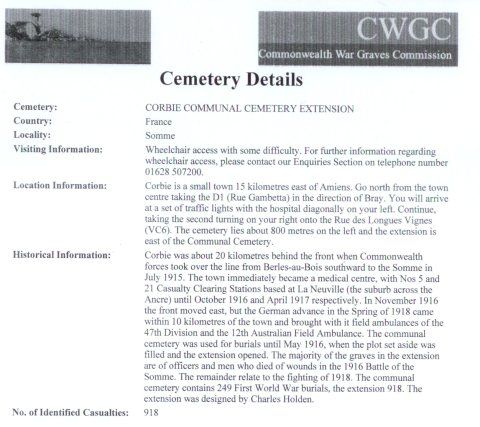 Commonwealth War Graves Commission documents
---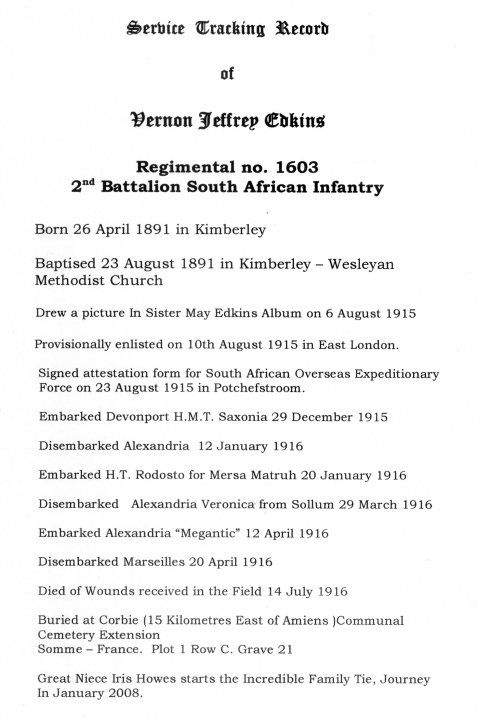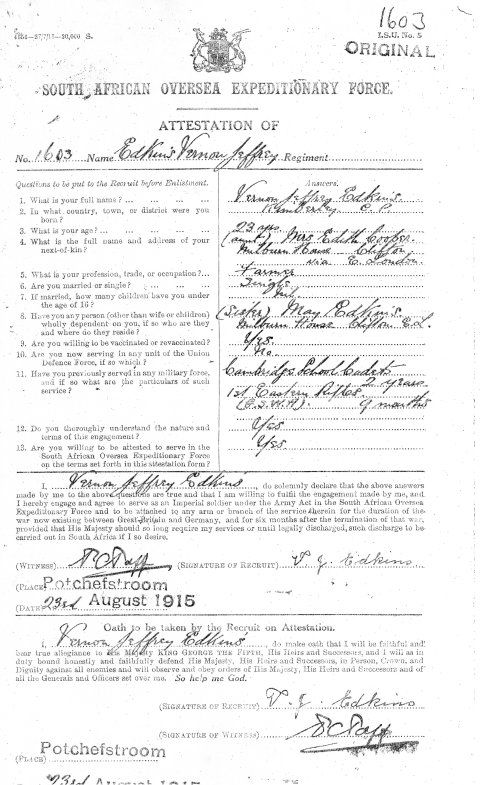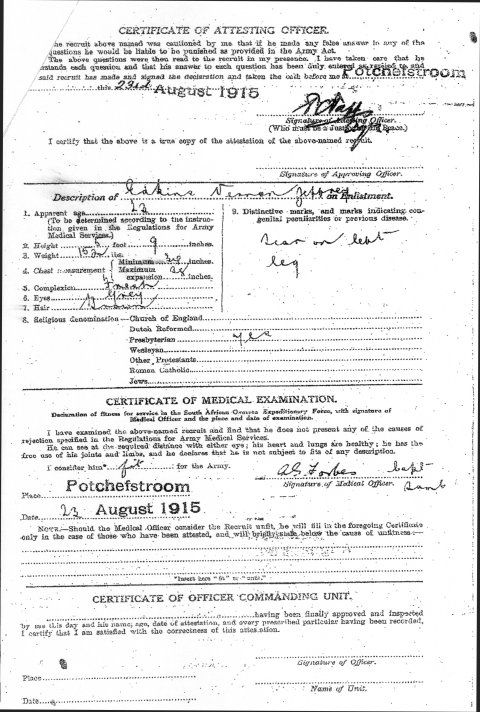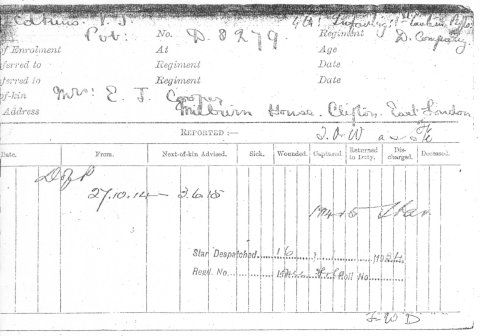 Vernon's service in G.S.W.A. showing next-of-kin details
and the notification of his 1914-1915 Star being despatched in 1934.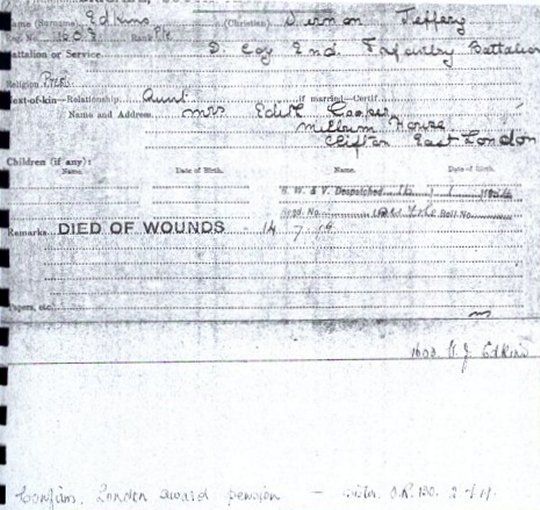 The blurry footnote states: Confirm. London award pension - sister O.R. 130 2 of 19
---
Appendix 2 - Ernest's documentation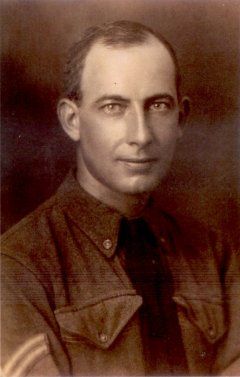 Ernest Vincent Edkins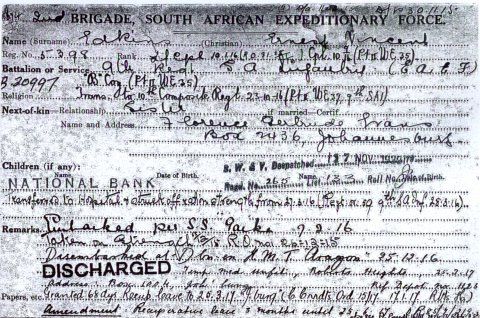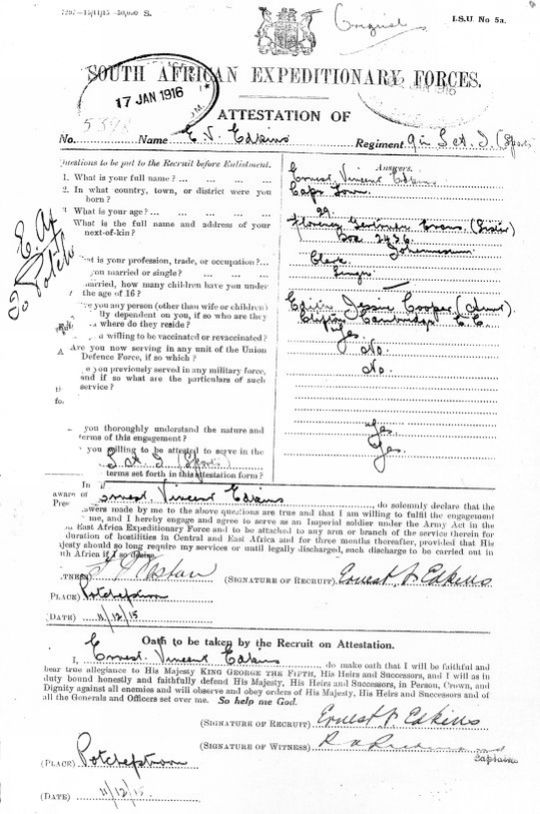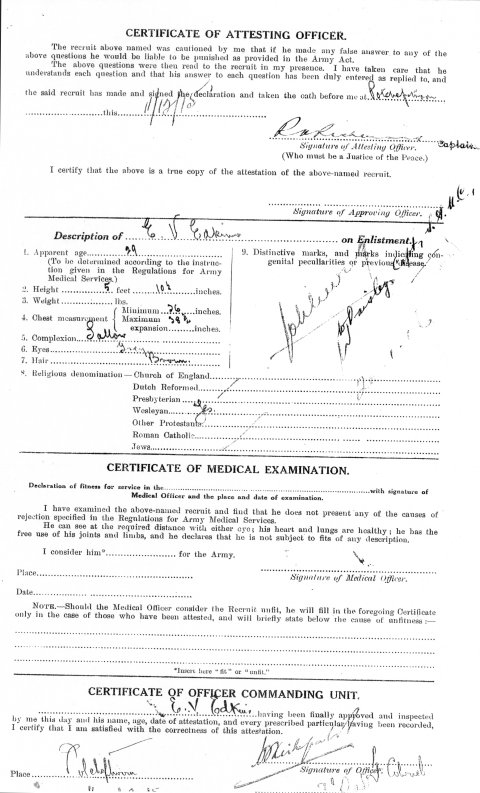 ---
Appendix 3 - Sidney's documentation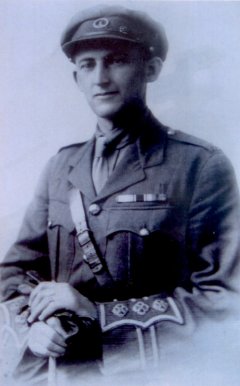 Sidney Graham Edkins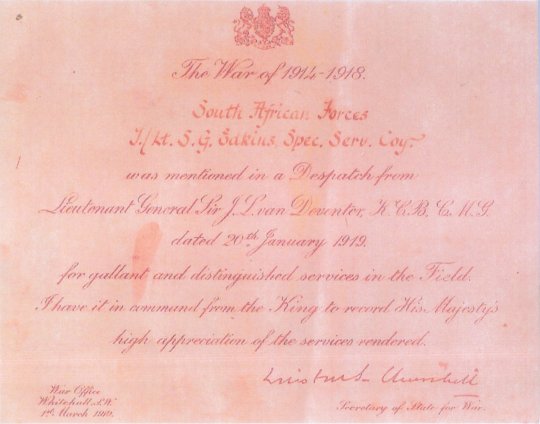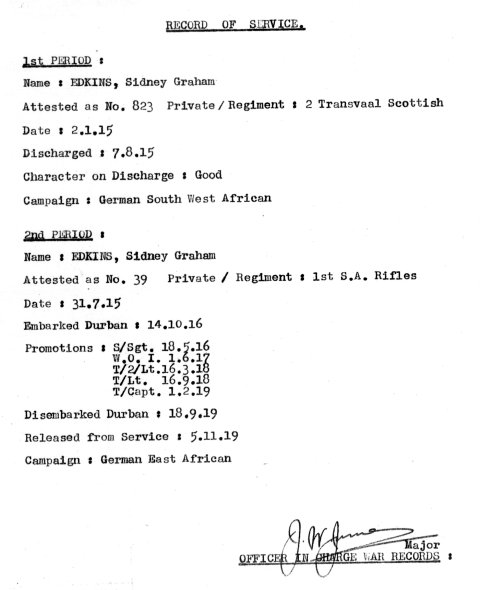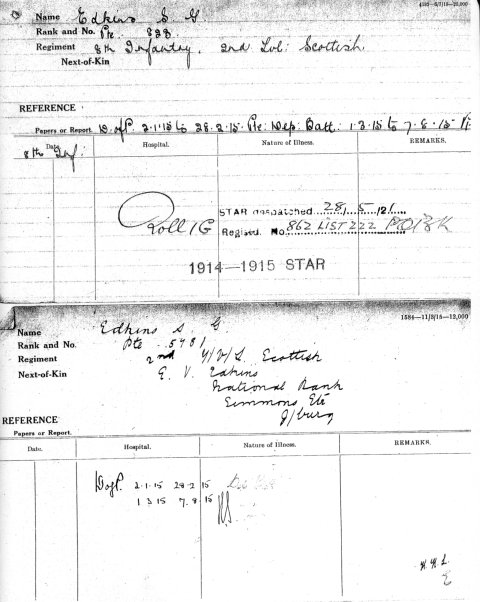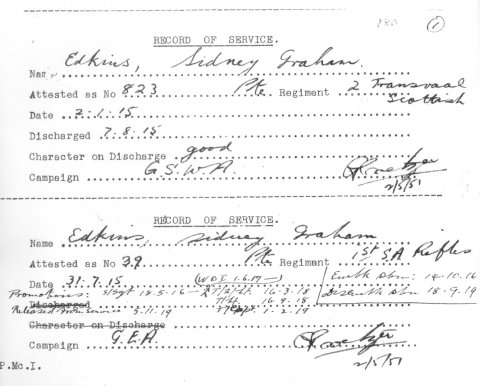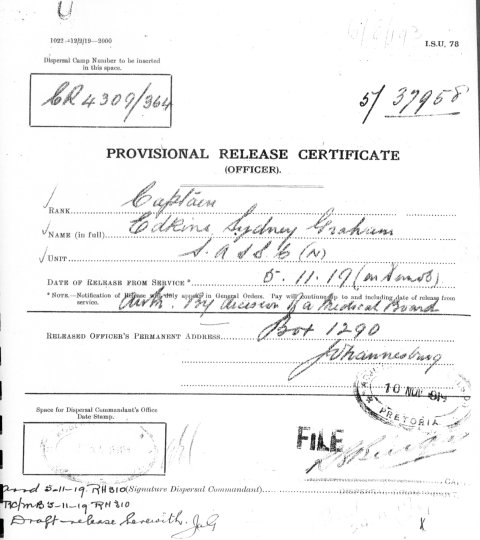 ---
Appendix 4 - Maps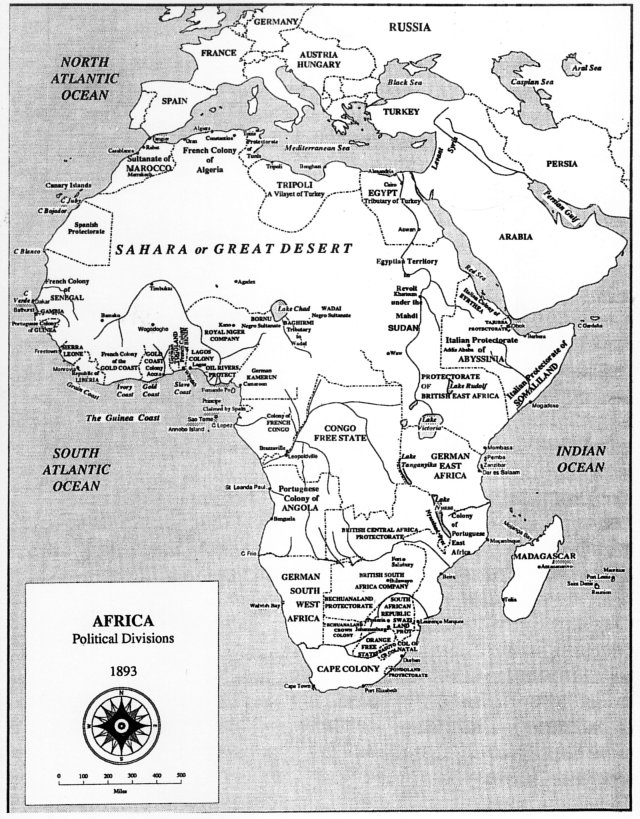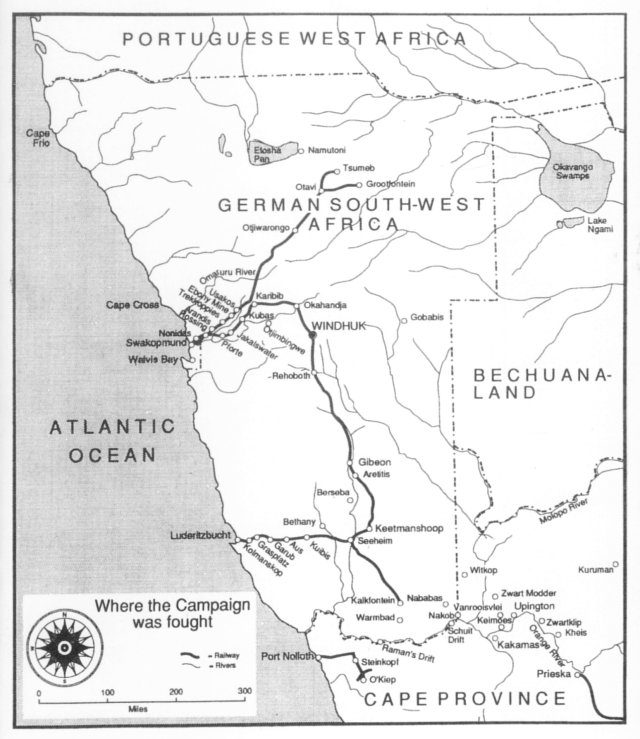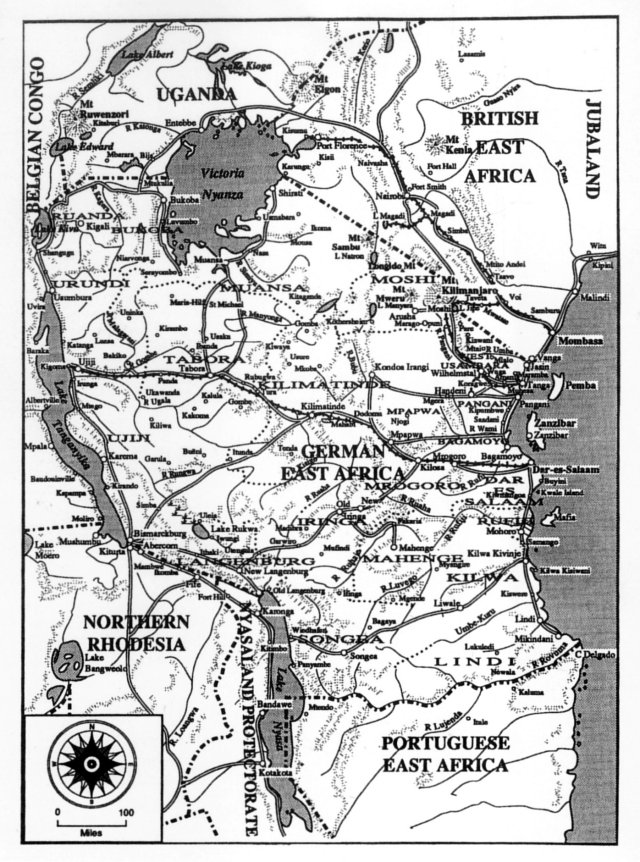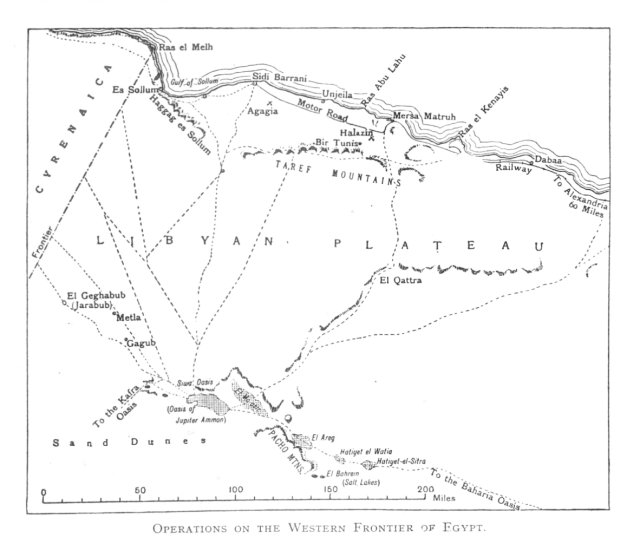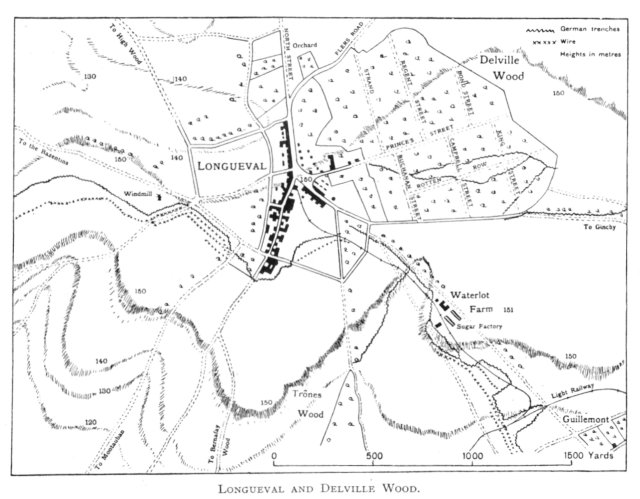 ---
Copyright Rob Grice

Posted on this web-site at the request of Iris Howes, Great-niece of the Edkins brothers Iris Howes

South African Military History Society / scribe@samilitaryhistory.org