Tel (+27)(11) 648-2087 Fax (+27)(11) 648-2085
Web:http://samilitaryhistory.org
Email: scribe@samilitaryhistory.org
NEWSLETTER - AUGUST 2007
The monthly meeting was opened by the Chairman, Flip Hoorweg, back from his overseas holiday. Flip commenced by thanking Bob Smith for standing in for him in his absence and then welcomed our speakers, visitors and new members. The members present were then asked to stand for one minute's silence in memory of F J Wentzel, a life member of our Society residing in Underberg at the time of his death during the past month.
Our Honorary Auditor, Gavin Moore, was then presented with a book token by Flip in appreciation for all the work he has put in on our books at no charge to the Society. This was followed by the usual notices regarding past and future events. Members are reminded that because of the upcoming public holiday, our next meeting will be on the third Thursday in August, ie 16th August.
Flip then introduced our first speaker for the evening, Mrs Marjorie Dean, a well-known committee member and a popular and hard worker in our Society. Marjorie was born and educated in Scotland and obtained her MA at Edinburgh University. She has lived in South Africa since 1979 and is a keen amateur military historian and a well-known travel writer and journalist.
Marjorie had chosen an episode from the United States Civil War as her subject and with the aid of a superb Power Point presentation proceeded to tell us about Confederate General Hood's Tennessee campaign, and in particular the Battle of Franklin on 30 November, 1864.
In November 1864 the Civil War was slipping away from the Confederacy. Atlanta had fallen, Lee was retreating and the Union Armies of Ohio and Cumberland were separately advancing into the Confederate heartland to cut it in half and take the west out of the war. General John Bell Hood, Commander of the Texas Brigade and the Confederacy's youngest full General, was thus faced with the task of using his Army of Tennessee to stop this link up. He believed that if he could drive in from Georgia via Alabama and liberate Nashville, Tennessee, he could then emulate the Northern General Sherman and cut a swathe northwards. By so doing it was probable that he could bring about a negotiated peace and thus save the Confederacy. Unfortunately Hood was not the right choice for this job. He was brave, competent and impetuous but not a very good strategist. Always to be found in the forefront with his men, he has been described as "All lion but no fox" and events were to prove this description an apt one.
Facing Hood were General George H. Thomas in Nashville and between him and Hood, Major General John McAllister Schofield. The latter had been a classmate of Hood at West Point Military Academy and commanded a force of 32 000, as against Hood's 38 000. As Hood advanced with a series of mock attacks and feints, Schofield fell back to preserve his line of communication to Nashville. Both armies eventually arrived at a river crossing at Spring Hill, where Hood caught up with his opponent and attempted to cut his line to Nashville. After a brisk engagement at a local crossroads where Hood's subordinate, Cleburne, neglected to push home his advantage when he was close to his objective, Schofield managed to continue withdrawing. He left his pontoon bridges intact which Hood could use for crossing the river but otherwise Hood had lost his opportunity for surrounding and cutting Schofield off and thus defeating him.
Schofield then arrived in the town of Franklin, another river crossing, where he fortified the outskirts in order to build a delaying position, while he got his vast field train through the town and across the river. Here Hood caught up with him again. The ensuing battle, which was a complicated affair but very carefully explained by Marjorie with the aid of her outstanding map work, was a blunder of huge proportions on Hood's part. Over 6 000 Confederate soldiers were killed, wounded or missing at its conclusion. Schofield was expecting Hood to outflank him and cut him off from Thomas in Nashville and in fact doubted if he could hold Franklin for even three days. He had thus made arrangements for a final fall back on Nashville. However, Hood, with typical reckless bravery, decided on a frontal assault on Franklin, as he considered that Schofield had not yet had time to complete his fortifications. In this he was partly right but those works which had been completed were sufficient to give Schofield the defensive edge in the ensuing battle. Again and again the Confederate troops punched away at the Union defences, at times coming close to obtaining their objectives as the Union forces facing them broke and fled, but each time Schofield's men were able to rally and either hold their new position or counter attack. At least thirteen Confederate charges were made, resulting in fierce hand-to-hand combat but no breakthrough. Eventually at nine o'clock that night the Confederates made a last desperate charge by torchlight but were cut down by withering fire.
During the course of the following hours of darkness, Schofield quietly withdrew his troops towards Nashville and left Franklin to Hood's men. Nothing had been achieved in this fierce battle except a wholesale slaughter, so Hood's victory was meaningless. Schofield and Thomas met at Nashville and Hood, following up, promptly invested it, hoping to force them into a decisive action. After a series of minor actions and pinpricks, the Union troops eventually marched out and in a series of attacking movements broke through Hood's siege lines and in turn forced him to retreat. For ten days they pursued and harried Hood's battered Army, ultimately forcing it across the Tennessee River and thus ensuring victory for the Union in the west. Hood kept his Army together until after Lee's surrender, whereupon he too surrendered in Tupelo, Mississippi. Both Hood and Schofield achieved great things with their lives thereafter. Schofield went on to become Commander of the United States Army and Hood became a leading insurance company owner and a great philanthropist in his hometown of New Orleans.
Flip thanked Marjorie for an excellent and enlightening talk and then introduced the next speaker. This was Mr Carvel Webb who spoke to us on "The History of SIG Firearms". Carvel is Chairman of the South African Firearms Association and, as one of the country's leading firearms experts, has addressed us on a number of previous occasions.
This time he told us about the SIG P210 pistol and the SIG 510/AMT assault rifle, arguably the best service pistol and 7,62mm assault rifle ever produced. Carvel had brought with him an outstanding display of SIG weapons in two showcases and his first act was to comply with the legal requirements of the Fire Arms Control Act by officially declaring that the weapons on display were not capable of being fired and were securely fastened to prevent theft. This was seconded by an independent witness and the lecture commenced.
Carvel started with a brief history of SIG Firearms. The company was founded in 1853 as the Swiss Railway Carriage Coy in the town of Schaffhausen/Neuhausen where a large waterfall provides abundant hydro-electric power. In 1860 the Prussian Army was equipped with a rifle known as the Dreysen Needle Rifle and this revolutionary firearm brought about the need for other European countries to find something with which to counteract it. The Swiss government contracted their carriage company to achieve this and, after changing their name to the Swiss Industrial Company (Gesellschaft) SIG, they set about manufacturing weapons for the Swiss government, a situation that would last for the next 100 years.
During the course of World War I the French found that there were far too many diverse makes of pistols in use in their Army. Between 1923 and 1935 they carried out exhaustive tests on 22 different makes of pistol, eventually deciding on a make known as the Petter. This then went into production and SIG was licensed to produce this pistol for countries outside France. In 1942 the Swiss decided to find a replacement for the German Luger and SIG was given this development project. They worked at it but the project stalled in 1944. In 1949 however the Swedish National Pistol Shooting team, using the SIG Luger replacement, won a large international competition and the Swiss Army immediately took the pistol into use. The Danish Armed Forces thereafter also adopted it and SIG brought out a commercial version known as the P210. This became the only service pistol which can also be used as a target pistol and was eventually to come in 16 variants. The P210 had a manufacturing accuracy to 1/2 000th of an inch, which was why it was so accurate, but also had its faults. Its magazine capacity of eight rounds compared unfavourably with other modern weapons and, as the magazine latch was uncomfortably placed, it took time to re-load. The safety catch was also difficult to reach. Its main claim to fame was its incredible accuracy and, although no longer manufactured, they are still available on the market at a price ranging from $2 500 to $3 000 each.
SIG also produced a rifle designed by two men known as Schmidt and Rubin and manufactured in various forms up until 1958. However, the modern assault rifle as developed during World War II made this rifle obsolete. SIG thereupon updated it by including a gas cartridge in the design that gave a higher rate of fire. From this they developed various patterns of assault rifles. Their development research led them to look at the previous development work done by Messrs Heckler and Koch in Germany and in particular the German MG 42 of World War II. With these designs as a starting point, they then developed their own assault rifle known as the AM55/Stg 57 in 1955. This was regularly updated until production ceased in 1970. Although light and easy to handle, accurate, beautifully crafted and with a very low recoil kick, because of its high price it was only ever used by the Swiss and Chilean Armies. SIG weapons are today treasured collectors' items. Carvel finished off with a brief history of the AM/55 he had on display. Originally the property of an American bounty hunter, it found its way to Rhodesia where it was modified for use in the Bush War, before coming south to South Africa and entering the hands of private collectors.
After a short question time Carvel was thanked by Ivor Little for a most interesting talk, delivered in terms the lay audience could easily follow, and in particular for all the time and trouble taken to set up the large display of weapons on show. The meeting was then closed by Flip, who invited all present to view and handle the weapons on display as well as to enjoy a cup of tea or coffee in the hall.
* * * * * * *
FORTHCOMING LECTURES
Johannesburg

16th August - NB Third Thursday!

CR Ivor Little - San Boats (Eagle Oil) at War
A brief look at the bravery displayed by the tanker crews of the Eagle Oil & Shipping Company during the ocean convoys of World War II.
ML Colin Dean - The Spice Trade Wars
An overview of 400 years of struggle by five different countries to gain control of the lucrative Far Eastern Spice Trade.

13th September

CR John Cramp - Soldier-Prince, Edward of Kent, Queen Victoria's father
A brief biography of a Victorian soldier.
ML Paul Kilmartin - The Opening Rounds of War: 1914
A new look at the events of 1914 and how they influenced the outcome of World War I.

* * * * * * *

KZN in Durban:

9th August

DDH Brian Hoffman - Admiral Drake
MAIN Peter Schneider - The Hungarian War against Communism: 1956

13th September

BASE VISIT - Natal Mounted Rifles Base Visit
Arranged by Maj Adrian van Schaik

* * * * * * *

Cape Town

16th August (Please note: 3rd Thursday - not 2nd Thur.)

Col Tom Seccombe CBE RM (Rtd) - INDONESIAN CONFRONTATION 1962 TO 1966
This long but little-known campaign was fought in Borneo by British and Commonwealth forces against the Indonesian Armed Forces.

13th September

Rodney Warwick - The Rand Revolt 1922
He will discuss the military and political aspects of this now little-known part of South African history.

* * * * * * *

SAMHSEC in Port Elizabeth:

9th August

Paul Galpin - Film night

13th September

John Stevens - Leadership debate
* * * * * * *
For KwaZulu-Natal details contact Mike Laing 031-205-1951 (laingm@eastcoast.co.za)
For Cape Town details contact Bob Buser (Sec'y/Treas) 021-689-1639 (salegion@mweb.co.za)
For Eastern Cape details contact Malcolm Kinghorn 041-373-4469 (culturev@lantic.net)
Ivor C Little (Scribe) 012-660-3243
e-mail: ivorandanne@mweb.co.za
* * * * * * *
The following two books are available from Trips ZA.
Contact John Theunissen on +27 13 764-1177.
email: johnt@tripssa.co.za
The Bushveldt Carbineers and the Pietersburg Light Horse
Author: William (Bill) Woolmore
First Edition 2002
Signed by Author
Hard Back
Pages: 320
Condition: New
Price: R430.00
Postage: R41.34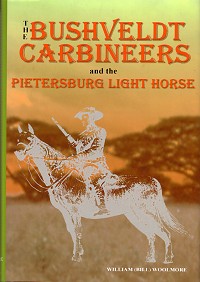 On 27 February 1902 a volley of shots from a firing squad broke the silence of the early morning air in the Pretoria Gaol, South Africa, and two Australian soldiers were dead. They had been executed by the British Army for the shooting of Boer prisoners, which they believed they had been ordered to do. The two men were Lieutenants Harry 'Breaker' Morant and Peter Handcock of the Bushveld Carbineers (BVC). Possibly to avoid intervention by the Australian Government, their execution had been carried out with extraordinary haste the morning after the sentences were made known to them.

This book on the Bushveldt Carbineers and the Pietersburg Light Horse (which the name of the unit was changed to after the scandals) is the most comprehensively researched study yet written on the BVC and the men who filled its ranks. The book contains much background information which makes it easier to understand the war, the unit, its area of operations and the active service of the men involved.

The biographical notes on each one of the more than 600 men who served, plus others who were associated, provides depth to the story and brings the men to life. The Bushveldt Carbineers was led by Australians within its ranks. The treatment of its officer had repercussions which are still evident today.

Many Carbineers saw later service in the AIF and in the forces of other Empire countries and, where available, details have been included.

The Bushveldt Carbineers is written for military historians, genealogists and readers who appreciate stories of the Boer War. The author's presentation of the trail of Morant and Handcock and the subsequent controversy arising from their executions makes this book a compelling read.

Steinaecker's Horesemen. South Africa 1899 - 1903
Author: William (Bill) Woolmore
First Edition 2006
Hard Back
Pages: 352
Condition: New
Price: R350.00
Postage: R41.34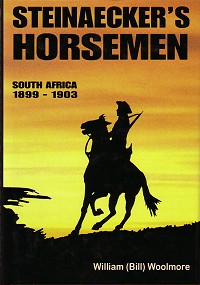 From 1899 to 1902 the Anglo-Boer War enveloped South Africa in a melee of gunfire, flame, death and disease. In this conflict an important British war aim was the severing of Boer resupply from, and easy contact with, the outside world. This aim proved to be the genesis of one of the most extraordinary units in British military history. Here was a unique mix of frontiersmen - hunters, pioneers, stock riders, miners, timber men, transport operators, bush storekeepers and a host of others - good and bad. Most were South Africans but a great many were from Australia, while others came from the far flung corners of the British Empire and beyond and they also worked with a large number of loyal blacks. Their officers were every bit as colourful as the men were. Most had come up through the ranks and nearly all had been hardened to the wiles of the African veldt.

During the period between mid 1900 and 1902, in addition to their Boer enemy, these men had to contend with the worst man-eaters in the wilds of Africa and the most dreaded tropical and subtropical diseases of man and beast. One source states that they lost 12 men to lions and crocodiles while their ranks were also decimated by malaria. Here is the story of that band of horsemen known as Steinaecker's Horse, who rode the Transvaal Lowveld and Swaziland during these eventful years. Sometimes they patrolled with a hundred or more men but more often they were in small groups of up to 4 men and held lonely picquet posts on the Lebombo range from which they patrolled the border with Portuguese East Africa.

The maverick commander of this unit, Francis Christiaan Ludwig von Steinaecker: a former Prussian officer who rose to the rank of Lieutenant Colonel and was awarded the DSO for his service. He failed to adjust to civilian life after the war and committed suicide in 1917.

The author has painted this true story on the canvas of the South African veldt in an eminently readable story.


* NOTE* Fast mirror and backup site BOOKMARK FOR REFERENCE Main site * NOTE*
---
South African Military History Society / scribe@samilitaryhistory.org