The Tomboy Syndrome is a related concept based on the observation that many of these warrior queens, as girls growing up, eschewed girls' toys and traditional activities, preferring activities such as hunting, riding, shooting, and even weapons training. Indira Ghandi, for example, prime minister of India in the 1960s and seventies, as a child used her dolls as pretend soldiers to play out battles.

In her concluding discourse, Fraser draws many threads together including mulling over what are perceived by men and many women to be "masculine women" and "iron ladies", and the criticism such women have been subjected to. Here she offers the examples of Margaret Thatcher and Golda Meir. She also explores other notions such as women being accorded 'honorary male' status, and the not uncommon elevation of militarily successful women to 'goddess' proportions. Some such as Mathilda of Tuscany have even been sanctified and entombed in St Peter's Basilica in Rome. For others, such similar recognition was long in coming – in the case of Jeanne d'Arc, it took 500 years. On the issue of successful military women often being accorded 'honorary male' status she notes too, that it has not, however. stopped many of the warrior queens from appealing at the same time to the chivalrous instincts of the men around them and using various forms of seduction as a manipulative tool.

Fraser makes no call for condemnation or action, feminist or otherwise, but does suggest that understanding the forces that have governed these women's lives can lead us to a clearer picture of matters we should be aware of, where we are today and might be heading and what considerations should be taken into account.

Pat's talk is not in the SAMHS Zoom library as only audio was recorded and there are no podcast facilities on the website. The link to the audio of Pat's Women in War talk is
https://drive.google.com/file/d/1bGgfGlpixXUu6nhCY4BP2iUe3NUe2Jh8/view?usp=sharing.

* * *

Military History Journal June 2021

The June 2021 edition of the MHJ has been received. Thanks to Editor Joan Marsh and her editorial panel for another excellent contribution to recording South African military history.

Thanks also to Stephen Bowker, Andre Crozier, Peter Duffel-Canham and Ian Pringle for distributing copies to members living in Port Elizabeth and Pat Irwin for distributing to members in Grahamstown, Port Alfred and Kenton-on- Sea.

Congratulations to Peter Duffel-Canham on having his photographs taken during SAMHSEC's August 2019 field trip selected for the inside of the front cover of the Journal.

* * *

Border Historical Society

The BHS plans to meet at Hogsback over a weekend in October 2021 pandemic conditions permitting - for a tour of the early mission sites of the Glasgow Missionary Society that gave rise to the formalisation of isiXhosa as a written language.

The proposed itinerary would be from Hogsback to Tyume (Gwali), then to Old Lovedale and on to the Lovedale Printing Press at Alice. A visit to Burnshill mission might be possible, time permitting. It is hoped that Dr. Sandra Rowoldt Shell, authority on the Glasgow Missionaries, will be able to address an audience of those attending this event on the Saturday night of the tour, at either The Edge or at Hunterstoun.

Anyone interested in attending this event is welcome. Please send your details to the Secretary of the BHS at border.historical.society@gmail.com

Some members of the Border Historical Society (BHS), under the leadership of Dr Patrick Hutchison, undertook a search for the ruined foundations of Old Lovedale Mission station. This is in close proximity to the Ross infants' tombstone which is thought to bear the first inscription in isiXhosa anywhere (1825/1828). This search was eventually crowned with success on Mandela Day in 2020. The search and the outcome was captured in a talk by Dr Hutchison to the BHS AGM on 18 May 2021. A recording of the talk - with illustrations - has been loaded on YouTube, see https://youtu.be/s-avhr6p868.

* * *

War in the Horn of Africa

A map of the control of Ethiopia's Tigray region in August 2021 (https://www.polgeonow.com/2021/08/ethiopia-tigray-control-map.html#more) was received from a reader in response to Martin Plaut's 13 May 2021 presentation to the SAMHS Johannesburg Branch "The historic context of the war in the Horn of Africa". Martin's presentation is in the SAMHS Zoom library.

* * *

The military career of Major General André Bestbier
by Malcolm Kinghorn

McGill Alexander's tribute to Brigadier General Frank Bestbier in SAMHSEC's August 2021 newsletter mentioned that Frank's brother, André, was not well. André has since died. It is an honour for me to record André's military career because he was my friend.

André and I were in Standard 1 together in 1954 when our fathers were Union Defence Force colleagues stationed in Oudtshoorn. We met again when we were on the same Junior Leader's course at the Army Gymnasium in Voortrekkerhoogte in 1964. After our Gym year, I went to the Military Academy and André was posted to 2 South African Infantry Battalion Group in Walvis Bay.

André was an Officer Instructor at the Infantry School in Oudtshoorn when I was posted to Oudtshoorn after leaving the Academy. We became good friends while we were both bachelor living-ins at the Oudtshoorn Officers' Mess.

André was then posted to 1 Parachute Battalion in Bloemfontein. During this time, he played rugby for the Free State and was a member of the Springbok Rugby Tour to France in 1974.

He served as South African Defence Force Liaison Officer in Rhodesia and was then posted to 1 Reconnaissance Regiment (1 RR) in Durban. He was the Officer Commanding 1 RR when I was posted there in 1982/83.

André was the Defence Attaché in Portugal before becoming the Officer Commanding Orange Free State Command in Bloemfontein during the integration of the former statutory and non-statutory forces into the South African National Defence Force (SANDF) in 1994. He retired as the Chief Director Joint Operations at SANDF Headquarters as a major general in 2001.

André was my friend. "Stil, Broers, daar gaan 'n man verby".

SAMHSEC's August Meetings

SAMHSEC's celebration of Women's Month includes inviting a lady to address our August meeting.

Barbara Ann Kinghorn's subject at our 9 August meeting was "The American Field Service". The American Field Service (AFS) started as the American Ambulance Field Service, a volunteer ambulance corps which served in both World Wars. AFS has transformed from a wartime humanitarian aid organisation into an international secondary school exchange to help build a more peaceful world by promoting understanding among cultures. A summary of Barbara's presentation will be included in a future newsletter.

SAMHSEC Requested the Pleasure of the Company of historians to discuss military history on 30 August to celebrate the first anniversary of our RPC meetings. Average attendance of RPC meetings to date is 40. Thanks to our speakers, André Crozier for coordinating the speaker roster and our fellow military historians whose company we have enjoyed.

In the first session on 30 August, former SAMHS National Chairman and fellow member Professor Ian Copley, who is a neurosurgeon with operational experience as a surgeon in the British, Rhodesian and South African armies, spoke about

Post-traumatic Stress Disorder (PTSD) in War and Peace.

"PTSD has only recently been admitted for compensation following road accidents and is attended to by Psychologists who can give counselling and provide psychotherapy. It is left to the medically qualified Psychiatrist to prescribe medication for mood related conditions such as anxiety and depression. The Neurologist might attend to severe headache, whilst in head trauma cases, the Neurosurgeon may be needed.

"The operative word is "stress", which can be acute, as in, for example, an aircraft emergency, football crowd panic, a ship sinking, battle conditions or collisions.

"Trauma can be experienced or witnessed, for example by medics, as described to the SAMHSEC meeting in Grahamstown in 2019 by an American medic veteran of the Vietnam War, who still has PTSD symptoms.

"Stress can also be chronic, as experienced in battle situations with noise of shelling and poor sleep.

"Chronic stress is not uncommon after road accidents, but may be added to the effects of associated brain damage causing various changes in mentation. Brain recovery can occur over the following 2 years, but is never back to 100%. The outcome may be affected by the overlying PTSD, which, in up to 13% of cases, may become permanent. Common symptoms are nightmares and flashbacks, particularly if passing the accident site.

"The poorly understood condition of PTSD came to the fore in the trenches of the Somme in 1916, where the terms "battle fatigue" and "shell shock" were used. Apart from the horrible conditions in the trenches, there was the stress of going over the top, the sight of bodies of pals and, possibly, their putrid remains to be buried.

"Fear is a normal survival instinct, but there is also the fear of being afraid and, especially under military conditions, being seen to be afraid.

"It was thought that the Medical Officers were being too soft when clemency was recommended as court martial papers went up the chain of command and many were turned down and the offender shot for "cowardice".

"There were four times the number of cases in that year and the Army was concerned about it becoming of epidemic proportions, hence the reluctance to consider leniency. Chlorine gas was being used and then phosgene to add to the horror. Depending on the severity, Shell shock S (sick) casualties were sent to the support lines or base hospital for rest, sleep and decent food. Severe cases, Shell shock W (wounded) casualties were sent to asylums in Blighty with symptoms such as mutism, shaking, crying and abnormal behaviour."

The recording of Ian's presentation is in the SAMHS Zoom Library, see
http://rapidttp.co.za/milhist/zoomvideo/ptsdtrauma.mp4

In the second session, John Stevens spoke about the book "In Danger's Hour" by Douglas Reeman. The book is historical fiction set in a Royal Navy minesweeper during World War 2. A summary of John's talk will be included in a future newsletter.

The following was received from fellow member Peter Duffel-Canham after the RPC:
"I refer to both Ian Copley's and John Stevens' excellent presentations on Monday. My father, John Duffel-Canham, served on one of the " little ship" whale catchers converted to minesweepers. In his book "Seaman Gunner, do not Weep", he recalls how, with no ear protection, he suffered total deafness. He also developed a stutter. Luckily someone recognized this as PTSD and sent him ashore to a rest house in Alexandria. He was 17 at the time.

The house had been given to St John's by a Greek family. A French nurse who had some experience of speech therapy, cured him of the stutter and his hearing recovered. Along with bicycle rides along the Corniche, he was soon ready to go to sea again. Quite progressive therapy for the day! The photograph below was in his diary."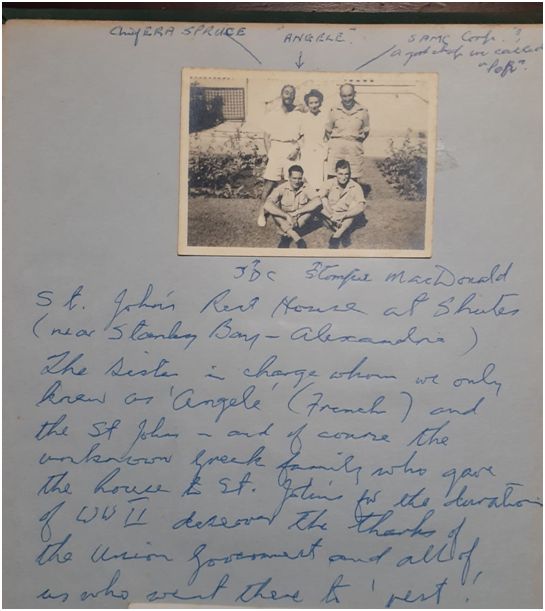 SAAF WW2 air-sea rescue launch still going strong!
The following is an extract from the Maasmond Maritime daily collection of maritime newsclippings of 2 September 2021:
"Spotted recently on the River Orwell, restaurant boat ALLEN GARDINER. She was one of 20 identical vessels built in 1942 by the Miami Shipbuilding Corporation, Florida USA, for use as air-sea rescue launches by the South African Air Force during WWII. She came to Ipswich from Durban in 2013. Photo: Roger Hammond ©"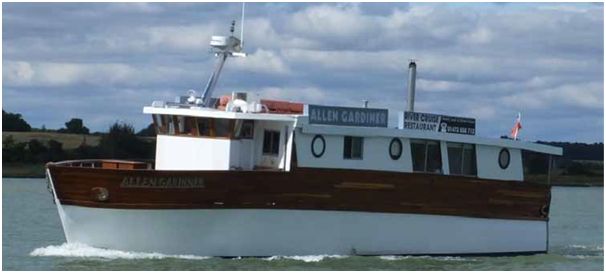 During WW2, SAAF air-sea rescue launches saved almost 600 lives on the South African coast. The workhorses of this fleet were 20 Miami class launches bought from the US. They had flat bottom, hard chine, canvas covered, plywood hulls with four 550 hp Kermouth engines and were capable of 42 knots on 100 octane aviation fuel.
https://www.google.com/search?q=20+identical+vessels+built+in+1942+by+th e+miami+shipbuilding+corporation%2C+florida+usa%2C+for+use+as+air+sea +rescue+launches+by+the+south+african+air+force+during+wwii.&oq=&aqs= chrome.5.69i59i450l8.873177026j0j15&sourceid=chrome&ie=UTF-8
Google Analytics of users of the SAMHS website
For interest based on a recent week's analysis by Google, 43 % of users are in South Africa, 18% in the UK, 14% in USA and 6% in Australia.
SAMHSEC's September Meetings
September is SAMHSEC'S anniversary month as our first meeting was on 9 September 2004. In the past we observed the anniversary with round of drinks and a toast to our common interest in military history. We intend doing so again this year, the only difference being that you are invited to bring your own libation of choice and to join us in the toast to military historians at the beginning of our September zoomeeting. You are also invited to post an anniversary message to SAMHSEC in the chat box during the meeting. Your messages will be copied and posted in our October newsletter.
During our meeting on 13 September 2021, McGill Alexander will tell us about "Wounded warriors – two eccentrically exceptional maimed men of war".
SAMHSEC Requests the Pleasure of your Company to talk about military history on 27 September 2021.
André Crozier will give an illustrated report on SAMHSEC's field trip to the Nanaga area on 18 September.
This is the Captain speaking
Happy birthday, SAMHSEC!
One of the many reasons why SAMHSEC has come from its establishment in 2004 to where it is now is that our strategy from the start has been that we are here for the history and not the hassle. This strategy stood us in good stead when we migrated from roomeetings to zoomeetings because of the COVID pandemic. We now have one and a half times as many members and attendees at our meetings as we had before the pandemic.
So, happy birthday, SAMHSEC, may there be many more!
SAMHSEC
Chairman: Malcolm Kinghorn culturev@lantic.net
Scribe: Ian Pringle pringlefamily@telkomsa.net
Secretary: Stephen Bowker sbowker@telkomsa.net
Society's Website: http://samilitaryhistory.org
* * *
---
South African Military History Society / scribe@samilitaryhistory.org