SOUTH AFRICAN MILITARY HISTORY SOCIETY EASTERN CAPE BRANCH
SUID-AFRIKAANSE KRYGSHISTORIESE VERENIGING OOS-KAAP TAK
Newsletter/Nuusbrief 173

February/Februarie 2019
The January 2019 meeting took place in Port Elizabeth on Monday 14th at the usual venue.
The members' slot was used by Franco Cilliers, whose topic of interest was the Bloemfontein night tank shoot.
The Bloemfontein night tank shoot is the culmination of the training cycle for the armoured crewmen of the South Africa tank regiment. It is held annually during the first week of September at De Brug, near Bloemfontein, and is open to the public. In 2018 about 2000 members of the public attended. The presentation consisted of a static display of various vehicles, a live-fire attack by a Rooivalk helicopter, three Mark IB Olifant tanks and two Mark II Olifant tanks. The vehicles each fired off about 20 rounds of 105mm ammunition and 3000 rounds of 7.62mm machine gun ammunition. After the first round of shooting the vehicle crews swapped and the whole tank firing sequence was repeated.
The curtain raiser, The Midland Mounted Rifles clash with Kritzinger's Commando in the Waterkloof, Cradock District was presented by Ian Pringle.
This long forgotten incident took place on 20th June 1901 when Kritzinger's Commando surprised the Midland Mounted Rifles in an early morning attack. Nine members of this colonial-raised troop were killed in the fierce fight, together with their Commanding Officer Captain Spandow. It was reported that probably some 30 members were either killed or wounded in the engagement.
The Waterkloof Valley is an offshoot of a remote valley in the district known as the Saamenkomst Valley. The engagement took place about 40km from Cradock and lies to the west of the present Mountain Zebra National Park. This area has been farmed for generations by a number of leading Afrikaans-speaking families. Years ago, where this valley splits into the Waterkloof and Perdekop valleys, there was a small settlement that constituted a shop with a postal agency, and a small school. It was also a turning point for the Road Motor Transport Service. That now is all history.
Interest in this incident was aroused by a letter written by a survivor of that fight. He was W.A. van Aardt, who was a Cape Rebel in his time and rode with Kritzinger as a scout. He was then from Somerset East and in 1951 wrote from Aliwal North, where he had retired, to Die Volksblad in Bloemfontein giving a vivid description of the encounter. This letter, which came to the attention of good friends of Ian Pringle – one a distant relation of Van Aardt – led to the decision to visit the site of the battle. This pending visit intrigued Ian as on a prior visit to the Cradock Cemetery made by the Eastern Cape Branch of the SA Military History Society in 2018 it was found that a memorial stone had been fairly recently erected in memory of those who died in the encounter.
Other sources of reference to this incident are described in Kritzinger's book In the Shadow of Death and in a report that was carried in the Midland News of 22nd June 1901. Van Aardt's letter is by far more descriptive, and which Ian read to those attending the January meeting of SAMSHEC in Port Elizabeth. In his presentation Ian showed slides of the site which included the graves, now largely overgrown, of MMR casualties and of their officer, Captain Spandow. His grave is situated some distance from the soldiers' graves and was at one time fenced off. The farm on which the incident took place belongs to the Du Plessis family who warmly welcomed Ian and his good friend Antonie Lombard, who had previously visited the site.
A brief description of the battle would have it that Kritzinger became aware of the MMR detachment, which numbered more than 100. He and his Commando were in close proximity and, while keeping watch on the only access road running through this kloof, noticed a wagon load of oats being transported to Cradock for use by the British garrison stationed in the town. In the early hours of the next morning a group of no more than 10 young scouts (verkenners) led the way ahead of the Commando. They stormed the MMR who were sleeping behind a stone wall which formed part of a stone kraal. Volleys were poured down on the MMR and the fight intensified when the MMR defences were breached on their left and right sides. A call to surrender was made which was declined, but on the loss of Captain Spandow the white flag was raised. The MMR was flabbergasted to learn that they had surrendered to such a small number. The Boers lost one of their number and another was wounded. Kritzinger arrived shortly afterwards with his men, having taken the wrong road and finding themselves in a side kloof off the main road.
There are many similar such incidents that took place during the Anglo-Boer War. Many are well documented, while others are lost in memory and are only recognisable by lonely and unmarked graves. This incident is now well noted and forms an important part of local history of that war which came to an end in 1902.
The main lecture, Durban's Lady in White: Perla Siedle Gibson 1888-1971,was by Barbara Ann Kinghorn. Significantly the 14th January 2019 was also the 100th anniversary of her late father's birthday.
A living legend
Perla Siedle Gibson, a South African classically trained singer and artist, became a legend in her own time. Known all over the world as the 'Lady in White', she stood and sang to more than a thousand troopships, hospital ships and merchant navy vessels entering and departing from Durban harbour during World War II. From 1940 – 1945 she made an indelible impression on millions of Allied soldiers, sailors and airmen, lifting their spirits and building morale as she sang to them, even in the most trying personal circumstances.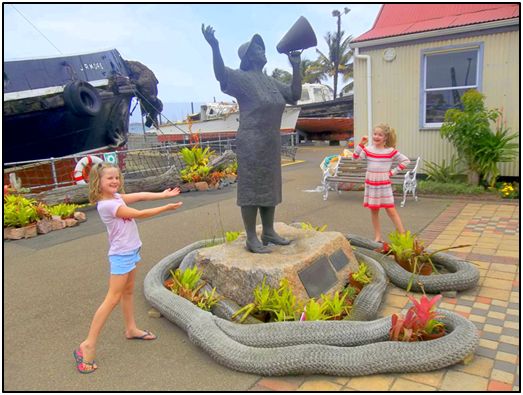 Bronze Statue of The Lady in White, Perla Siedle Gibson, at Durban's Maritime Museum.
Photo by Barbara Ann Kinghorn December 2018.
She would stand and sing in a rich soprano voice at the end of the north pier, a lone matronly figure dressed in white, wearing a big red hat and carrying a ship's megaphone, to welcome each ship and often sing 'for hours' especially when hospital ships docked at Maydon Wharf. Then as they departed, many en route to destinations close to theatres of war in East Africa, the Western Desert, the Mediterranean and the Far East, she would eventually sing Auld Lang Syne until they were out of earshot, and wave until they were out of sight, never turning her back on a departing vessel.
She undertook this task as a self-appointed labour of love. In her autobiography she writes about having an "inner compulsion" to "accept her rendezvous with destiny" when she responded to a certain soldier's appeal from a troopship in Durban harbour in 1940, to "Sing us a song, Ma. Give us Land of Hope and Glory, Ma."
She apparently vowed to herself then and there not to disappoint the troops ever, because she realised that standing alone on the pier or on the dock, she probably personified all that home meant to the soldiers crammed into those ships, en route to uncertain futures and dangerous destinations. Secondly, she undertook to always sing to ships of the Royal Navy, even when peace returned.
So for nearly six years, in all weathers, she was always at her post. She sang Land of Hope and Glory, There'll Always Be An England, Pack Up Your Troubles, It's A Long Way To Tipperary, Mother o' Mine, When The Lights Go On Again, Home, Sweet Home, The White Cliffs of Dover, Annie Laurie, Ave Maria, Waltzing Matilda, Sarie Marais, God Bless America, The Marines' Hymn and many, many more beloved songs requested by thousands of ships' audiences. And, until 1971, the year of her death, she always sang to the Royal Navy.
The making of the 'Dockside Diva'
In an article about Perla Siedle Gibson entitled 'Dockside Diva' published in LIFE on 13th March 1944, John Barkham aptly described her as "a wealthy benevolent socialite". She was indeed sociable and talented and a member of an eminent charitable Durban family.
She was the first child of Otto and Amelia Mary Siedle, and was born in Durban in 1888. Her father's ancestors had migrated from the Black Forest in the early 1800s to England, Wales, Ceylon and America, as jewellers and watchmakers. Born in Woolwich south of London, Otto decided he wanted a more adventurous life than joining the family business and as a young man, he emigrated to Durban as a bookkeeper to the shipping firm King and Sons (Pty) Ltd in 1882. He went on to become a prosperous businessman, a patron of the arts, an avid sports fan and an active supporter of charitable institutions in Durban. His standing in the maritime community was such that in the 1940s a new tug boat was named the Otto Siedle in his honour.
Perla was distantly related to the artist Thomas Baines through ancestors of her mother's family, the Watsons. They owned a transport company and sufficient property in Currie Road, up on the Berea for each of the five daughters to have houses built with park-like gardens and a path linking them all. Perla lived her whole life on the Berea, in several different houses, including Lynnville, Ludlow and Pineholme. Perla had four brothers: Karl, Basil, Edward and Ivan (Jack), two of whom (Karl and Jack) became famous South African cricketers. Their mother, Mary, in particular, was devastated at the loss of her son Karl, who when lying wounded in a war hospital at Doullens was killed with many comrades by an enemy bomb in World War I.
The whole Siedle family were great supporters of the arts and music and, since it was clear that Perla was musically talented, she and her mother went to Berlin for several years, where Perla studied the piano and portrait painting. She married Jack Gibson in 1917 and after World War I, accompanied by her three young children (Roy, Barrie and Joy), she went to London and was trained as a singer by Stephan Mavrogodarto, coached by Sir Henry Wood and Herman Grunebaum, the Wagnerian coach at Convent Garden, and Mme. Pilar Morin.
Perla then had great success performing in operas and singing in various cities overseas, but gladly returned to Durban for her family's sake and revelled in a rich social and cultural life centred at her home Pineholme in the 1920s and 1930s, which she calls "The Joyous Years" in her autobiography. At the same time, she was well received as a painter, exhibiting works at the Paris Salon and the exhibitions of the Royal Scottish, Royal Hibernian and Royal Cambrian Academies and later in Durban and elsewhere in South Africa. When World War II was declared in 1939, Perla was 52, with three grown-up children and had a successful musical and artistic career behind her.
Straight away both her sons Roy (21) and Barrie (20) joined up as members of the 1st Transvaal Scottish Regiment and her daughter Joy became a member of the WAAF, as a driver in the transport unit of the Imperial Transit Camp at Clairwood. Later, her husband Jack (pretending to be ten years younger than his actual age of 54) also signed up, as a member of the SAAF, to be stationed in Egypt at first.
Perla's "wharfside work"
The Siedle family had a well-established association with the Seamen's Institute. Her father was chairman of the board (altogether, for 50 years)and her mother was the vice-president of the executive of the Women's Auxiliary. When Anzac soldiers passed through Durban in World War I Mary Siedle became actively involved as a canteen volunteer. There is pictorial evidence that in 1915 Perla also supported this work. Significantly, she is dressed all in white, as Seamen's Institute canteen volunteers were required to be, with a white apron/overall on top, in the company of Australian and New Zealand troops, returning home after the aborted Dardanelles campaign.
When the Second World War was declared, and with her own family all committed to the war effort in different ways, Perla returned to the work of the Seamen's Institute in Durban's harbour. The LIFE article quoted above asserts that 16th April 1940 was the day she began her new career of dock-side singing, which she called her "wharfside work".
Although her decision to sing was very personal and a self-appointed task, she was not acting on her own at all. Perla was in fact singing very much under the auspices of the Seamen's Institute. Dressed as before in the white 'uniform' of the Women's Auxiliary, based at its enlarged canteen on Maydon Wharf, she became that unique "Dockside Diva" described in the LIFE article. To her canteen uniform she first added a white panama hat to match her outfit, but it gave too little shade. A large red straw hat worked much better as protection as she stood and sang in Durban's tropical sun and when it rained, she used the old Panama hat which had been ducoed red to make it waterproof.
In all, Perla had three megaphones. The first celluloid one was quite small and was given to her by her father, who hoped it would work better than her having to use her cupped hands to amplify the sound of her voice. Perla gave this one to a soldier of the Grenadier Guards who'd sung beautiful duets with her, to encourage him to continue singing to his comrades. The second one was a strong black vulcanite ship's megaphone, presented to her by the survivors of the Llandaff Castle which had been torpedoed and sunk only a day's sailing from Durban. She kept it in her car and it went everywhere with her for ages – until her car was stolen one night. The car was later recovered by the police in Johannesburg, minus the megaphone. The third and remaining megaphone of burnished copper was presented in 1950 by Captain Scott of HMS Nigeria, to thank her for what she had done for the Royal Navy's morale during the war. Perla gave permission for this megaphone to be lodged at the M.O.T.H. HQ in Durban, as a memento of her wartime career.
In due course, Perla's dockside singing was formalised and authorised by harbour authorities as another service offered by the Seamen's Institute. She was very proud of her 'Entertainer' permit which gave her access to the harbour, the Point and Maydon Wharf, albeit under strict conditions. One was that under no circumstances could she ever accept an invitation to go aboard any ship, and another was that she was not to talk about the ships she saw.
War-time security was very tight in order to conceal the movement of ships from the enemy lurking not far beyond the harbour. Therefore, Perla was never given fair warning of approaching or departing ships and convoys. But living up on the Berea, she had a panoramic view from her home of the entrance to the harbour and was able to drive her black Buick car down to the harbour as soon as she saw them, and be at her post to welcome or bid ships farewell.
Contrary to many accounts, the Lady in White didn't actually manage to sing to all ships during the war years. For one, Perla writes that she was afraid to sing and didn't actually sing to her own two sons and their regiment on board the Delwara. And contrary to yet another oft-repeated myth that she was so committed to singing to the troops that she even sang on 30th March 1944, the day she received the tragic news that her son Roy had been killed two weeks before, in fact the next ship Perla sang to was only on 5 April 1944, but in the meantime her beloved mother had also died.
Post war royal gratitude and reunions
The writer of the LIFE article speculated that "We may forget many things of this war, but never the songs of Durban's Lady in White." Perla however, was dismissive of the idea and believed that she would soon be forgotten. She thought men had more important things to remember than a little old lady who stood and sang to them as they sailed away to war.
She was wrong. For the rest of her life, she continued to receive letters and postcards from people all over the world who remembered her singing. She attended reunions, received commendations, recognition and appreciation of her war work all through the 1950s and 1960s, and was especially proud of the gratitude expressed at various times, by members of the Royal Family. Twice Perla was presented to the King and Queen and Princesses Elizabeth and Margaret when they visited Durban in 1947.
Her legacy lives on
AUTOBIOGRAPHY
In 1964 Purnell & Sons (Pty) Ltd of South Africa published Perla Gibson's autobiography The Lady in White, but decided not to market it overseas, in spite of there still being a ready market for her story in Britain, Canada, the USA, Australia and elsewhere. Within 20 years there were only a few copies still in existence in some libraries and museums, and some threadbare copies belonged to her daughter Joy Liddiard, by then married and living in England. A series of chance incidents in 1982 brought the book to the attention of Sam Morley, who received Joy's permission to edit Perla's book, to compile it and publish it in 1991 under the title Durban's Lady in White. Nearly 20 years later, one may still find odd copies available for sale on the internet.
BRONZE STATUE
Thanks to Sam Morley's continuing interest in Perla Gibson's unique story, there is a bronze statue of Perla at the Maritime Museum in Durban. He instigated a public fund-raising project and Perla's niece and fellow artist, Barbara Siedle, was commissioned to execute the artwork. Close by there are posters and explanations about The Lady in White, keeping her memory alive. On August 15th 1995, VJ day, the statue was officially unveiled by Perla's two surviving children Joy Liddiard and Barrie Gibson on T jetty next to the Portnet offices. There it stayed and was enjoyed by the public for 21 years until it was relocated to the Maritime Museum, where it has stood since 27th September 2016.
NORTH PIER MONUMENT
A stone pillar on the north pier at the entrance to Durban's harbour was erected in her honour, near the spot where Perla Siedle Gibson had stood to sing to ships through the war years. In 1972, the year after her death, a plaque was added by the Royal Navy to commemorate her faithfully singing to its ships over 31 years, from 1940 to 1971.
GLENWOOD HOUSE
The boarding establishment at Glenwood High School in Durban (the alma mater of both her sons) is named after Perla Gibson's elder son Roy, who was killed in in Italy World War II. To honour his connection to his mother,the Lady in White, the house colour is white.
GOOGLE SEARCH
The key words "Perla Siedle Gibson THE LADY IN WHITE" in a Google search will yield about 9 490 results in less than a second - so it is reassuring to know that the story of the'Lady in White' will always be there for the next person who wants to know more about her. 
Although there are no audio recordings of her on the internet, it is a wonder worth pondering that something as ephemeral as songs sung generously and with gusto by a gifted singer, past her prime, can mean so much to her listeners. And because they continue to reverberate in her hearers' memories and tantalizingly, even in our imaginations, they inspire us to emulate her if we're ever in her position. Without a doubt, Perla Siedle Gibson proves that, to paraphrase the last line John Milton's famous poem "On His Blindness":
They also serve who only stand and sing.
SOURCES
Future meetings and field trips/ Toekomstige byeenkoms en uitstappe
The next regular meeting will be on Monday 11th February at 19h30 at the Eastern Cape Veteran Car Club in Conyngham Road, Port Elizabeth. The member's slot will be used by Andre Crozier, who will describe The Enigma machine. The curtain raiser by Ken Munro will be on The role of my Aunt in World War II and the main lecture, entitled Enigma, will be presented by Ian Copley. As usual there will be a pre-meeting film starting about 18h30.
Matters of general interest / Sake van algemene belang
Annual general meeting
SAMHSEC's 2019 AGM will be held at the EP Veteran Car Club, Conyngham Road, Port Elizabeth at 19h30 on 11th March 2019. Points for discussion at the AGM and nominations for service on the SAMHSEC Committee should be submitted to the Secretary at cilliers.franco@gmail.com by 28th February 2019.
2019 subscriptions
Members are reminded that annual subscriptions were due on 1st January. There is a small increase this year after two years of no increase. Subscriptions for 1919 are thus:
Single membership R250.00
Family membership R270.00
A discount is given to members over 80 years old. Contact scribe@samilitaryhistory.org if applicable.
EFT Particulars are: FNB Eastgate; Branch Code 257705; a/c No. 50391928346; Name SA Military History Society. REMEMBER TO USE YOUR NAME AS REFERENCE.
If paying by cheque, please add R50.00 for bank charges.
Individual members' activities / Individuele lede se aktiwiteite
Barry Irwin has accepted the offer of the Chair of Cyber Security at Noroff University in Norway. Congratulations to Barry on this prestigious position which opens up many opportunities for him internationally in his field of specialization. He, Yoland and family will accordingly be leaving for Norway about the end of April. SAMHSEC wishes them well.
Richard Tomlinson and Pat Irwin have both had articles published in the latest Military History Journal (Volume 18 No 3), which should have reached members by now.
Bombing and air gunnery practice ranges: 42 Air School, Port Elizabeth, 1941-1946 pp123-129 (Richard Tomlinson)
The Battle of Graham's Town 22nd April 1819 pp 112-117 (Pat Irwin)
Information sought on the Lovat Scouts during the Anglo-Boer War
Angus MacDonald of Scotland is seeking information on the Lovat Scouts who served in the British army during the Anglo-Boer War in 1900 and 1901. They were a reconnaissance unit, part of the Highland Brigade, and saw service around Kroonstad, Bethlehem, Rietief's Nek, Bloemfontein, Spytfontein, Caledon River, Orange River, Odendaal's Drift, Bethulie Bridge, Harrismith and Aliwal North. Angus is writing a book involving them and would be grateful for any information or insights involving them. His address is: AMacDonald@swrnewstar.co.uk
Waarom die Gewone Dikkop ook as 'n Kommandovoël bekend staan
Nog 'n Afrikaanse benaming vir die Gewone Dikkop (Burhinuscapensis) – Spotted Dikkop/Thick-knee – is "Kommandovoël". Omdat hulle so raas wanneer hulle gesteur word, het hulle glo die kommando's tydens die Boereoorlog gewaarsku wanneer 'n Engelse mag in aantog was.
See this URL re the naming of the Dikkop as a Kommandovoël:
http://birdsrsa.blogspot.com/2013/12/spotted-dikkop.html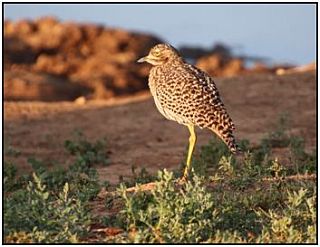 Spotted Dikkop/Thick-nee.
Photo: Anne Irwin.
ABO Studiekursus
Die ABO Studiegroep bied twee studiedae aan gedurende die naweek 26-27 Januarie 2019. Die studiedae is as volg:
* Saterdag 26 Januarie 2019 vanaf 08:30: In-en-Om Bezuidenhoutsdrift-Veldhospitaal – die laaste amptelike hospitaal van die Oranje-Vrystaat Republiek.
Die program begin met 'n aanbiedingdeur Dr Arnold van Dyk, Voorsitter van die Vriende van die Anglo-Boere Oorlog Museum oor die Mediese Dienste tydens die Anglo-Boere Oorlog in die Vrystaat. Theo Ligthelm sal 'n oorsig gee oor Bezuidenhoutsdrift Veld-Hospitaal se funksionering en die interessante pasiënte wat daar behandel is. Albert Jansen analiseer Hessel Jacob Poutsma 'n Rêrigeskarminkel! - die "dokter" (met geen opleiding) se lewe. Leon Strachan, skrywer van Krygers en Guerrilla, gaan dan die Rimington Scouts se vergeldingsaanval op die hospitaal en die verwonding van die hoofverpleegster Lily Rautenbach toelig.  Dr Dennis Walters, 'n siviele inginieur bespreek dan die bewaring van die gebou. 'n Klankgreep van 'n gewonde pasiënt word ook gespeel.
Na 'n middagete word die Bezuidenhoutsdrift-terrein en huis net buite Reitz besoek en die terrein word toegelig met insette van Koos en Janet Lourens.
Die De Wet grot by Reitz word dan besoek met 'n toeligting deur Leon Strachan.
* Sondag 27 Januarie 2019 vanaf 08:00: Op-en Om Groenkop – De Wet se kersgeskenk aan die Britte.
Die program begin met 'n oggendgodsdiens geleentheid. Hierna gee Leon Strachan, skrywer van Krygers en Guerrillas 'n oorsig oor die dryf-jagte op generaal de Wet in die Oos-Vrystaat: De Wet se Vrystaat in 1901 – dryf-jagte vir die Skim! Albert Jansen gee 'n detail oorsig oor die Slag van Groenkop en die agtergrond tot die slag: 'n Kersgeskenk aan die Britte! Theo Ligthelm sal dan die interessante verliese aan Boer en Brit se kant tydens die slag gespreek. Weereens is 'n klankgreep beskikbaar van 'n veldkornet wat vertel hoe die geveg plaasgevind het. Na middagete word die terrein van Groenkop net buite Kestell besoek met 'n terrein aanbieding.

World War I Centenary Years / Eerste Wêreldoorlog Eeufeesjare

While the Paris 'Peace' Conference got off to a vindictive start on 18th January 1919, and was to last a full year, the multi-national Allied intervention in the Russian Civil War on the side of the 'White Russian' forces gathered momentum. Its aims were to arrest the rise of Bolshevism, to protect Allied economic interests, and to ensure the 'freedom of the seas' i.e. safe and unhindered trade.

Websites of interest/Webwerwe van belang

Naval interest

Ensign keeps New Year's Day rhyming deck log tradition alive
Ben Werner USNI News 2nd January 2019
https://news.usni.org/2019/01/02/middle-watch-rhyming-in-the-new-year

Recovery of 230 000 gallons of oil from wreck of the Second World War German heavy cruiser Prinz Eugen
George Winston War History Online 27th December 2018
https://m.warhistoryonline.com/instant-articles/us-venture-recovers-wwii-oil.html

World War I

The concrete blocks that once protected Britain
Photographs by Joe Pettet-Smith BBC News 7thJanuary 2019
https://www.bbc.com/news/in-pictures-46348917

Interesting Christmas menus from the First World War
Anon The Conversation Undated
https://theconversation.com/what-australian-soldiers-ate-for-christmas-in-wwi-108987

World War II

Letters of Italian prisoners of War: Australia 1943-1946
Anon Undated
https://italianprisonersofwar.com/2018/12/22/letters-from-the-past/

Cold War and post-Cold war

U.S. kills terrorist behind 2000 USS Cole bombing
Reuters gCaptain 6th January 2019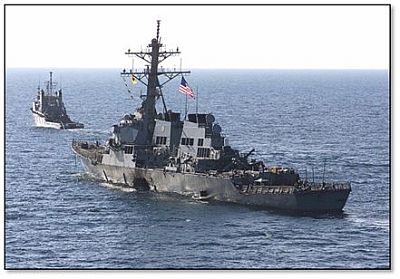 USS Cole being towed away from Aden, Yemen
after it was attacked by terrorists on 12th October 2000.
If Russia started World War III, here's how it might work out
Todd South Military Times 13th September 2017
https://www.militarytimes.com/flashpoints/2017/09/13/if-russia-started-world-war-iii-heres-how-it-would-go-down/
[This article goes back 18 months, but is nevertheless interesting to consider in the light of recent NATO exercises in northern Europe – Eds]
What are hypersonic weapons?
SJ The Economist 3rd January 2019
https://www.economist.com/the-economist-explains/2019/01/03/what-are-hypersonic-weapons
Resource materials of military historical interest/
Bronmaterieël van krygsgeskiedkundige belang
ONLINE RESOURCES
Tinker, Tailor Soldier Spy The seven part 1979 miniseries is now available at:
NEW NEWSLETTER
Die Heliograaf
This is the Newsletter of the Friends of the War Museum [ABW Museum in Bloemfontein].
Dit is die Nuusbrief van die Vriende van die Oorlogmuseum [ABO Museum in Boemfontein].
The first issue for 2019 will be sent as an attachment to this Newsletter.
Editor's note: This is a really excellent museum and well worth a visit even if just passing through Bloemfontein.
BOOK REVIEWS / OVERVIEWS
Steyn Richard 2018 Louis Botha: A man apart Published by Jonathan Ball, Cape Town. 300pp including a useful reference list, endnotes and index. There are eight maps and several b & w photographs incorporated in the text.
The recent publication of Richard Steyn's Louis Botha: A man apartis a timely reminder of the 100th anniversary of hispremature death on 27th August 1919. The outstanding general of the Anglo-Boer War and South Africa's first Prime Minister, Botha was, notwithstanding misjudgements and questionable decisions on some issues, a remarkable man by any measure and deserves far greater recognition than he received from the previous regime or is likely to receive from the present one.
While there is little new material and the book is based largely on secondary sources such as the works of Johannes Meintjes, FW Engelenburg and Sydney Buxton, it is well written in a very readable style. It is a good and honest overview without slippage into a panegyric or hagiographic homily. AS AJP Taylor, one of the great historians of the 20th century reminds us in his work From the Boer War to the Cold War, the primary task of the historian is to explain the past, neither to justify or condemn it, a point which has been lost to some modern historians, particularly some of those of a neo-Marxist, 'liberationist' or even a 'post-modern' tendency or disposition. This book, to quote Steyn himself (p xv), ... resists the temptation to assess Botha's life through modern lenses and attempts rather to explain, but not necessarily to defend or justify, political attitudes that were commonplace in colonial Africa and most of the world a century ago."
The book covers Botha's early life, his meteoric rise from Veldkornet to Commandant-General during the Anglo-Boer War and his masterful conduct, along with Generals de la Rey, de Wet and Smuts, of the guerrilla campaign against the British between late 1900 and May 1902 when the Treaty of Vereeniging was concluded. His role in the post-war political development of the Transvaal, his strong advocacy of unity between former antagonists and support for the formation of the Union of South Africa, of which he became the first prime minister, is well covered. His active role in the military conquest and occupation of German South West Africa whatever the rights and wrongs of it, and despite the opposition which it aroused in South Africa, was widely regarded as an example of superb leadership and military ability. His serious misgivings, like those of his closest compatriot Jan Smuts, about the Treaty of Versailles proved to be prescient.
The narrative concludes with his return to South Africa and his unexpected death. One of the themes throughout the book is Louie Botha's magnetic personality and charm. He was described by many of his contemporaries, including hid political enemies, as 'a most lovable man'. On a personal level he was probably the most widely liked of all South Africa's prime ministers and drew huge crowds wherever he spoke. As a man of his time, Churchill described him as "one of the truly great men of the world". This biography leaves little doubt that he was truly one of South Africa's greatest son'sand deserves, despite his faults and political misjudgements, to be remembered as such.
This is the last issue of the Newsletter to be compiled by the current scribes, Pat and Anne Irwin. After seven years we are handing over to Ian Pringle. Interacting with our fellow SAMHSEC members and the wider military history community through the Newsletter has been an interesting and fulfilling experience and we thank our members and our family, who have supported us in the endeavour. Our sons, Barry and Michael, as well as Peter Duffel-Canham and Malcolm Kinghorn are particularly thanked for the continual flow of information which they have supplied to us. Yoland Irwin has assisted by maintaining the SAMHSEC membership list and keeping it up to date. We wish Ian well and assure him of our continued support.
Members are invited to send in to the scribes, short reviews of, or comments on, books, DVDs or any other interesting resources they have come across, as well as news on individual member's activities. In this Newsletter, there have been contributions by Barry Irwin, Franco Cilliers and Michael Irwin, Peter Duffel-Canham and Malcolm Kinghorn.
* * *
| | | |
| --- | --- | --- |
| Chairman: | Malcolm Kinghorn | culturev@lantic.net |
| Secretary: | Franco Cilliers | Cilliers.franco@gmail.com |
| Scribes: | Anne and Pat Irwin | p.irwin@ru.ac.za |
* * *
TAILPIECE: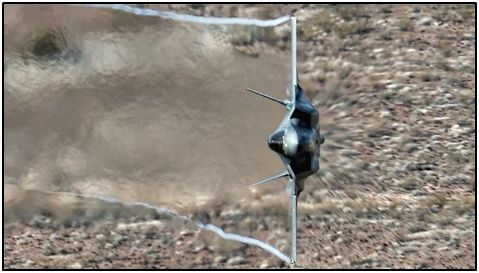 The F-35 all-weather stealth multirole fighter in a head-on shot taken as the aircraft flew though the 'Star Wars Canyon' last week.
The distortion is caused by the modified index of refraction around the aircraft as a consequence of shock waves.
(Image credit: Jim Mumaw). The Aviationist, 23rd December 2018.
---
South African Military History Society / scribe@samilitaryhistory.org