Tel (+27)(0)10-237-0676 Fax (+27)(0)86-617-8002
Web:http://samilitaryhistory.org
Email: scribe@samilitaryhistory.org
NEWSLETTER - MAY 2019
The Curtain Raiser was replaced by the 53rd ANNUAL GENERAL MEETING of the South African Military History Society, which took place in the JC Lemmer auditorium at the Ditsong National Museum of Military History at 20h00 on the 11th of April 2019.
As is customary, Chairman Hamish Paterson was elected for a second term. The committee was retained en bloc. Members are Kevin A Garcia, Jan-Willem Hoorweg, Joan Marsh, Peter Rush, David Scholtz and Richard Schütte. Additional members would be welcome!
Any members wanting copies of the Minutes, Chairman's and treasurer's reports and the abridged Financials can contact Joan at the letterhead address.
* * *
Main Lecture: "The real Georg von Trapp: from War Hero to Sound of Music Patriarch" was by Nick Cowley.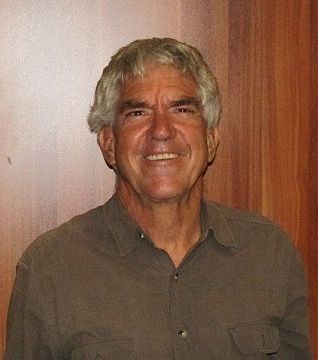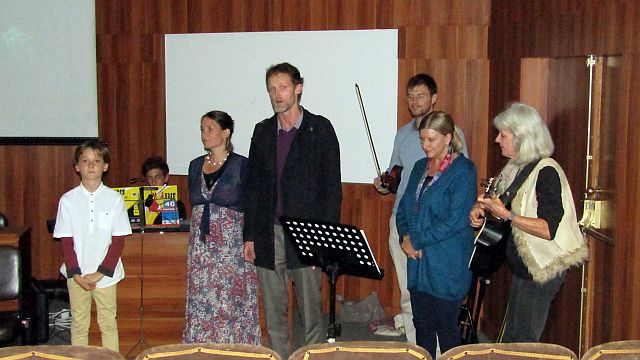 Nick Cowley and his 'Sound of Music' Ensemble: Callen, Josh, Karen and Sam Hodgkiss, Dave Orpen, Betsy Coville and Dot Hodgkiss

The main theatre at Monte Casino in Johannesburg last year presented probably the world's most popular musical - the stage version of the 1959 Rogers and Hammerstein sensation, "The Sound of Music", which premiered in 1959 and is still performed regularly, but it is of course the 1965 film, The Sound of Music, that we all know. The Sound of Music is a semi-fictional account of about twelve years in the second half of Baron Georg von Trapp's life. Born in 1880 in Dalmatia in the Balkans, a region along the Adriatic Sea that belonged to the dual Austro-Hungarian empire, that today forms part of Croatia, which was ruled from Vienna by the ancient Hapsburg dynasty. The Hapsburg empire had a naval tradition going back to the 16th century sea battle of Lepanto and beyond. Von Trapp joined the Austro-Hungarian navy at age 14, and formed part of this tradition, rising to the eventual rank of captain and also becoming a hereditary Ehrenritter (Knight).
Georg's father sadly died when he was only four, but the boy too would become a Knight in time, Sir George, if he'd been British. By his early 20s, he had already voyaged as far as the Pacific twice, once on a training sail ship, and once on a then-modern cruiser. He had distinguished himself in battle, but this was on land. This came about when his ship was detached to join the Allied forces that helped quell the Boxer Rebellion in China in 1900, where a contingent of Austrian sailors formed part of the force that stormed the Taku forts, and a rifle-wielding Cadet von Trapp did enough to earn him a minor award. In 1904, he began with his officer's course which covered thirty subjects, excluding navigation and ship-handling, but included swordsmanship, English, French and Italian, dancing, etiquette and instruction in one musical instrument. Georg chose the violin.
Naval tradition had been based for over two millennia on surface ships, but Georg saw the potential in two exciting innovations of naval warfare at the time - the submarine and the torpedo. The submarine had only been around since 1895, but the self-propelled torpedo had been invented by an English engineer, Robert Whitehead, as early as 1866. Whitehead reached an agreement with the Austro-Hungarian government, and set up the world's first torpedo factory in the port city of Fiume on the Adriatic (now Rijeka in Croatia) as that was also where the Austro-Hungarian submarines lay anchored. Von Trapp, now a junior officer in 1908, asked for a transfer to be trained in both submarines and torpedoes at the naval college in Fiume. Whitehead's family still ran the Whitehead torpedo factory in Fiume. Georg von Trapp, while being trained at the naval base in Fiume, attended parties and events where he met and began to woo Robert Whitehead's then 18 year old granddaughter Agathe and after a brief courtship, the couple were married in 1911.They had seven children, but Georg's time with his young family was very limited after 1914, when the assassination of the Austro-Hungarian Hapsburg Crown Prince led to WWI being declared and Georg was called up for duty.
Von Trapp commanded two U-Boats, the U-5 and U-14, during the four-year conflict and preyed on Allied shipping in familiar Adriatic waters and the Mediterranean. Georg would describe his adventures over the next four years in his later memoirs, which were only translated into English for the first time by a granddaughter in 2011. In it, Georg describes how they realised that the Allied convoys they pursued were using zigzag techniques. The U-Boat crews were shocked by previously unknown depth charges that exploded around them. Once, when being pursued on the surface by three destroyers, Georg had a bucket of fuel oil tipped onto the surface of the water before his sub dived and escaped. A few days later he read in the papers that the destroyer squadron had been honoured for sinking an Austrian submarine!! Von Trapp was credited with the sinking of the 12,000-ton French battlecruiser, Leon Gambetta, and went on to sink a total of 13 vessels, or 45,000 tons over a four-year period and for this he was awarded the Order of Maria Theresia, Austria's highest decoration.
Georg had amassed quite a substantial wealth, as Agathe had inherited a large part of the Whitehead fortune. He invested much of this in two shipping lines and this business prospered, and the family was able to live a life of ease and elegance, but sadly, the family suffered a devastating blow when Agathe died suddenly of scarlet fever in 1922 and Georg was left a widower at the age of 42, with seven children to raise. Wanting to start a new life, he moved to Salzburg and bought the mansion, Villa Aigen. As a wealthy single parent, he employed a succession of governesses, tutors and nannies, all of whom left for various reasons. Georg, a devout Catholic, turned to the main Salzburg parish in search for a suitable tutor. Enter Maria Augusta Kutschera, later known as Baroness Trapp.
Maria was born in a small mountain village in the Salzburg area in 1908 and had a Heidi-like childhood, until she lost her parents at a young age and was sent to boarding school. She studied at a teachers training college in Vienna, with music as her main subject and was a member of a Catholic students group, who went on long hikes and trips into the mountains and collected old folk-songs from remote villages. After her studies, she became a novice nun, at the Nonnberg Abbey in Salzburg. Nonnberg dates back to the 8th century, and formed part of the Benedictine Order.
So we see the real Maria had passions for music and mountains which are broadly reflected in the opening sequence and title song of 'The Sound of Music', where Julie Andrews as Maria has gone AWOL from the Abbey to sing and skip like a lamb in the hills. In her memoirs, she wrote that she kept a guitar in her dormitory and whistled the most sacred melodies and slid down the banisters of the venerable staircases as a most unbefitting nun. With Maria being a trained teacher, the Abbess quickly decided that as soon as a fitting job offer came, she would be pushed towards a more suitable life choice. That job offer came when von Trapp came knocking at the door of the Abbey. Maria was initially hired to teach only one of Georg's children, also called Maria, and she soon discovered that the seven children were in the habit of gathering on Saturday afternoons, their only free time, where they sang together. She began to join them and did NOT teach them their Do-Re-Mi, as the film suggests. Maria taught them advanced techniques like singing madrigals and choral odes.
This was no more than a family pastime, until a visitor heard them and was so impressed that he persuaded them to enter one of Salzburg's famous music festivals. They soon became well known throughout the country, and were even asked to perform for the Austrian Chancellor. Georg was a rich man and the family didn't need money, but Maria had made a dashing impression on the gifted children's father. She was also 27 years Georg's junior, and, over time, they would fall into each other's arms. The jealous Princess, who, as you may recall from the film, was jilted by Georg's love for Maria, spitefully spread the rumour that Maria was pregnant, hence their sudden engagement. Georg left on what was labelled as a business trip before the wedding, which lasted long enough to discredit the rumour. Georg and Maria were married in a church in Salzburg in 1927 and not at Nonnberg as the film suggests. Georg now had a wife again and his children loved their new stepmother. Georg also had the pleasure of reliving his wartime exploits in a series of talks on the fledgling Austrian radio service which only enhanced his reputation as a U-boat ace. But it all fell apart in the mid-1930's, when Georg quite suddenly lost most of his fortune, partly due to the Great Depression and the family was forced to take in boarders at the villa.
It was one of his boarders, Father Franz Wasner, a Catholic cleric with a great interest in music, who persuaded them to turn into professional musicians and became a sort of business manager for them, even later in the United States. Touring through Austria, their musical repertoire consisted of traditional madrigals, roundelays, as well as religious pieces composed by Bach and Palestrina. The family were back on the crest of the wave when their happy situation abruptly ended yet again, this time by politics, when in 1938, the Nazi Party brought Austria into a state of Anschluss or union, effectively annexing it with Germany. This deeply affected Georg's intense patriotism, reflected by Austria's national flower, the Edelweiss, as noble and white as its name and mountain background suggests. Österreich was now reduced to merely the Östmark of Greater Germany and von Trapp despised the Nazis for this and everything else they stood for. When the Nazis, aware of his record, offered him a naval command, he had a moral dilemma. He would have loved to resume his naval career, but was also duty bound to serve the prevailing civil power of Hitler and his Nazi Party, which he declined. In similar vein, he rejected to fly the Swastika at his villa, and also refused an invitation for the family to perform at celebrations of Hitler's birthday.
That was strike three against him in the eyes of the Nazis and so he took the momentous decision to flee Austria. One option was to trek across the high Alps to neutral Switzerland, which also forms the memorable final scene and song of the musical. For their escape plan they pretended to go on holiday and travelled by quite conventional means, taking the train to Trieste, then a ship to England, and finally, the United States. In the USA, they faced a number of major challenges that lasted several years. Maria says that the daunting immigration process saw her nearly being deported but she was spared when war broke out in Europe, which caused the US to pass an edict that nobody could be sent back to Nazi-controlled territories. To make ends meet, they resumed in what they did best, giving town hall concerts, but they had to tailor their music to American tastes and it was suggested that the girls should wear shorter dresses and silk stockings instead of their Austrian costumes. And, they had to master the English language, which only Georg and his eldest son spoke with any fluency. The family overcame these obstacles and were eventually able to buy a farm in the green mountain state of Vermont, where the countryside reminded them of home. The Trapp lodge stands today on the same site as the farmhouse that the von Trapps rebuilt in 1941, but had burnt down in 1980. Americanisation also brought its obligations when the two oldest sons, Rupert and Werner, were drafted into the army and shipped off to the war in Europe where they took part in the final defeat of the Nazis. The von Trapp villa had been taken over by Heinrich Himmler during the war and Georg had heard that conditions in post-war Austria were appalling, which shelved any plans for them returning to Austria.
In the USA, they launched the Trapp Family Austrian Relief Fund, and managed to send over hundreds of tons of aid goods donated by ordinary Americans. Due to their popularity as performers, they toured the US from coast to coast while spending leisure time on their farm. The family was prospering and it was now twelve strong, as Maria had given birth to three children. Her youngest one was the only one born in the US.
In May 1947, Georg began suffering from shortness of breath, and within two weeks the family patriarch was dead. Maria, who almost died herself from shock and grief, later wrote the following on the cause of his death: "A few weeks after his death, I heard of a doctor who had had seventeen cases of cancer of the lungs, all of them U-Boat men from the First World War. Thus it would not be impossible that 'the Trapp' died a hero's death."
How should Georg von Trapp be remembered? Certainly as a leading submarine ace who used torpedoes effectively, while incidentally joining the family of their inventor.
* * * * * * *
FORTHCOMING LECTURES
CR = curtain raiser ML = main lecture
DDH = Darrell Dickon Hall Memorial lecture MS = member's slot
JOHANNESBURG:
Thursday 11th April

CR: ... AGM
ML: Nick Cowley:: ... "The real Georg von Trapp: from War Hero to Sound of Music Patriarch"
KZN in Durban:
Thursday 9th May
DDH: George Oliver ... "Details on Enigma"
ML: Charles Whiteing ... "German Military Transport in WWII"
CAPE TOWN:
Rosedale Complex
Thursday 9th May
Dr Roger Steward ... "The Eastern Frontier"
SAMHSEC:
EP Veteran Car Club, Conyngham Road, Port Elizabeth at 19h30
Monday 13th May
CR: Jaco Pretorius: ... "The SA Navy Marines in the 1950s"
ML: Franco Cilliers : ... "The role of the M4 Sherman Tank "
* * * * * * *

Branch contact details
For Cape Town details contact Carl Burger 082 333 2706 c.burger@bissets.com
For Eastern Cape details contact Malcolm Kinghorn 041-373-4469 culturev@lantic.net
For Gauteng details contact Joan Marsh 010-237-0676 joan@rfidradar.com
For KwaZulu-Natal details contact Roy Bowman 031 564 4669 bowman.roy93@gmail.com
* * * * * * *

* NOTE* Fast mirror and backup site BOOKMARK FOR REFERENCE Main site * NOTE*
---
South African Military History Society / scribe@samilitaryhistory.org