Tel (+27)(0)10-237-0676 Fax (+27)(0)86-617-8002
Web:http://samilitaryhistory.org
Email: scribe@samilitaryhistory.org
NEWSLETTER - JUNE 2019
The curtain raiser by Kevin Garcia was about "The day George Washington quit the Army"
His theme was that, unlike most military commanders, once having been victorious, George Washington quit the Army and returned to his farm. He did later become President, but it was not as a result of being the commander of the Military. Would this not be a fine example for modern democracies to follow?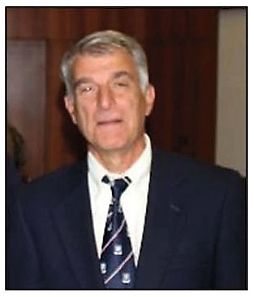 Kevin A Garcia
The Main Lecture was by David Holmes who spoke about "Lt-Col John (Jack) Sherwood Kelly VC CMG DSO"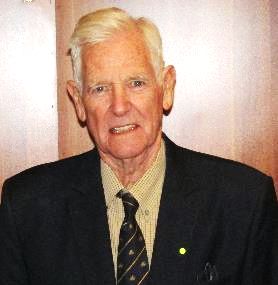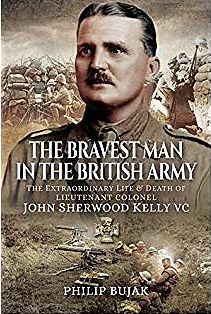 David Holmes
His subject was a man who had been described as "The Bravest Man in the British Army" - indeed this is the title of a book by author Philip Bujak, describing the up and down life of Lt-Col John Sherwood Kelly VC CMG DSO
The talk took us through his early troubled years - also his double tragedies when he lost his twin brother and his mother in separate accidents involving horses, as well as his school years which were plagued by upheaval - he had been expelled from at least three of the private schools in the Eastern Cape, much to his father's despair! His first military experience was at the age of 16 in Matabeleland.
After a short stint of service in the Native Affairs Dept under the guidance of his father, he left to join various regiments in African conflicts, after which when the Irish Insurrection started, he joined up to see action. When The Great War broke out, he immediately enlisted.
This opened a new chapter in his life, but resulted in his being severely wounded, almost losing his life, on a few occasions. Arriving for the presentation of his DSO - awarded following action in the Gallipolli campaign - he bumped into his brother who was there to collect a different decoration! He mentioned he would be going back into the fray "to collect a VC".
During this time his dealings with women were the subject of some mutterings. [Dr Brian Austin, who has spoken to the Society on several occasions, mentioned in an e-mail to Joan Marsh, that his grandmother had been married (briefly) to Kelly and that it would appear Jack had even married one woman before his divorce to another had been granted - hence the above comment by David Holmes!]
However he won a VC for an heroic attack at Cambrai, being severely wounded again.
Notification of his award appeared in the 'Supplement To The London Gazette, 11 January, 1918' and stated:
"Maj. (A./Lt.-Col.) John Sherwood-Kelly, C.M.G., D.S.O., Norf. R., comd. a Bn., R.Innis. Fus.
For most conspicuous bravery and fearless leading when a party of men of another unit detailed to cover the passage of the canal by his battalion were held up on the near side of the canal by heavy rifle fire directed on the bridge. Lt.-Col. Sherwood-Kelly at once ordered covering fire, personally led the leading company of his battalion across the canal and, after crossing, reconnoitred under heavy rifle and machine gun fire the high ground held by the enemy.
The left flank of his battalion advancing to the assault of this objective was held up by a thick belt of wire, whereupon he crossed to that flank, and with a Lewis gun team, forced his way under heavy fire through obstacles, got the gun into position on the far side, and covered the advance of his battalion through the wire, thereby enabling them to capture the position.
Later, he personally led a charge against some pits from which a heavy fire was being directed on his men, captured the pits, together with five machine guns and forty-six prisoners, and killed a large number of the enemy.
The great gallantry displayed by this officer throughout the day inspired the greatest confidence in his men, and it was mainly due to his example and devotion to duty that his battalion was enabled to capture and hold their objective."
After the war, he entered into politics with some interesting results, and was later sent to Archangel in northern Russia, where he came into conflict with British military thinking, and was subsequently Court-Martialled. He had come into direct conflict with Winston Churchill First Sea Lord, and was asked to leave the Army. He died in London and is buried in Brookwood Cemetery.
* * *
Magaliesberg Association for Culture & Heritage June events
for information of interested members
The Night of the Generals by Roger Webster
June 12 (Wednesday) at 10h30 for 11h00
R100.00 pp covers talk & refreshments
Om die dam Heritage Bus Tour with Rob Milne
Sunday June 23rd - Tour from Meerhof Lodge Hartbeespoort at 08h00.
R200.00 pp covers tour
Bookings call Mike 071 382 5905 or mail mike@meerhoflodge.co.za
* * *
Elands River Museum - Monument unveiling - August 17th
A monument to the animals which were killed in the siege of Elands River/Brakfontein during 4 to 16 August 1900 will be unveiled at this private museum - details from Peet at 063 734 0936 or elandsriviermuseum@gmail.com
There will be functions on the Friday and Saturday evenings and lectures by Society members Rev Stephan Botha on the battle itself and Prof Jan Myburgh on the effect of artillery and rifle fire on the behaviour of animals.
Accommodation can be arranged with Maarten at 082 556 8861
* * *
Mystery POW query 1914
Linda Labuschagne, a principal scientist at the Western Cape Museum, e-mailed as follows:
A piece of engraved slate was found in a shop in Stellenbosch. One side shows the coat of arms of the Transvaal Republic, the other an inscription, both scratched on the surface.
The inscription reads as follows: "P. Möller jnr Prottesteer tegen die Verovering van Duits West Afrika. Wert gevangen de 29/10/1914, in de tronk te Pretoria gehouden als Rebel".
So it seems that this person, P. Möller was in the Pretoria prison in 1914 and that he was there as a rebel because he protested against the South African government's involvement in taking over "Duits-wes Africa" - now Namibia.
Can anyone provide us with more information regarding this very interesting story, inscribed in 1914 on a piece of slate? We would really appreciate it if we could get more information on who P. Möller was?
Linda.Labuschagne@westerncape.gov.za Tel. (044) 8735343 Fax: (044) 8740354
* * *
Any members interested in wargaming?
From Italy, sergio schiavi e-mailed: "I [have] launched a wargame project about Italian Campaign in WW2: 'From Salerno To Rome'

https://www.kickstarter.com/projects/1162877589/from-salerno-to-rome?ref=ctf4k4

This is not an endorsement, simply a mention

* * * * * * *
FORTHCOMING LECTURES
CR = curtain raiser ML = main lecture
DDH = Darrell Dickon Hall Memorial lecture MS = member's slot

JOHANNESBURG:
Thursday 13th June

CR: Pierre du Toit: ... "Force Z Tragedy"
ML: Col William Bergman: ... "The Jewish Contribution to South African Military History spanning 350 years, from van Riebeeck till the 20th Century"
Thursday 11th July

CR: Colin Harris: ... "KEARSARGE vs ALABAMA"
ML: Anne Samson: ... "South African Military Chaplains in the early 20th Century"
KZN in Durban:
Thursday 13th June
DDH: Darryll Abboo: ... "The Bruneval Raid - Operation Biting"
ML: Nora Simpson: ... "Rose Millicent Vandecar - Florence Nightingale Medal Recipient"
CAPE TOWN:

Rosedale Complex
Thursday 13th June
Dr. Sydney Cullis ... "Battle of Normandy; D-Day and D-Day plus 75"
SAMHSEC:

EP Veteran Car Club, Conyngham Road, Port Elizabeth at 19h30
Monday 10th June
CR1: Pat Irwin: ... "The Peace of Versailles"
CR2: Mac Alexander : ... "Bisley Competitive Shooting"
ML: Anton de Wit : ... "How should we remember war?"
* * *

New magazine release launch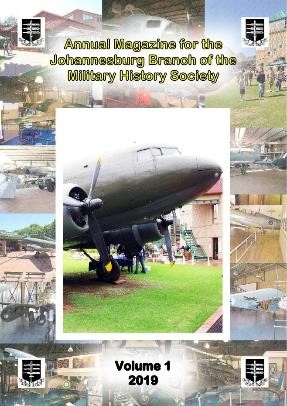 Magazine cover

Introducing a new magazine, unique to the Johannesburg branch of the Military History Society, is this first release compilation that will document the activities of the society on an annual, year-on-year basis. The well-illustrated magazine includes:
. All the monthly newsletters of the past year.
. Articles on outings.
. Reviews of the latest Military History Journal(s).
. A list of the past year's evening lectures.
. Coverage of special events.
. A membership application form.
. Photographs taken throughout the year.
. And much more !!
The annual magazine is available both in printed format or electronically in PDF format at a cost of R60.00 each.
The magazine will be launched at the next evening lecture meeting on the 13th of June.

The magazine was produced by committee member Richard Schütte during 2018.

* * * * * * *

Branch contact details

For Cape Town details contact Carl Burger 082 333 2706 c.burger@bissets.com
For Eastern Cape details contact Malcolm Kinghorn 041-373-4469 culturev@lantic.net
For Gauteng details contact Joan Marsh 010-237-0676 joan@rfidradar.com
For KwaZulu-Natal details contact Roy Bowman 031 564 4669 bowman.roy93@gmail.com

* * * * * * *


* NOTE* Fast mirror and backup site BOOKMARK FOR REFERENCE Main site * NOTE*
---
South African Military History Society / scribe@samilitaryhistory.org