Tel (+27)(0)10-237-0676 Fax (+27)(0)86-617-8002
Web:http://samilitaryhistory.org
Email: scribe@samilitaryhistory.org
NEWSLETTER - JULY 2019
The June lecture was well attended considering the drop in temperature earlier that week. The Curtain Raiser was by Pierre du Toit about WWII's "Force Z tragedy".
Pierre opened his lecture with the water colour painting by Eric Tufnell depicting HMS Repulse under attack by Japanese aircraft and the Prince of Wales burning in the background. Both ships were sunk in 1941 with the loss of 840 men.
The British military had, as early as 1925, recognised the vulnerability of Singapore, which by 1939 was already being threatened by advancing Japanese forces. Singapore would need to deploy at least 8 capital ships against an estimated 9 Japanese battleships and battle cruisers. On August 20th 1941, First Sea Lord, Dudley Pound, stated that it was imperative for any Far East fleet to be based at the more secure location at Trincomalee, from where it would offer protection. In less than two weeks, Churchill issued a memorandum, informing the Admiralty that he wouldn't approve such a large fleet and deemed it sufficient to use a smaller fleet of the best ships, based on a strong perception of the Imperial Japanese Navy's inferior fighting abilities.
In 1940, embargoes on supplying oil, rubber and war materials to the Japanese had been enforced by America, Great Britain and Holland. Despite all of this, Japan invaded and seized control of French Indochina, and by June 1941 the Japanese high command concluded, that with the Soviet army no longer being a threat, a "strike south" would solve Japan's problems. By 1941 the Japanese had already been at war for four years against China and Russia, so they were by no means an inferior threat. The Japanese invasions continued, when in July 1941, 140,000 Japanese troops invaded southern Indochina. The British High command in Malaya viewed the Japanese advance with alarm and requested urgent reinforcements. At the time, Allied forces were distributed widely throughout the country with the majority being based in Singapore. During late 1940 and mid-1941, numerous meetings were held between the British, Dutch and Australians. The Americans were also present, but were merely observers. On October 20th, Churchill scored a personal victory over his War Cabinet when they finally conceded to his wishes and allowed the battleship, Prince of Wales, the battle cruiser Repulse and the new aircraft carrier, Indomitable, to form the basis of the Indian Ocean deterrent squadron. Indomitable, though, which was stationed in the West Indies, had run aground off Kingston and had been sent to the US for repairs, whilst Repulse was moored in Durban and the Prince of Wales was being fitted in Cape Town. Repulse was visited by Jannie Smuts who addressed the crew and one of the survivors recorded his address.
"In particular, I am concerned over present disposition of two fleets, one based on Singapore and the other in Hawaii, each separately inferior to the Japanese Navy which thus will have an opportunity to defeat them in turn".
Lieutenant Haruki Iki, of the Kanoya air corps, offers a very enlightening account of the arrival of Repulse and Prince of Wales in Singapore. "On November 28th 1941, the Japanese armed forces received information that the Prince of Wales and Repulse would enter port in Colombo and then head for Singapore. The commander of our combined fleets, Admiral Yamamoto, decided to send 36 Mitsubishi "Betty" bombers, equipped with torpedoes to reinforce those already based in Indo-China. On November 30th, my own fleet was unofficially told to attack the Prince of Wales and Repulse with the torpedo bombers, and immediately began training day and night to maximise the potential of our aircraft. On December 3rd, a reconnaissance aircraft spotted the ships in Singapore".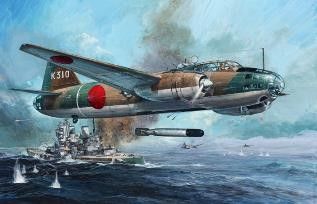 A "Betty" depicted in a contemporary painting.
Just after midnight on December 9th, Japanese forces landed at Kota Bharu north of Singapore, and within a few hours had captured the airfield intact. [Note that on 7th December they had attacked Pearl Harbor.] The British had believed that landings were impossible during the monsoon season, and although the Japanese were outnumbered by Commonwealth forces, they had superior air support, armour and experience.
Admiral Phillips assembled Force Z consisting of Prince of Wales and Repulse, and the destroyers Electra, Express, Vampire and Tenedos for an attack on the Japanese invasion fleet at Kota Bharu, which was set for shortly after dawn on December 10th. Force Z sailed at 17:00, and as they exited the Johore straight, squally monsoon weather set in which offered some protection. This was to last until the early morning, when a Japanese flying boat reported seeing the fleet, which was also confirmed by the submarine I-65 at 13:00. The 22nd Japanese air flotilla were in the process of loading bombs for an attack on Singapore harbour, but were switched to torpedoes and only became ready by 18:00. Force Z meanwhile continued on its northerly course, whilst four Mahogany class heavy cruisers had set sail south to join Force Z. Opposing the British fleet was the 2nd Japanese battleship fleet which consisted of 2 battleships, 3 heavy cruisers and 8 destroyers.
At around 17:00, the force was spotted by Japanese float planes that had been catapult launched from their cruisers. One of these mistakenly dropped a flare over one of the cruisers, mistaking it for the Repulse and alerting Admiral Phillips. Now short on fuel, the Tenedos was forced to return to Singapore.
After having been spotted by these aircraft, losing the element of surprise and realising the enemy was fully prepared to attack Force Z, Phillips abandoned the operation and turned back towards Singapore, which was confirmed at about 03:00 by the Genzan air corps and a submarine sighting. At 06:00, 10 aircraft, armed with 60kg bombs, were launched to search for the British ships and about an hour later, the main striking force consisting of 27 bombers and 61 torpedo bombers, proceeded to the best estimated position of the enemy fleet. At approximately 11:18, Japanese "Nell" bombers approached the capital fleet from an altitude of 20,000ft as their intended target points were the thinly armoured decks of the Repulse.

The end of the Repulse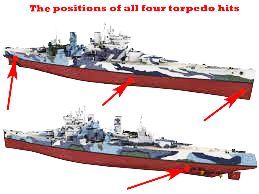 It didn't take long for the results to be felt as explosions erupted on either side of the ship, when suddenly, there was a tremendous explosion on the port hangar side as a result of a torpedo strike: launched by a Mitsubishi G4-M1 "Betty", using a 330lb [150kg] warhead, capable of in excess of 41 knots for a distance of more than 2,000metres. The Prince of Wales was steaming at 25 knots, when 9 Betty's appeared on her port bow and released their torpedoes. Within seconds, the "Prince" took on a list of 11°. She could no longer manoeuvre and her guns were rendered useless. Repulse too was hit by three torpedoes which literally tore her apart and she sank at 12:31 with the loss of 513 men.
The "Prince" took 50 minutes longer and her casualties were not quite as severe, amounting to 327 men. She had been struck by only a single torpedo. The Japanese didn't rescue any of the survivors, which had to tread water for several hours until being picked up by the destroyers Electra and Vampire before returning to Singapore.
Pierre presented a good selection of photographs throughout his talk, ending with a slide of the memorial erected in 2010 to honour the fallen heroes of the "Prince" and the Repulse.
Richard Schutte
Scribe
* * * * * * *
The Main Lecture was presented by Lt.-Col. William Bergman on the subject of "The Jewish contribution to South African military history spanning 350 years, from van Riebeeck till the 20th Century".
Retired SADF officer, Lieutenant-Colonel William Bergman gave a very interesting illustrated talk on the history of the Jewish contribution from a military aspect in South Africa's past 350 years, starting in 1666 with the VOC, leading up to the late 20th Century. From the VOC station in the Cape, Lt. Col Bergman then advanced some 150 years through to the arrival of the 1820 Settlers in the Eastern Cape, followed by the Boer War at the end of the 19th and beginning of the 20th Century, between 1899-1902.
The VOC only permitted Protestant Christians to live at the Cape, despite the significant number of Jewish shareholders in the company. Due to this, Jacobson and Hijlbron were baptised as Christians on December 25th 1669. The VOC finally granted religious freedom in 1803. There were 16 Jews among the first British Settlers, including the Norden, Norton and Soloman families. Joshua Norden was killed while in charge of the Grahamstown Yeomanry in the War of the Axe and Samuel Norden fell off his horse while leading a charge in the Basotho War of 1858.
About 300 Jews fought in the Boer forces including Josef Segal and Wolf Jacobson who spied for Genls Hertzog and de Wet. Benzion Aaron, a friend of Paul Kruger living in Pretoria founded and funded the Jewish Ambulance Corps. Showing a red Star of David rather than a red Cross they saved many lives from both sides.
In the Great War proportionally more Jews volunteered (6%) than the 5% of the general population. Following the Nazi's anti-Jewish policies these figures increased to 10% of Jews and 7% of the general South African population in the Second World War.
Showing slides of many participants, Col Bergman singled out a handful including: Brig Jack Penn who as a plastic surgeon treated countless wounded soldiers at Sir Harry Oppenheimer's home, Brenthurst - he started the Brenthurst clinic in 1956;
Major (Dr) Mary Gordon who headed the Cottesloe Hospital which treated war wounded. She also served in the British Army in Nicosia and as a consultant to the Israeli Army, ending her career at Tara Hospital;
Lt. Col. Cecil Margo, later a Judge of the Supreme Court, commanded 24 Squadron and was awarded the DFC and the DSO. He helped start the Israeli Air Force;
Lt Col Lionel Melzer commanded the 11th Filed Ambulance in North and East Africa. And the 20th Field Ambulance in Italy. His courage under fire did not go unnoticed and he was awarded the OBE and MC. He once stripped off his badges to help out as a stretcher bearer! He also served the Israeli Medical Corps before returning to SA.
In the Border War there was the option of Kosher food, about which the speaker told a few amusing anecdotes.
Finally he showed photographs of Jewish Military and Holocaust Memorials in and around Johannesburg.
* * * * * * *
Lecture Prize Winners for 2018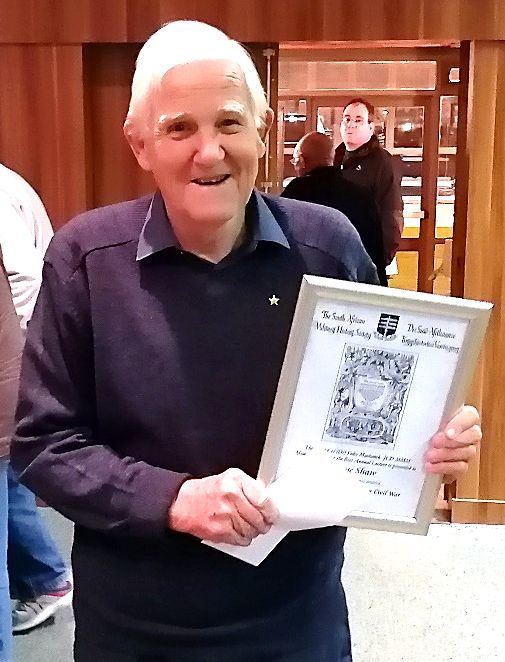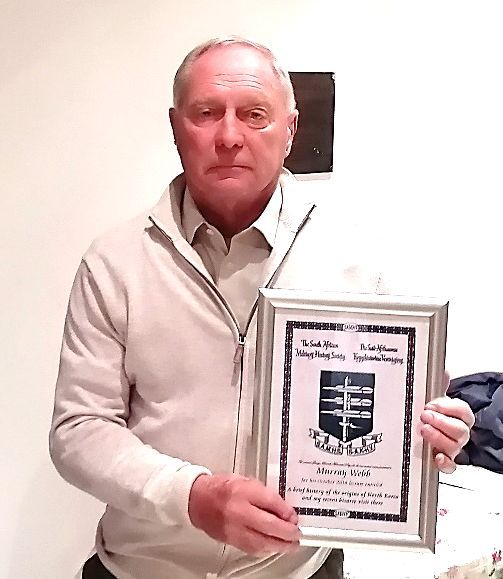 FLTR George Shaw (West Point and the American Civil War - January) and
Murray Webb (A brief history of the origins of North Korea, and my recent bizarre visit there - October)
with their prize certificates for the main lecture and best curtain raiser of 2018 respectively to the Johannesburg branch.

* * *

FLYERS ABOUT BOOKS

By The Grace of God by Chris Mullins - is an edited collection of letters plus photographs about his father, Jimmy Mullins', experiences as a medic, in North Africa in WWII.
A flyer with more information is available at:
http://rapidttp.co.za/milhist/flyer/graceofgod.pdf

Practically over by Robin Smith is a collection of about twenty battles from the Anglo-Boer War. All the battlefields are familiar to the author but some are difficult to locate.
A flyer with more information is available at:

http://rapidttp.co.za/milhist/flyer/practicallyover.pdf

* * *

Event of possible interest to Gauteng members

Blue Plaque unveiling - Battle of Dwarsvlei - 11th July - 10h30 onwards at the Bru House and Diner on the R563 between Krugersdorp and Hekpoort
Booking essential - no charge - contact Mike 071 382-5905 or info@machbookings.co.za

* * * * * * *
FORTHCOMING LECTURES
CR = curtain raiser ML = main lecture
DDH = Darrell Dickon Hall Memorial lecture MS = member's slot
JOHANNESBURG:
Ditsong Museum next to Zoo at 8pm
Thursday 11th July

CR: Colin Harris: ... "KEARSARGE vs ALABAMA"
ML: Anne Samson: ... "South African Military Chaplains in the early 20th Century"
Thursday 8th August

CR: Terry Leaver: ... "Perspectives on the life and death of T.E. Lawrence"
ML: Charles Ross: ... "First 20 years of Joint Operations in the SANDF"
KZN in Durban:
Thursday 11th July
Ask the chairman for details - Charles Whiteing - charlesw2@absamail.co,za
CAPE TOWN:
Rosedale Complex
Thursday 11th July
Ask the chairman for details - Carl Burger - c.burger@bissetts.com
SAMHSEC:
EP Veteran Car Club, Conyngham Road, Port Elizabeth at 19h30
Monday 8th July
MS: Ian Pringle: ... "All Saints Church Woodstock and its WW2 War Memorial."
CR: Frank Collier: ... "The Grey Flag"
ML: Declan Brennan: ... "Delville Wood (15-19 July)"
Branch contact details
For Cape Town details contact Carl Burger 082 333 2706 c.burger@bissets.com
For Eastern Cape details contact Malcolm Kinghorn 041-373-4469 culturev@lantic.net
For Gauteng details contact Joan Marsh 010-237-0676 joan@rfidradar.com
For KwaZulu-Natal details contact Roy Bowman 031 564 4669 bowman.roy93@gmail.com
* * * * * * *

* NOTE* Fast mirror and backup site BOOKMARK FOR REFERENCE Main site * NOTE*
---
South African Military History Society / scribe@samilitaryhistory.org