SOUTH AFRICAN MILITARY HISTORY SOCIETY EASTERN CAPE BRANCH
SUID-AFRIKAANSE KRYGSHISTORIESE VERENIGING OOS-KAAP TAK
Newsletter/Nuusbrief 164

May/Mei 2018
The April meeting took place on the 9th at the usual venue.
The members' slot was used by Ian Pringle who recounted the very productive military history weekend he had spent at Matjiesfontein, and suggested that SAMHSEC consider a field trip to Graaff-Reinet, which has a great deal to offer to military historians, during the course of next year.
The curtain raiser was given by Alec Grant, his topic being The Spy's Wife. Alec writes:
A recent article published in the Irish Times caught my attention.It was a recommendation to read a book and was part of a blog published by Ethna Brave. The article was about a book published in 1999 by Janet Coggin titled The Spy's Wife which is described as a true account of marriage to a KGB master spy. Coggin was working as a social teacher in Dunshane where Brave's parents also worked and she knew Janet to be a friendly interesting woman. Only when Brave read the book years later did she release the hardship and fear Janet Coggin had lived with for so many years.
Janet Coggin met Dieter Gerhardt at a friend's wedding in Plymouth in 1958. He had been posted to the Royal Navy for training. Four months later they got married. Janet was just 21 at the time and the next few years she describes as exciting, with visits to Malta and parts of England. Two children were born during this time. Then the decision was made to return to a career in the South African Navy. Janet viewed this as an adventure although her father warned her it would be difficult for her to adapt. Her father had been imprisoned as a young conscientious objector during the Great War. He was 43 when Janet was born and she now felt this was an over concerned parent. Janet's mother Eleanor was Danish and had left England to drive an ambulance in Poland during the Second World War. She never returned to her family.
Janet, Dieter and their two children had a wonderful voyage by cruise liner to Cape Town. They travelled first class and were often joined for dinner by a middle aged European man who explained he had recently been divorced. In Simonstown Janet could not fit in with the other naval wives. She said she hated apartheid and the treatment of people of colour. They decided to move out of the Base and Gerhardt bought a house overlooking the beach at Noordhoek. Here she kept a horse and a pony for the children. Dieter seemed comfortable with the arrangements. He always introduced Janet as his Danish wife.
In 1962 Gerhardt was again sent to Plymouth. After visiting Devon the two moved into an apartment again outside the base. Dieter was away a lot because of his studies. Janet was pregnant with their third child. Some 12 months later they again returned to Cape Town by sea. Again Dieter was frequently away from home. In the early hours, while he was away, Janet answered a phone call from the man who had been the passenger on their previous voyage wanting to speak to Dieter. He said he needed personal advice which sounded very strange. She writes that she felt that Gerhardt's behaviour had become problematic and she was becoming concerned.
One day he asked her to walk with him and he told her he was a KGB spy and asked her to help him and to also work for the KGB. After the shock she refused and they decided she should leave South Africa. Gerhardt told her that if a word got out she would be killed and the children would be in danger. To drive this home he told her that the passenger on the cruise with them had been killed and that he had been a spy. They decided that Janet and the children should go and live in Ireland. Divorce papers were signed in 1966. Gerhardt told everyone that Janet was unable to adapt to life in South Africa. In 1973 he married a Swiss National, Ruth Johr, who was supposedly already on the Russian payroll.
Gerhardt was arrested by FBI Agents while in the USA in January 1983 and was sent back to South Africa eleven days later. Ruth Gerhardt was also arrested. In December 1983 Dieter Gerhardt was sentenced to life imprisonment and Ruth to 10 years imprisonment. Ruth was released in 1990 and Dieter in August 1992, after an appeal from Boris Yeltsin.
What of Janet Coggin? She moved to an apartment in Dun Laoghaire with her children. She could not have chosen a more suitable location in Ireland. Dun Laoghaire is quite cosmopolitan and very convenient. She was able to find work and tried a number of varied jobs. However she writes of a job with a South African catalogue publisher whom she later discovered Dieter was meeting on one of his visits to Ireland.
When the news of his arrest was published, she was much shaken. Her father had died and she had never told anyone of her situation. Janet writes that she pleaded with Amnesty International to intervene to oppose a possible death penalty but they told her they could not do so. When she spoke about the arrest with her children she realised that they had had suspicions after visiting Dieter and Ruth in Switzerland. Her children were with friends and involved with their studies so Janet decided to get away from it all by visiting friends on a remote ranch in Columbia. She returned to Ireland and was later relieved that the death sentence had not been passed down.
It had not quite ended for her. She then was approached by a South African who had moved into the flat above hers. He said he was a friend of Dieters, but she refused to engage with him. Her flat was then broken into and her files and papers gone through. A friend arranged for a Guardia attached to security in Ireland to meet her. She wanted him to do something about the break-in, but he gave her the impression that he was aware of the situation and that Janet was "well up to handling the South African stranger she suspected." Janet Coggin then moved to Dunshane County Kildare, where she was involved in social work and where she wrote The Spy's Wife. She passed away in September 2010.
The main lecture, titled Operaçao Mar Verde/Operation Green Sea was delivered by Brian Klopper.
This operation was within the context of Guinea-Bissau's War of Independence fought by the PAIGC (African Party for the Independence of Guinea and Cape Verde) between 1963 and 1974. It was conceived and executed by Marine Captain Alpoim Calvã, who was responsible for the Special Operations Centre of Guinea-Bissau, with the support of General de Spínola, who was the military governor of Portuguese Guinea at the time. The operation was extremely audacious and secret because it involved an attack with a small number of men on the capital of a sovereign state, the Republic of Guinea. More sensitive was the isolationism that Portugal was undergoing in the international community for wanting to keep its colonies at all costs. Therefore, one of the conditions for the success of the operation was that there were to be no traces of participation by Portuguese forces in the coup d'état that sought to overthrow the government of Ahmed Sékou Touré.
A series of measures was undertaken to ensure this, such as the use of a generic uniform and weapons that were in common use throughout Africa (basically AK-47's and RPG's). Even the six ships that were to carry the combined force of Portuguese soldiers and FLNG guerrillas revealed nothing that that could identify them as Portuguese and the few white Portuguese would have their faces painted black and would either have to shave their heads or render their hair 'wiggy'. All of the Portuguese soldiers had to later sign a document where they pledged never to speak of this operation and to this very day, Operation Green Sea is officially disavowed by the Portuguese state. The plan consisted of an amphibious attack on Conakry, capital of the Republic of Guinea, with several objectives:
* Destroying the speedboats supplied by the Soviet Union to the PAIGC, which were moored in the harbour. Portuguese Military Intelligence estimated their number to be 6 to 7, all of them more than 20 metres long and armed with torpedoes and missiles.
* To free 26 Portuguese prisoners of war, one of whom was the famous Portuguese Air Force pilot, Lieutenant AntónioLobato, who, after an emergency landing in his North American T-6, was taken prisoner by the PAIGC in 1963.
These two objectives were both accomplished.
* Provide a springboard for the Guinean FLNG (Front de Lib´ration Nationale Guinéen) guerillas fighting against the government of Guinea. They had been previously trained by the Portuguese on the island of Songa, located in the Bijagós Archipelago, for seven months. This was a difficult task because it was necessary to overcome the tribal and religious rivalries that existed among them. Their training was the same as that of the Portuguese African Commandos. This action had the purpose of assisting them in a coup d'&ecaute;tat and in the physical capture or elimination of President S&eacutekou Tour´. There was even a provisional government on board one of the Portuguese ships. One of the instructors was the Fuzilheiro African Commando Marcelino da Mata, who would stand out during the operation for acts of signal heroism. The Mission was unsuccessful.
For the success of the operation, it was necessary for a large number of commando raids to occur simultaneously and for each team to secure a specific objective; for example occupying the power station to black out Conakry, to take the radio station (they could not), to eliminate SékouTouré in his residence (failed) and to destroy a number of key buildings. A total of 26 targets were identified but these raids had no air support or use of any heavy weaponry: everything would have to be done with speedboats, rubber dinghies, and light weapons. It was also necessary to do a reconnaissance of Conakry in September 1969 with a large, disguised surveillance boat. If a ship approached, the boat would fly the PAIGC flag and the onlookers would see only black sailors. The Portuguese forces involved were mostly African military personnel: a detachment of Special African Marines 21 (81 men), the African Command Company (150 men), a small number of Paratroopers and the FLNG guerillas (approximately 200 men). There would be just over 400 men in all.
Many of the PAIGC guerrillas were trained by the Cubans in Morocco and Algeria and in the attack on the barracks of the Republican Guard, the combined Portuguese/FLNG force was going to encounter the elite of the Armed Forces of the Republic of Guinea, who were trained by instructors from Czechoslovakia.
Operaçao Mar Verde was considered a failure because the desired coup had not been expedited: the suspected presence of MIG fighter jets at the airport caused the commander, Alpoim Calvão, to order the troops back, fearing an attack by these aircraft, for which the Portuguese force was not prepared. Later, it was learned that the MIG pilots were not yet fit for combat.
The FLNG guerrillas, who despite the lack of full Portuguese support wanted to complete their mission, were unable to overthrow the regime due to lack of support from the local population, (which they had naively taken for granted) and a counter-attack by the forces of Sékou Touré, spearheaded by a contingent of Cuban troops. The fighting lasted for several days, with the FLNG suffering numerous deaths and 100 of its members taken prisoner, tortured and subsequently executed. A similar fate befell a group of twenty Portuguese African soldiers who deserted during the operation.These men were taken to the radio station that transmitted PAIGC propaganda and persuaded to confess details of Portuguese involvement, after which they were beheaded. These deserters admitted to the Portuguese involvement in the operation and revealed the names of their commanders. This led to an international scandal exploited by the Republic of Guinea, which filed a complaint with the United Nations Security Council. Sékou Touré also took advantage of the episode to liquidate thousands of political opponents.
Operaçao Mar Verde was, however, considered a success by many senior Portuguese Staff Officers because in terms of casualties, there were only three dead and three seriously injured (Portuguese forces), the landing force had destroyed a significant part of the PAIGC and Republic of Guinea war materiel, the 26 Portuguese prisoners of war were liberated along with 400 Guinean political prisoners and the operation had inflicted about 500 dead on the enemy. Prime Minister Marcelo Caetano told Alpoim Calvão that even just the recovery of the Portuguese prisoners of war would justify the operation. In fact, the overall failure of the coup d'état was due largely to the mistaken belief that the Guinean Airforce would intervene decisively. As it happened, the MIGs were not at Conakry Airport because they had been transferred to another aerodrome two days earlier and Ahmed SékouTouré was not at his Conakry residence. In the overall sense, the failure of the coup was due to erroneous information provided by PIDE, the Portuguese Secret Police.
Future meetings and field trips/ Toekomstige byeenkoms en uitstappe
The next SAMHSEC meeting will be on Monday 14th May at 19h30 at the Eastern Cape Veteran Car Club in Conyngham Road, Port Elizabeth. The curtain raiser will be by Andre Crozier on The Last Stand at Marrières Wood 1918, and the main lecture by Michael Mills on The Great Hunt.
Early warning for June meeting and outing.
SAMHSEC's annual 'Grahamstown' meeting will this year be held in Port Alfred on Saturday 23rd June. The provisional arrangement is to meet in Port Alfred at 10h00. The morning will be taken up with visits to a number of sites of military historical interest in Port Alfred, followed by lunch. The afternoon lecture will be by fellow member Dermot Moore on the Korean War (1950-1953) and the consequent situation in Korea today. The acclaimed role of 2 Squadron of the South African Air Force (The Flying Cheetahs) will be highlighted. Dermot did his doctorate on the Korean War, and is an acknowledged authority on it. Details and directions will be included in the June Newsletter (No 165).
Matters of general interest / Sake van algemene belang
RMS St Helena
It may be recalled that some of our members sailed on the RMS St Helena some years ago to visit Anglo-Boer War sites on the island of St. Helena. They (and others) may be interested that the RMS St Helena has been renamed the MNG Tahiti and is to be used as a counter-piracy floating armoury in the Gulf of Oman.
Parades
Grey High School, Port Elizabeth will hold its annual 'Trooping of the Colour'parade on Friday 11th May at 16h00. The public are welcome and should be seated by 15h45. The parade lasts 40 minutes.
World War I Centenary Years / Eerste Wêreldoorlog Eeufeesjare
Major engagements in May 1918
Fighting on the Eastern Front was virtually over with the Russian surrender; on the Italo- Austrian Front it was largely dormant as both sides prepared for further offensives, while no major gains were made by either side on the Palestinian and Mesopotamian Fronts.
On the Western Front, the German Spring Offensive continued to advance throughout the month of May, albeit at slower pace than had been anticipated. Allied resistance had stiffened and the German army began to experience major logistical problems: supplies had been unable to keep up with the initial rapid advances of the front line troops, particularly the highly trained and fast moving 'stormtroopers' who carried little other than weaponry. Within this context, two noteworthy engagements took place: the Third Battle of the Aisne, a major German victory; and the Battle of Cantigny, the first sustained American offensive of the War. Although a relatively minor affair on a limited scale, it is significant insofar as the Americans, supported by French air cover, were able to hold their positions in the face of fierce counter-attacks.
Extracts from the Diary of Herbert Sulzbach, a German artillery officer advancing on the French sector, make interesting reading.
He tells us on 27th May that "Telephone lines were now laid down very rapidly from our command dugout to all the batteries" suggesting that at this stage, in at least some of the sectors, logistical support was still keeping pace with the advance.
On the 28th May "At 4 a.m. we have a dose of enemy air bombing, and the enemy pilot adopts the most unpleasant technique of dropping flares, and illuminating the terrain in order to make better aim." Also "Our infantry attack, backed by our artillery, goes on and on, always forward, as though there were no other direction."
On 31st May, after praising the work of the signallers, "…the Frenchare making further attacks: apart from the tanks and the close-packed lines of riflemen, they are throwing quantities of cavalry against us. Our artillery and machine-gun fire are taking a heavy toll…tanks get hit and are brought to a standstill. The remaining tanks do an about turn, all our batteries are firing over open sights, and it's splendid to earn praise from the infantry – the best compliment we could wish for." And further on,"our batteries slam down an absolutely splendid barrage, the kind the French wouldn't have dreamed of; they retreat with enormous losses and our infantry cheer loudly to us."
He later indicates his surprise at French prisoners expressing their gratitude at not being shot out of hand as Allied propaganda had told them to expect.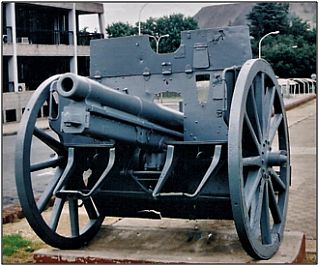 The Krupp 7.7cm FK 96 n/A was the field gun with which Germany
entered the First World War and was still in use at the end.
It was a gun with which Herbert Sulzbach would have been very familiar.
It had a range of 7 100 metres, was easy to handle and had many other positive attributes.
A number were brought to South Africa after the war.
Photo: Pat Irwin

Naval engagements

The Second Ostend Raid (officially known as Operation VS) took place on 9th May as a sequel to the Zeebrugge and Ostend raids of 23rd April (see Newsletter 163). It was broadly similar in intention, implementation and consequences. Despite being fêted as a success in Britain however, the raid was only partially successful and of limited value. It had no impact on the battle between U-boats and the Royal Navy being waged in the Atlantic.

Two other minor naval engagements took place during May:

The Action of 8 May 1918 was a small naval engagement which occurred off Algiers. A British destroyer and Americanarmed yachtengaged in an encounter with a U-boat,UB-70,and were credited with sinking it, although details about its loss are not known.

The

Action of 21 May 1918

was another engagement between an American armed yacht and a U-boat in the Atlantic off the coast of Spain. The U-boat was seriously damaged, but made it back to the coast of Spain where its crew was interned.

Websites of interest/Webwerwe van belang

Armour and weapons

The Guisborough Helmet, discovered in England in 1864, is believed to be the cavalry headgear of an ancient Roman
Stefan Andrews Vintage News 26th March 2018
http://www.thevintagenews.com/2018/03/24/monte-testaccio-2/

Joyeuse, King Charlemagne's legendary sword, was said to change colours 30 times a day
Goran Blazeski Vintage News 21st March 2018
http://www.thevintagenews.com/2018/03/21/joyeuse-sword/

Some of the most legendary swords of all time
Goran Blazeski Vintage News 3rd March 2018
https://www.thevintagenews.com/2018/03/03/legendary-swords-2/?utm_source=penultimate

Historic aircraft

Port Elizabeth of Yore: Airfields, Airports & Aerodromes
Dean McCleland Blog: The Casual observer 15th March, 2018
http://thecasualobserver.co.za/port-elizabeth-yore-airfields/

Napoleonic and French Revolutionary Wars

An unusual confrontation: A French cavalry troop managed to capture a Dutch fleet of 14 vessels in 1795
Stefan Andrews The Vintage News Newsletter 9th February 2018
https://www.thevintagenews.com/2018/02/09/dutch-fleet-at-den-helder/

The Grande Armée: The only photos of veterans of the Napoleonic Wars wearing their original uniforms and insignia
Goran BlazeskiVintage News 27th March 2018
http://www.thevintagenews.com/2018/03/27/napoleonic-wars/

Seeking a better way to feed his troops, Napoleon launched a contest that changed the way people eat to this day
EL Hamilton Vintage News 21st March 2018
http://www.thevintagenews.com/2018/03/21/napoleon-food/

Crimean War

Roger Fenton, the very first war photographer, captured the grim reality of the Crimean War
Ian Harvey Vintage News 22nd March 2018
http://www.thevintagenews.com/2018/03/22/roger-fenton/

East Cape frontier Wars

Port Elizabeth of Yore: The Port Elizabeth Yeomanry during the 1835 Frontier War
Dean McClelandBlog: The Casual observer 15th March, 2018
http://thecasualobserver.co.za/port-elizabeth-yore-port-elizabeth-yeomanry-1835-frontier-war/

Vietnam War

The Ace of Spades: How American soldiers used "the death card" as a psychological weapon during the Vietnam War
Nikola Budanovic Vintage News 29thMarch 2018
http://www.thevintagenews.com/2018/03/29/death-card-vietnam-war/

World War II

Unexploded bombs and their consequences in Germany and Britain
http://www.bbc.com/news/world-europe-43833138http://www.bbc.com/news/uk-england-33861431

Millie Dunn Veasey, one of the last members of the only all-black, all-women battalion to serve overseas in WWII, passes away at age 100
EL Hamilton Vintage News 22nd March 2018
http://www.thevintagenews.com/2018/03/22/millie-dunn-veasey/

A Naval engineer's mistake in WWII led to the invention of the Slinky, one of the world's top-selling toys
Nikola Budanovic Vintage News 22nd March 2018
http://www.thevintagenews.com/2018/03/22/slinky/

A 7-inch Yorkie saved 250 US Soldiers three days of digging and kept 40 US planes operational during WWII
Nikola Budanovic War History Online 15th February 2018
https://www.warhistoryonline.com/instant-articles/7-inch-yorkie-saved-250-us-soldiers.html

How a bizarre Nazi military machine left a lasting mark on the environment
Megan Gannon Live Science Contributor 13th April 2018
https://www.livescience.com/62300-nazis-world-war-ii-tree-rings-tirpitz-artificial-fog.html?utm_source=lsa-newsletter&utm_medium=email&utm_campaign=20180416-lsa

Cold War and post-Cold war

The British women who secretly served in the Cold War
Lee Karen Stow BBC News in Pictures 23rd April 2018
http://www.bbc.com/news/in-pictures-43333082

Resource materials of military historical interest/
Bronmaterieel van krygsgeskiedkundige belang

RECENT BOOKS

For those interested in matters naval, British Warships and Auxiliaries 2018, the latest edition of the well-respected guides to the ships, aircraft and weapons of the Royal Navy, including the new aircraft carrier HMS Queen Elizabeth, has just been published. At a price of £9.99 plus p&p, this can be ordered on-line from www.navybooks.com 

For end-of-line specials see also:
https://www.navybooks.com/bin-ends.html?utm_source=Website+Subscribers&utm_campaign=ab486d9c87-EMAIL_CAMPAIGN_2017_09_06&utm_medium=email&utm_term=0_d64f016b1a-ab486d9c87-183351293

Members are invited to send in to the scribes, short reviews of, or comments on, books, DVDs or any other interesting resources they have come across, as well as news on individual member's activities. In this Newsletter, there have been contributions by Malcolm Kinghorn, Barry Irwin, Michael Irwin, Andre Crozier and Ian Pringle.
Chairman:
Malcolm Kinghorn:
culturev@lantic.net
Secretary:
Franco Cilliers:
Cilliers.franco@gmail.com
Scribes (Newsletter):
Anne and Pat Irwin:
p.irwin@ru.ac.za
Society's Website:
http://samilitaryhistory.org
TAILPIECE: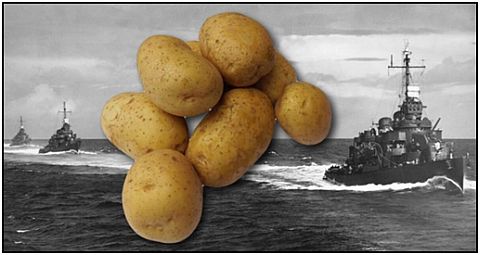 The US Navy Destroyer that sank a Japanese submarine – with the aid of potatoes. For more on this, see:
http://www.warhistoryonline.com/world-war-ii/wacko-the-us-navy-destroyer-that-sank-a-japanese-submarine-with-the-aid-of-potatoes.html
---
South African Military History Society / scribe@samilitaryhistory.org