SOUTH AFRICAN MILITARY HISTORY SOCIETY EASTERN CAPE BRANCH
SUID-AFRIKAANSE KRYGSHISTORIESE VERENIGING OOS-KAAP TAK
Newsletter/Nuusbrief 167

August/Augustus 2018
SAMHSEC's July meeting took place on Monday 9th at the usual venue in Port Elizabeth.
The members' slot was used by Ian Pringle who spoke briefly about the Australian Bushmen and their role in the Anglo-Boer War.
The curtain raiser was presented by Jaco Pretorius on the subject, 'Red Tabs' Life and death in the 6th SA Armoured Division 1943-1945. This talk was based on a 2014 PhD thesis by James Fraser Bourhill. The 6th SAAD, composed of Desert War Veterans and 'Tobruk avengers' was formed on 1st February 1943 to fight in Italy. It was composed of 12 000 volunteers from 16 of South Africa's traditional infantry regiments, such as 'First City Regiment' and 'Prince Alfred's Guard', and 6 000 Cape Corps men.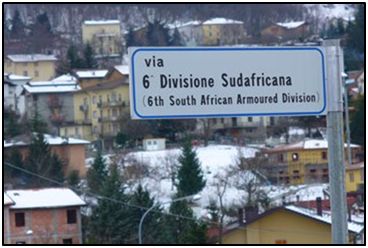 One of several streets in Italy named after
the South African 6th Armoured Division.
The talk explored many of the facets of life experienced by these men under the following categories:
Life in Camp including hygiene, routines, duties, training, recreation, and accommodation ranging from billets to 'bivvies'.
Life on the road including vehicles used, congestion, and driving conditions.
Sustenance of life, body and soul including matters such as the supply chain, uniforms, equipment, food, alcohol, postal services, stress and religion. Problems relating to vice, misconduct and discipline were also dealt with. Casualties for the Division included 711 killed which represented 4.5% of the total. The talk concluded with the process of repatriation and demobilisation.
A report on the main lecture given by Anton de Wit on War and Environment is not yet available but will be included when it is received.
Future meetings and field trips/ Toekomstige byeenkoms en uitstappe
The next regular meeting will be on Monday 13th August at 19h30 at the Eastern Cape Veteran Cape Car Club in Conyngham Road, Port Elizabeth. The curtain raiser will be by Gerda Coetzee on the subject Die Ystervrou agter die Generaal: Nonnie de la Rey. The main lecture will be by Melanie Hillebrand on the topic, Does the Band Play On?
The Field Trip to Cradock, Tarkastad, Modderfontein and the Stormberg area, will go ahead as planned from 3rd to 5th August. Anyone still wishing to join the trip should contact Malcolm Kinghorn by Tuesday 31st August by e-mail to culturev@lantic.net
Matters of general interest / Sake van algemene belang
Condolences/Simpatiebetuiging
It was with sadness that the SAMHSEC community heard of the passing of Tony Lombard's wife, Carol. We extend our sympathies to him and his family.
Military History Journal and Annual Reports
The delivery of the Military History Journal 18 (2) has been delayed due to the recent Post Office strike. With the strike now over, members should receive it shortly.
The Annual report of the Johannesburg Branch, and the financial statements for the Society as a whole are now available. Anyone wishing to have a copy can contact either Malcolm Kinghorn or Pat Irwin. See e-mail addresses below.
World War I Centenary Years / Eerste Wêreldoorlog Eeufeesjare
Major engagements in August 2018
On the Western Front, this was the month in which the German Amy was forced into in general retreat despite some successful holding actions and counter-offensives. The Second Battle of the Marne which began on 15th July ended on 5th August. It was during this battle that Hitler was awarded his second Iron Cross on the recommendations of Lieutenant Hugo Gutmann, his Jewish superior officer.
The Battle of Amiens, and the closely related Second Battle of Bapaume which it morphed into, started on 9th July as Allied forces started to gained momentum. By the time it ended on 27th August the Allies had captured 50 000 men and 500 guns. By the 10th July German forces began to withdraw from positions captured during the Spring Offensive and retreat back towards the Hindenburg Line. The Second Battle of the Somme began on 17th.
On 1st August allied intervention on the side of the White Russian Army, saw a combined force of Royal Navy seaplanes from the carrier HMS Nairana and ground troops drive the Bolsheviks from parts of northern Russia. This was the first fully combined air, sea, and land military operation in history. In the south of Russia, there was a simultaneous offensive against the Red army by the White Russian Army and the Czechoslovak legion. These interventions helped precipitate the Russian Civil War which lasted which lasted until 1922. On 11th August Lenin started the Bolshevik reign of terror against civilians not supporting the Red Army with the execution of 100 Kulaks.
Throughout the month U-boats and mines continued to take their toll on Allied shipping, albeit less successfully than in the preceding two year period.
In the Air War Zeppelins of the Imperial German Navyattacked England in the final airship raid of the war. The Zeppelins had become increasingly vulnerable to improved fighter aircraft. In total they had conducted 208 raids over the course of the war dropping nearly 6 000 bombs which destroyed numerous structures. A total of 528 people were killed and 1 156 injured in these raids.
No significant naval actions took place in August 1918.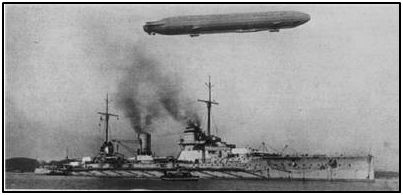 The battlecruiser SMS Seydlitz with a Zeppelin,
of the kind which raided Britain, overhead.
Source: German Naval Archives
Websites of interest/Webwerwe van belang
General interest
For a nation of dog lovers Britain treats its canine veterans shamefully Anon The Conversation 4th December 2017
https://theconversation.com/for-a-nation-of-dog-lovers-britain-treats-its-canine-veterans-shamefully-88505
The History Behind the Graffiti of War
Jonathan Bratten The New York Times Magazine 18th July 2018
https://www.nytimes.com/2018/07/18/magazine/war-graffiti.html
Tanks
A poor tank, a useless tank, and the worst tank in the world [an 8 minute video]
Nicholas Moran & Lindy beige Bovington Tank Museum 10th July 2018
https://www.youtube.com/watch?v=rRW3N7GmsBA&feature=youtu.be
World War II
German WW2 U-boat wreckage found off Galicia by Spanish divers
BBC News 6th July 2018
https://www.bbc.com/news/world-europe-44741045
Did the Nazis locate a secret U-boat base in Spain?
James Badcock BBC News 1st June 2017
https://www.bbc.com/news/world-europe-40091685
British POWs sank with the Lisbon Maru - should it be raised?
BBC News 14th July 2018
https://www.bbc.com/news/stories-44814053
Fighting for the Americans, captured by the Germans, Freed by the Soviets
Milton Feldman Tablet Magazine 17th July 2018
https://www.tabletmag.com/jewish-life-and-religion/264679/fighting-for-the-americans-captured-by-the-germans-freed-by-the-soviets?utm_source=tabletmagazinelist&utm_campaign=7f231fe8c9-EMAIL_CAMPAIGN_2018_07_19_09_14&utm_medium=email&utm_term=0_c308bf8edb-7f231fe8c9-207305353
The last survivor of 'The Great Escape' camp tells his story: Bomber pilot Richard 'Dick' Churchill was a prisoner of war at Stalag Luft III.
BBC News 10 July 2018
https://www.bbc.co.uk/news/av/uk-44769549/the-last-survivor-of-the-great-escape-camp-tells-his-story
Cold War and post-Cold war
'My daring grandfather took a bit of East Berlin for himself'
A human story of the Cold War Elaine Chong Berlin BBC News 3rd July 2018
https://www.bbc.com/news/stories-44601030
The pilot and Hercules C130 that went missing. A cold war incident?
Anon BBC News 8th July 2018
https://www.bbc.co.uk/news/stories-44711694
The story of Colonel 'OomVuil' Fred Potgieter.
SAAF Museum Blog 4th September 2014
https://saafmuseum.org.za/the-story-of-colonel-oom-vuil-fred-potgieter/
They will die in Tallinn': Estonia girds for war with Russia
Molly McKew Politico Magazine 10th July 2018
https://www.politico.com/magazine/story/2018/07/10/they-will-die-in-tallinn-estonia-girds-for-war-with-russia-218965
Members are invited to send in to the scribes, short reviews of, or comments on, books, DVDs or any other interesting resources they have come across, as well as news on individual member's activities. In this Newsletter, there have been contributions by Richard Tomlinson, Malcolm Kinghorn, Barry Irwin and Michael Irwin.
| | | |
| --- | --- | --- |
| Chairman: | Malcolm Kinghorn | culturev@lantic.net |
| Secretary: | Franco Cilliers | Cilliers.franco@gmail.com |
| Scribes: | Anne and Pat Irwin | p.irwin@ru.ac.za |
TAILPIECE: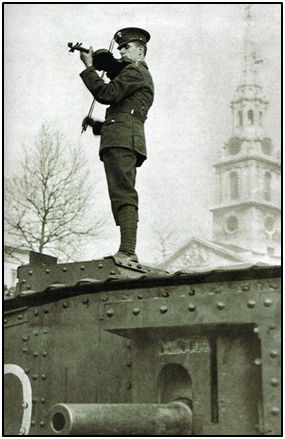 Preserving civilisation in difficult times:
a soldier playing a violin on a tank during the First World War.
---
South African Military History Society / scribe@samilitaryhistory.org