SOUTH AFRICAN MILITARY HISTORY SOCIETY EASTERN CAPE BRANCH
SUID-AFRIKAANSE KRYGSHISTORIESE VERENIGING OOS-KAAP TAK
Newsletter/Nuusbrief 163
April 2018 The March meeting took place on the 12th at the usual venue in Port Elizabeth.
SAMHSEC's Annual General Meeting took place in lieu of the curtain raiser. The relevant documentation will be included with the next Newsletter.
Due to unforeseen circumstances, André Crozier could not present the main lecture as scheduled. Malcolm Kinghorn was able to step up to the plate, presenting a lecture entitled Sonic weapons as a form of non-lethal weapons intended to immobilise or impair targets without causing permanent or severe damage to the human body.
In August 2017, a diplomatic incident followed American diplomats in Havana, Cuba suffering severe and unexplained brain damage and hearing loss, which US officials believe was caused by a covert and advanced sonic device. On 5th November 2005, the cruise liner Seabourn Spirit, underway in international waters 115 km off the coast of Somalia, was attacked by two pirate boats launched from a mother ship. Despite the pirates firing machine guns and rocket propelled grenades at the ship, no passengers were injured, but a crew member was wounded while disrupting the attack with a Long Range Acoustic Device (LRAD).
The lecture included extracts from a report on 'The psychoacoustic effect of infrasonic, sonic and ultrasonic frequencies within non-lethal military warfare techniques' by Ryan Littlefield, as well as other research to investigate using sound to influence humans psychologically and physically.
The use of sonic weapons may violate international disarmament treaties, for example a 1999 European Union policy includes 'a global ban on all research and development, whether military or civilian, which seeks to apply knowledge of (inter alia) sound vibrationor other functioning of the human brain including a ban on actual or possible deployment of such systems'. Research indicates that a person's emotional and physical state changes when exposed to sound in the frequency range around 7 Hz, which is below the 20-200 Hz sound range audible to humans. Infrasonic sound is associated with some acts of nature and has been used in the prediction of natural disasters, for instance, the Fuego volcano in Guatemala emitted 120 decibels of infrasonic sound around 10 Hz before erupting. The German Wirbelwind (Whirlwind) Kanonen is the only known fully developed infrasonic weapon. It was intended to counter enemy aircraft and infantry by using sound to physically affect its target.
In 1957, the French scientist Vladimir Gavreau became interested in infrasound when he was asked to investigate a case of 'Sick Building Syndrome'. Staff at a research plant in Marseilles were mysteriously becoming ill. Chemical or pathogen poisoning was suspected. Gavreau eventually traced the origin of the illnesses to air conditioning units' rotating fans that were generating low frequency sound. Gavreau began experimenting with low frequency sound with the intention of creating a sonic weapon for the French military. Prototype canon sonique of various sizes, consistingof piston driven tubes and compressed air horns and whistle, were produced.
Gavreau and his team tested the instruments on themselves at the Marseilles plant with unexpected tragic results, as one of the team died instantly. Gavreau reported that '…his internal organs were mashed into an amorphous jelly by the vibrations. Luckily, we were able to turn it off quickly. All of us were sick for hours. Everything in us was vibrating: stomach, heart, lungs. All the people in the other laboratories were sick too. They were very angry with us.'
Exposure to loud infrasonic sound has psychological effects such as inducing fear, sorrow, depression, anxiety and hallucinations. Physical effects may include nausea, chest pressure, vertigo, resonances with fluids in eyes and ears, and other intolerable sensations due to a property known as resonant frequency, which is re-enforcement of vibrations of a receiving system due to a similarity to the frequencies of a source.
Military applications of non-lethal sonic weapons have not been made publicly available. Such weapons are thought to have been used for riot control in Northern Ireland, Palestine and the United States as well as for area denial in Israel. A sonic weapon was used to disperse protesters demonstrating against the G-20 in Pittsburgh in 2009. Sonic weapons used against the environmental group Sea Shepherd's disruption of Japanese whaling could be the reason for Sea Shepherd's statement in August 2017 that they 'will not contest the Southern Ocean against Japanese whalers this season due to Japan's increased use of military technology.'
Much written about infrasound and infrasound weaponry is based on mythology, conspiracy theory and bad science. Despite this, the psychological and physical influence of sound on humans continue to generate interest in sonic weapons.
Future meetings and field trips/ Toekomstige byeenkoms en uitstappe
The next SAMHSEC meeting will be on Monday 9th April 2018 at 19h30 at the Eastern Cape Veteran Car Club in Conyngham Road, Port Elizabeth. The curtain raiser titled The Spy's Wife will be by Alec Grant. The main lecture will be by Brian Klopper on Operation Green Sea: The Portuguese Colonial War in Equatorial Guinea.
Matters of general interest / Sake van algemene belang
New member / Nuwe lid
We welcome Sean Eaton as a new member and hope his association with SAMHSEC will be fruitful and happy one
Individual members' activities / Individuele lede se aktiwiteite
Since giving her talk on Horses in the Anglo-Boer War to SAMHSEC in December 2017, Anne Irwin has repeated it several timesat the request of other organizations.
World War I Centenary Years / Eerste Wêreldoorlog Eeufeesjare
Major engagements in April 2018
On the Western Front, the German Spring Offensive, begun on 21st March, continued. By 5th April, the first stage of Operation Michael, the major thrust of the German Army, ended. Having begun with a five-hour bombardment along the Somme by more than 9 000 guns, the Allied Army was rapidly overwhelmed and forced to retreat. In the following week, the German Army advanced almost 60km, inflicted some 200 000 casualties, captured 72 000 prisoners and 1 000 artillery pieces, and was able to shell Paris with its 'Big Bertha' artillery pieces. Hampered, however, by a lack of supplies as advance troops outpaced their supply lines, as well as stiffening Allied resistance, the advance began to slow. The newly arrived Americans were also able to inject thousands of fresh troops into the battle.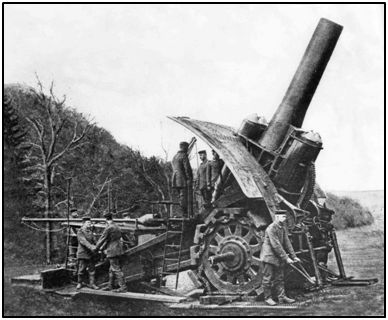 One of the 420mm Big Berthas on the Western Front.
They were named after the Krupp Arms Works matriarch, Bertha Krupp von Bohlen.
The costs of battle were high: the Germans suffered nearly as many casualties as their enemies and lacked the fresh reserves and supplies the Allies enjoyed following the American entry into the war. The Germans however were not spent and four more similar operations would be launched over the course of the next few months, as they attempted to break the Allied lines.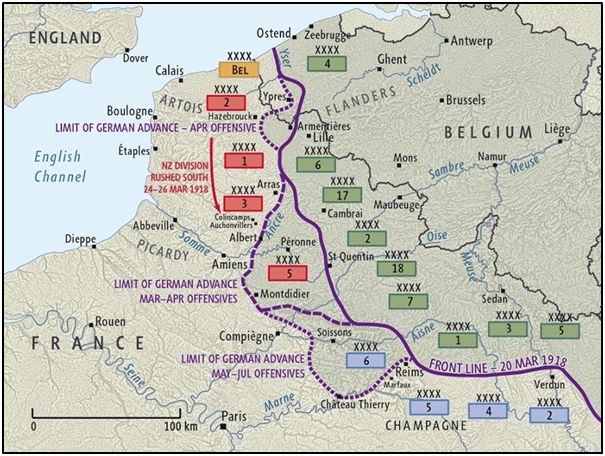 The extent of the German 1918 Spring Offensive.
The Battle at Marrières Wood
At the start of the German Spring offensive, as the Allied armies reeled under the onslaught, one of the many desperate actions which stands out for South Africans is their heroic last stand at Marrières Wood on 24th March 1918. On that day some 550 men of the 1 South African Infantry Brigade held up the full might of the German Army then on the third day of its Spring Offensive – Operation Michael.
The South Africans were in the front line at Gauche Wood when the all hell broke loose on the morning of 21st March. Reinforced with crack troops brought over from the Eastern Front, General Ludendorff launched his desperate effort to win the war before the Americans arrived in force. 65 German divisions attacked over a 100km front against the understrength British 3rd and 5th armies. The South Africans were still part of the Scottish 9th Division and were right on the boundary between the 3rd and 5th.
Aided by mist and complete surprise the Germans launched a tremendous artillery barrage using over 6000 guns firing gas shells into the rear areas to disrupt the artillery and supply lines. In addition the Germans used storm troopers for the first time to seek out the weak points and attack from the flank or the rear.The South Africans held on all day in Gauche Wood forcing the Germans eventually to retire. That in itself is a story to be told. As the Allied front collapsed right along the line, they lost over 21 000 prisoners on the first day. It looked as if General Ludendorff had won the war. For the next three days the South Africans fought by day and retreated by night. On either side the units were falling back meaning that they often had the enemy to their rear. Eventually the South African commander, Brig-General Dawson, was ordered to hold at all costs a line near the village of Bouchavesnes on the strategic Peronne-Bapaume road. By Sunday 24th the South Africans were down to only 550 men. They took up positions in old trenches to the north west of Marrieres Wood astride the road leading from Bouchavesnes to Combles on the German main axis of advance and awaited the enemy. The men were told that there would be no retreat. Ammunition was short and had to be rationed. There was no artillery support. The South Africans fought all day fighting off attack after attack. Eventually surrounded and with only 100 men left and no ammunition General Dawson surrendered and the 1st SA Brigade ceased (temporarily) to exist.
This last stand was probably of greater military significance that the South African heroic efforts at Delville Wood in 1916. By holding up the German army for a full day this action helped to save the Allied 5th Army from disintegration, to reform a front line, and eventually to counter attack at Villers Brettoneaux thereby saving Amiens from capture and bringing the offensive to a halt in that sector.
Sadly there is no memorial to this battle. There are no graves for the over 300 South Africans who were killed. Their names are listed at the Memorial to the Missing at Pozieres in the Somme area. Even visiting the battle field is very difficult. No signs or markers indicate where the battle took place and on what is now private farmland.
However on this Saturday 24th March 2018 let us remember this heroic stand which happened 100 years ago. It should be commemorated as one of the finest days in South African military history.
A number of naval engagements took place during April 1918.
On 4th April, a small naval action was fought at an undetermined site in the Atlantic Ocean when a single U-boat attacked three armed transport ships returning to the United States after having delivered troops to France. The torpedoes were spotted in time and the ships were able to evade them. In the subsequent engagement in which the last known location of the U-boat was depth-charged, the American vessels claimed to have sunk it. It is recorded in history as the Action of 4th April 1918.
In the English Channel, the simultaneous Raids on Zeebrugge and Ostend took place on the early morning of 23rd April. Both these ports on the Belgian coast were used by the Kaiserliche Marine as bases for U-Boats and light warships. The Royal Navy planned to neutralise both ports by blocking the exits by sinking old and obsolete warships. In so doing, they intended to deny their use to vessels of the Imperial German Navy, particularly the U-Boats which found them convenient bases for operating around the British coast. The main force was directed against Zeebrugge where the intention was also to destroy the coastal defence batteries. A smaller raid was launched against Ostend. For various reasons including the weather, German preparedness and the failure of the British cruisers to reach the harbour entrance as intended, both attacks failed to achieve their objectives. The harbour entrance at Zeebrugge was only partially blocked while the Ostend raid was a complete failure. A second Ostend Raid in May 1918 was to achieve little more.
There were about 550 British casualties, including 200 fatalities compared to 25-30 German dead and wounded. Allied propaganda nevertheless portrayed the event as a great victory and it was a major morale booster at a time when Britain's lifeline was still seriously threatened by the U-boat campaign. Eight Victoria Crosses and numerous other gallantry medals were awarded for the night's action. It is remembered by many as one of the epic Royal Navy actions of the First World War.
Websites of interest/Webwerwe van belang
Historic aircraft
Aviation historians express anger over lost World War Two fighter plane given a 'hideous' makeover
Telegraph Reporters The Telegraph 4th January 2018

World War II
Naomi Parker Fraley, the real Rosie the Riveter, dies aged 96
Joel Gunter BBC News US & Canada 23rd January 2018
London City Airport shut as WW2 bomb found near Thames
Anon BBC News 12th February 2018
USS Lexington: Lost WW2 aircraft carrier found after 76 years
Anon BBC News Australia 6th March 2018
USS Yorktown (CV-5) located three miles deep
Joy Neal Kidney[Blog]

Codes and Cyphers
Spain cracks King Ferdinand's 500-year-old secret code
Anon BBC News Europe 3rd February 2018

Cold War and post-Cold war
No longer a secret: How Israel destroyed Syria's nuclear reactor
Amos Harel & Aluf Benn Haaretz 22nd March 2018

Resource materials of military historical interest/ Bronmaterieël van krygsgeskiedkundige belang
ONLINE RESOURCES
A useful mapmaker which one can use to make maps and copy them into either MSWord or PowerPoint is available at
BOOK REVIEWS /OVERVIEWS
For those interested in German soldiers'perspectives on the First World War, and a wider understanding of the Western Front, two books are of particularly interest.
* Artur Boer's The Great War from the German Trenches: A Sapper's Memoir, 1914-1918 (translated and edited by Bertil van Boer and Margaret Fast and published in the United States in 2016) is an ordinary soldier's account of life, actions and privations in the Kaiser's armyas well as commentary on the home front. While doing his duty Boer is nevertheless, like his Tommy counterpart, critical of much of what he experienced.
For a review on this book see:

* Herbert Sulzbach's With the German Guns: Four years on the Western Front is a singularly engaging account of the life and events (such as the celebration of the Kaiser's birthday) of a gunner on the Western Front between 1914 and 1918. He has particularly interesting comments on the 1918 Spring Offensive. What makes the book especially interesting is that this staunch German patriot, commissioned from the ranks and winner of the Iron Cross 1st Class and 2nd Class, as a Jew, had to flee Germany as Hitler consolidated his tyrannical grip on the German people. Given refuge in Britain, he subsequently served in the British army as an interpreter and education officer during the Second World War. He is one of those rare individuals to have decorations and medals from both Germany and Britain.
For more on Sulzbach and his medals, see:
The book was originally published in Germany in 1935 and has been republished several times in English. For reviews and comments on this book see: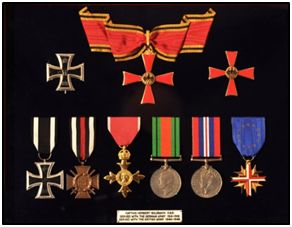 Herbert Sulzbach's medals held in the Royal Logistic Corps Museum.
Members are invited to send in to the scribes, short reviews of, or comments on, books, DVDs or any other interesting resources they have come across, as well as news on individual member's activities. In this Newsletter, there have been contributions by André Crozier (especially for the Marrières Wood contribution), Barry Irwin, Yoland Irwin and Don Bell.
Chairman: Malcolm Kinghorn: culturev@lantic.net
Secretary: Franco Cilliers: Cilliers.franco@gmail.com
Scribes (Newsletter): Anne and Pat Irwin: p.irwin@ru.ac.za
Society's Website: http://samilitaryhistory.org
TAILPIECE: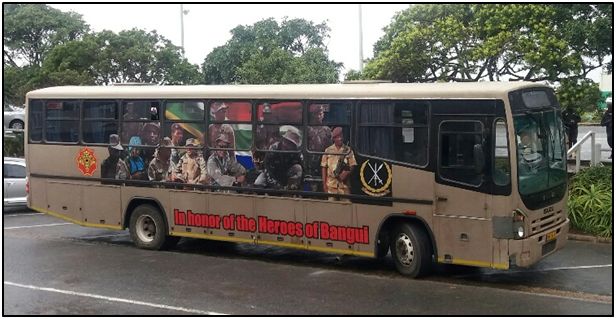 This photograph was taken by André Crozier at Kenton-on-Sea on Friday 16th March 2018. It reflects a novel way to commemorate the Battle of Bangui which took place in the Central African Republic from 22nd to 24th March 2013. South African peace-keeping soldiers acquitted themselves well when under attack and received much praise for their performance.
---
South African Military History Society / scribe@samilitaryhistory.org