Tel (+27)(0)10-237-0676 Fax (+27)(0)86-617-8002
Web:http://samilitaryhistory.org
Email: scribe@samilitaryhistory.org
NEWSLETTER - September 2018
Curtain Raiser: A Zimbabwe motorcycle adventure and a chance discovery of the Gweru military museum.
This month's Curtain Raiser lecture was given by motorcycle adventurer and two-wheeler touring enthusiast, Adina Bregman.
Adina and her partner set off on a motorcycle journey recently, where they travelled north of the Limpopo River into Zimbabwe, which they finally were able to enter after having spent a good 4 hours at the Beit Bridge border post.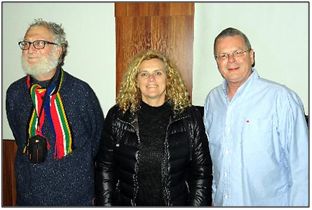 Adina, flanked by Hamish Paterson and Jan-Willem Hoorweg.
"Touring on a motorcycle provides an experience and adventure like no other form of transport. Sitting in the saddle is akin to being on a movie set as opposed to watching television".
After stopping off at the first local pub for some much needed refreshments to beat the African heat, the duo headed further northwards. An otherwise exploratory Zimbabwe trip yielded an unexpected historical gem when they chanced upon the Gweru Military Museum.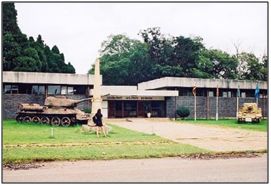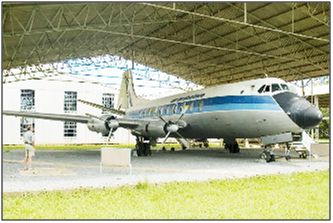 The entrance to the Museum Vickers Viscount
At the entrance to the museum stand two guardians from WWII, a Russian T34 medium tank and an American M3 "Honey Stuart" light tank. The first internal exhibit to greet them was the large Vickers Viscount airliner, Z-YNA, which became an early indicator to other precious artefacts on display in the museum. Weapons and hand guns, some dating back to the turn of the 20th century, could also be seen. Advancement in technology progressed in the displays from the Post-War years through to the 1960's, 70's and 80's. The aircraft display section alone held fine examples of a De Havilland DH82a Tiger Moth, two DH100 Vampire T Mk.11's, a DH115 Vampire FB Mk.9, an English Electric Canberra B.2, a Hawker Hunter FGA.9. Then there was the incredible "Flying Flea" from the early 1930's, as well as a North American Harvard, Percival Provost, and lastly, a Supermarine Spitfire F Mk.22. The adjacent hall housed a tremendous collection of Police, Army and Air Force uniforms, together with various weapons, badges and flags, ranging from Colonial through to present times. The museum rounded off its collection with an assortment of rare armoured vehicles.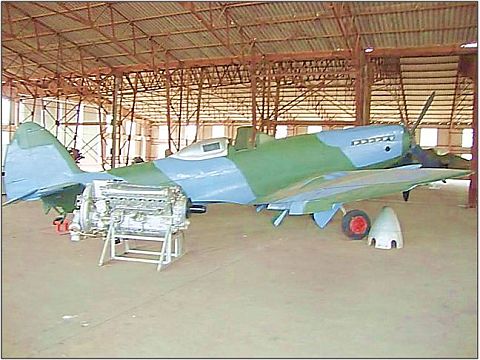 Supermarine Spitfire F Mk.22.
Spitfire F Mk.22, SR65, ex PK355, has been fitted with wheels taken from a DH Vampire FB Mk.9.
"The museum is an unlikely gathering of militaria in an even more unlikely location and is lovingly cared and tendered for by a handful of devoted curators and is a significant historical landmark, deep into Africa"
Main Lecture: The 1937 Nanking massacre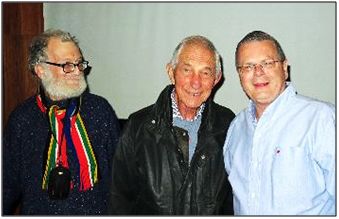 Hamish and Jan-Willem with Charles Cohen.
In this month's main lecture, Charles Cohen gave a fascinating insight into the Japanese onslaught over China, starting in the 1920's and culminating in December 1937, but, like the rest of the world, the Japanese economy too would suffer as a result of the Great Depression.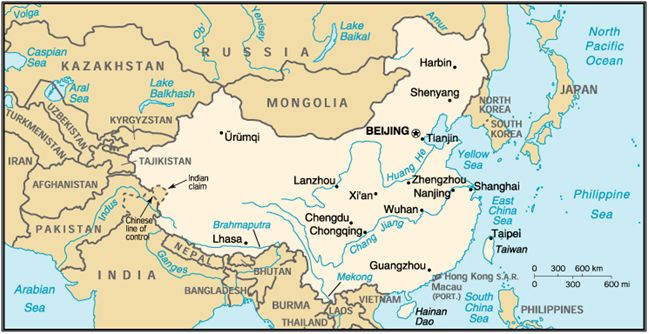 Map showing the area of Japanese activities prior to 1939.
In the 1920's, young Japanese radicals had argued that Japanese military expansion was crucial to the countries survival. Japanese eyes soon turned to China and Korea, particularly to China, as they believed that the Chinese were not using their lands productively. The Japanese instigated a "manufacturing incident" and moved in to occupy Manchuria in 1931. The occupation of Chinese land and infrastructure by Japanese forces would continue for another six years, culminating in the Nanking Massacre on the 11th of December 1937. After a mere 4 days of fighting, Japanese forces entered into and occupied Nanjing (Nanking), the country's capital. Six weeks of Japanese reign and terror followed against Chines civilians and prisoners of war, when about 300,000 prisoners were wantonly killed and 80,000 women raped.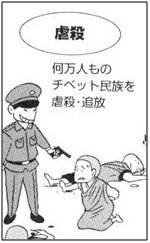 Contemporary cartoon

Nanjing, a culturally rich and historical gem in China was totally destroyed by the Japanese, who, until today, refuse to apologise for their atrocities or even acknowledge that such events ever took place. Relying on certain Post-War events, the Japanese have convinced themselves that they were the victims in WWII, but nothing can be further from the truth, which is that they launched an unprovoked war against China, in which millions of Chinese men, women and children were raped and killed.

Richard Schütte
Newsletter Scribe

* * * * * * *

The Newsletter from Richard contained a map of the Ditsong Museum in Johannesburg which is a file twelve times as large as this entire newsletter. Anybody wanting a separate copy can contact Joan at the letterhead address and she will e-mail it to them.

* * * * * * *
FORTHCOMING LECTURES
JOHANNESBURG:
CR = curtain raiser ML = main lecture
Ditsong Museum next to Zoo at 8pm
Thursday 13th September

CR: Charles Ross: ... "70 years of United Nations peace keeping operations"
ML: Kyle Harmse: ... "The Cape Corps: The Union's coloured soldiers in the First World War"
KZN in Durban:
13th September
DDH: Dr. Mark Coghlan: ... "Digitization of Natal Carbineers Records"

ML: Donald Davies: ... "Wellington and the Peninsula War: British Cavalry at the Battle of Fuentes d' Onoro, 1811"
CAPE TOWN:
Thursday 13th September
Contact branch secretary Ian van Oordt at 021 531 6612 or 076 315 7713 or built2scale@gmail.com
SAMHSEC:
Monday 10th September
CR: Barbara Kinghorn ... "Face-Saving in 1918 - Anna Coleman Ladd's Portrait-mask Studio in Paris"

ML: Captain Jacques Camons ... "The History and work of the SAPS Air Wing."
* * * * * * *

Branch contact details
For Cape Town details contact Johan van den Berg 021-939-7923 warbooks@mweb.co.za
For Eastern Cape details contact Malcolm Kinghorn 041-373-4469 culturev@lantic.net
For Gauteng details contact Joan Marsh 010-237-0676 joan@rfidradar.com
For KwaZulu-Natal details contact Roy Bowman 031 564 4669 bowman.roy93@gmail.com
* * * * * * *

* NOTE* Fast mirror and backup site BOOKMARK FOR REFERENCE Main site * NOTE*
---
South African Military History Society / scribe@samilitaryhistory.org