SOUTH AFRICAN MILITARY HISTORY SOCIETY EASTERN CAPE BRANCH
SUID-AFRIKAANSE KRYGSHISTORIESE VERENIGING OOS-KAAP TAK
Newsletter/Nuusbrief 158
November 2017
SAMHSEC's October meeting took place on Monday 9th at the usual venue in Port Elizabeth.
The members' slot by Malcolm Kinghorn was on the bombing of the MV Dara in April 1961. The Dara was a Dubai based passenger liner carrying passengers employed in the Gulf States to and from the Indian sub-continent. She sank in the Persian Gulf as a result of an explosion that caused the deaths of 238 of the 819 persons on board.
The Dara had anchored off Dubai to load and unload cargo and passengers on 7th April 1961. A severe storm developed later that day, causing all operations to stop and the Dara's captain decided to take the ship to sea to ride out the storm. In addition to the passengers and crew, over 70 ship's agents, stevedores, tradesmen and officials had boarded in Dubai, increasing the number of people on board to more than 800. When the storm abated, the Dara steamed back towards Dubai. Around an hour before first light on 8th April, there was a massive explosion on board, caused by a bomb placed between decks and next to the galley. The blast burst through an engine room bulkhead and into two upper decks. As all electrical, water, fire and steering systems were knocked out, the crew had no means to fight the resulting fire or control the ship and the captain gave the order to abandon ship.
Panicked passengers and crew leapt overboard or into already overcrowded lifeboats, several of which capsized. 565 persons were rescued by the Royal Navy, as well as British and foreign merchant ships. Three Royal Navy frigates and a US destroyer managed to get fire-fighting parties on board to bring the fire under control. A tug took the badly damaged Dara in tow, but she capsized and sank on 10th April.
A British Admiralty Court concluded that an anti-tank mine "deliberately placed by a person or persons unknown", had "almost certainly" caused the explosion. The British Solicitor General testified before the court that fighters in the Dhofar Rebellion were likely to have been responsible, having previously sabotaged British assets.
The curtain raiser was given by Ian Copley who, in a sequel to an earlier talk by Malcolm Kinghorn (see Newsletter 153), spoke on Chilean naval wars involving the ships 'Esmeralda'.
The first Esmeralda, a frigate of 950 tons, was built in 1791 for the Spanish Navy. In the early 19th centuries, Spain's colonies in the New World sought to break away from the rule of Spain. Chile declared its independence in 1818 under Bernardo O'Higgins, who created a navy under Admiral Lord Thomas Cochrane. In 1820, during the war with Spain which culminated only in 1826, this small Chilean fleet was involved in a battle in support of like-minded Peruvian 'patriots' at the port of Callao, and in the process captured the Spanish Esmeralda. It became the first of six Chilean Navy ships to bear this name – Spanish for an emerald, and a common girl's name.
The second Esmeralda, a corvette of 850 tons, was built in 1854 as a replacement. In 1877, during the Pacific War between Chile, Bolivia and Peru, it was under the command of Arturo Prat, another Chilean hero, and in a battle at Callao, was rammed and sunk; Prat being killed.
Two cruisers, built in 1883 and 1896 of 2 950 and 7 000 tons respectively, followed. A modern frigate of 2 216 tons was obtained in 1944 and finally, the current four-masted sailing barque of 3 673 tons that had been built in Spain, arrived in 1954 as a training ship for the Chilean Navy. This ship has visited South Africa as part of a naval cooperation agreement and on several occasions has included South African Navy personnel in her crew.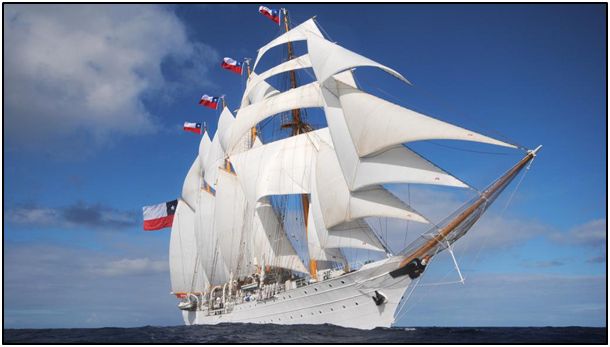 The current Esmeralda at sea
The main lecture, Human trophy hunting during times of war, was presented by Anton de Wit. Documentation has not yet been received, but will be circulated when available.
Future meetings and field trips/ Toekomstige byeenkoms en uitstappe
The next SAMHSEC meeting will be on 18th November 2017 at the South African Air Force Museum, Port Elizabeth. Meet at the entrance to the Museum at 10h30.
Bring your own picnic lunch, any utensils which you may need and a camp chair. Please support the cash bar, which will be open during lunch between 12h30 an 14h00. Also respect the fact that the Museum is a licensed premises and do not bring your own alcohol.
During the morning Michael Mills will give a presentation to commemorate Allister Miller's historic flight from Cape Town to Port Elizabeth on 8th November 1917. The exact time and venue in the Museum will be confirmed on the day.
After lunch, the SAMHSEC meeting in the Museum conference room will open with the Act of Remembrance. The curtain raiser, South Africa's Mobile Watch Units: a brief history, will be by Franco Cilliers. The topic and speaker for the main lecture is still to be finalised.
Matters of general interest / Sake van algemenebelang
Military History Journal
The October 2017 Newsletter from the Johannesburg Branch contained the following announcement:
"The Society has reached an agreement with the Ditsong National Museum of Military History whereby the Society will in future publish the Military History Journal. Members are reminded that articles are required for the Journal. Please e-mail to scribe@samilitaryhistory.org"
Remembrance Day Parades and Memorial Services, 2017
Port Elizabeth:
12th November 09h00: Walmer War Memorial, Main Road, Walmer, Port Elizabeth.
Those who wish to march in the parade meet at Aloe White Shellhole, Cnr. 8th Avenue and Church Road, Walmer at 08h30.
Dress: Veterans outfit with Medals.
There will be refreshments available in the Walmer Town Hall after the parade.
All are welcome.
Friday 10th November: Grey Memorial Service.
This service will take place in the Memorial Quadrangle at Grey High School at 11h00.
All guests are requested to be seated by 10h30. A fly over will take place following the chimes on the hour.
Tea and coffee will follow in the restaurant. All are welcome.
Grahamstown:
12th November 10h15 for 10h30: Church Square, Grahamstown.
Dress: Veterans outfit with Medals. All are welcome.
East London:
12th November 11h00 War Memorial at the top of Oxford Street, East London. The East London Caledonian Pipe Band and Selborne College Bands will be in attendance and a platoon of Buffalo Volunteer Rifles will be on parade. Medals to be worn. Refreshments will be available in the BVR tents after the parade. All are welcome.
The annual Poppy Run which takes place at all the cemeteries in Port Elizabeth is scheduled for 5th November.
Veterans split up in groups to place a poppy on the grave of a fallen soldier.   
Meet at 08h30 at Aloe White Shellhole, Cnr. 8th Avenue and Church Road, Walmer,Port Elizabeth.
Dress: Casual. There will be refreshments available after the Poppy Run.  
60th anniversary of the launch of Sputnik I
The world's first artificial satellite, Sputnik I, was launched by the Soviet Union sixty years ago, on 4th October 1957. It was placed into an elliptical low Earth orbit and performed only a few simple functions such as measuring temperature, but it was the beginning of the 'space race' which has inter alia led to a wide range of spy satellites to collect both military and economic data. Some satellites are now also potential weapons. The radio of the time would announce where and when Sputnik could be observed and many SAMHSEC members will remember watching the 58cm sphere orbit overhead with its characteristic "beep, beep, beep" sound.
World War I Centenary Years / Eerste Wêreldoorlog Eeufeesjare
Major engagements in November 1917
Land battles
In one of the most significant engagements on the Mesopotamian Front after the Battle of Ramadi, the town of Tikrit, in what is now northern Iraq, fell to the Allies under General Maude on 5th November. The Ottoman forces continued their withdrawal to the north. (Tikrit was where Saddam Hussein was captured 86 years later and where much fighting involving ISIS has taken place in recent years. It is currently a point of conflict between Kurds and Iraqis.)
On the Palestinian Front, General Allenby continued his offensive en route to Jerusalemby capturing the village and Ridge of El Mughar on 13th November, in what is today central Israel.
On the Western Front, the Battle of Cambrai was launched by the British and Australians on 20th November. This was the first time that tanks were used as a significant force – a year after their first, relatively unsuccessful, appearance on the battlefield. 476 tanks with six infantry and two cavalry divisions took part. Initially impressive Allied success was however negated by German counter-attacks which recaptured virtually all lost ground. The battle nevertheless established the potential of the tank and a future role for it in warfare. In a sense, the battle was the forerunner of the German blitzkrieg tactics in World War II.
Naval engagements
Two relatively minor naval engagements took place during November 2017. On 17th October, an engagement known as The Action off Lerwick had taken place between the Shetlands and the southern tip of Norway. Two German light cruisers had ambushed a convoy of 12 coal-carrying merchant ships bound for Britain, accompanied by two destroyers and two naval trawlers. In the battle which followed, the two British destroyers and nine of the 12 merchant ships were sunkand about 300 men were either killed or wounded. The Germans returned to base without damage or loss of life.
As a direct consequence of this event, the Second Battle of Heligoland Bight, an inconclusive engagement between British and German naval units took place on 17th November 1917. Determined to retaliate for the Lerwick encounter, Admiral Sir David Beatty (who had commanded the battlecruisers at Jutland) decided to attack a small fleet of German minesweepers, escorted by two battleships, four cruisers and eight destroyers, under Admiral von Reuter, which were clearing a channel through a British minefield in Heligoland Bight. Beatty's force consisted of one battlecruiser, ten cruisers and ten destroyers.
The action started at 07h30 when units of the Royal Navy opened fire. Von Reuter advanced with his cruisers and destroyers to cover the withdrawal of the minesweepers, all but one of which escaped. The Germans then skilfully withdrew under cover of smokescreens while being pursued by British cruisers, which in turn came under fire from the German battleships. Both sides were hampered in their manoeuvres by the presence of minefields and the British withdrew at about 10h00. Losses were one British cruiser heavily damaged, one German minesweeper sunk, and a cruiser slightly damaged.
On the same day, 17th November, another engagement took place in the North Atlantic between a U-boat and two US destroyers. While escorting an eight-vessel convoy, the destroyers made contact with U-58 whilst it was lining up to torpedoone of the ships in the convoy. The U-boat was subsequently depth-charged and forced to the surface where she engaged in an unsuccessful gun battle before surrendering.
This was the first time that US ships had sunk a U-boat in combat, and one of the few occasions in the First World War in which the US Navy engaged a U-boat.
A note on the New Zealanders at Passchendaele
As noted in SAMHSEC's July Newsletter(No. 154), the Battle of Passchendaele, on a par with the Somme in its scale of slaughter, took place from 31st July to 6th November, 1917. Within the wider battle, New Zealand experienced its worst military disaster on 12th October. An excellent blog to commemorate this can be found at:
https://historygeek.co.nz/2017/10/11/passchendaele-the-forgotten-ball/. Itis well worth reading.
Websites of interest/Webwerwe van belang
Military thought
The battlefield is dead: The changing nature of battle
aeon essay Undated
https://aeon.co/essays/how-the-bloody-field-of-battle-made-way-for-precision-drones
Technology
How the search for a 'death ray' led to radar
Tim Harford BBC World Service 9th October 2017
http://www.bbc.com/news/business-41188464
Royal Navy could lose 'fight on beaches' ships in planned cuts
Mark Urban BBC News 5th September 2017
http://www.bbc.com/news/uk-41511790
Destructive malware and interstate rivalries: The evolution of digital weapons and geopolitical conflict
Andrea Little Limbago and Mark Dufresne The State of Security Newsletter 20th July 2107
https://www.tripwire.com/state-of-security/security-awareness/events/destructive-malware-and-interstate-rivalries-the-evolution-of-digital-weapons-and-geopolitical-conflict/
Army motorcycle display team hang up White Helmets after 90 years
ITV News Report 6th September 2017
http://www.itv.com/news/2017-09-16/army-motorcycle-display-team-hang-up-white-helmets-after-90-years/
US Civil War
The Starkville Civil War Arsenal: The building of a Civil War ambulance
http://www.starkvillecivilwararsenal.com/project-completed.html
http://www.starkvillecivilwararsenal.com/
World War I
The fateful life of history's most famous female spy: Mata Hari
Hugh Schofield BBC News, Paris 15th October 2017
http://www.bbc.com/news/world-europe-41595828http://news.bbc.co.uk/2/hi/uk_news/3732361.stmhttp://www.bbc.co.uk/programmes/p04plxq2
While on spying ....
Revealed: New evidence that executed wartime nurse Edith Cavell's network was spying
Anita Singh The Telegraph 12th September 2015
http://www.telegraph.co.uk/news/bbc/11861398/Revealed-New-evidence-that-executed-wartime-nurse-Edith-Cavells-network-was-spying.html
World War II
Athenia: Is this the wreck of the first British ship torpedoed in WW2?
Jonathan Amos BBC Science & Environment 5th October 2017
http://www.bbc.com/news/science-environment-41503664
Battle of Britain pilot who died aged 99 given fitting send-off with lone Spitfire flying over funeral cortege:
Airmen pall bearers carried his coffin to the village church at Llanigon, Wales
Ellie Cambridge The SUN 28th September 2017
https://www.thesun.co.uk/news/4571504/battle-of-britain-veteran-funeral-nigel-rose/
Vietnam War
Readers opinions on the best books about the Vietnam War
Susan Ellingwood The New York Times 15th September 2017
https://www.nytimes.com/2017/09/15/books/20-must-read-books-on-the-vietnam-war.html
Resource materials of military historical interest/
Bronmaterieel van krygsgeskiedkundigebelang
COMMENTS ON RECENT BOOKS
Martin Amis on Lenin's Deadly Revolution
Although on the edges of mainstream military history, this review by MARTIN AMIS in The New York Times of 16th October 2017 is well worth reading. It paints a picture from which South Africa has not yet had a guaranteed escape.
https://www.nytimes.com/2017/10/16/books/review/martin-amis-lenin-russian-revolution.html
MUSEUMS
The Royal Signals Museum
https://twitter.com/signalsmuseum
MUSIC
A sample of WWI and pre-WWI German anthems and marches
Heil Dir ImSiegerkranz- Deutsche Kaiserhymne (Hail to Thee in Victor's Crown) was the official national anthem of the German Empire from 1871 to 1918. Before the foundation of the Empire, it had been the royal anthem of Prussia since 1795. The melody of the hymn derived from the British anthem God Save the Queen.
https://www.youtube.com/watch?v=IjJa3_dR5Ac&index=27&list=RDm9jDl571rHU
Preussens Gloria (Prussia's Glory) Composed by Johann Gottfried Piefke in 1871 after the Kingdom of Prussia's victory in the Franco-Prussian War, which led to the unification of the German states into the new German Empire. As part of the victory parade of the returning troops, the march was performed for the first time in public in Frankfurt (Oder), where Piefke's garrison was based.
https://www.youtube.com/watch?v=-TEGPelS3Ac&list=RD-TEGPelS3Ac&t=31
KöniggrätzerMarsch Composed in 1866 by Johann Gottfried Piefke in commemoration of the Battle of Königgrätz, the decisive battle of the Austro-Prussian War.
https://www.youtube.com/watch?v=_Zk6eXvCiuo&index=2&list=RD-TEGPelS3Ac
Alte Kameraden (Old Comrades) One of the best known German marches. Composed in 1889, by military music composer Carl Teike for the band of the Grenadier-Regiment König Karl (5. Württembergisches) No. 123.
https://www.youtube.com/watch?v=SPmIcSesepk
Der guteKamerad(The good comrade), also known as Ichhatt' einen Kameraden (I had a comrade) is a traditional lament of the German Armed Forces. The text was written by German poet Ludwig Uhland in 1809. Its immediate inspiration was the deployment of Badener troops against the Tyrolean Rebellion. In 1825, the composer Friedrich Silcher set it to music, based on the tune of a Swiss folk song.
https://www.youtube.com/watch?v=8jtV9p7gKBo
Argonnerwaldlied (Forest of Argonne Song) is a march composed by Hermann Albert Gordon in 1914/1915.
https://www.youtube.com/watch?v=awrM-F4z3T0&list=RD-TEGPelS3Ac&index=1
Kaiser Wilhelm Siegesmarsch Another march composed by Piefke under the original title Siegesmarsch (Siege March) in 1864. The march was to recall the victory of the Prussian troops in the German-Danish War of that year. It was dedicated to the then Prussian King Wilhelm I.
https://www.youtube.com/watch?v=uYZJqSDZWxU&list=RD-TEGPelS3Ac&index=14
TAILPIECE:
The following inscription is taken from a gravestone in the Longnor Churchyard in Staffordshire, UK:
In Memory of William Billinge who was born in a Cornfield, at Fawfieldhead in this Parish, in the Year 1679. At the age of 23 years he enlisted into His Majesty's Service under Sir George Rooke, and was at the taking of the Fortress of Gibraltar, in 1704. He after-wards served under the Duke of Marlborough atthe ever Memorable Battle of Ramillies, fought on 23rd of May 1706, where he was wounded by a musket shot in the thigh. He afterward returned to his native country, and with manly courage defended his Sovereign's rights at the Rebellion in 1715 and 1745. He died within the space of 150 yards of where he was born, and was interred here the 30th of January, 1791, aged 112 years.
Billited by Death, I quartered here remain,
When the trumpet sounds, I'll rise and march again.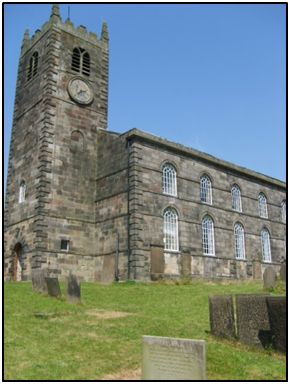 Source: https://www.google.com/search?q=william+billinge+gravestone+staffordshire&client=firefox-b-ab&dcr=0&tbm=isch&imgil=R233o2kuJjH-0M%253A%253BIjm1ZBh8DfeD1M%253Bhttp%25253A%25252F%25252Fwww.alamy.com%25252Fstock-photo-engraved-grave-marker-of-william-billinge-of-longnor-who-was-born-94510997.html&source=iu&pf=m&fir=R233o2kuJjH-0M%253A%252CIjm1ZBh8DfeD1M%252C_&usg=__zncEn4JiHGEP8_8XzCOvBk2cw4U%3D&ved=0ahUKEwiHirrdkM3WAhXBCMAKHZ8iDTcQyjcIPA&ei=kavPWcf9JMGRgAafxbS4Aw&biw=1536&bih=725#imgrc=c0OWllcaFqulZM:
Chairman: Malcolm Kinghorn: culturev@lantic.net
Secretary: Franco Cilliers: Cilliers.franco@gmail.com
Scribes (Newsletter): Anne and Pat Irwin: p.irwin@ru.ac.za
Society's Website: http://samilitaryhistory.org
---
South African Military History Society / scribe@samilitaryhistory.org